If you love visiting Georgia as much as I do, then you will want to add Alpharetta, Georgia on your next road trip destination. Here's what you can see and do on this amazing adventure!
If you know me, road trips have become one of my favorite ways to travel. As you explore the vibrant town of Alpharetta, you might notice numerous thriving local businesses that enhance the fun-filled experience here; if such a community-involved business appeals to you, learn about establishing a Georgia LLC to get started on your entrepreneurial journey.
A couple of years ago, I went to Atlanta and stayed in the surrounding towns. My sweet friend, Mrs. Happy Homemaker carted me everywhere — even to Alpharetta. We stopped in to check out the Art in the Park and it was amazing. Because of that, I knew it was going to be a city I wanted to visit again.
I learned a lot about all there is to see and do. Now, Alpharetta, Georgia is calling my name. Here are just a few of the things to see and do if you visit this bustling Georgia town.
What to see and do in Alpharetta, Georgia
Free parking can be found throughout the city, and you'll find two parking decks in the Downtown Alpharetta area. There are multiple parking lots at Avalon and plenty of additional free on-street parking throughout the city.
Shopping
With over 250 stores, Alpharetta is your shopping paradise! So. let's see where to start first!
Shop your heart out at the three shopping districts! These locations are all within a 5-mile radius and 1 mile of each other! No matter what you're looking for, you'll find it here!
Avalon
You will find the perfect men's and women's fashion at stores like Altar'd State or Vineyard Vines.
Refresh your skin care regimen at L'Occitane with everything from face serums to body washes.
Downtown Alpharetta
If you are into music, then a visit to Comeback Vinyl is an essential stop to peruse through hundreds of records. You can find music from the '70s or something newer.
Shop for wine and spirits at Fermented, with exclusive red, white, and sparkling options available.
Candles, body care, cozy robes, and pajamas are abundant at Korner Soak.
Drop-in at The Ballog for locally crafted candles, jewelry, art, clothing, and more exclusive to their store.
Prepare for outdoor fun at Mountain High Outfitters where hiking gear, equipment, clothing, and footwear are available!
North Point Area
Check out retailers like Versona and Society Boutique who offer Insta-worthy women's clothing and accessories.
Add new flair to your home at Sugarboo & Co. with fresh, contemporary home décor.
Shop upscale brands like Louis Vuitton, Lilly Pulitzer, and more at Von Maur.
Give awesome gifts from K Squared Artisan Boutique including handmade beaded jewelry and accessories.
Dining
In Alpharetta, you'll find a unique food culture with an unbeatable lineup of top-notch eateries and one-of-a-kind culinary hot spots.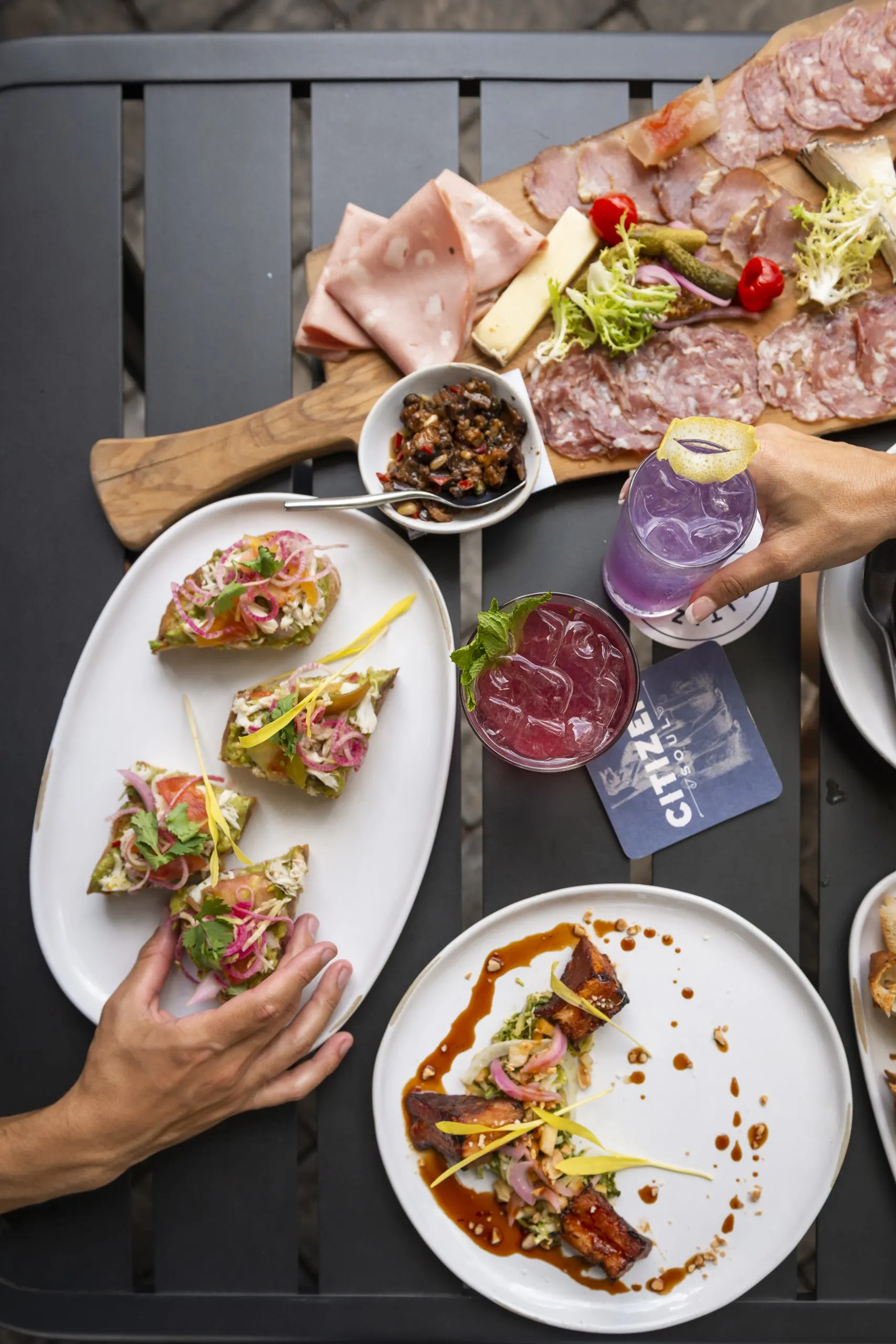 Both Avalon and Downtown Alpharetta are walkable and sippable districts. However, when you decide to visit, be sure to troll with your cocktail in hand.
Start your day with The Ginger Room, a beautiful tearoom where you can get a taste for a true English high tea.
Check out the Chicken and Waffle at The Southern Porch or the scrumptious Double Southern Stack Pancakes.
Elevate your breakfast at South City Kitchen Avalon with an Egg White Frittata or the Skirt Steak & Eggs.
Add Cajun flavors into your breakfast at Another Broken Egg Café with their Louisiana Crawfish Bowl.
Because you can find al fresco dining at every turn, be sure to start at Citizen Soul. Here you can enjoy their signature Gluten-Free Fried Chicken on their outdoor patio.
For casual dining, opt for a Beach House Salad and a Frosé at Chiringa.
Enjoy a classic cocktail and appetizers on the porch at Taffer's Tavern.
Revel in Persian cuisine at Rumi's Kitchen, where the heavenly hummus is just the start of great flavors.
Croon over wine flights while enjoying the outdoor seating at Crú Food & Wine Bar.
Entertainment
Local restaurants, breweries and parks around the city feature live music throughout the year. Check out the Live Music Match Ups to see where you can catch local, live music in Alpharetta.
The Music Scene
Live music abounds at venues throughout the city whether you prefer indoor or outdoor concerts.
For an intimate indoor musical experience, The Velvet Note brings jazz to life.
For outdoor listening, Matildas Music Under the Pines features fantastic folk music and eclectic vibes.
Amaze your friends and family at Ameris Bank Amphitheatre, where big name headliners like Luke Bryan, The Doobie Brothers and Dave Matthews Band have performed.
Get Your Drink On
Find your favorite new brew at Alpharetta's breweries.
Jekyll Brewing has two locations to choose from with their Jekyll Brewing City Center location and a full taproom at their Jekyll Brewing Marconi Drive site. Try their crowd-pleasing favorites like Southern Juice IPA or Hop Dang Diggity.
Also, don't miss the Frankenstark Belgian Style Golden Ale at Currahee Brewing to round out your Alpharetta brewery experience.
Fun activities
Tee off at Topgolf, where a traditional golf driving range meets high-tech fun and games.
Make bowling and laser tag a blast at Main Event Entertainment, also featuring hundreds of arcade games.
Dive into arcade excellence while enjoying delectable drinks and dining at Dave & Buster's.
Head to Alpharetta's newest attraction, Fairway Social, to hone your skills with 11 top-rated simulators featuring everything from world-class golf to zombie dodgeball.
There is always an event happening in Alpharetta, check out our full calendar of events here.
Where to stay
You're going to need a place to rest your head after a full day of Alpharetta adventures. Throughout the city, you'll find a whopping 29 accommodation options!
Many of the local hotels offer complimentary breakfast, free WiFi, and exclusive access to sparkling pools – so don't forget to pack your swimsuit! Start planning and book your Alpharetta road trip today!
Thanks to Alpharetta Convention & Visitors Bureau for providing photos and information.