Are you planning a trip to Nantucket? Here is our cheat sheet, which you can use as a quick reference when you get there. Once you settle down in your rented lodging or hotel, you can start your unforgettable vacation and adventure right away on one of the most beautiful and iconic New England islands.
Here is everything you need to know when spending time on the island.
Nantucket is an island located 30 miles south of Cape Cod through the Nantucket Sound. The island is 14 miles long and is 3 to 5 miles wide.
It is one of the most popular New England coastal summer towns and a preferred location for second homes and seasonal residents and visitors.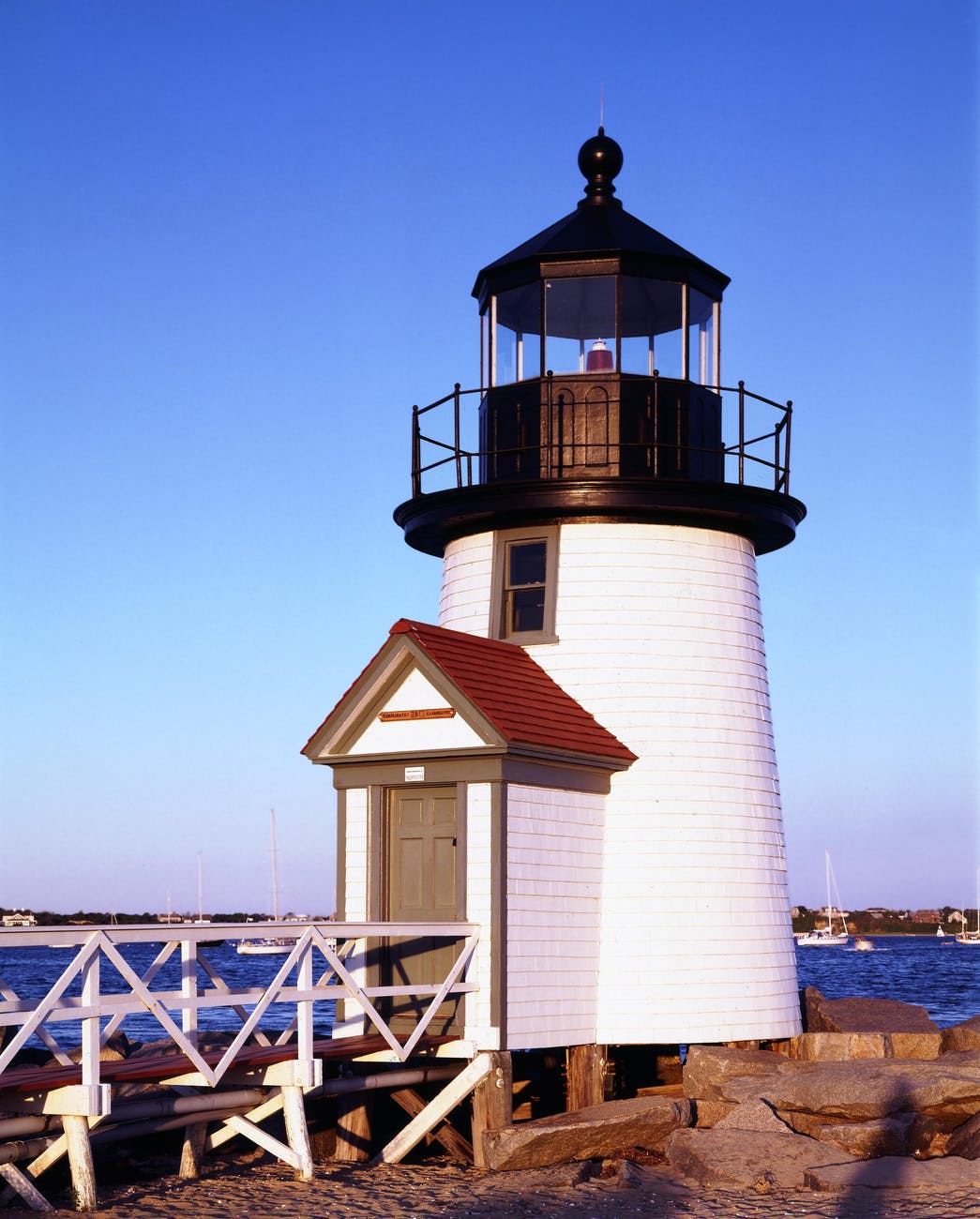 There are more historic pre-Civil War homes and buildings in Nantucket than in any other town in the USA, the most iconic being the gray weathered shingle-style houses and cottages.
What to See and Do in Nantucket
The season in Nantucket starts from Columbus Day and ends around Labor Day. The peak of the summer season is July and August when the population of 10,000 can grow to up to 50,000 people.
If you don't like crowds and want to find better available rental accommodations and tables in the best restaurants, we recommend that you go during the shoulder season months. These are in May and June or in the fall in September and October.
Or, if you want to see Nantucket in its most natural style, you can visit it off-season.
At Christmas, there is a fun, festive Christmas stroll you can take part in.
Things to do in Nantucket
The Whaling Museum – located downtown in an old oil candle factory from 1854, this museum contains thousands of exhibits and has nine galleries. You can see a Fresnel lens and a real sperm whale skeleton there. 13 Broad Street.
Sankaty head Light – it was built in 1850 on the easternmost point of the island by the picturesque village of Siasconset. The lighthouse is still functioning and in 2007 was moved back into the land by 400 feet to preserve it from being destroyed by the corroding shores. Baxter Street, Siasconset.
Nantucket Shipwreck and Lifesaving Museum – find out more about the hundreds of shipwrecks that occurred around the island and the islanders who risked their lives saving their crews. There are hundreds of artifacts and ship models. 158 Polpis Road.
Nantucket Atheneum – this is the library of the town of Nantucket, which was rebuilt after a fire burnt it down back in 1846. The library has an extensive book collection as well as access to millions of items, databases, and periodicals.
Dreamland Film and Performing Arts Center – a small historic cultural center that hosts various events, including film, theater, exhibitions, and other educational and cultural activities. 17 South Water Street.
The Old Mill – the oldest functioning smock windmill in the USA, was built in the 1700s. The tour will take you through the history and the milling process, and you can actually view the mill milling corn. 50 Prospect Street.
Cisco Brewers – enjoy tasting local craft beer, wines, and liquor, as well as live music in the beer garden. There are food trucks for snacks and a gift shop to buy some local beverages. 5 Bartlett Farm Road.
Nantucket Lightship Basket Museum – lightship basket weaving is a traditional local craft still practiced today. You can see baskets from back in the 1800s and learn how to weave yourself. 49 Union Street.
Coskata-Coatue Wildlife refuge – located on two scenic peninsulas on the north shore, this refuge offers stunning views of the wildlife, the ocean, and the landscape. You can drive there with a special permit and a 4WD or walk the trails and go to see the Great Point Lighthouse
Sankaty Head Light – on the easternmost point, this lighthouse is among the top places to take photos. It was built in 1850, and in 2007 was moved entirely inward to prevent it from collapsing in the ocean. It is still operational and beautiful. 122 Baxter Road, or take the Sconset Bluff Walk.
Shopping in Nantucket
Murray's Toggery Shop – this is the only place in the world where you can buy the iconic trademark Nantucket's Reds. These brick red faded to salmon pink pants made of sailcloth have been trademarked and have been available only here since the 1960s. 62 Main Street.
Current Vintage – this is the boutique to go to if you want to buy the top curated wines, cheeses, and vintage clothing, accessories, and gifts. 4 East Street.
Susan Lister Locke – rated as the top jeweler of Nantucket, Susan Locke offers some unique pieces, many of which are inspired by the sea, in her jewelry shop located on 28 East Street.
Erica Wilson Boutique – since 1963 Erica Wilson has been known as the first lady of stitchery. Today, you can find some stunning eclectic finds, needlepoint items, and Nantucket-style apparel and accessories. 25 Main Street.
Nantucket Looms – this is an artisan shop where you can buy local cottage-style inspired décor items, including some handmade linens and blankets. 51 Main Street.
The Jewel in the Sea – buy some unique handmade Nantucket-style jewelry made by the owners of this charming jewelry shop. You can have custom-made jewelry, and all items are hand-signed by sisters Kate and Meghan Trainor. 6 Straight Wharf.
Eating in Nantucket
Black-Eyed Susan's – this is a popular local breakfast and dinner location on 10 India Street.
CRU – an oyster bar located at the end of the dock offers an ideal Nantucket experience. 1 Straight Wharf.
Lemon Place – it is the place to go for fresh-pressed juice and healthy food for breakfast or lunch. 4 Main Street.
The Nautilus – try the locally inspired East Coast oyster tacos and other elevated Asian street food favorites. 12 Cambridge Street.
Ventuno – a popular foodie favorite, with small plates and delicious local delicacies, such as soft shell crab. 12 Federal Street.
Lola 41 – for those of you who like sushi or want to enjoy mouthwatering fresh local catches. 15 South Beach Street.
Proprietor's – soak up the culture and experience influenced by the whaling history of Nantucket. There are local, international and vegan dishes. 9 India Street.
Straight Wharf – try out some modern interpretations of the traditional summer classics of the island here. 6 Harbor Square.
The Juice Bar – the perfect place to go if you love fresh juices and want to try the best ice cream on the island. 12 Broad Street.
Bartlett's Farm – you can buy the best local produce and fine groceries here and shop for plants, flowers, and herbs at the nursery. 33 Bartlett Farm Road.
Club Car – an excellent place for dinner, which transforms into a sing-along piano bar in the late hours. 1 Main Street.
Cisco Brewers – enjoy the day in the beer garden, take a tasting tour of the craft beer and other locally produced wines and spirits, and enjoy the live music and food trucks for a festival-like experience. 5 Bartlett Farm Road.
The Chicken Box – this is a popular local bar with live music and a relaxing and unpretentious atmosphere. 16 Dave Street.
Corner Table – one of the best places to go get a coffee or tea and some gourmet items on the go. 22 Federal Street.
Seasonal events and festivals
Nantucket is known for its various festivals and seasonal events, including the Daffodil Festival in April, the Figawi Regatta in May, the Film Festival and the Book Festival held in June, the Cranberry Festival in October, and the Christmas Stroll in December.