This shop has been compensated by Collective Bias, Inc. and its advertiser, Mars, Incorporated. All opinions are mine alone. #CallAnEatible #SkittlesHomegating #CollectiveBias
I will be hosting a fall tailgate party soon, so I have been working hard behind the scenes to come up with fun foods I can color based on team colors. Of course my delicious White Chocolate Rainbow Truffles were the first to make the team!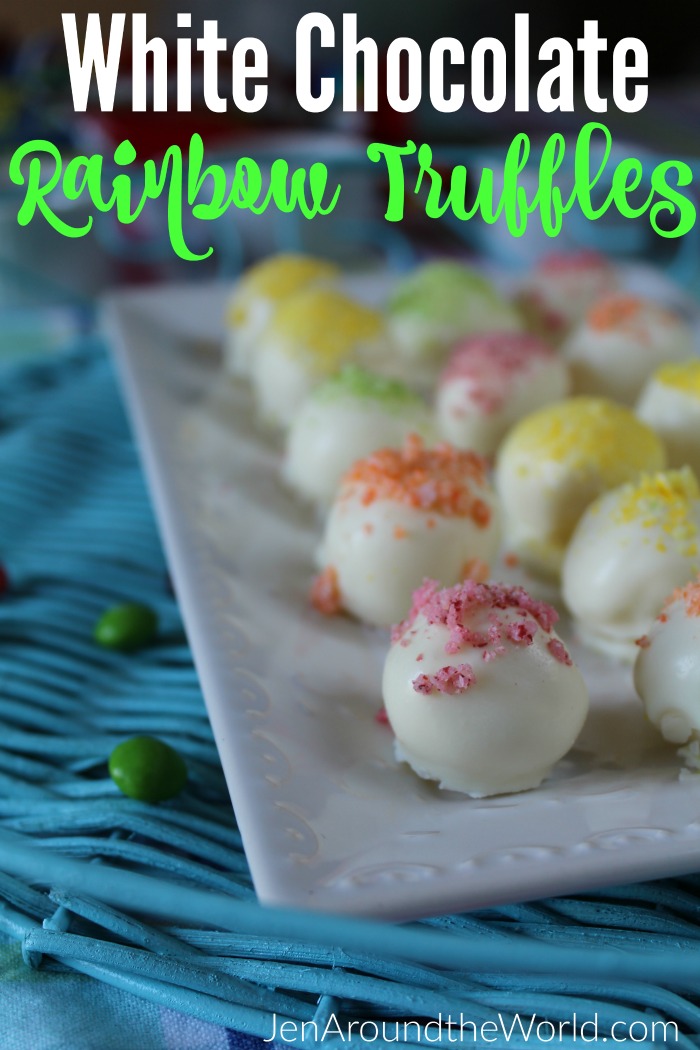 A couple of weeks ago, I was at the Dollar General Store doing some browsing for fall football table decor, and I spied some delicious looking truffles. Just a row over I found some yummy Skittles®, and my recipe brain started going to town thinking about how I could mesh the two and make a delicious tasting treat for my fellow tailgaters.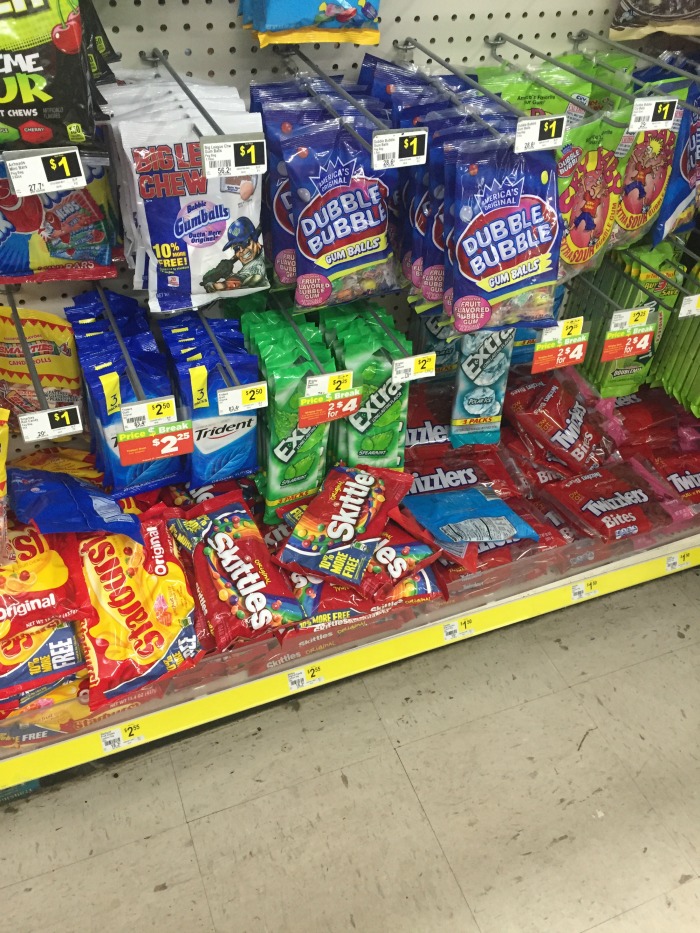 That was the moment that a light went off in my head and I had the bright idea to grind the Skittles up and make Rainbow truffles.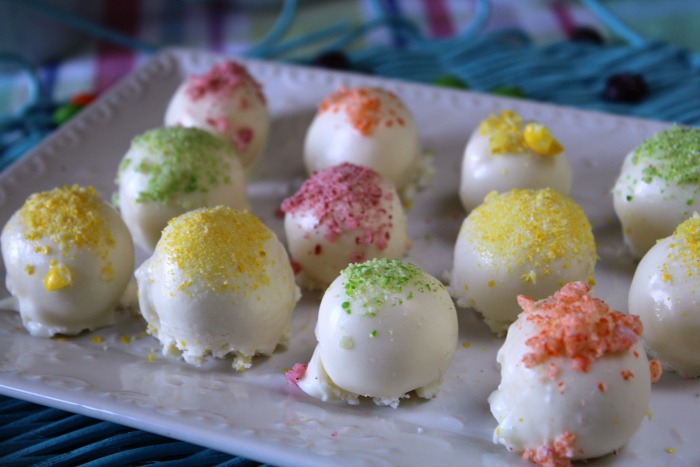 Making these requires a small amount of ingredients – white chocolate, heavy cream, Skittles candies, and melting chocolate.
So let me show you how I made these —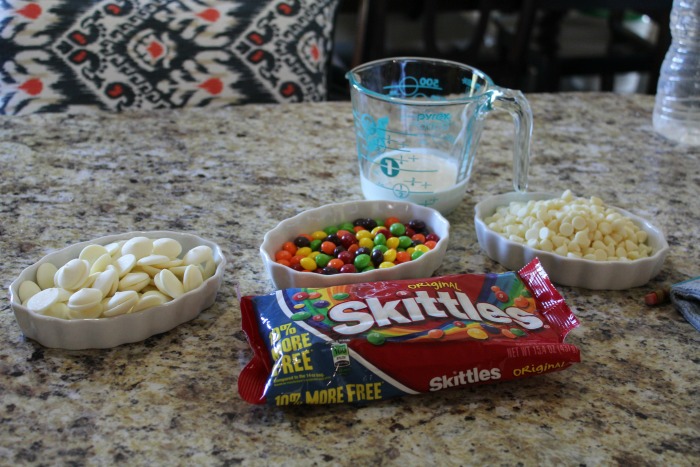 I started by taking and separating the colors of the Skittles. Then, I just take a few at a time and grind them in my high powered blender.
I set those candies aside and then get a microwavable safe bowl. I pour in the 10 ounces of white chocolate chips and 1/3 cup of heavy cream.
Then I microwave this for 30 second intervals until it just starts to melt and then I mix and mix and mix until it is all melted together. Add in 2 tablespoons of white cake mix and mix together.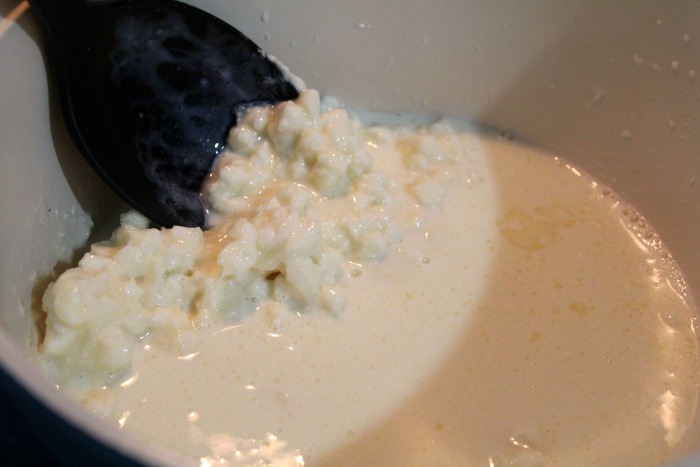 Take the mixture and set it in the refrigerator for about an hour. Then using a melon baller or a spoon, scoop out the truffle batter and roll to make 1″ balls.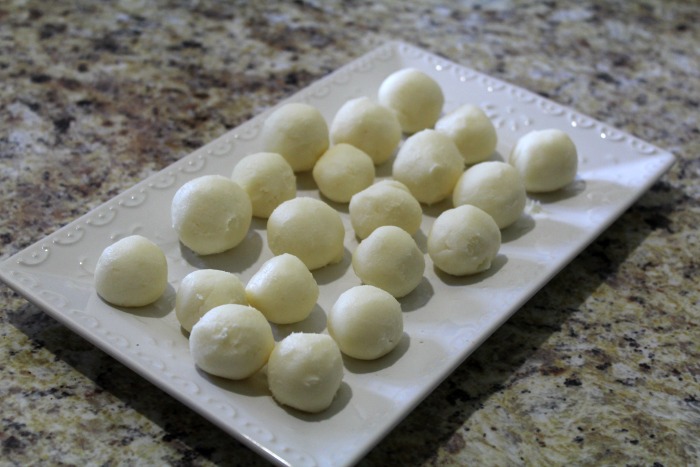 Then place them back in the refrigerator to harden up a bit.
While those are hardening up, taking your melting chocolate wafers and melt them in the microwave the same way you did the white chocolate chips.
Once it is melted, get your truffles out of the refrigerator and using a fork, dip them in and swirl them around to coat the entire thing.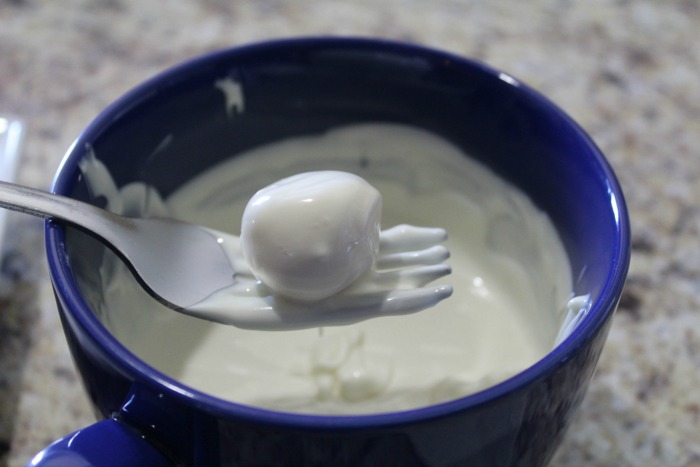 Then place on a plate and top with ground up Skittles candies. The combination of the white chocolate and the tartness of the Skittles candies will have your mouth singing your favorite football fight song!
White Chocolate Rainbow Truffles
Ingredients
10 oz white chocolate chips
1/3 cup heavy cream
2 TBSPs cake mix
1 bag of Skittles Candies
1 bag of white melting chocolates for coating
Instructions
In a microwave proof bowl, combine the white chocolate chips and the heavy cream. Microwave one minute at a time at half power, stirring in between, until it is smooth and fully combined. Be careful not to over microwave. If you pull it out and it is almost combined, just keep stirring.
Stir in the cake mix.
Cover and refrigerate for one hour.
While the truffles are chilling, take your Skittles candies and separate by colors. Then, using your high powered blender, grind the Skittles until they resemble dust and chopped fine.
Using a small spoon, scoop out spoonfuls and roll them into balls
Melt your melting wafers in 30 second increments until just melted ( do not over cook) and dip your truffle balls in the melting chocolate.
Sprinkle on the different colored Skittles dust on top of each one and then place in the refrigerator to harden
Call and Eatible -Make Your Homegate Awesome
Want a chance at winning some NFL tickets? Well now is your chance! Simply purchase any Skittles products (up to 14oz) between 8/1/16 – 10/31/16. Then, snap a clear photo of your entire receipt with the date and the Skittles product starred/checked. Or snap a clear photo of your Skittles product.
Upload your photo or email your photo to redeem@callaneatible.com. After your photo is submitted you will receive an automatic confirmation and request to complete a registration form.
To get started, simply click here to the Call and Eatible website.
What is your favorite tailgate football foods?