This shop has been compensated by Collective Bias, Inc. and The Coca-Cola Company. All opinions are mine alone. #LayerOnLove #CollectiveBias
I love upcycling during the holidays. I take old jars and turn them into food gifts. I take baskets I got during the year and build cute pamper me sets for my friends. But my latest upcycle project — a winter snowman scene that I made using an empty Coca-Cola bottle is priceless — and so adorable!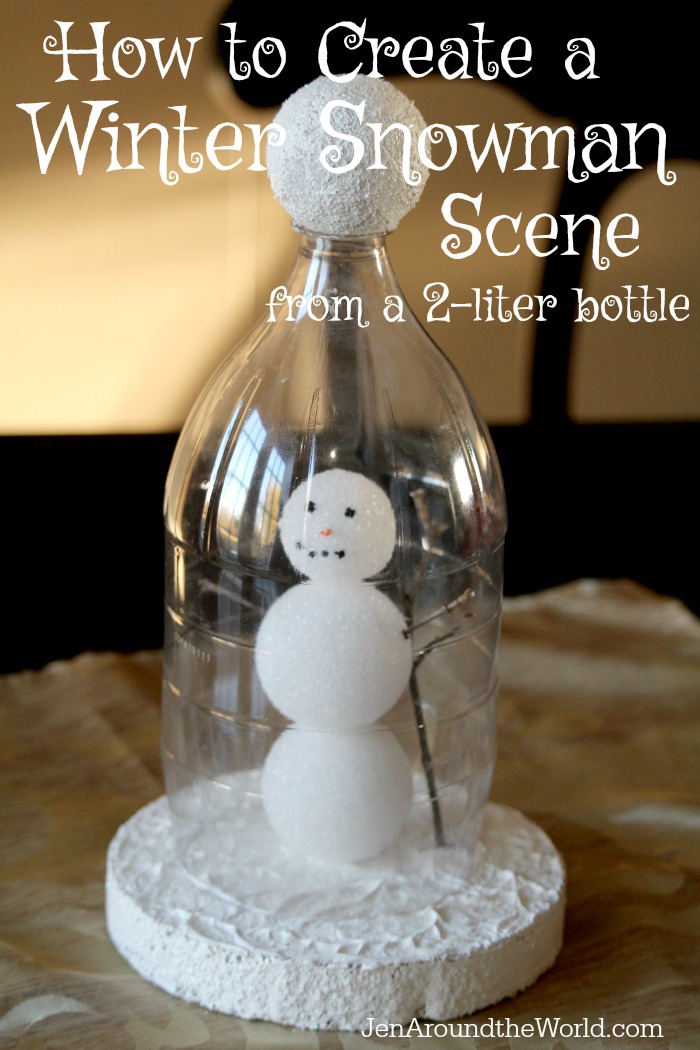 While I was at Wal-mart picking up the groceries for the week, I grabbed a few bottles of 2-liter Coca-Cola to give to our local food bank since they were serving a huge Thanksgiving dinner this year to our community.
For my family and me, we love giving back and sharing our gift of service so when I found out that Coca-Cola was supporting the non-profit organization, One Warm Coat, in their mission to donate half a million coats this holiday season, I knew I had to help out and purchase a few myself.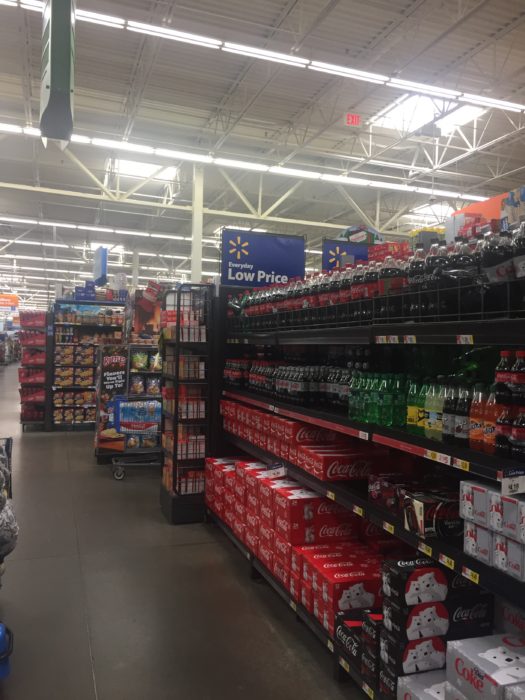 We drink a lot of soda anyway, so I knew it was a purchase that was well worth it — and I had an idea for what I could do with the empty bottles afterward.
I picked up a few more materials I needed to make this fun Winter Snowman Scene —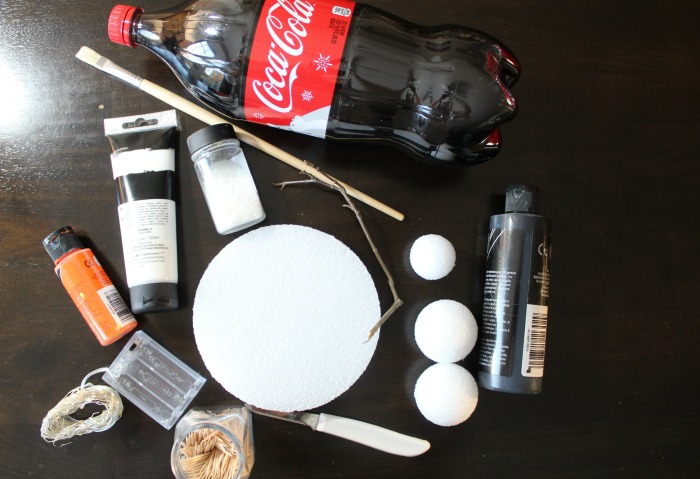 White Paint
Orange Paint
Black Paint
Round Styrofoam disc
3– 2″ foam balls
1 — 1″ foam ball
Exacto Knife
Empty 2-liter bottle
Twig from your yard
Toothpicks (3)
Paintbrush
White Sparkly glitter
Start by removing the cap, red ring, and label from your Coca-Cola 2-liter bottle. Then score it right on the bottom where it moves into the curve.
Use your Exacto knife and cut the bottom off and set it aside.
Now, take your styrofoam base and paint it white. I add extra paint to it and then take my brush and pull up some of it to form peaks to make it look like snow.
Then, I sprinkle on white sparkle glitter to give it that shiny snow effect.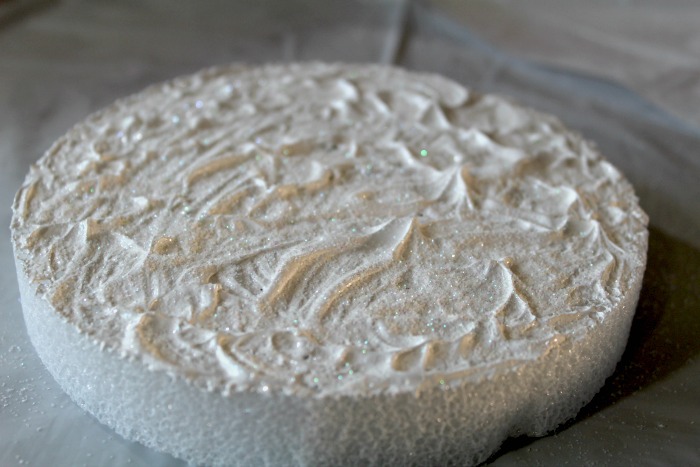 You can paint the edges at the very end, but you need to leave them clean right now so that you can grab it without making a mess.
Now, using your toothpicks, build a snowman using the 2 — 2″ balls for the bottom, and 1 — 1″ ball on the top.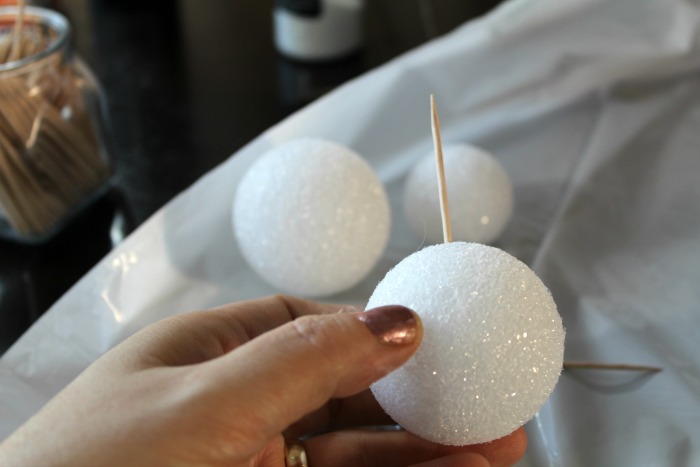 Then, once you get that done, add a toothpick at the bottom so that you can stick it into your styrofoam base. This will hold your snowman in place on your scene.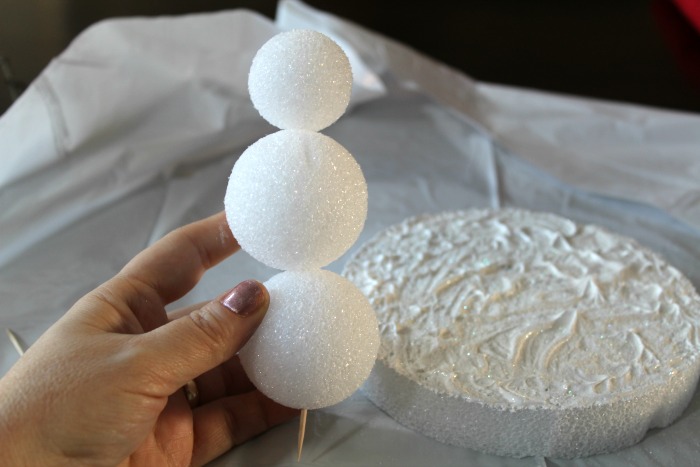 Once you get your snowman in place on the base, take your twig and break off pieces to make arms for your snowman and stick them in the top 2″ ball.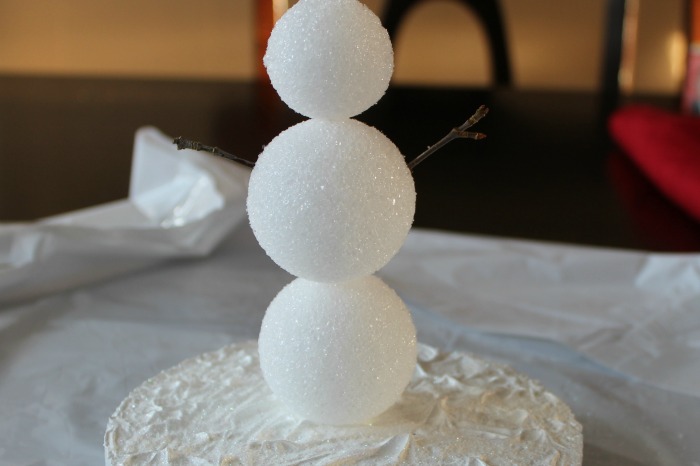 Now for the fun part — you get to draw the face! I use a toothpick and dip it in my black paint to make the face. Then I break a toothpick in half push it into the face portion and leave a little bit sticking out to make a nose.
Then I use a toothpick to paint the tip orange to make it look like a carrot.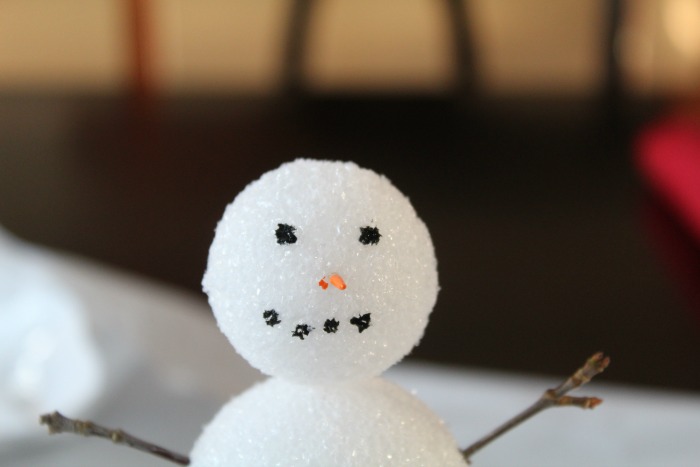 For the last and final step, you are going to take the last 2″ foam ball and push it down over the top of the Coca-Cola 2-liter bottle. You are then going to paint it white and sprinkle with the glitter.
And then push your 2-liter bottle onto the base, being careful not to tear apart your snowman, and push it until you hear it dig into the styrofoam.
Your scene should be tough enough now that you can paint the edges and sprinkle them with white glitter as well.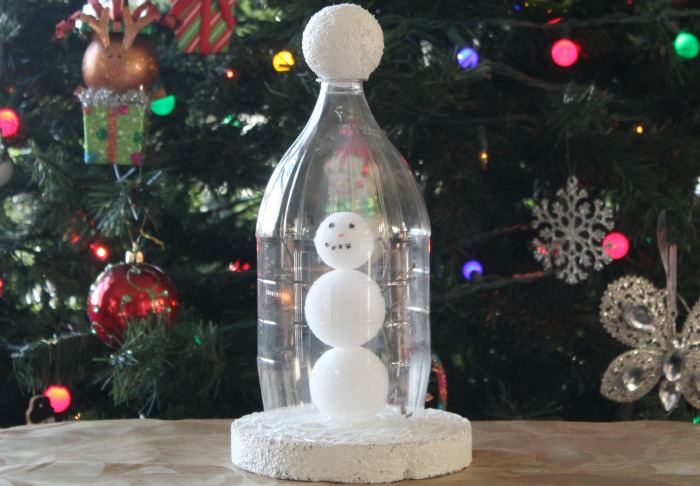 This scene reminds me that winter time is cold and there are many kids that go without coats during this time of year, so knowing that Coca-Cola is encouraging us help those in need. Will you help me do that today? Let's put a coat on someone.
By coming together we can work together to donate to One Warm Coat® on Coke.com/LayerOnLove, we could collectively help to put a coat on one million people in need this winter.