This shop has been compensated by Collective Bias, Inc. and its advertiser. All opinions are mine alone. #BeAgeBeautiful #CollectiveBias
These tips below will help you get your hair vacation-ready in a snap!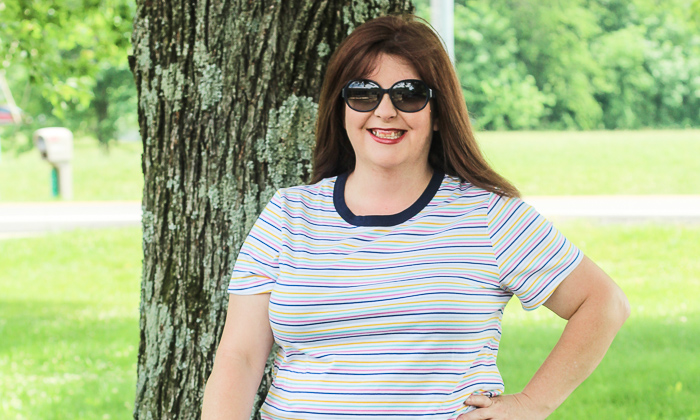 I don't know about you, but I am SO ready for a vacation. We have been going non-stop for the last couple of years without a vacation, so our family is gearing up for one sometime in June or July. With vacation on the horizon, it's time for me to get my hair in shape too!
What? You don't get your hair vacation ready? If not, you are missing out and here's why — the wind, sun, and temperatures can wreak havoc on your hair. It can definitely wreak havoc if you're like me — middle age.
Younger girls don't really have the issue that us older ladies have. Aging can cause so many issues with our hair — loses volume, manageability, color, moisture, and shine.
Now, I can hear you right now thinking — "my hair doesn't look like that." But are you sure? The only way to tell is to take this test to see if your hair was like mine.
I was completely shocked at what I saw when I did this recently. You cannot really see them because red-headed people get dingy hair when their grays show, but underneath my top layer is many many gray hairs.
My Secret for Vacation Ready Hair –Zotos Professional AGEbeautiful Liqui-Crème anti-aging hair color
I recently took a trip to Sally Beauty Supply (they are the best for the most professional hair color on the market). I was looking for something to help give my hair back its luster.
I discovered the Zotos Professional AGEbeautiful Liqui-Crème anti-aging hair color and found it to be interesting so I decided to check it out even closer.
After looking at all the colors and speaking with the Sally Beauty Supply store clerk, my daughter helped me pick out the perfect color for the look I wanted to achieve. Since I have really thick hair, I decided to grab two bottles based on what the store clerk told me.
I purchased my developer, a bowl and brush, some gloves and the hair color and I made my way back home to get my hair vacation ready.
The thing that really turned me on to the Zotos AGEbeautiful hair color is the fact that it fights all 5 signs of aging hair. In fact, AGEbeautiful anti-aging hair color is the first hair color developed to fight all 5 signs of aging in your hair.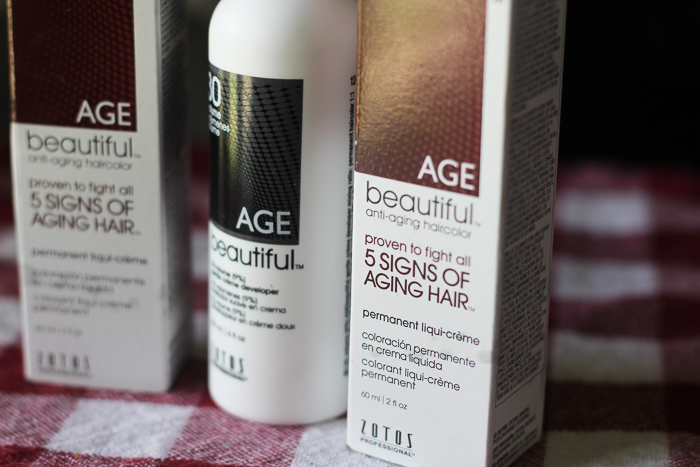 How to Color Your Hair with Zotos Agebeautiful Liqui-Creme Anti-Aging Haircolor
Before you ever start coloring your hair, always — and I cannot stress this enough — always read all the directions first. Sit down and take the booklet and read through it entirely before you start. Get familiar with the steps so you will know what to do.
Next, follow the steps for mixing your color with the developer. It is a 1:1 ratio. Since I was using 2, 2-ounce tubes of hair color, I added the whole 4-ounce bottle of developer.
Once you do, put on your gloves and start adding the color to your hair. You can use a bottle or a bowl and brush. Since my daughter was helping me, we decided to go with the brush and it worked well.
Once you get all the color worked into your hair, pin it on the top of your head and let it set for the number of minutes the booklet said. I didn't want a super dark color, so I took mine out at the 25-minute mark. The longer you leave it on, the deeper the color will be.
I love that the AGEbeautiful color gives me 100% gray coverage. Those little pesky gray hairs have been wreaking havoc on my hair making it look washed out!
AGEbeautiful contains melanin, keratin peptide, silk protein and a patented conditioning technology to replenish hair with the essential components that are lost with aging. The unique formula penetrates deeply and absorbs quickly to deliver beautiful, rich color. Hair feels instantly fuller, silkier and radiates with shine.
The Results Are In!
Once the time was up, I washed out the color and styled my hair as I normally would. The difference is TOTALLY shocking. I honestly did not think my hair was that washed out — until I saw this transformation.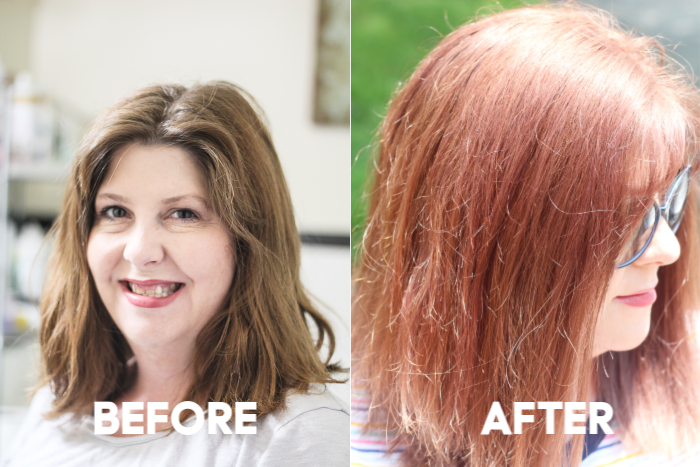 The transformation was unbelievable to me. I thought my hair was just okay before. But then after using the AGEbeautiful hair color, I learned my hair was in pretty bad shape.
Now — it's ready for the beach and my family vacation. I feel like a new woman again.
If you want to give your aging hair a boost, head to Sally Beauty Supply today and try out AGEbeautiful as well.
When you do, you will receive a FREE AGEbeautiful 4oz Developer w/ the purchase of any AGEbeautiful liquid-crème color by using the code 555983 in-store at Sally Beauty. This offer runs through August 1, 2019 (as supplies last)."