These on the go freezer breakfast sandwiches recipe and post have been sponsored by Bays® English Muffins. All opinions listed are 100% my own.
Life gets busy and when it does, I will be the first to tell you that I do not want to cook anything. But, I have a family I need to feed, so how do I do that and still not have to cook that often? I make a huge batch of these on the go freezer breakfast sandwiches.
I am so excited about partnering with Bays English Muffins this month to show you how I enjoy breakfast on the go! English muffins can be used at any time of day. They are not just for breakfast anymore, and I have the perfect on the go recipe that will keep you out of the drive-thru lane on those busy mornings or afternoons.
How to Make On the Go Freezer Breakfast Sandwiches
Something that I have been practicing a lot of lately is freezer cooking. Basically, you are batch cooking meals in bulk to help cut down on your time in the kitchen. I used to be against this because who wants to stand and cook for hours on end? Not me.
But then I discovered the time it saved in the long run — like with these freezer breakfast sandwiches.
They are made using simple ingredients — bacon that we have candied using brown sugar, sausage patties, eggs, and cheese. That's it. Now, I have breakfast ready for those on the go busy summer mornings. Or — if you're like me and forget to eat breakfast, eat it at lunchtime — or even dinner time. For us, breakfast is good all day long.
Bays English Muffins Make It Even Easier to Make These Sandwiches
Thanks to Bays English muffins, these on the go sandwiches took no time to make — and I have a secret weapon that is going to help you even faster.
If you are not familiar with Bays English muffins, you won't find them on the bread aisle as you think!
They are in the dairy case, where they are chilled for the perfect package of freshness every single time.
Are you ready to learn about this awesome tip I have?
Use your oven to bake both your bacon and your sausage patties.
I had no idea that I could bake my sausage patties in the oven. I knew I could cook bacon in the oven, but I had no idea I could do sausage as well.
Assembling Your On the Go Sandwiches
While the bacon and sausage are cooking, open up a pack of Bays English Muffins and get them ready for broiling. You want to toast the English muffins. They hold up better when you reheat them.
Once your bacon and sausage get done cooking, turn your oven on to broil and put the English Muffins under the broiler for about 1-2 minutes. Be sure to keep an eye on them and take them out when they are brown.
Top each English Muffin with either sausage or bacon and then egg and cheese. Place back under the broiler so the cheese melts. Remove from the oven and enjoy or let them cool off and then wrap in aluminum foil and place in the freezer.
Want to see how I made these delicious sandwiches for on the go? Watch the video below for a complete tutorial on the whole recipe.
Now — if you want to kick those sandwiches up a notch, here are a couple of sauce ideas —
Hot Honey Sauce
3 tablespoons hot sauce
3 tablespoons of honey
Mix together and drizzle across the bacon sandwich once it gets done reheating. Enjoy!
Salsa Verde
Storebought or homemade salsa verde
Smear on top of sausage sandwich for an elevated on the go sandwich taste.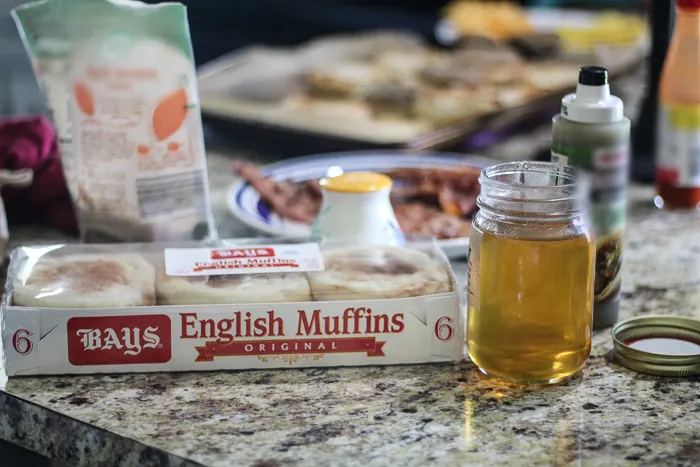 How to Reheat Your Freezer Breakfast Sandwiches
When you are ready to eat your on the go freezer breakfast sandwich, simply remove from the freezer. Then take the aluminum foil off if you are reheating in the microwave. Place on a plate and heat for 1-2 minutes depending on the power of your microwave.
For the oven, preheat the oven to 350 degrees and place the foil-wrapped sandwich on a baking sheet. Heat through for 10-15 minutes. Remove foil and then enjoy!
Yield: 12 sandwiches
On the Go Freezer Breakfast Sandwiches
These on the go freezer breakfast sandwiches are perfect for your busy on the go mornings!
Additional Time
5 minutes
Ingredients
1 package of thick-sliced​ bacon
1 pack of breakfast sausage
2 packages of Bays English Muffins
2 Eggs, mixed together and folded
12 slices of American Cheese
1/4 cup of brown sugar
Instructions
For the Bacon and Sausage
Preheat the oven to 350 degrees. On two parchment lined baking sheets, lay out your sausage patties and your bacon.
Bake in the oven for 20-25 minutes or until done. Keep an eye on it and don't let them burn.
During the last few minutes of cooking, sprinkle the brown sugar on the bacon and let it caramelize. Remove the meat from the oven and allow it cool.
For the English Muffins
Split the English Muffins in half and broil under a broiler until they are slightly toasted. Remove the oven and set aside.
For the Eggs
In a bowl, mix your eggs together and make sure the yolks are combined.
In a skillet over medium heat, pour the eggs in and make sure it covers the entire bottom of the pan.
Allow the eggs to cook until set. Using a biscuit cutter, cut circles out that fit the perfect size of the muffins.
Set everything aside.
Assembling the English Muffins
Place a sausage patty or bacon on each bottom half of the English Muffin. Top with an egg slice and then 1 slice of cheese.
Place back under the broiler until the cheese melts.
Remove from the oven and place the English Muffin tops on and wrap with plastic wrap and then aluminum foil.
Store in the freezer for up to 6 months. When ready to heat, remove from the freezer, remove both the plastic wrap and aluminum foil and heat in the microwave for 1 minute.
Serve with your favorite breakfast condiments.
Nutrition Information:
Yield:
12
Serving Size:
1
Amount Per Serving:
Calories:

120
Total Fat:

7g
Saturated Fat:

3g
Trans Fat:

0g
Unsaturated Fat:

3g
Cholesterol:

51mg
Sodium:

361mg
Carbohydrates:

8g
Fiber:

0g
Sugar:

5g
Protein:

6g
Make sure to "Like" Bays on Facebook for great recipes, fun English muffin ideas, and so much more!