If you and your family are looking for a fun place to visit, look no further! Let me introduce you to Pigeon Forge, TN. Pigeon Forge is one of the most unique one-of-a-kind places to visit. It is located in the Great Smoky Mountains, nestled between Sevierville and Gatlinburg and has more beauty than you have ever seen.
Pigeon Forge is a town filled with tons of fun things to do! I have visited there many times and have the up and up on the best places to eat, stay, and play.
Ultimate Guide to Pigeon Forge, TN
Must See Attractions
Alcatraz East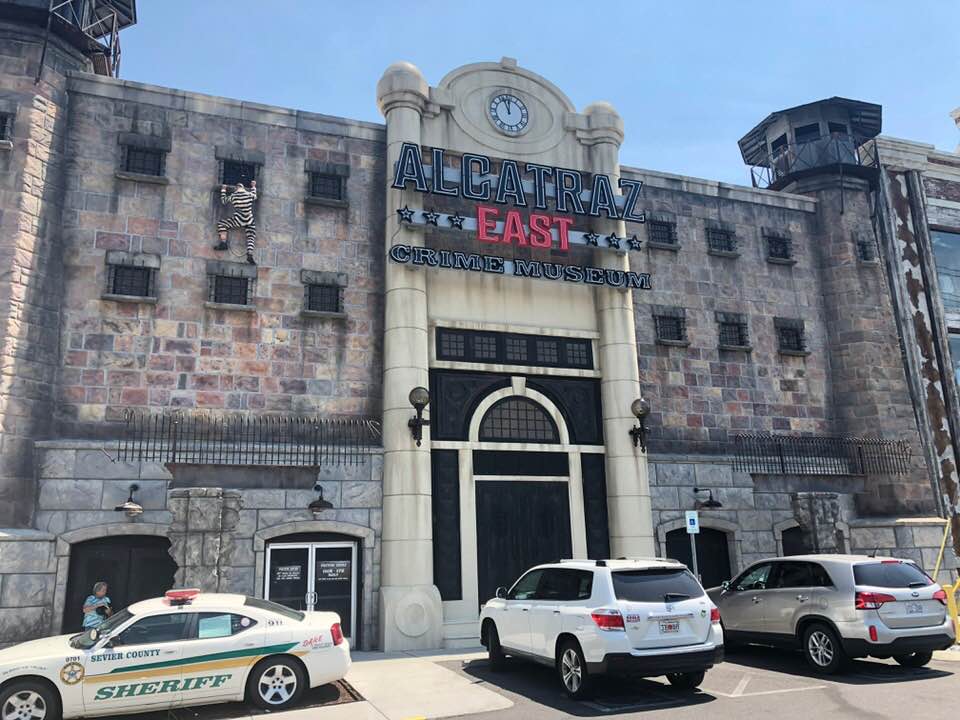 One of the coolest attractions that Pigeon Forge has to offer is the Alcatraz East, an attraction that covers the history of crime in the United States from the beginning.
During our previous visits to the city, we had passed this building several times and I wasn't really sure what it was. Once I read about all that was inside, I knew hubby and I would love it! We have always been fascinated with the true crime scene — and stepping inside, it was everything I wanted to see and more!
The Giant Smoky Mountain Wheel
If you are not afraid of heights, you need to take a ride on the Giant Smoky Mountain Wheel. We decided to do this on our last day there, and to see the mountains from 200 feet up is simply amazing.
But to see the wheel at night along with the fountain show is breathtaking.
Not only do you have the wheel, but there is also a ropes course, laser maze, arcade, Escape Room and more — all at your fingertips while you stay on the Island.
The Comedy Barn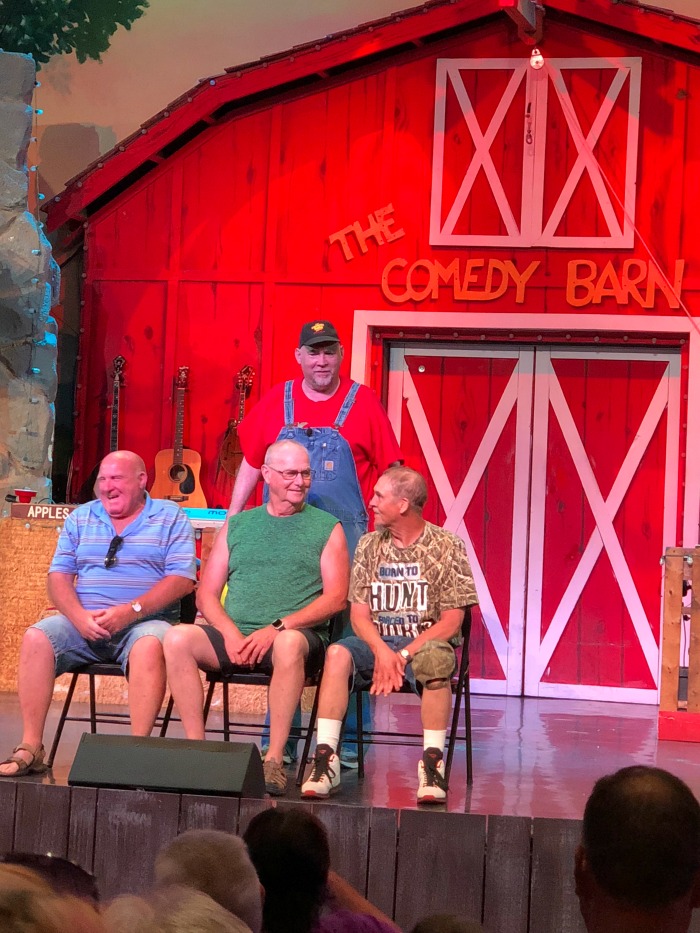 On our first night there, we had reservations to watch the 2-hour Comedy Barn show. Y'all I have never laughed so much in my life.
There is nothing like good clean fun to make you have gut busting laughter! They also offer snacks to munch on while you watch the show. I promise this is one you will definitely want to see.
Titanic Museum
The Titanic Museum is always so fun. I love that you get to learn all about the ship and the people on the ship. When you enter, you are given a card of an actual person that was aboard the Titanic.
While there, you follow their journey and at the end of the tour, you find out if they made it or not.
Carriage Rides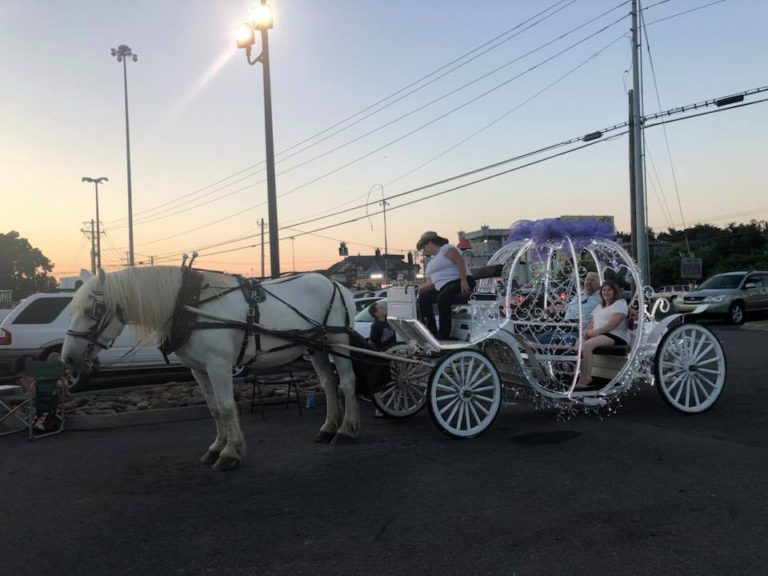 Not even 1/4 of a mile from The Island, Heritage Carriage Rides offers a fun evening ride around the area for you and your sweetie.
We got to ride in the Cinderella carriage and our driver talked about all the cool things in the area to see. It was a fun ride and everyone should take one.
They have carriages for a 2-4 person ride, or if you have a bigger party, they have a bigger carriage for that.
Best Restaurants in Pigeon Forge
Paula Deen's Family Kitchen
When my husband and I went to Pigeon Forge in June, one of the very first restaurants we chose to eat at when we arrived was Paula Deen's Family Kitchen. I have been a long time fan of Paula and have followed her along her journey for many years. To be able to visit her restaurant that is located on The Island in Pigeon Forge was something I got to cross off my bucket list!
Upon arriving, you are met with that family photo on the side of the building that we have all come to know and love. Those Deen brothers are something special, am I right??
Frizzle Chicken Pancake Coop
For breakfast one morning, we walked over to Frizzle Chicken Pancake Coop. This place is a MUST visit when you come to Pigeon Forge.
The food is amazing — the pancakes are huge — and the fact that you get breakfast and a show is A+ in my book. When you enter, you feel like you are inside of a chicken coop and seated along the walls are all these animated chickens.
Alamo Steakhouse
For a special dinner one night, we visited The Alamo Steakhouse where my husband just had to have the El Presidente Porterhouse. Y'all — their food did not disappoint.
The Old Mill Restaurant
On our last morning there, we decided to eat at The Old Mill Restaurant — which is a fan favorite among tourists and locals alike. They offer complimentary juice and muffins to enjoy while you decide what you want to eat for breakfast. It was great and I can see now why it is a fan favorite.
Where to Stay
Margaritaville Island Hotel
I recently got the chance to visit Pigeon Forge, TN and stay at the beautiful Margaritaville Island Hotel. This hotel is located on The Island — basically a city within a city in Pigeon Forge, TN.
This hotel was everything I could have asked for and more. If you are visiting the area anytime soon, here is what you need to know and WHY you need to stay at this location.
Wilderness at the Smokies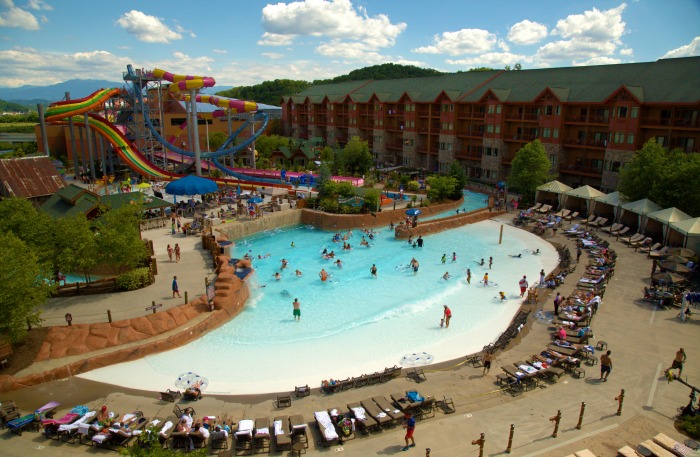 With summer here, many families are looking for a great place to stay that has many things for both adults and kids alike. Well, let me introduce you to Wilderness at the Smokies — a family-friendly water park in Tennessee that won't break the bank.
The Wilderness at the Smokies can give you all of the excitement and adventure that your family desires, and you don't have to travel out of the country to get it!
Pigeon Forge is the perfect place to take your family on vacation, and if you need MORE reasons to visit here, check out my post Pigeon Forge Your Getaway for the Summer or 5 Reasons You Should Visit Pigeon Forge, TN This Summer.
So — what are you waiting for?