Last month, my family and I took our annual vacation to Gulf Shores, Alabama. While there, we had the privilege of staying in the most beautiful beach house, Barefoot Property, owned by Harris Properties Management.
I have stayed in condos and such at Gulf Shores, but have never stayed in a beach house, and now that I have, it is my favorite way to stay when visiting the area.
The Barefoot property is so huge — it holds 28 people. It's a great house to rent when you are having a wedding, family reunion, or a huge get together with friends.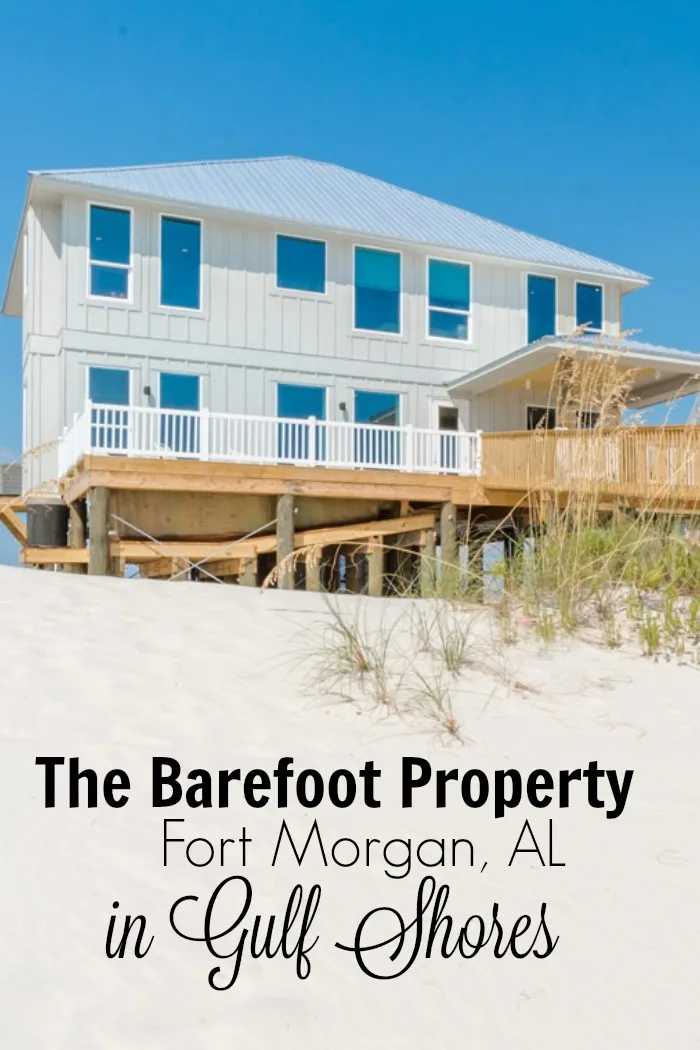 It even comes equipped with an elevator to get you from floor 1 to floor 3.
The cool thing that I love about this house more than anything else is how handicap accessible it is. My mother-in-law got to come with us on this trip and she had the best time.
Check out this video showing the entirety of the house and you will understand why we fell in love!
She is 69 years old and had never been on vacation anywhere. Her favorite thing to do while here was sit on the back deck, under the covered portion and just watch the water.
Her bathroom was wonderful and she wished she could have taken the shower home with her. It was a beautiful walk in shower –perfect for someone who can't step up or into a tub.
Several nights while here, we made dinner in the massive kitchen (which I am desperately missing right about now), and then ate as a family out on the back deck in the evenings.
Seriously — there is nothing more appealing than enjoying the beach while having dinner with your family.
Every morning, I would wake up before everyone else and have coffee and quiet time on the back deck. That was something my soul definitely needed! Peace, calm, quiet, and the waves crashing against the beach.
Most evenings, after all the activities were done for the day, you could find our entire family piled into the living room watching movies together.
I love how the kitchen and the living room were all one big room. The sofas were super comfortable and enough room for our entire family to sit together.
My husband was really enjoying that couch!
And the decorations chosen for the house were just beautiful. They were not super ornate, but just beachy, simple, and really added a beautiful touch to this comfy home.
I think the thing that my family loved most about this house was the pool. My kids looked up and down the beach at all the other houses and not one of them had a pool.
This house comes equipped with a private pool — which is perfect when you are not feeling like going down to the beach, but you want to swim.
Of course, if you do want to go down to the beach, this house offers a private access with a ramp and everything. my daughter had so much fun taking photos for her photography portfolio she is putting together.
It has a gate on it as well with a locking mechanism so that someone just can't walk up without you knowing it.
I had to get some work done while I was there as well. I parked myself at the HUGE dining room table with my gorgeous beach view, my cup of coffee and my computer.
It was the perfect place to work!
The Features of the Barefoot Property
So — let me give you a rundown of ALL that this house has.
Features Include:
-Granite and Stainless in the kitchen and bathrooms
– Open living area
– 6 Master Suites with private bathrooms
– 2 bunk rooms
– 2 living areas
– Dining Room seating for all guests
– Private Pool on the Beach Front Deck
– 800 Square foot partially covered deck
– Large pantry with extra Fridge and Commercial Ice Maker
– Wifi and Cable
– TV in Each Bedroom
– Storage on ground level
– Covered parking (4 cars)
Now, this house is located in the Fort Morgan area. If the busy scene of Gulf Shores is not what you are looking for, then staying on this end is perfect for you.
Check out this photo gallery and enjoy the beauty of the Barefoot Property!
There is seclusion, a beach that is not super duper busy and covered up, and lots and lots of privacy.
Our favorite time to stay in Gulf Shores is during September and October. The weather is still nice enough to enjoy the beach, but you miss all the crowds of summer — so you get more family time and not have to worry about crowds and such.
So, I know you might be wondering what a house like this costs to rent. During the fall, a week in this house will run you about $4500. The winter time, it's about $3500, and spring- peak summer, it's around $6000+.
BUT WAIT!
Remember that this house was built for lots of people, so say that if you have 15 people that want to come and stay with you and you break that price up, you are looking at $200-$400 FOR A WEEK AT THE BEACH.
Seriously — that is THE best deal out there.
Now, if this house is still a bit out of your price range, Harris Properties Management has tons of other great properties scattered all throughout Fort Morgan, Gulf Shores, and Orange Beach.
Be sure and check them out and use them for your next stay at the beach in the Gulf Shores area.
Stay During the Fall and Save 20%
If you plan on visiting the area during the fall, right now Harris Properties Management is offering 20% off your rates! That means, you can stay for a week for $3600 — that is SUCH an awesome deal.
Connect With Harris Properties Management
When are you planning your next beach getaway?