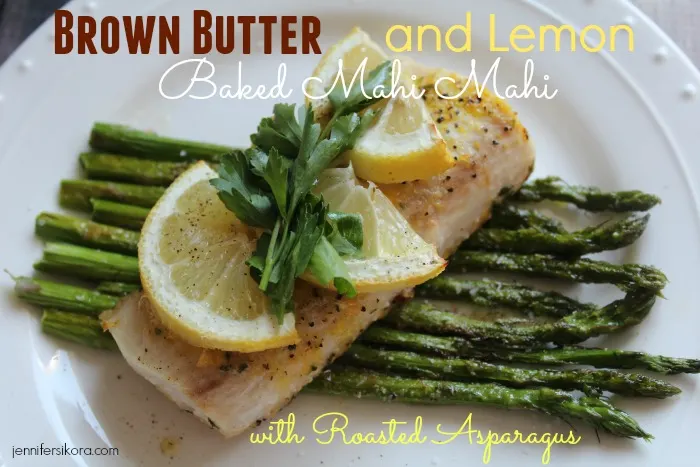 Over the weekend, I decided to set myself a goal. For the month of June and July, I am going to give up my evening television time to go to the gym and work out. Because of that goal I set, I decided I also wanted to try to eat a little healthier and that is where the inspiration for this Brown Butter and Lemon Baked Mahi Mahi came from. I served it up with a side of roasted asparagus for a delicious meal that anyone can make in under 30 minutes.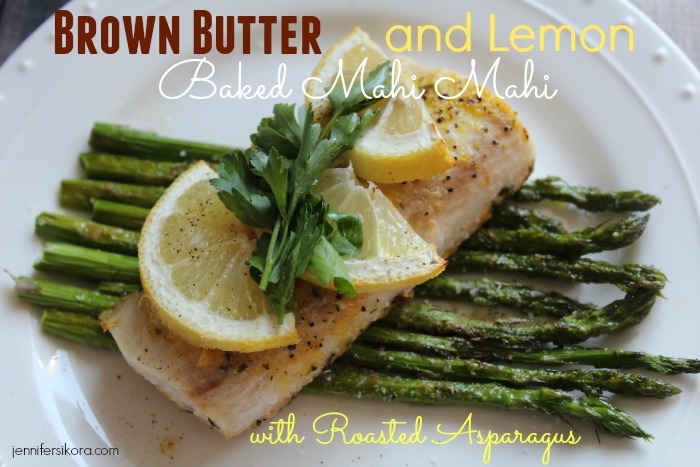 I am seriously in love with this dish. I wasn't for sure how I was going to like it because honestly — I am not a fish person. I love shrimp, but when it comes to fish, I just cannot make myself eat it.
There are a couple of kinds though that I do like — and mahi mahi is one of them. If you are not a big fish eater but need the Omega 3's — start with a fish that does not have that fishy flavor — like Mahi Mahi.
This dish can be prepared in under 30 minutes, simply because you put both trays in the oven at the same time.
Making brown butter is easy — just melt the butter in the pan and let it continue to cook on medium heat until it turns a golden brown color. Then take it and add in your seasonings and drizzle onto your fish.
Then top them with slices of lemon and place in the oven on 400 degrees for 20 minutes.
When it comes out, your asparagus will be roasted to perfection and your fish will be tender and flaky.
Yield: 4 filets
Brown Butter and Lemon Baked Mahi Mahi w/Roasted Asparagus
Ingredients
3-6 Mahi Mahi filets
6-8 cloves garlic, crushed and diced large
2 tbsp olive oil
4 tbsp butter browned
4 tbsp fresh lemon juice
Lemon Slices for Garnish
Grated Lemon Zest
Parsley for garnish
Lemon and Pepper Seasoning
salt and pepper to taste
Instructions
Preheat oven to 400°.
Place your mahi mahi filets on a piece of parchment paper. On the same piece of parchment paper, place your asparagus. Drizzle with a couple of tablespoons of olive oil. Season asparagus with Salt and pepper and the fish with the lemon pepper seasoning.
Cook your butter in a skillet on medium heat until it turns a golden color. Add garlic and saute on low for about 1 minute. Add all but 1 tbsp of the lemon juice, shut off flame, and remove from heat.
Take the butter sauce and pour over your fish filets and then sprinkle on grated lemon zest..
Top fish with lemon slices before sticking in the oven.
Bake at 400° until cooked, about 20-25 minutes.
When the pan comes out of the oven, take the final tablespoon of lemon juice and drizzle over the asparagus. Garnish with chopped fresh parsley before serving.
What is your favorite go to seafood meal?