Thank you to Harris Properties Management for the complimentary stay in your beautiful Always Summer Beach House. All opinions listed are 100% mine.
During our recent stay in Gulf Shores, we wanted to extend our stay. Harris Properties found us the perfect place to stay.
They also manage the gorgeous Barefoot Beach House we stayed in as well. They offered us a few days in downtown Gulf Shores. Always Summer Beach House is a newer property addition. I was excited to try it out and see which I preferred more — being in town or more secluded.
The Always Summer Beach House – Instant Access to Gulf Shores
Always Summer Beach House is part of the Pass Time Community located RIGHT on the lagoon in Gulf Shores. I have never experienced this side of the gulf. I was excited to see something new and compare it to my other stays in the area.
This beautiful home was the perfect size for our family. It offered 4 bedrooms and 4 bathrooms and sleeps 14 people. Everyone had their own space which made for some great downtime for each of us.
Right from the getgo, I LOVE the fact that there are 2 stories. Each story offers a balcony with tons of seating areas. If you were having a get-together with friends and family, this would be perfect.
My husband loved sitting out on the deck every morning watching the traffic. It's kind of hard to see the beach from the view. There are other beach houses across the street, but you can see in between the houses.
He missed his complete view of the gulf. However, he said it was very nice and quiet and just as peaceful so that was a plus. The comfort of that gorgeous high-end furniture on each balcony made for peaceful and quiet sitting times.
The inside of the beach house is simply breathtaking. The look and feel inside remind me of a house from Fixer Upper.
The kitchen, dining, and living room are all attached. It's the perfect entertaining area. Our family had a great time playing board games every night and cooking family meals together.
The Beach and Lagoon Area
The beach access is something you have to walk to since you are across the road from the beach. This was the one thing I did not care for, but I guess that is because I have been spoiled on my last 3 visits and stayed right on the beach.
However, it's not really that far — like a 2 minute walk from the house to the beach access. You can decide to either go to the beach or hang out at the lagoon.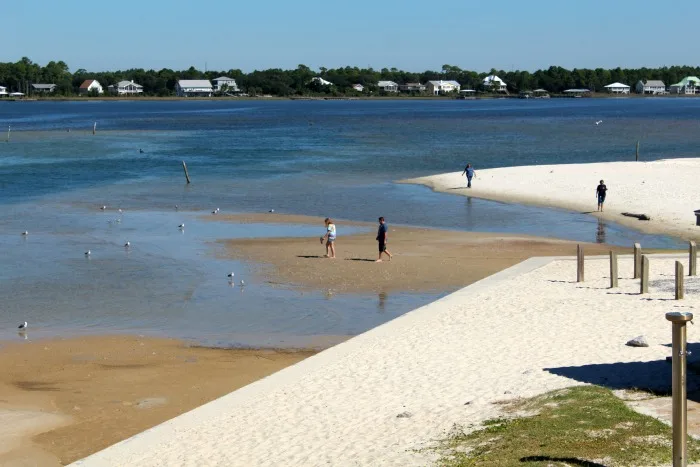 What I think is great about this area is that it is a little more controlled and calm than the gulf is on most days which is great for kids.
When they are swimming or running in and out of the water, they can get away from you quickly, but in the lagoon, it's very laid back — and the kids love it for the same reason and because there is so much marine life for them to see.
During our stay there, they were dredging the canal that connects the gulf and the lagoon, so there wasn't a lot of swimming or diving to be had there.
Occasionally you might notice a slight smell coming from the lagoon, and that is from the ebb and tide that happens on a daily basis. Most of the time it is not an issue, but — on some days it might smell a little more than usual (which is what happened to us while we stayed there).
However, when the lagoon filled back up, the smell went away. We had a great time standing on the bridge taking photos of all the fish, jellyfish, and other water life we saw swimming by.
The kids really enjoyed the bedrooms. Each one has its own bathroom and television, which makes the perfect cocoon for a young adult like my son, or a teenager like my daughter.
For the master bedroom, I was in heaven. The bathroom was MASSIVE and had so much counter space and good lighting.
I really loved that every morning, I could step out on my deck while my husband slept and watch the sun rise. I am an early riser, and he likes to sleep in a bit.
The Community Pool
Another great thing that I loved about the Always Summer Beach House is that they have a community pool right there. You can choose to swim in the gulf, or stay right there and swim in the pool.
Either way — you get sun and water — a winning combination.
This beach house is in West Beach, so you are only minutes from downtown Gulf Shores and Orange Beach, which was perfect for us because we had a lot of fun stuff we were doing on our final days there.
While my pictures are beautiful, they really just don't do this house justice. You have to see it for yourself so check out this fun video that Harris Properties Management has put together to show you the beauty that is Always Summer.
All in all, we had a great time staying here, but I will tell you to watch out for those nasty sand spurs! They were blooming during our stay there and man they hurt when you get those things stuck in your feet — so be sure and wear shoes.
If you are staying in the Gulf Shores area and need some ideas of places to eat, check out my post with over 30 of the best places to eat around Gulf Shores and Orange Beach.
Also — just a note that this beach house is not handicap accessible. There are TONS of steps you have to go up and down — so just make note of that when inquiring about a beach house or condo.
You can rent the Always Summer Beach Home by visiting here and inquiring about the availability of it. You can also check out all the other beach houses and condos that Harris Properties Management has to offer.
Gulf Shores is an amazing place to hang out and relax. It has become our annual vacation spot!
Have you ever been to Gulf Shores? What did you like about it?