This post on Baggallini may contain affiliate links. All opinions listed are 100% my own.
I travel a lot these days. This year alone I have about 5 trips planned where I am going to be on my own.
There will be no one to help me watch my most important items such as my wallet, my laptop, my phone, my camera, and more.
Because of that, I have to have something that will help me keep all of that safe with no worries. That is where the Baggillini comes in!
I have never seen a bag so versatile that it fits every single need I have when it comes to traveling –including safety!
So — What is the Baggallini?
Baggallini was founded by two flight attendants. They wanted a travel companion, something stylish with plenty of pockets to help them move from place to place. So on their next trip, they found some people who could help them make exactly that. Soon the cabin crew all wanted to know where they got their baggs, with the passengers not far behind.
Before they knew it, they were sitting around their kitchen table, not just making baggs but making a business. Twenty years later, the bags they created are still working hard for the everyday traveler.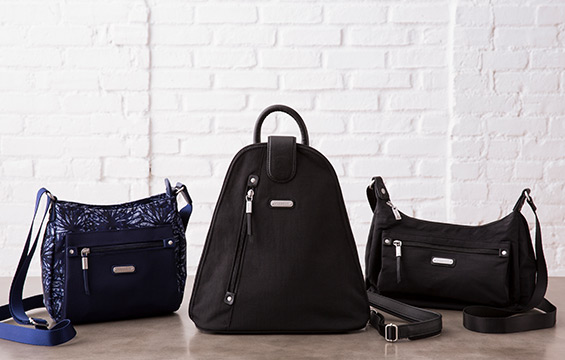 My Favorite Bag — securetex™ anti-theft convertible backpack
The thing I love most about this bag is the secure zipper that keeps my belongings safe and secure.
Traveling through an airport can be scary when I have my backpack on my back (thanks to all the pickpockets out there).
But with the securetex Baggallini bagg, everything stays perfectly secure.
With Valentine's right around the corner, this is a great gift idea for the person who loves travel and is always gone!
Have you ever heard of Baggallini? What are your thoughts?