I was invited to attend Dolly Parton's Stampede as part of a media trip to Branson. This is in partnership with Stone Castle Hotel while I attended the #BloggingBranson Event in exchange for my coverage. No other compensation was provided and all additional expenses were my own. All views shared are 100% my own.
I have been a long-time loyal fan of Dolly Parton ever since I was old enough to put my boots on by myself. Growing up on her music and her movies made this trip to Dolly Parton's Stampede, the #1 most popular and attended Branson show even more magical.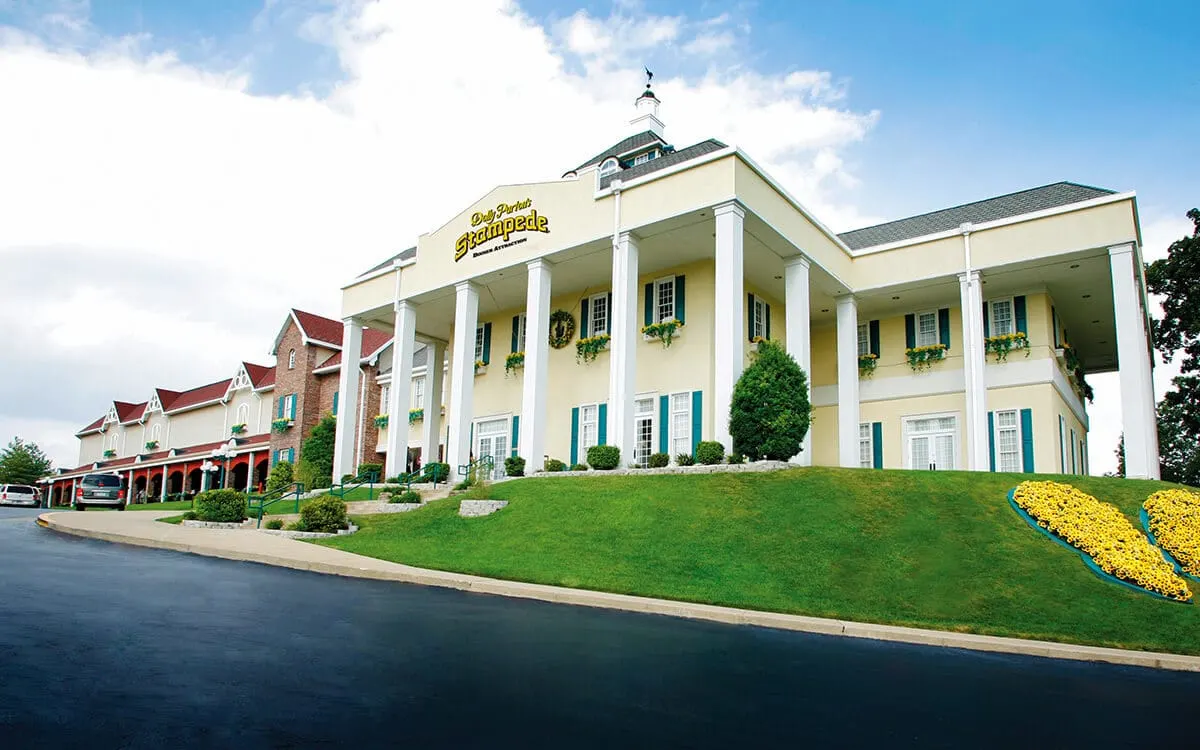 I had never been to this Branson show before, so I wasn't sure what to expect. Now that I have a visit under my belt, I thought I would share with you what I learned and how you can make your visit to Dolly Parton's Stampede one of epic proportions!
7 Tips to Make Your Visit to Dolly Parton's Stampede a Night to Remember
About Dolly Parton's Stampede
Dolly Parton's Stampede in Branson is the most visited Branson show and here's why. This family-friendly show tells the story of the wild west between the North and the South.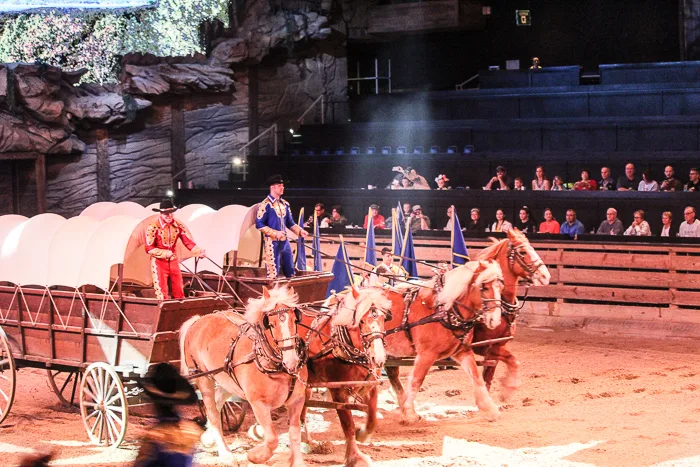 They go through the Indians, the buffalo, and also touch upon the Civil War. Not only that, but it even goes into detail regarding the move to the west through covered wagons, stagecoaches and more. It is definitely a dinner show that is full of amazing special effects!
The best part? There is a four-course meal that is fit for a king. The show offers so many amazing special effects as well as wonderful, talented performances, some of which the audience even takes part in!
And if you are worried about the animals . . .
The staff will inform you right up front that they LOVE their animals and they take excellent care of them Many of the animals are owned by the performers — they even tell the story of one of the dogs and how he was rescued and brought to be a part of the Dolly Parton's Stampede family.
#1 Get There Early for the Pre-Show Walk Through
We got there about an hour before the show opened and I am so glad we did. Jay Wilson, manager of the Stone Castle Hotel and Conference Center (who came with us to the show) told us we had to get there early enough to walk through the promenade.
When you do, you get to meet some of the amazing horses that are in the show.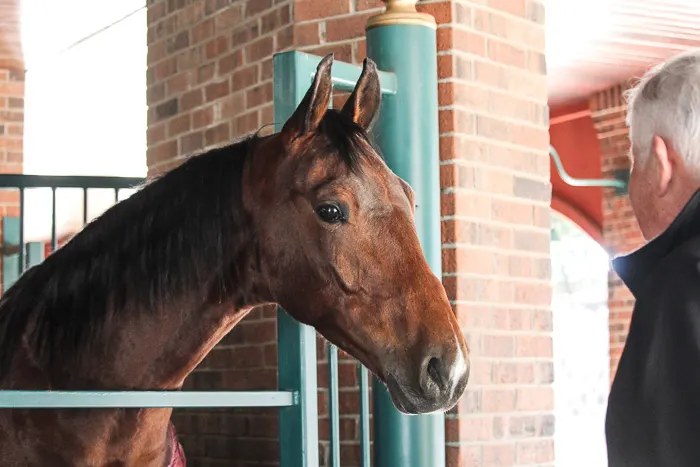 They do have signs that say the horses will bite, but if you know horses, you can reach out and pet them and talk to them. I am always in love with the horses, so being able to take photos of them and rub their noses made me so excited!
You might even catch a glimpse of the performers getting their horse ready for the show!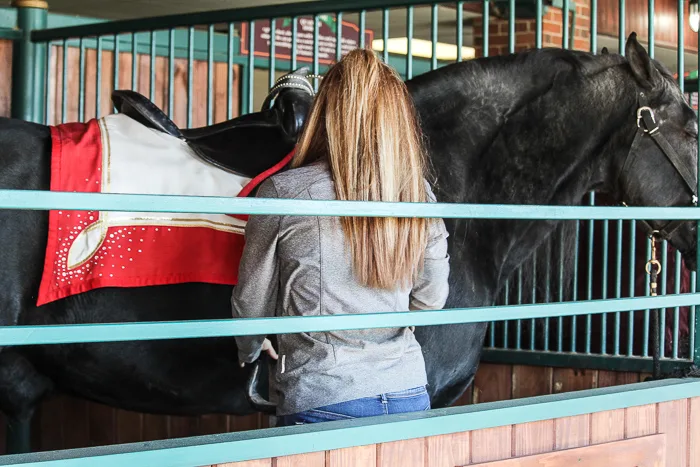 #2 A Souvenir Dolly Parton's Stampede Boot Mug Drink is a Must
While you wait for the actual Dolly Parton's Stampede show to start, they offer a pre-show of 3 brothers who sing and serenade you with their instruments and voices. I am still in amazement at that train whistle sound the one brother could make!
Be sure to mosey on up to the bar and get yourself one of those Souvenir boot mugs and fill it with a specialty drink! I got a tip early on not to waste it on sodas (because inside I could get all the soda and tea I wanted).
After looking at the menu, I settled in on a Buckboard Bash — a drink mixture of pineapple juice, Sprite, and grenadine syrup.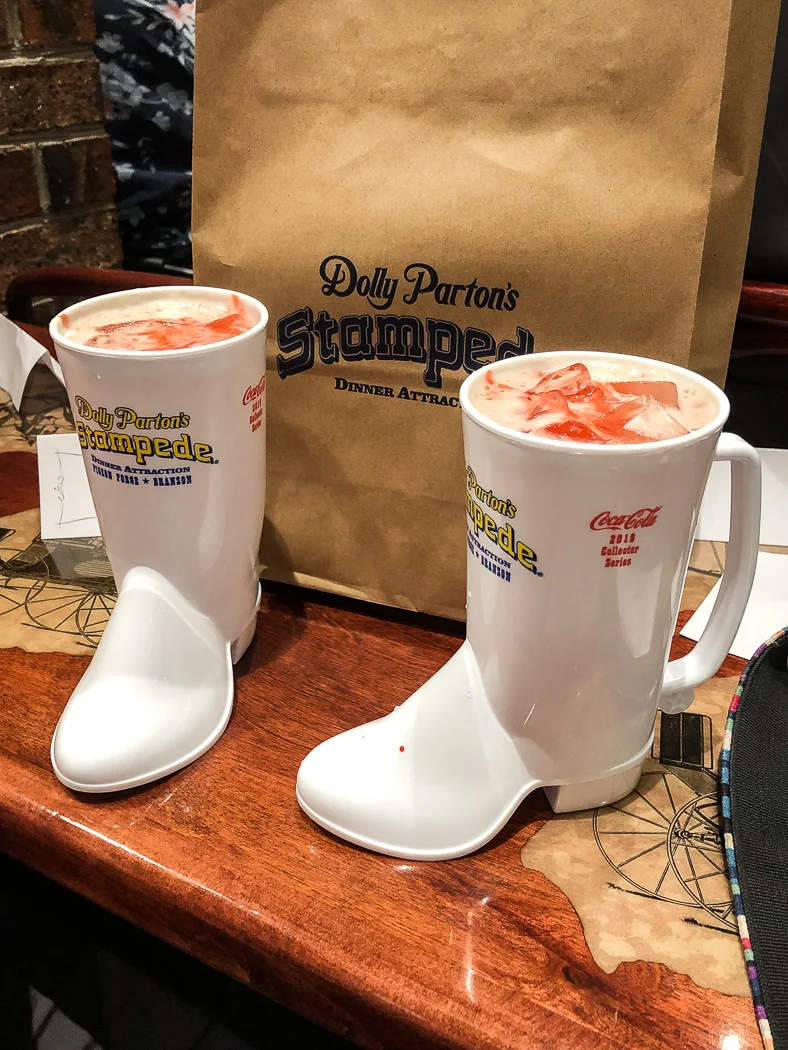 They have several other drinks to choose from too! Nothing is alcoholic, making it easy to send your kids to the bar to order their very own drink choice.
#3 Come Hungry!
Since this is Branson's #1 dinner show, make sure to come hungry. Not only do you get an amazing show of entertainment, but the food they serve you is also awesome.
It is a four-course meal that starts with some of the best soup I have ever tasted (you can buy a bag in the gift shop). As the show starts, your waiter or waitress will get your drink order.
Once that is delivered, then they will bring your soup to you. To go along with that, they drop off a delicious cheddar biscuit.
Then the real meal begins . . .
A fully roasted small chicken, corn on the cob, roasted potato and more.
To top it off, dessert is served — and if you want coffee afterward, they have that too!
I promise you that if you come hungry, you will leave stuffed. I know I couldn't even finish all the food on my plate.
There is also a Gluten Free and Vegetarian Feast available. With the food, there is definitely something for everyone in your family to enjoy.
#4 Bring Cash for Tipping
Since gratuity is not included in your ticket price, be sure and bring some cash so that you can tip your waiter and waitress. They work their butts off to make sure you have a one of a kind experience in this Branson show, so make sure to let them know how much you appreciate their work!
Not only that, but your servers love to get you involved in the interactions of the show — it's all part of the dinner entertainment!
#5 The Dolly Parton's Stampede Show is Where the Fun Is!
As dinner is served, that is when the entertainment starts! Those amazing and talented performers enter the arena and that's when the food and drinks are quickly served so you don't miss a moment.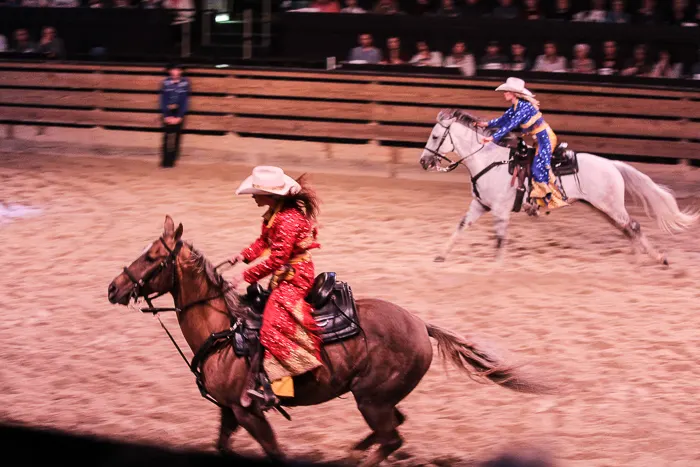 In addition to the acts that include a high flying acrobat act and lots of singing and dancing, you and your family get to enjoy the down-home comedy of Skeeter (and his pet chicken Nugget!). They love to get the audience involved! In fact, you need to be prepared as you may be asked to join in the fun!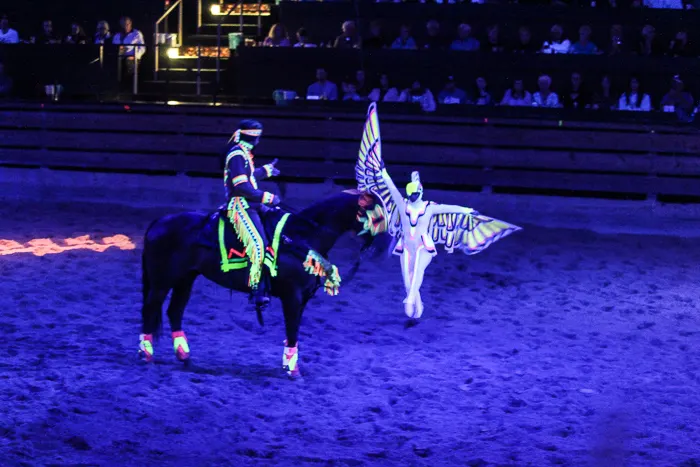 The best part is when you and your side, whichever you choose (the North or the South) start having competitions to see which side won. The best part is when you stampede (you'll just have to visit to find out what that's all about).
#6 Stay Somewhere Close
When we visited Branson this time around, we stayed at the Stone Castle Hotel and Conference Center. What I loved more than anything about this hotel is that it is literally minutes from everything — including Dolly Parton's Stampede.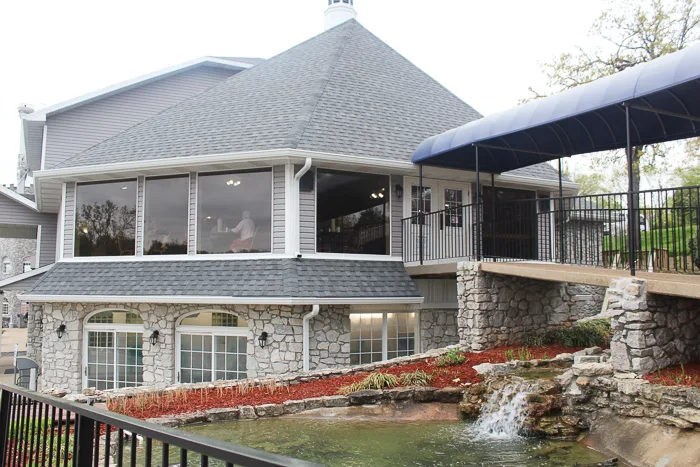 If you love Dolly as I do, be sure and request the themed room that is all about Dolly Parton's Stampede. It is decorated with a western theme and will really help you get into the mood for an amazing Branson show!
#7 Go in With No Expectations
Whenever I attended this show, I decided to not do any research or read people's views of this dinner attraction in Branson. I wanted to form my own opinions and expectations — so I decided to go in with NO EXPECTATIONS whatsoever.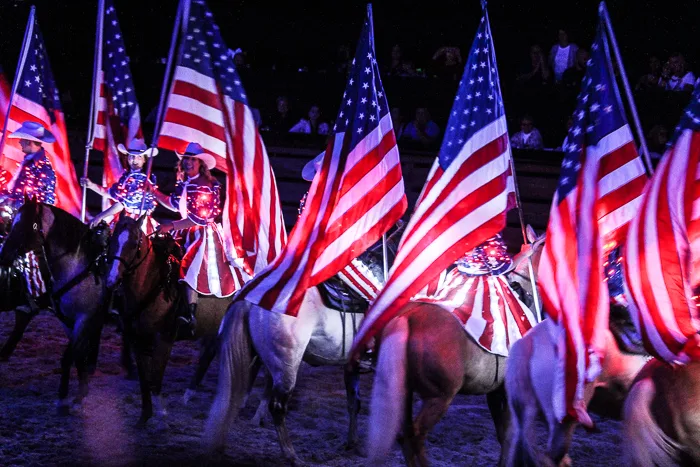 I am so glad I did because the show was better than I expected. It left me wanting more with each act that came out. It is truly one of the most magical Branson shows you will see! I think that everyone needs to experience this at least once in their life.
Finally
You can get your tickets to Dolly Parton's Stampede by clicking here to go the site. Tickets run around $54.99 for adults and $29.99 for kids.
You get to pick the side you want to sit on and whether you need a specialty menu or not. They also have a groups information page that offers discounted tickets for a group coming to the show.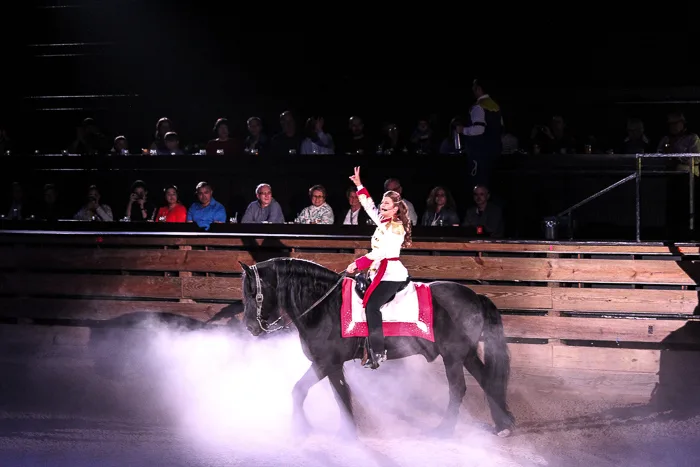 They have several vacation packages that include other shows as well as lodging and tickets to Dolly Parton's Stampede. My advice? Get the package that has tickets to either Samson at the Sight and Sounds theatre or the Titanic museum. Both of those are must-see Branson attractions.
I love Branson (just visit this post to see all the things I have done in the past!) I cannot wait to go back. I have a list of attractions that I have yet to see.