In December my husband and I celebrated our 25th wedding anniversary by having dinner at the Harper House restaurant in Cadiz, KY.
I wasn't sure what to expect, but was excited to try out a new to me restaurant in the area — and I must say that Harper House did not disappoint at all.
Harper House opened its doors in 2009 and has been a big hit ever since then. According to their website, they are an independent small town dining establishment with a big attitude — and I truly believe that.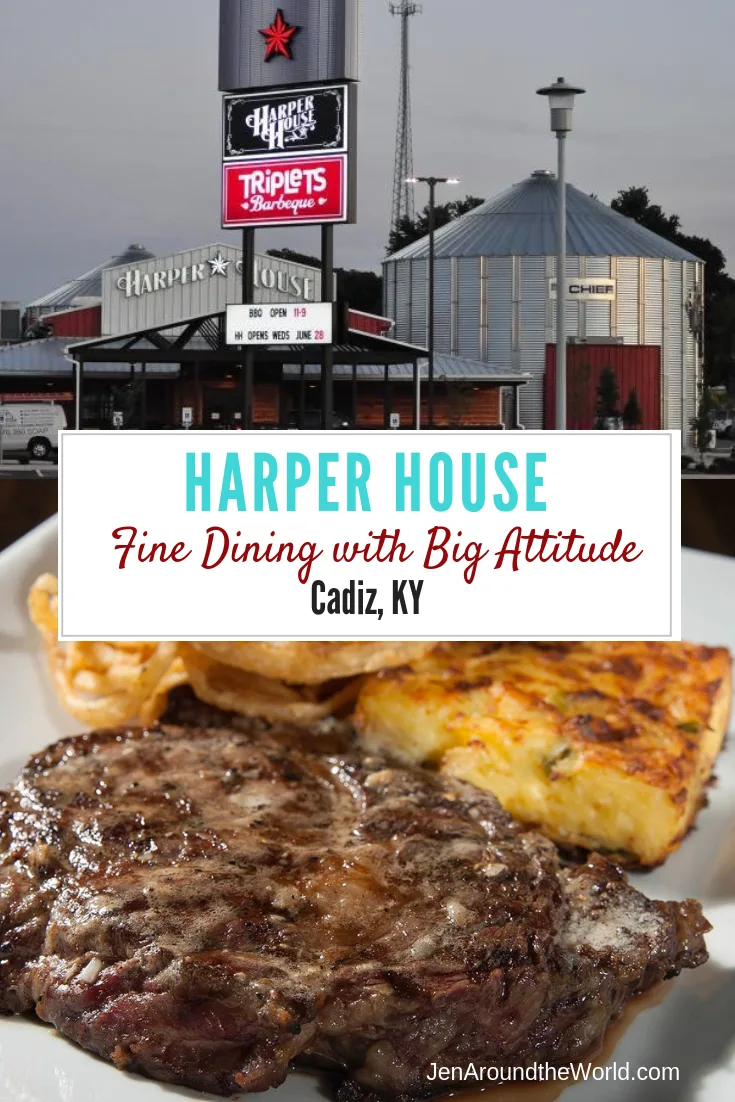 Make a Reservation
My husband was smart and had read many reviews about making sure to make reservations to eat here because it fills up fast. Being that our anniversary is during the holiday season, it is always busier than normal with holiday parties, etc.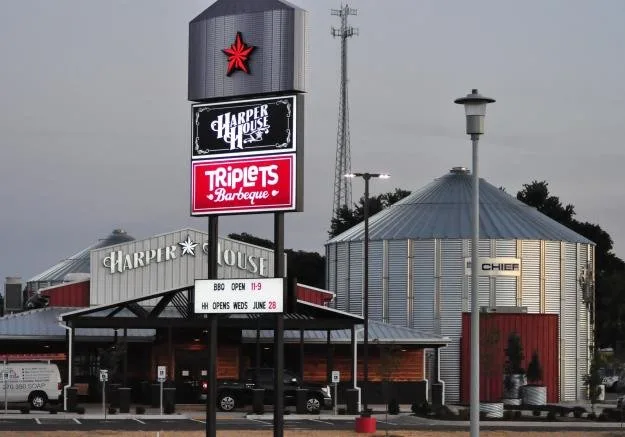 We made our reservations for 6:00 pm and headed that way to the restaurant.
Inside Decor and Atmosphere
They promptly seated us and our anniversary dinner was underway! The atmosphere is very romantic, but at the same time, it's rustic and very charming.
The booths are massive and can easily seat 6-8 people comfortably. They even have tables and private dining areas as well.
The lights were lit dimly and they had live piano music playing. It made for a very wonderful evening for two people celebrating their 25th wedding anniversary!
The Staff
The staff was some of the most pleasant that I had run into at a very elegant dining establishment. The hostess greeted us with the warmest smile and chatted with us a bit while taking us the table. She was very knowledgable about the menu and finding out it was our first time there, she gave us some great suggestions to try from the menu.
Photo courtesy of Harper House
Our waiter was just as pleasant. We informed him that we were celebrating our 25th wedding anniversary and he made sure to make our dining experience excellent.
They even gave us a complimentary dessert of our choice off of their menu since it was our anniversary. It really was something special.
The Food
The food was PHENOMENAL! For starters we ordered the Country Boy Charcuterie board which has on it smoked brisket, pork belly and bologna with smoked Gouda cheese and fresh Wisconsin cheese curds as well as their house pimento cheese, BBq sauces and pickles.
Country Boy Charcuterie Board
Those barbecue sauces are not your every day bottled sauce either! One is a Dr. Pepper blend and is delicious. The other has this tangy vinegar flavor that leaves you wanting more. And those pickles? I could eat a dozen by myself.
Of course, while you are waiting for your food, they give you complimentary cornbread and butter — and Y'all — this is THE BEST tasting cornbread ever.
Complimentary Cornbread (photo courtesy of Harper House)
My husband and I both ordered the ribeye steaks for dinner. Now, I am picky about my steak — but when I can eat it without adding any steak sauce at all, you know it is a delicious cut of beef cooked to perfection — and that is exactly what we got that night.
Ribeye steak dinner (photo courtesy of Harper House)
For dessert, we got their brand new bread pudding dessert — but we ate it all before I could get pictures of it. I was sad that I didn't think to take a photo but OMG — it was so delicious, I could not stop eating it!
We loved the Harper House so much that a couple of weeks later, we brought our kids back here on a Sunday to enjoy the brunch and the food was just as equally delicious during the day as it is during the evening hours.
Brisket Nachos with Crispy Jalapenos
Ribeye Steak and Eggs Breakfast
The thing I love so much about this restaurant is that every couple of months, the menu changes so there is always something new to eat.
If you are coming to the Cadiz, KY area, just as you get off of I-24, look across the road (or to the side if you are coming from the Nashville way). You cannot miss the silos. It's right there — and again, I promise you will not be disappointed at all.
The prices are moderate here, meaning that they are more expensive than an O'Charley's or Outback, but definitely not a top dollar dining establishment. I would put them at $$ signs for the price — but trust me, it's worth it! Check them out on Facebook and let me know what you think.
Have you ever eaten at the Harper House? Looking for more restaurant reviews in Kentucky? Check out my list here.