This Simple Classic Chili is a basic recipe for a simple classic chili. It's made with lean beef, two different kinds of beans, and a pantry spices to make this classic chili perfect for the big game or any get-together.
One of our favorite go-to meals around here, when the weather gets super duper cold, is my Simple Classic Chili.
I always get a craving for chili around this time of year. It's a comforting, easy meal that I can add to anything — I can add some to my nachos, on top of a slow roasted baked potato and even spaghetti
So when that craving kicked in last week and Stephen and I was discussing what to make for dinner, I suggested chili. Of course, I knew he would be on board.
How to Make Simple Classic Chili
The base of this chili starts with a can of tomato sauce and ground beef. That's it. The rest is up to you! I add in a few spices here and there (and of course some garlic), but there are so many things and ways you can kick this chili up!
I love cooking our chili in this huge Lodge Dutch Oven. It cooks everything evenly and is big enough I can make a double batch.
This is a super simple recipe, so if you're a beginner cook, no need to worry! You're gonna nail this recipe! Here are a few extra tips to make sure this chili comes out perfectly:
This chili is great and you can use ground beef, ground chicken, or ground turkey in it. I have even used ground pork before!
You can bump up the healthy in this and add in some quinoa as I did in this recipe.
If you are not sure you like spicy chili, use less chili powder. I like ours spicy so I always add in extra to boost the heat level more.
Use chili ready tomatoes if you want extra flavor in your chili. I like the RO*TEL version but Hunt's makes one too.
The cook time of the chili all depends on how soupy you want it. Watch the chili and when it gets to the desired consistency, remove it from the heat. I like mine thick, so I let it cook for the full 60 minutes. But if you like it runnier, it should be done by 45 minutes.
And there you have it! A simple, classic chili that you can build upon! Do you like making chili? Let me know if the comments below how you make yours.
Simple Classic Chili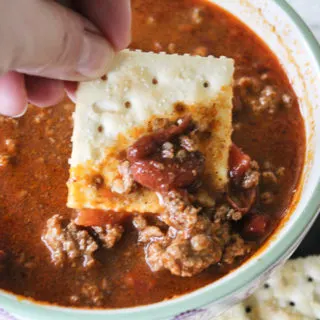 This simple classic chili is a great base that you can build upon!
Ingredients
2 pounds ground beef
3 cloves garlic, minced
1 8 ounce can tomato sauce
3 TBSP Chili Powder
1 tsp cumin
1 tsp oregano
1 tsp salt
1 15-ounce can kidney beans, rinsed and drained
1 15-ounce can chili beans, rinsed and drained
1 can RO*TEL Chili ready tomatoes
Shredded Cheddar for serving
sour cream for serving
Fritos for serving
Instructions
Place the ground beef in a large pot and throw in the garlic. Cook over medium heat until browned.
Drain off the excess fat, and then pour in the tomato sauce, chili powder, cumin, oregano, and salt.
Add in tomatoes and both cans of beans.
Stir together well, cover, and then reduce the heat to low. Simmer for 1 hour, stirring occasionally. If the mixture becomes overly dry, add 1/2 cup water at a time as needed.
Taste for seasonings and adjust as you need to. Top with onions, cheese, and sour cream.