A few months back, Kayla and I made our very first wedding cake. It turned out amazing! Kayla as always worked her magic and made it look simply amazing.
The bride had a picture of what she wanted the cake to look like, so Kayla took to her artistry skills and the bride was ecstatic with the outcome. Even the mother of the bride loved it.
Because of making this cake and the bride wanting true buttercream frosting, I thought I would share with you how easy it is to make your very own homemade buttercream frosting.
Here are the ingredients you need: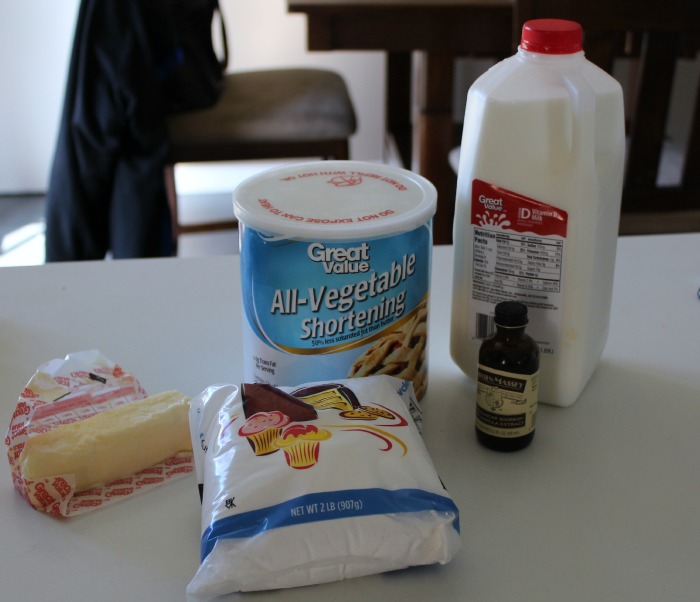 Buttercream is softer and more spreadable than most icings. If you want it thicker, you simply use more powdered sugar. If you want it more spreadable, just use less powdered sugar.
This icing is used for many types of dessert recipes –for icing cakes, piping borders, writing, flowers, etc. If you want an all white buttercream like we did for the cake, simply use shortening, resulting in a pure white icing.
Here is the recipe for you so that you can make your own homemade icing — which tastes SO much better than storebought!
Yield: 2 1/4 cups
How to Make Homemade Buttercream Frosting
Ingredients
1/2 cup solid vegetable shortening
1/2 cup 1 stick butter or margarine softened
1 teaspoon clear vanilla extract
Easy-Add clear vanilla extract
Add to shopping list clear vanilla extract
4 cups sifted confectioners' sugar, approximately 1 lb.
2 tablespoons milk
Instructions
In large bowl, beat shortening and butter with electric mixer until light and fluffy. Beat in vanilla.
Gradually add sugar, one cup at a time, beating well on medium speed. Scrape sides and bottom of bowl often. When all sugar has been mixed in, icing will appear dry.
Gradually add milk; beat at medium speed until light and fluffy.
Spread onto your favorite cakes and cookies!
(If the frosting seems a bit thick for your taste, just use an extra couple of tablespoons of milk to make it more spreadable)
Keep bowl covered with a damp cloth until ready to use.