At the beginning of 2023, I made a decision to teach myself how to make a sourdough starter. I have been wanting to bake sourdough bread for a while now. So, I set a goal that each month in 2023 I am going to learn something new, and for January — we are going to be making all things sourdough!
The one thing that I have learned about sourdough is this — you have to be VERY patient and it takes a few days — like almost 2 weeks before you can even bake with it.
But the cool thing about the sourdough starter is that there is "discard", and that can be used for SO many recipes like rolls, crackers, bagels, etc. (I have a lot of those to share with you too!)
If you don't know by now, I love making bread like my popular Cheesecake Factory Bread Recipe. So learning to make sourdough makes me so excited!
Now, let's make some starter.
How to Make a Sourdough Starter
To make the starter, get a large wide-mouth mason jar and a kitchen towel like this one. Next, you will need the following–
1/2 cup of UNBLEACHED all-purpose flour or bread flour. You must use unbleached. It has no chemicals in it and the chemicals will kill your starter.
1/2 cup of filtered or distilled water — do not use tap water. Again, the chemicals in the water will kill your starter.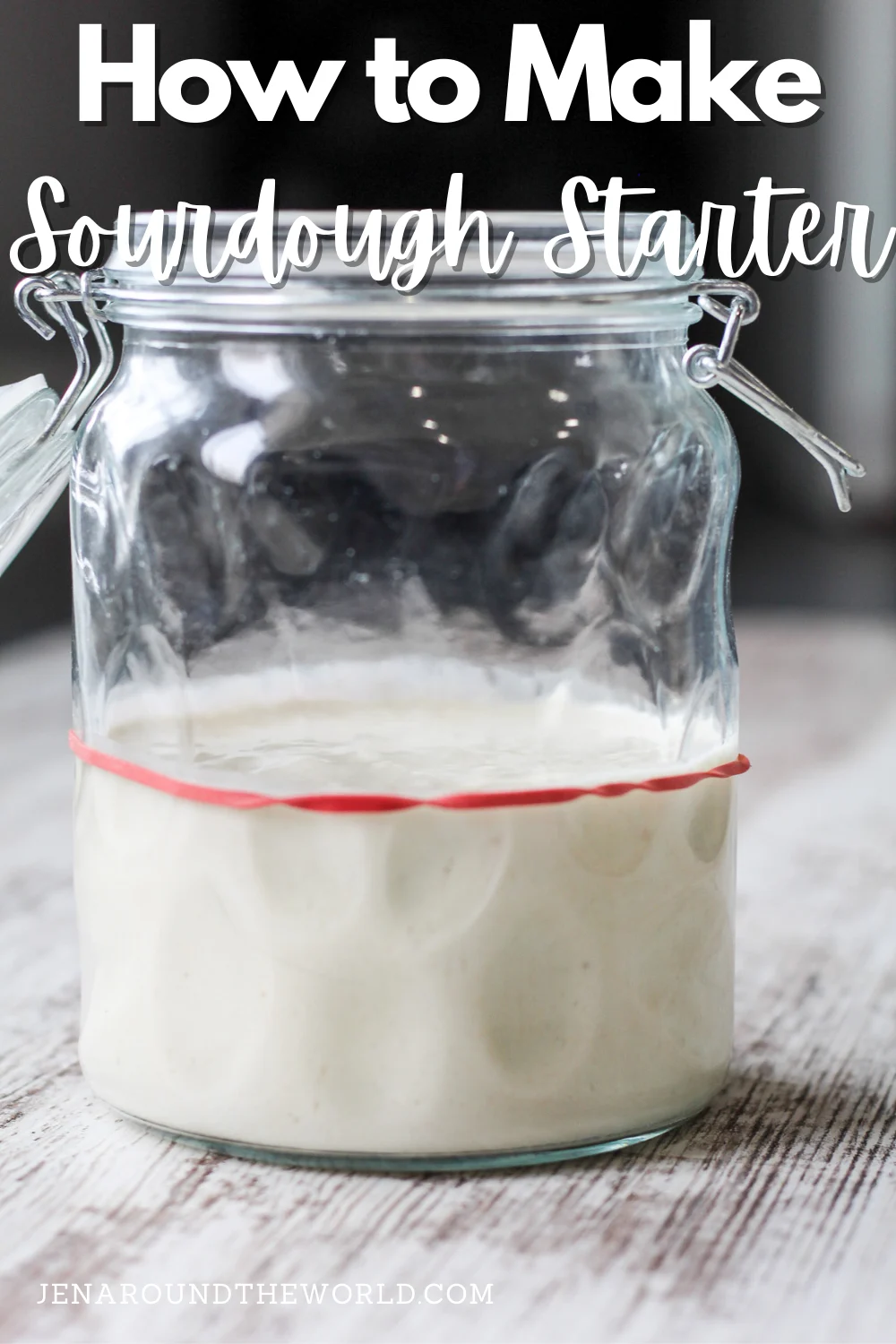 Day 1
Use the end of a wooden spoon to mix the flour and water together in your jar. Use a rubber spatula to push anything that has made its way up the side back into the mix.
Cover the jar with the kitchen towel and place a rubber band over the top. Set it on the counter for 24 hours.
You do not want to add a lid. The starter will need to burp during the next 24 hours and this keeps it burped. If you add a lid, you might have an explosion as it will build up gas during the sourdough process.
Day 2
Grab another wide-mouth mason jar. This will be the discard jar. This jar will live in the fridge.
The starter may have liquid on top. This is called HOOCH and is totally okay. This is the starter's way of letting you know you need to feed it. Just mix it in well and follow the steps below.
Now, take half of the starter from the day before and pour it into the discard jar. Place a lid on this one and put it in the fridge.
Putting the discard in the fridge pauses any expansion process. This discard is what you can use in many different recipes like dinner rolls, homemade bagels, Parmesan crackers, and more.
Now, to the regular starter, it's time to feed it. Add 1/2 cup of the unbleached flour and 1/2 cup of the water and stir it with a wooden spoon.
Add the rubber band to the outside of the jar at the level where the starter is. Place the towel back over the top and allow it to set on the counter for 24 hours.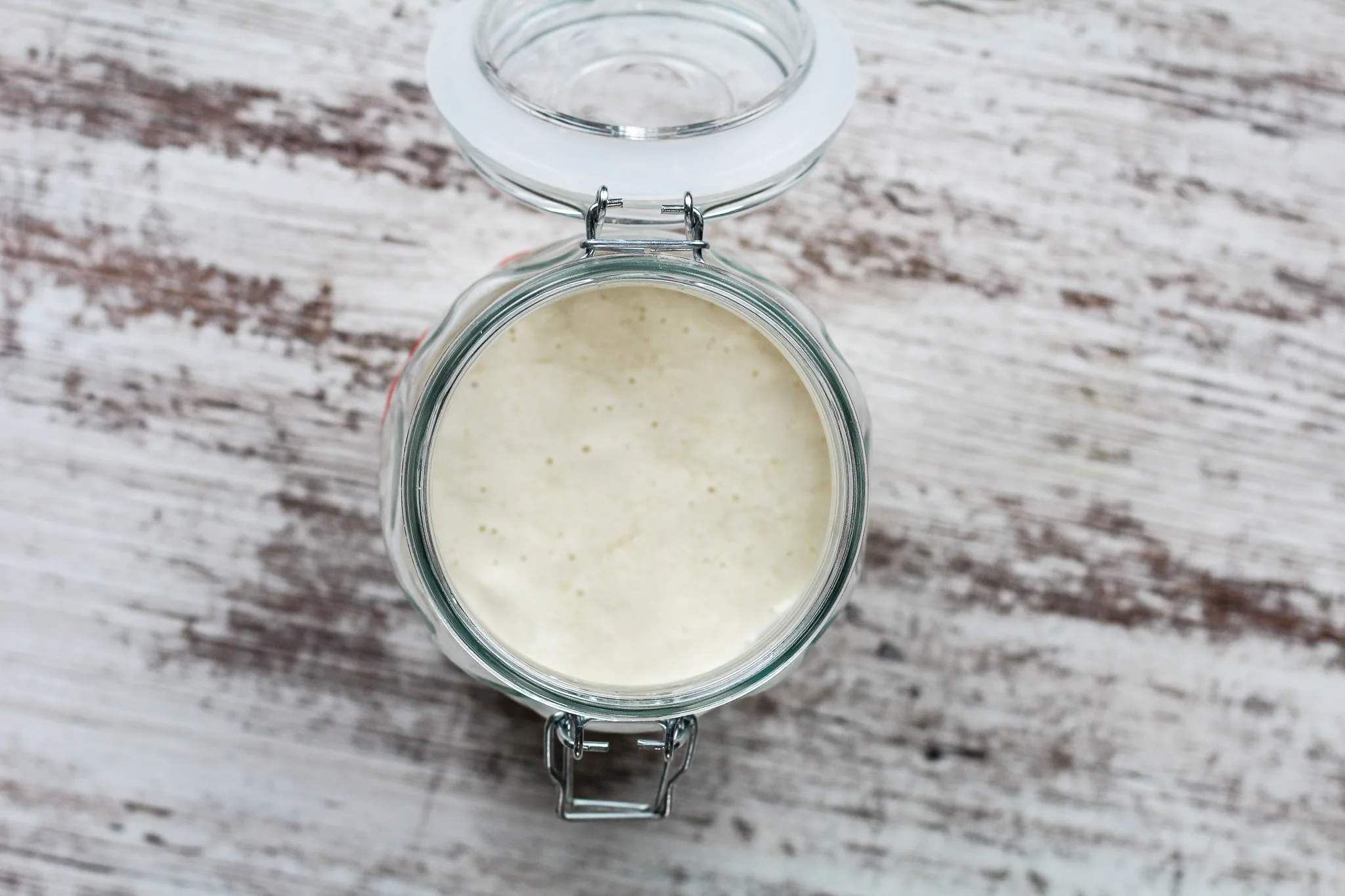 Days 3, 4, and 5
For these days you are going to repeat all the steps on day 2.
Day 6
On day 6, we will do the feeding process every 12 hours instead of every 24 hours. So, your starter will be fed twice a day.
Get up that morning (I did mine at 7 am) and pull out your discard jar. Grab the starter jar and discard half of the starter into the discard jar. Feed the starter with 1/2 cup of flour and 1/2 cup of water. Mix well and cover it back up with the towel.
Discard half and feed it again in 12 hours.
Days 7, 8, and 9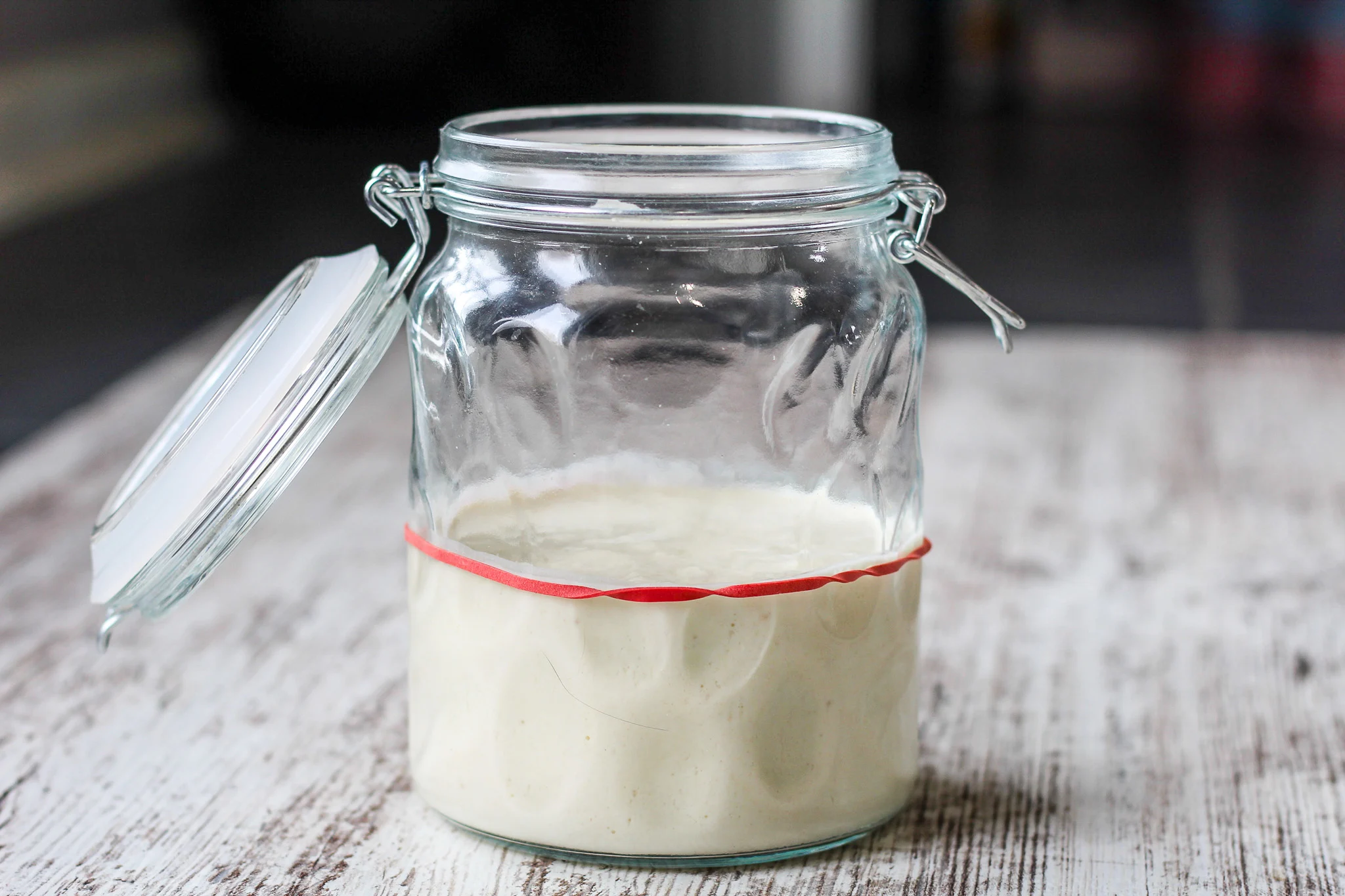 On days 7, 8, and 9, you are going to follow the same as day 6. You will also begin water-testing your starter to see if it is ready to bake yet.
To know if it is ready, grab a small glass of water. Take a spoonful of your starter and place it in a glass of water. If it floats, it is ready to bake. If it sinks, it needs a few more days of discarding and feeding the starter.
Like I said — this is a lengthy process but SO fun if you like baking bread.
Once the starter floats you can now make bread!!
If you are not ready to bake with it yet, simply place a lid on your starter and put it in the fridge. As I stated before, that will pause the expansion process. You will only need to take it out and feed it once a week.
Feeding Your Starter Once a Week
Remove the starter from the fridge and discard half into the discard jar. Feed it with 1/4 cup of water and 1/3 cup of flour.
Stay tuned for making a fun sourdough bread recipe.