These Mini Strawberry Scones with Vanilla Bean Glaze are the perfect appetizer for your book club meeting or any get together where you need a quick appetizer.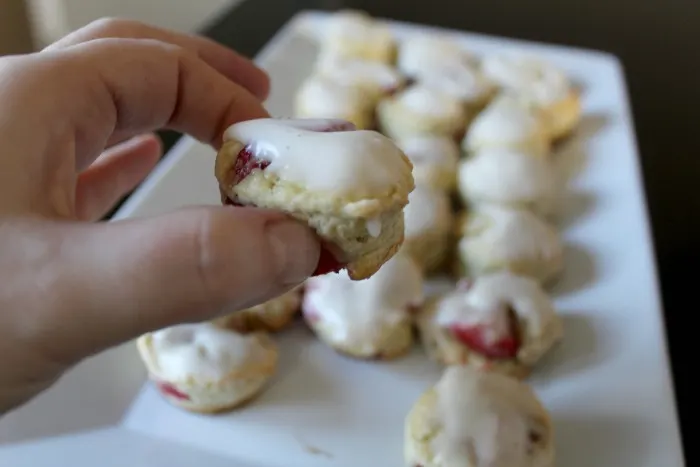 A couple of months ago, I helped my friend throw a book launch party for her son. He wrote an amazing book called The Kingdom of Arke, which is kind of on the lines as fantasy fiction like Lord of the Rings.
She asked me to make some scones for his launch party, so I came up with these delicious Mini Strawberry Scones with Vanilla Bean Glaze.
How to Make Mini Strawberry Scones with Vanilla Bean Glaze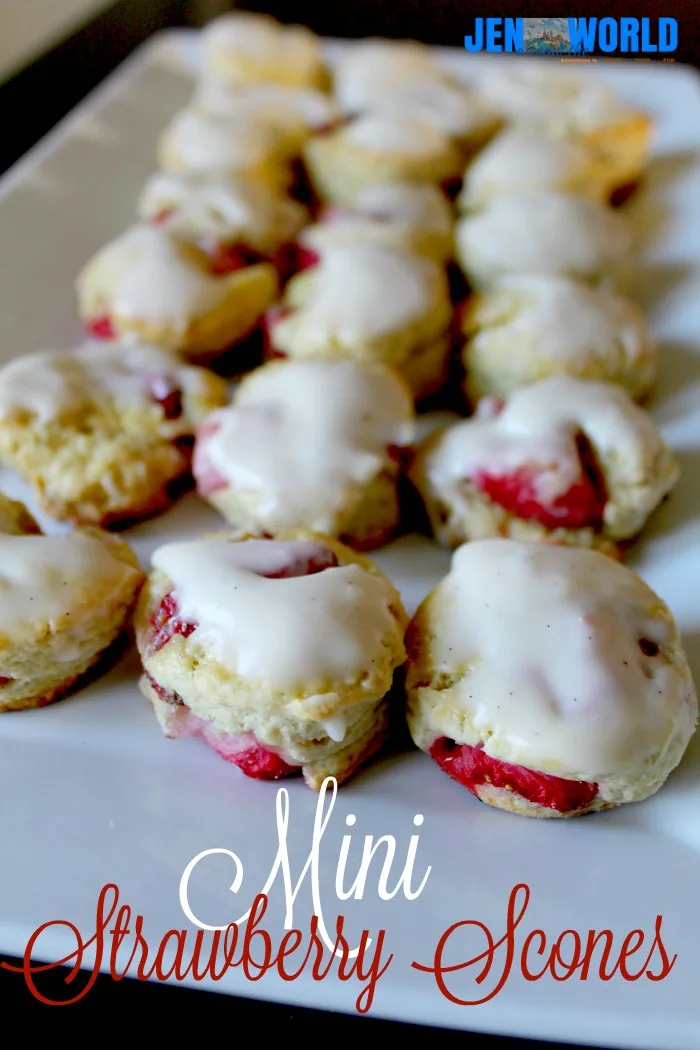 We based this recipe off of Kayla's original scone recipe that we posted last year. They were a huge hit in our house, so I knew that these little bad boys would go over really well.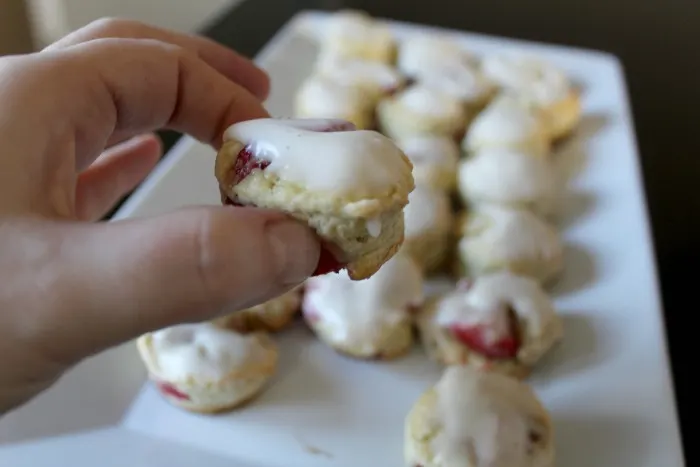 They are very bite-sized which is what I was going for, but if you want to make them bigger, then all you have to do is create a normal scone recipe (just click that link to see how Kayla did it the first time).
Mini Strawberry Scones
Yield: 24
Mini Strawberry Scones with Vanilla Bean Glaze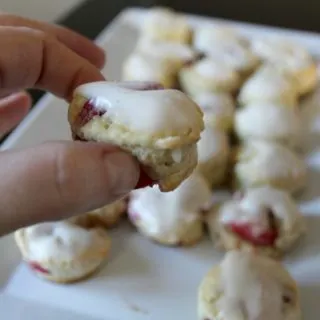 These mini scones are super easy to make and so delicious!
Ingredients
For the scones
3 cups all-purpose flour
1 tablespoon baking powder
1 teaspoon salt
1/3 cup granulated sugar
1 teaspoon pure vanilla extract
1 1/3 to 1 1/2 cups heavy cream plus more for brushing the top
3/4 cup coarsely chopped fresh strawberries
For the glaze
1 whole vanilla bean
1/2 cup whole milk, plus more if needed
5 cups powdered sugar, sifted, plus more if needed
Dash of salt
Instructions
Preheat oven to 425 degrees F. Line a baking sheet with a Silpat or parchment paper and set aside.
In a medium bowl, whisk together flour, backing powder, salt, and sugar. Set aside.
In a liquid measuring cup mix together vanilla extract and 1 1/3 cups cream. Drizzle the cream mixture into the dry ingredients tossing and stirring as you pour in the cream. Add the strawberry chunks. Toss together. Add 2 more tablespoons of cream if necessary to create a moist, but not sticky dough.
Dump the dough onto a lightly floured work surface. Gently gather and knead the dough into a circle and press the disk out into a 3/4″-thickness.
Use a small biscuit cutter to cut small 1 1/4-inch circles from the dough disk. Brush each circle with heave cream.
Place 1-inch apart on the prepared baking sheet and bake for 12 to 14 minutes or until golden brown and cooked through.
Remove from the oven and let them cool off for a bit, then top with this amazing glaze recipe!
To Glaze the scones:
Mi the glaze ingredients together and then dip each scone halfway into the glaze and place on a wire rack to drain and glaze over then enjoy!
Recommended Products
As an Amazon Associate and member of other affiliate programs, I earn from qualifying purchases.
Nutrition Information:
Yield:
24
Serving Size:
1
Amount Per Serving:
Calories:

230
Total Fat:

7g
Saturated Fat:

5g
Trans Fat:

0g
Unsaturated Fat:

2g
Cholesterol:

23mg
Sodium:

164mg
Carbohydrates:

39g
Fiber:

1g
Sugar:

26g
Protein:

2g
These scones are now my new favorite, although I cannot make them that often. If I do, I will sit and eat WAY too many of them, which is totally not good for my diet.
These are great for any gathering that you are attending such as potluck, weddings, book launch parties, and more.
Speaking of book launches, here is the info for Michael's book which I am sure you will want to read if you are into fantasy fiction. It is fantastic — and both of my kids, who DO NOT read by the way, have loved reading this book.
The Kingdom of Arke
In the midst of a vast sea there lies an island. There, a kingdom has forgotten and forsaken their king.
Shadows lengthen over the island, threatening to consume it in absolute darkness.
The fate of the kingdom resides in the actions of a boy who will go through many trials that could break him.
Only he can shed the desperate light on The Kingdom of Arke.
You can purchase Michael's book through Westbow Press.
You can also read this amazing blog post he wrote and shared about the book over on the Westbow Press website. In fact, he says that without darkness, we cannot truly appreciate the light.
This book will give you a glimpse into the inside of evil versus good, and when you get to the end and find yourself craving more from this new and upcoming author, don't worry. Book 2 is already in the works!