Over the Memorial Day weekend, I made not one, not two, but three of my Old Fashioned Banana Pudding.
I did not realize how much my family loved Banana Pudding until after this weekend.
If you miss the taste of the south, grab a glass of sweet tea and get ready to learn how to make this scrumptious southern dessert.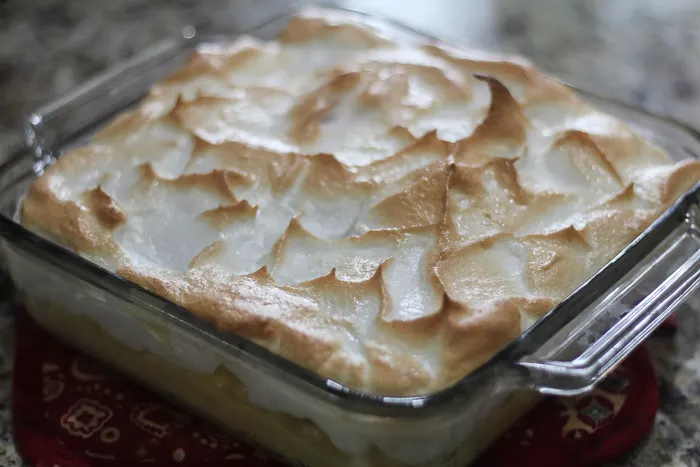 This homemade banana pudding brings me back to my younger days as I sat on a stool mesmerized by my momma's cooking skills. I waited anxiously as she prepared the pudding mixture, knowing all too well what was coming next — the bowl!
Nothing beats a banana pudding or chocolate cake like licking the bowl 🙂
How to Make an Old Fashioned Banana Pudding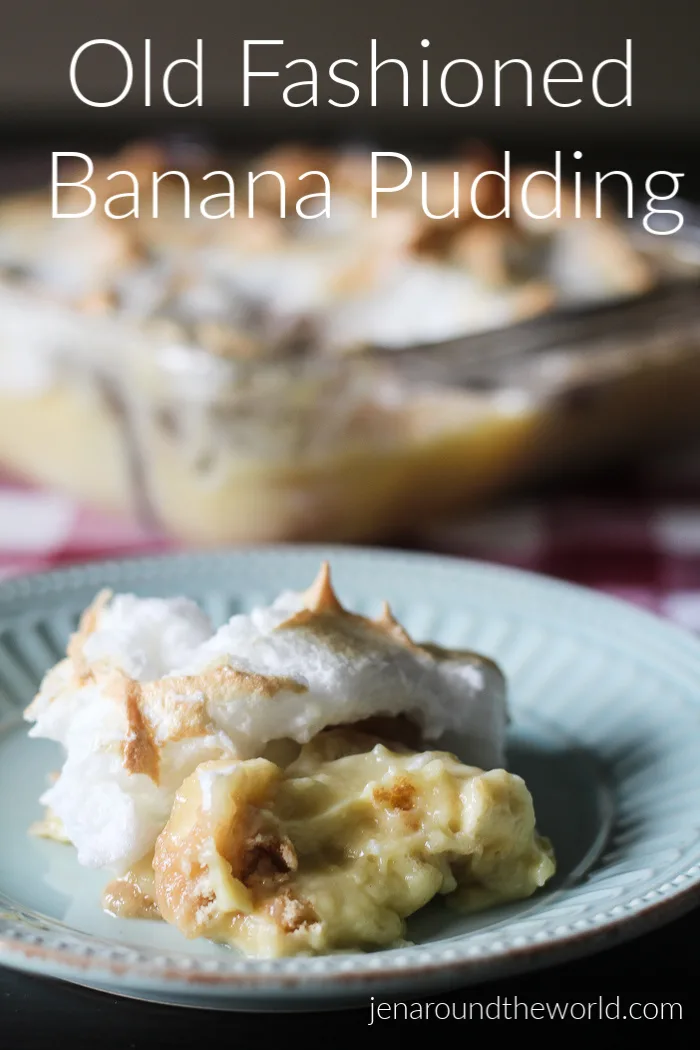 To start, you are going to add to a large pot the flour, sugar, and eggs. Mix well together.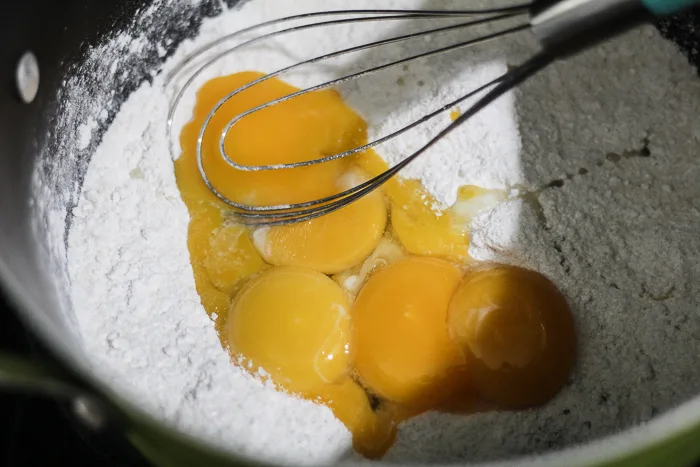 Once you get this all mixed together, add in the milk. Whisk together until everything comes together. Turn the heat on medium low and begin to cook the custard mixture.
It might take about 10-15 minutes to get to the thickness you need which is a pudding-like substance. Once it reaches that consistency, it will look something like this —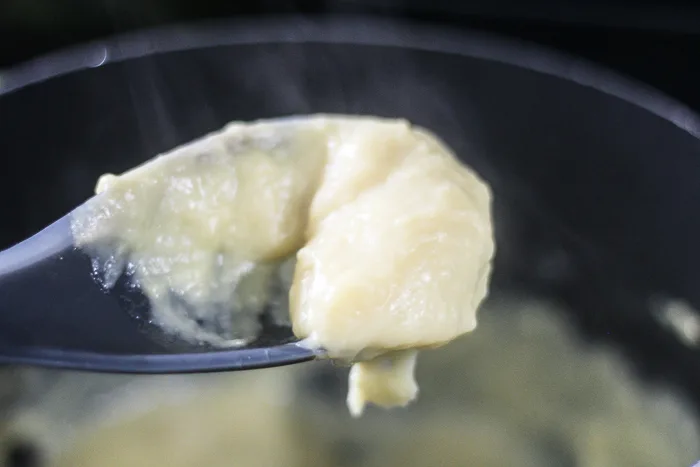 Remove from the heat and get ready to start assembling your Old Fashioned Banana Pudding.
Slice up three bananas and then sprinkle them with lemon juice. By doing this, you are keeping the bananas from turning brown.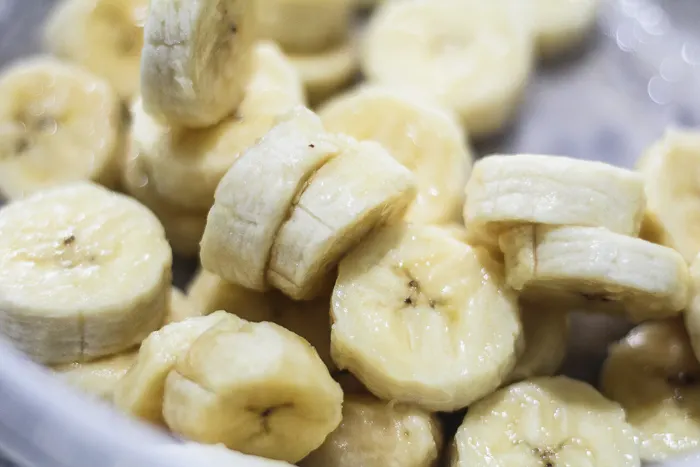 Take your baking dish and put about 1/3 of the pudding mixture on the bottom. Then top with a layer of bananas and a layer of Nilla Wafers.
Keep repeating the layers until the last layer is your pudding mixture.
Time to Make the Meringue
Once you get the pudding all layered, take your egg whites and remaining sugar and beat in your mixer until stiff peaks form. It should look glossy and white like this —
Pile it on top of your old fashioned banana pudding and bake in a 350-degree oven for about 10 minutes or until the peaks and top have turned brown.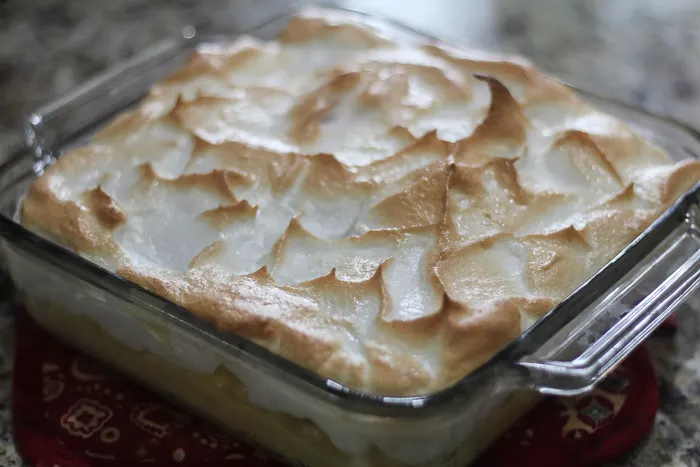 There is nothing like warm, gooey pudding, soft cookies, and big chunks of banana, piled high with meringue. Yes. This dish will make you go back for thirds and fourths. That is how I wound up making three of these in a 48 hour period.
Here is the recipe. Hope you enjoy!
For more delicious Southern desserts, check out these posts!
Yield: 8 servings
Old Fashioned Banana Pudding
This delicious old fashioned dessert will have you going back for seconds or thirds.
Ingredients
3 ripe bananas, peeled and sliced into 1/4-inch rounds
1 tablespoon freshly squeezed lemon juice
1 cup granulated sugar, plus 3 tablespoons
2/3 cup all-purpose flour
1/2 teaspoon kosher salt
8 large eggs, separated
4 cups of milk
1 teaspoon vanilla extract
1 box of Nilla Wafers
Instructions
Heat the oven to 350 degrees F.
Toss the banana slices and lemon juice in a small bowl and set aside.
Combine 1 cup of the sugar, the flour and salt in a 3-quart pan. Add the egg yolks and whisk to combine. Add the milk and carefully whisk to combine.
Cook over medium-low heat, stirring constantly until the mixture begins to thicken and bubble around the edges. Remove the pan from the heat and whisk in the vanilla extract.
Spread a small amount of the pudding in the bottom of an oven-safe 2-quart glass baking dish.
Cover with a layer of vanilla wafers, followed by a layer of banana slices. Pour 1/3 of the remaining pudding on top of the bananas and repeat, ending with a layer of pudding.
Whisk the egg whites in the bowl of a stand mixer on medium speed until soft peaks form. If you do not have a stand mixer, you can use a hand mixer on high speed.
Gradually add the remaining 3 tablespoons of sugar and continue whisking until stiff peaks form. Spoon the meringue over the warm pudding, being sure to cover the edges.
Bake until the meringue is evenly browned, about 8 to 12 minutes. Remove the pudding from the oven and cool for 15 minutes before serving. Cool completely before refrigerating. Refrigerate for up to 3 days.
Recommended Products
As an Amazon Associate and member of other affiliate programs, I earn from qualifying purchases.
Nutrition Information:
Yield:
15
Serving Size:
1/2 cup
Amount Per Serving:
Calories:

167
Total Fat:

4g
Saturated Fat:

2g
Trans Fat:

0g
Unsaturated Fat:

2g
Cholesterol:

104mg
Sodium:

144mg
Carbohydrates:

27g
Fiber:

1g
Sugar:

16g
Protein:

6g