Learn how to make homemade salsa verde. It is simple and easy and the perfect sauce for everything!
Last week I tried my hand at making homemade salsa verde. Oh my gosh, y'all! It was SO easy and so yummy. I could eat this stuff on everything. It especially tastes good on burritos, tacos, enchiladas.
Salsa verde is my go-to sauce for my freezer breakfast burritos and tostadas. It really makes the sausage pop and the crunch of the tortilla along with the acidic taste of the Verde sauce — hmm, hmmm — you will be asking for more!
It's really easy to fix and costs less than the jarred stuff and tastes so much better.
I also love the fact that it freezes so well. When I made this batch, I threw about a cup each into several storage bags and now, when I need some sauce, I just head to the freezer and pull it out to thaw.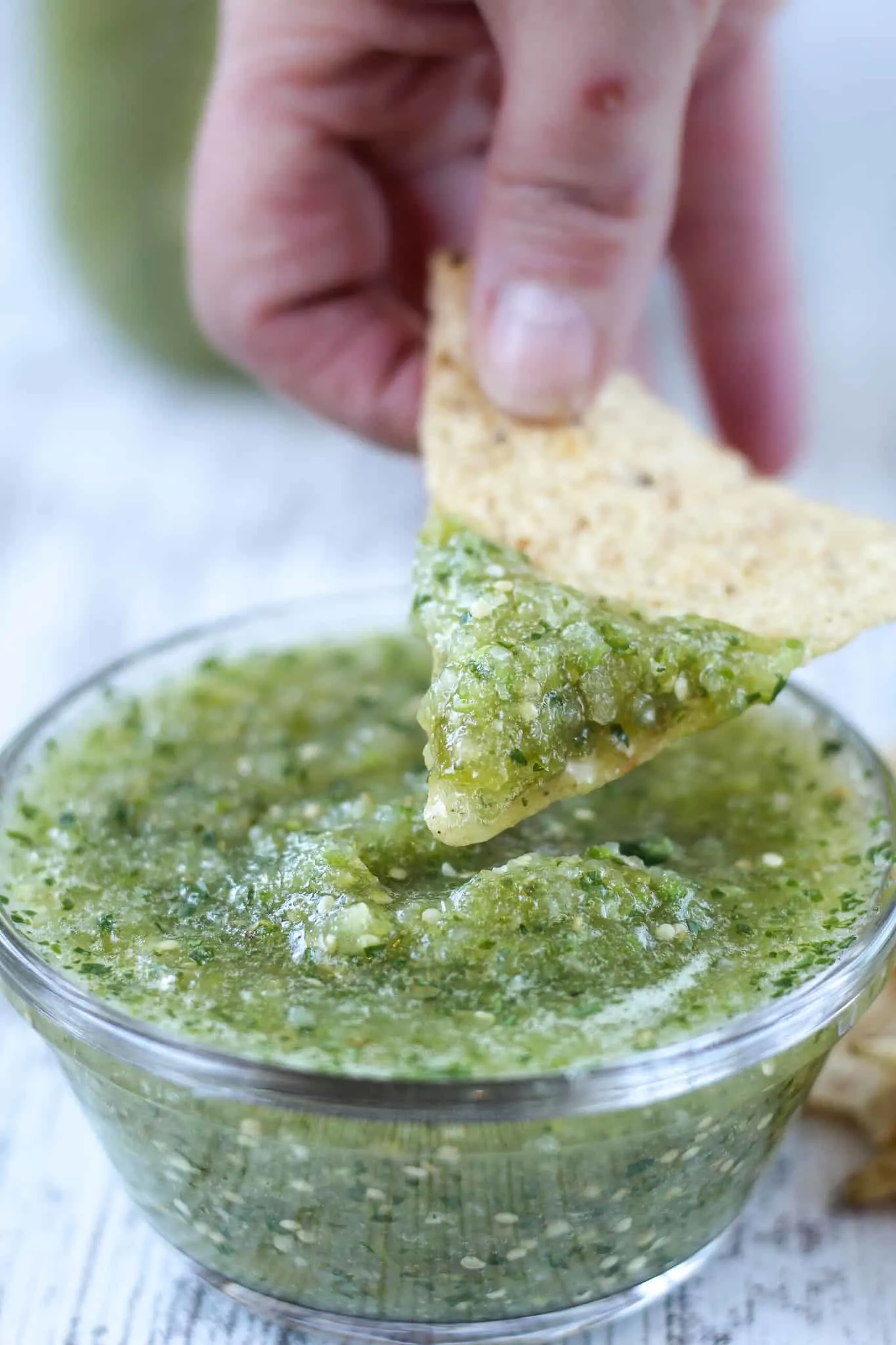 How to Make Homemade Salsa Verde
This recipe is so easy. You boil your tomatillos for about 3 minutes and then everything goes into a blender and that is it.
Like I said, it is the easiest recipe you will ever make.
Of course, if you want the sauce to have a more deep roasted flavor, simply take all of your ingredients and roast them in the oven at 350 for 25 minutes. You will get a deliciously charred flavor.
Looking for Other Sauce Recipes? Check these out
If you have been around here any length of time, you know that I love making my own sauces. Here is just a small list of some of the most popular sauce recipes that I have on the Internet.
Here is the recipe. Hope you enjoy it!
What would you use this sauce on?
Yield: 2 cups
Homemade Salsa Verde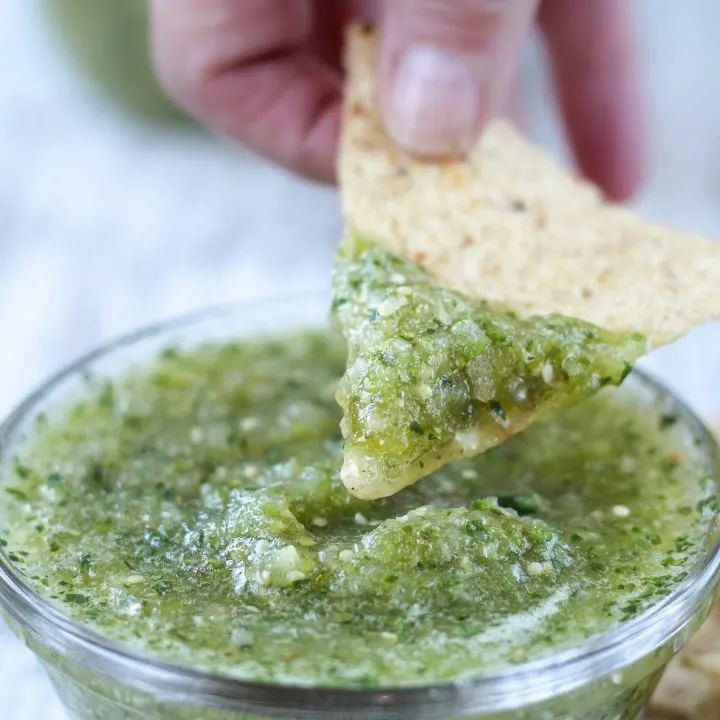 This homemade salsa verde is simple and easy and everyone will talk about how delicious it is.
Ingredients
1 1/2 lb tomatillos
1/2 cup chopped white onion
1/2 cup cilantro leaves
1 Tbsp fresh lime juice
1/4 teaspoon sugar
2 Jalapeño peppers, stemmed, seeded and chopped (you can use whole for more heat if you want)
Salt to taste
Instructions
Remove papery husks from tomatillos and rinse well.
Place tomatillos in a saucepan, cover with water. Bring to a boil and simmer for 5 minutes. Remove tomatillos with a slotted spoon.
Place tomatillos, lime juice, onions, cilantro, chili peppers, sugar in a blender or food processor and pulse until all ingredients are finely chopped and mixed. Season to taste with salt. Cool in refrigerator.
Serve with chips or as a salsa accompaniment to Mexican dishes.
Nutrition Information:
Yield:
15
Serving Size:
1
Amount Per Serving:
Calories:

19
Total Fat:

0g
Saturated Fat:

0g
Trans Fat:

0g
Unsaturated Fat:

0g
Cholesterol:

0mg
Sodium:

40mg
Carbohydrates:

4g
Fiber:

1g
Sugar:

2g
Protein:

1g