This homemade Strawberry Fruit Leather recipe is like heaven in a candy. Mix pureed strawberries with a touch of honey into the oven, and then you have a healthy and fruity snack a few hours later! Tastes just like a Fruit Roll Up, but so much better for you.
This homemade strawberry fruit rollup is a copycat version of a Fruit Roll Up. It is packed with strawberry flavor and very easy to make. Everyone young and old loves this recipe. The best part is that it only takes 2 ingredients to make it — fresh strawberries and a touch of honey.
This is made in the oven, instead of a dehydrator so no special equipment is needed.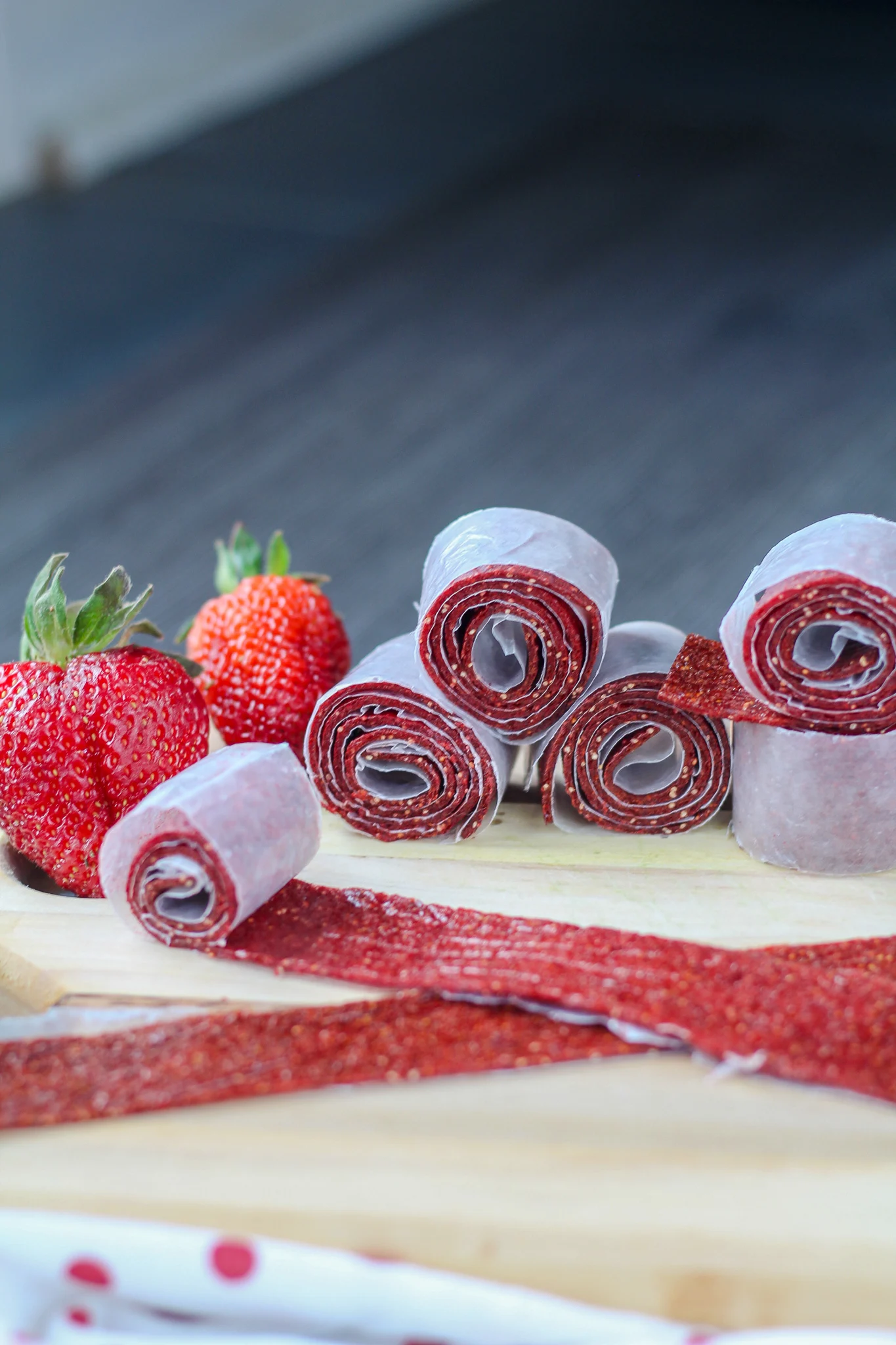 How to Make Strawberry Fruit Leather
Making strawberry fruit leather is easy. After pureeing the strawberries, all you have to do is dry them out in the oven! You don't have to worry about doing anything.
The hardest part about making this fruit leather is that you'll have to plan a time to be home. This recipe requires a baking time of between 6 and 8 hours depending on the temperature of your oven. You'll also need to make sure your oven temperature can go as low as 175ºF.
Once you have pureed the strawberries, line a 12×16 cookie sheet with a silicone baking mat. Make sure to spread the mixture evenly on the baking sheet. If you spread the middle too thick in the middle it won't cook fast enough and the edges might overcook and become brittle.
The fruit leather takes about 7 hours to dry at an oven temperature of 170º. To check the doneness of the fruit leather, touch the strawberry mixture to see if it's dry. If it's still a bit wet let it go for an hour more at a time. It should take no longer than 8 hours.
Once it's done cooking, let it sit at room temperate to cool completely and soften up. Depending on how thick it is, it could take anywhere from 3-6 hours.
Once it cools off, place a sheet of wax paper over the fruit leather and peel it off the silicone mat. Roll it up and then slice it to the width you would like.
You can keep this at room temperature for a few days. I just store mine in an air-tight container on the counter. You can also freeze it for a month if you want.
Check out these other homemade snack ideas
Spicy Garlic Chickpeas – a Delicious and Healthy Snack
Yield: 12
Strawberry Fruit Leather
The perfect healthy snack that only has two simple ingredients
Total Time
6 hours
5 minutes
Ingredients
2 quarts strawberries, washed and hulled and halved
¼ cup honey
Instructions
Preheat the oven to 170º degrees F
Line an extra large sheet pan (around 18") with a silicone baking mat.
Place the strawberries in a blender and puree until smooth.
Pour strawberry puree into a large pot on the stove and add honey and bring to a boil. Reduce heat and let simmer for 5 minutes, stirring occasionally.
Pour the strawberry puree onto the prepared sheet pan making sure to start in the middle
Use a spatula to spread the puree evenly almost to the edges of the baking mat.
Bake in the oven for 6 hours, or until the fruit puree is completely dry to the touch. Let cool completely.
Lay a sheet of wax paper on top of the fruit leather. Peel the leather gently off the mat.
Now, roll up the sheet of fruit leather starting from the short side.
Cut the leather with a knife into 1" strips, or as desired.
Store in an airtight container for a few days, or in the freezer for up to 1 month.
Nutrition Information:
Yield:
12
Serving Size:
1
Amount Per Serving:
Calories:

59
Total Fat:

0g
Saturated Fat:

0g
Trans Fat:

0g
Unsaturated Fat:

0g
Cholesterol:

0mg
Sodium:

1mg
Carbohydrates:

15g
Fiber:

2g
Sugar:

11g
Protein:

1g