This sweet and spicy oven-fried chicken is crunchy and delicious. It's topped with a hot honey coating making it one of THE BEST fried chicken dishes I have ever made.
Last week we made a new oven fried chicken recipe that is simply some of the best tasting chicken I have ever made.
These sweet and spicy chicken tenders are coated in a crunchy cornflake batter and then oven-fried. When they come out, you simply drizzle on the sweet and spicy sauce for the perfect easy dinner.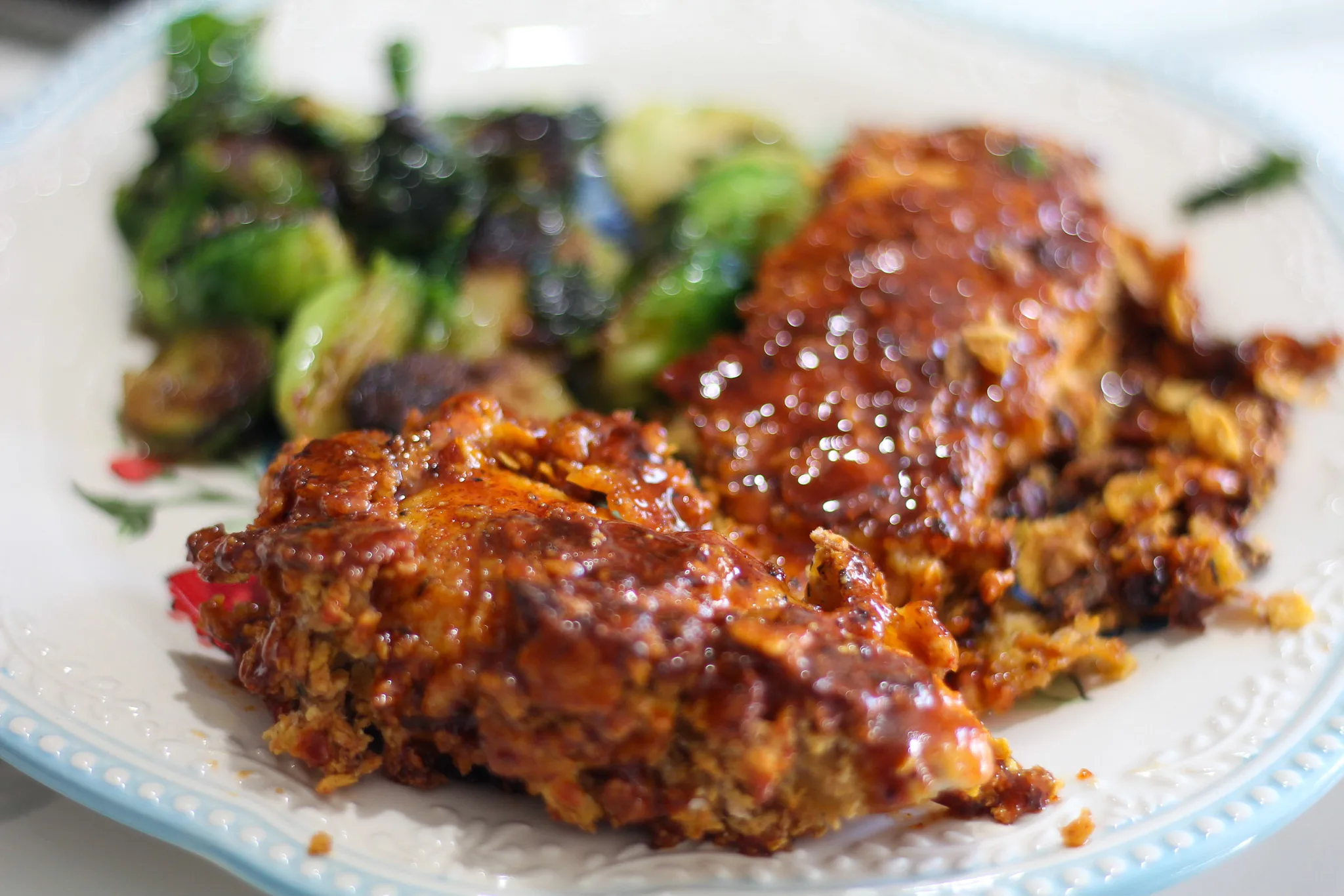 I served mine with some Honey Butter Roasted Brussel Sprouts and I cannot tell you how excited my taste buds were!
How to make Sweet and Spicy Oven-Fried Chicken
This recipe really reminds me of my Nashville Hot Chicken recipe. It is one of my absolute favorite recipes.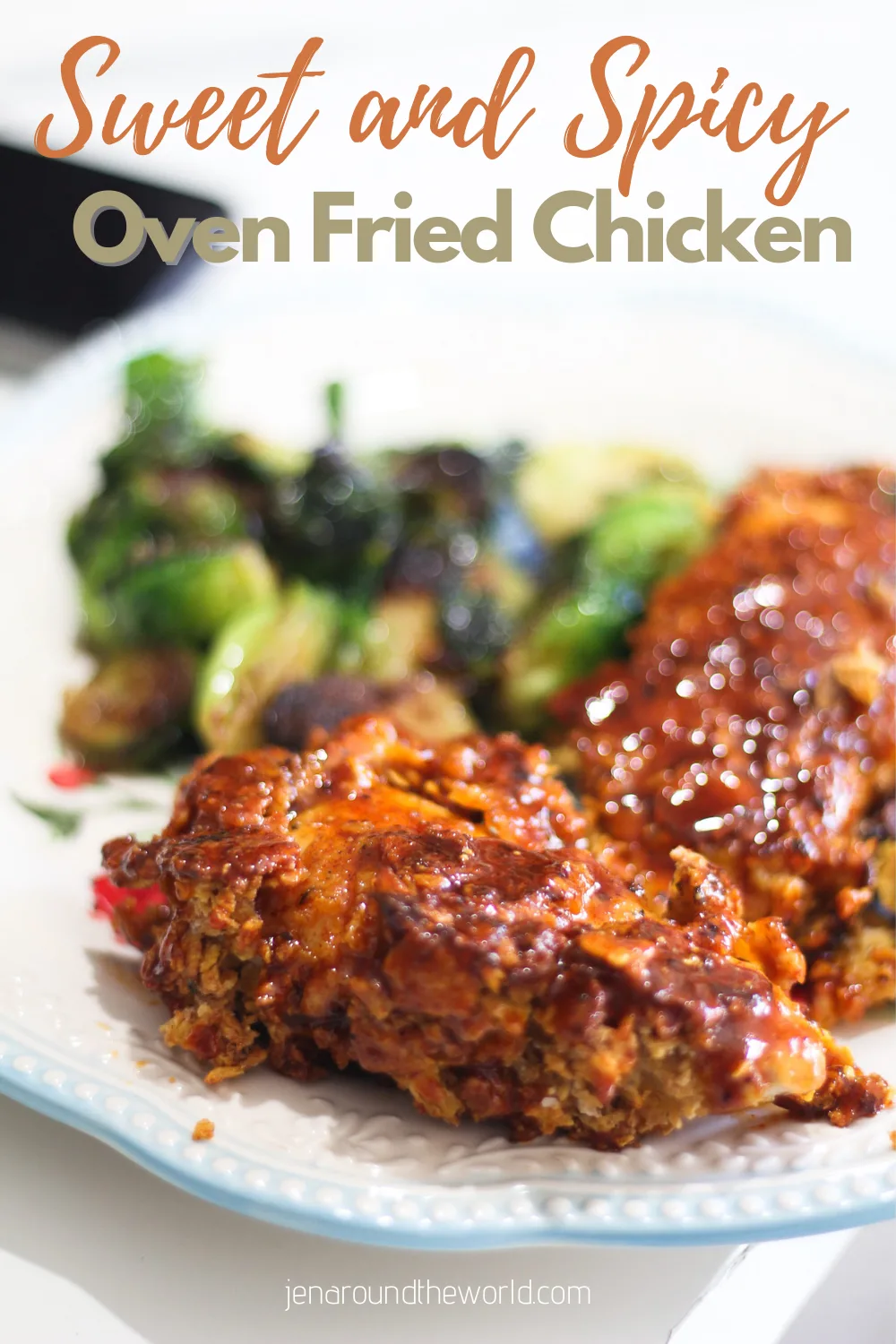 Start by crushing up your corn flakes. You want them pretty crushed, but still coarse enough to create a crunchy crust on your chicken.
I crush mine by putting them in a ziplock bag and using my rolling pin.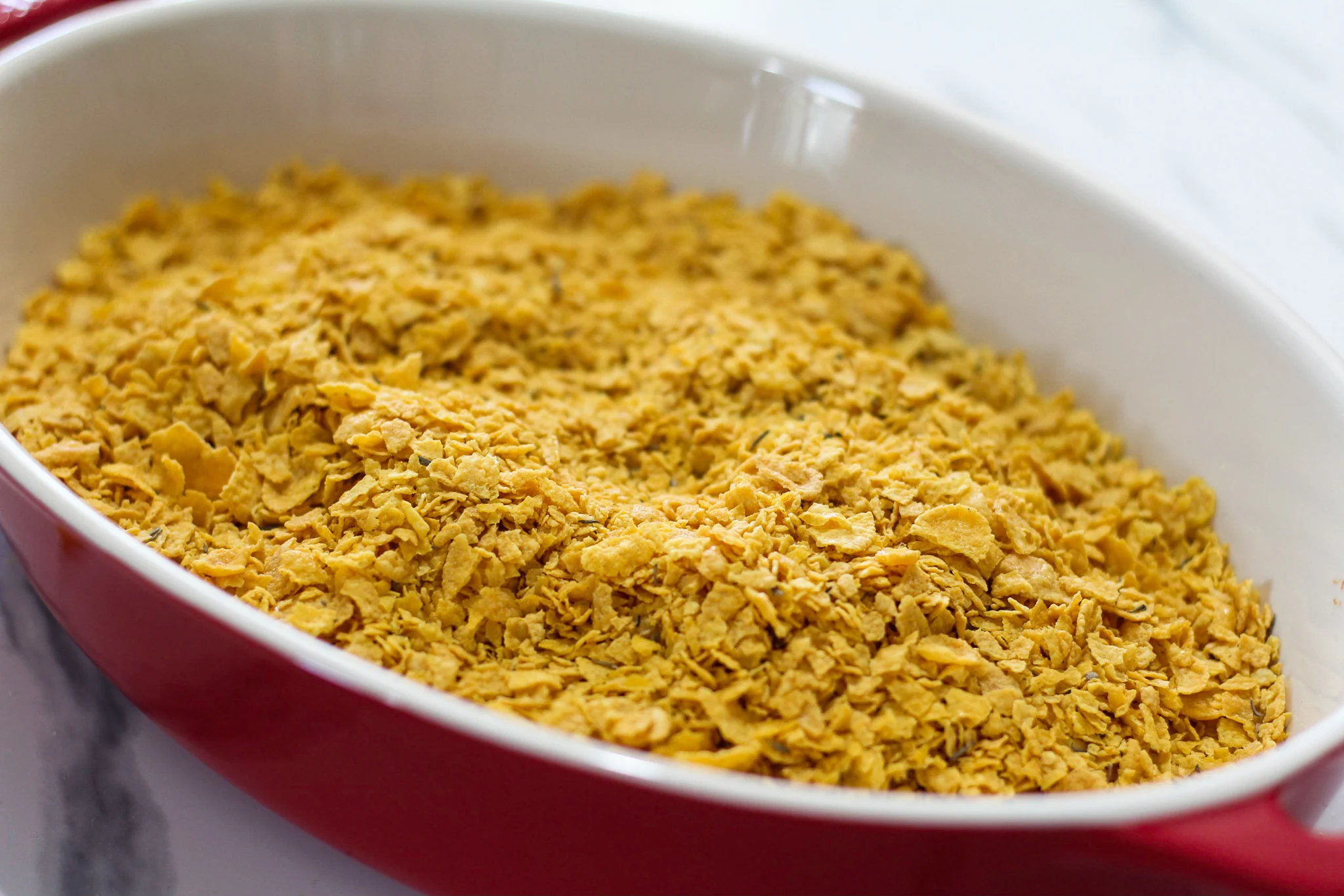 The chicken will be soaking in a buttermilk bath for a few hours, so by the time you get ready to dredge them, they will cook up perfectly and be nice and tender.
You want to make sure you flavor and season every layer of this recipe.
The corn flake crumbs are seasoned with thyme leaves, salt, and pepper.
While the chicken is baking, you make your sweet and spicy sauce. It's a combo of honey, cayenne pepper, butter, and a few other spices.
When the chicken comes out of the oven, you can leave it bare if you do not want the spice (which is what I do for my husband).
But for my taste buds, I pour the sauce all over the chicken. I let those cornflake crumbs soak in every inch of this sweet heat sauce.
Yield: 8 pieces o
Sweet and Spicy Oven Fried Chicken
This crispy chicken is coated in crunchy cornflake crumbs and then topped with a sweet and spicy sauce.
Ingredients
For the chicken
2 pounds boneless, skinless chicken breasts
1 cup buttermilk
2 teaspoons salt
3 cups finely crushed corn flakes
3 tablespoons of flour ( you can use whatever you have on hand)
1 1/2 teaspoons of dried thyme leaves
Non-Cooking Spray
For the Sweet and Spicy Sauce
6 tablespoons butter
2 tablespoons honey
2 teaspoons cayenne pepper
1/2 teaspoon chili powder
1/2 teaspoon paprika
1/2 teaspoon garlic powder
kosher salt for seasoning
Instructions
Place chicken in a shallow 9x13 dish and pour the buttermilk over the chicken. Cover and refrigerate for at least 20 minutes or you can leave it overnight.
Preheat the oven to 425 degrees F. Line a baking sheet with parchment paper or you can use a silicone mat.
Crush up the cornflake crumbs until they resemble a coarse coating.
Add the cornflakes, flour, thyme, and a pinch of salt to a medium-sized bowl. Stir to combine.
Take each piece of chicken and roll it into the crumbs, making sure to coat each side well. You might need to press it on gently to make sure it sticks well.
Place on the baking sheet.
Spray the tops of each piece of chicken with the non-stick cooking spray.
Place in the oven and bake for 15-20 minutes, then flip the chicken over and continue cooking another 10 minutes or until the chicken is cooked through.
To make the sweet and spicy sauce, combine the butter, honey, cayenne, chili powder, paprika, garlic powder, and a pinch of salt. Let it melt and all come together. You can thicken the sauce a little more by letting it cook for an extra couple of minutes.
Drizzle the chicken generously with sweet and spicy sauce and serve warm.
Nutrition Information:
Yield:
8
Serving Size:
1
Amount Per Serving:
Calories:

344
Total Fat:

13g
Saturated Fat:

7g
Trans Fat:

0g
Unsaturated Fat:

5g
Cholesterol:

121mg
Sodium:

942mg
Carbohydrates:

18g
Fiber:

1g
Sugar:

7g
Protein:

38g