This shop has been compensated by Collective Bias, Inc. and its advertiser. All opinions are mine alone. #SimpleNaturalSmithfield #AllNaturalPork #GuaranteedTender #CollectiveBias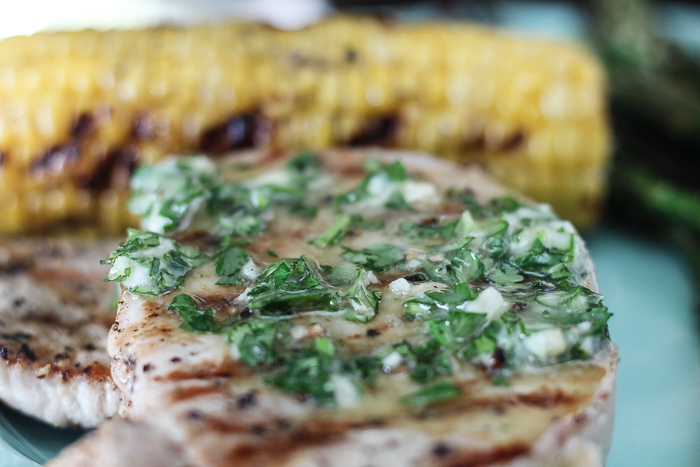 This recipe for grilled pork chops with garlic herb butter will become your favorite way to grill this spring and summer!
One of my favorite things to eat on the grill is boneless pork chops. Pork chops, or as my husband likes to call them "the other white meat", is so versatile and can be made into many different meals.
We have turned boneless pork chops into delicious Hawaiian Kabobs. I have also taken them and ground the meat to use for pork burrito bowls and more.
Today — I am going to show you another way to make grilled pork chops and that is topping them with fresh garlic herb butter.
Grilled Pork Chops with Garlic Herb Butter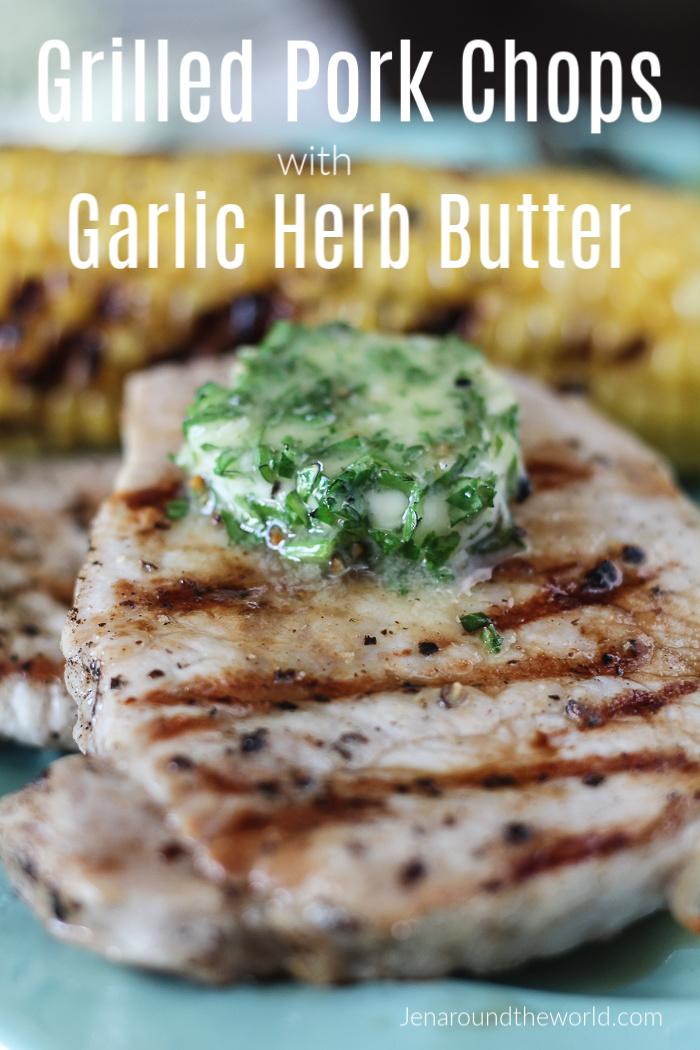 To make these grilled pork chops with garlic herb butter, the first thing you need is some delicious fresh boneless pork chops. My favorite to get is the Smithfield® All Natural Boneless Pork Chops that you can find in the meat department at Walmart.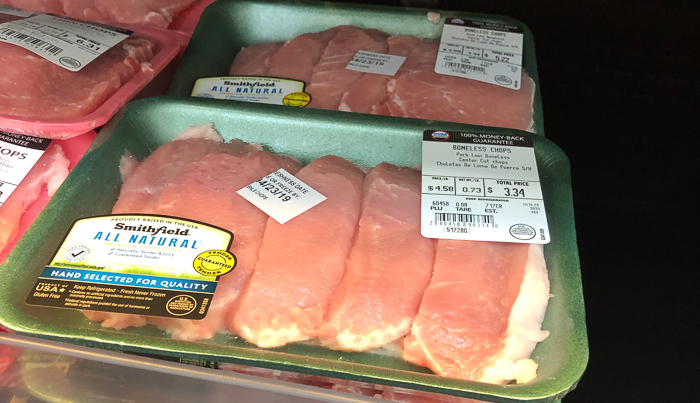 Get more recipe inspiration here and snag a $1 Ibotta coupon on your next purchase of Smithfield® All Natural Fresh Pork.
Smithfield® All Natural Fresh Pork is naturally tender and juicy without added steroids, hormones or artificial ingredients. I know that when I see that name on the package, I can trust that they have my family's interest at heart.
Plus — Smithfield® proudly works with farm families across the United States to produce quality pork proudly raised in the USA.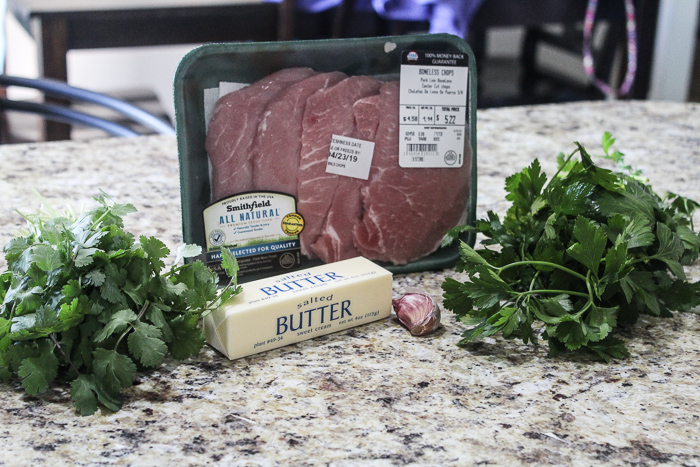 Seriously — this recipe literally calls for only 5 ingredients — the boneless pork chops, butter, garlic, cilantro, and parsley. Be sure to only use fresh ingredients with this.
Do not use dried herbs or margarine. You want real butter and fresh herbs and definitely some fresh garlic.
Get those pork chops ready
Take the chops out of the package and put them on a sheet pan. Since I am putting a fresh garlic herb butter on these, I want simple seasoning, so I use just kosher salt and some fresh cracked black pepper.
While the grill is heating up, I set these aside and get my herb butter ready.
How to Make Garlic Herb Butter
Start with one stick of butter. Make sure it is at room temperature. Then add in 1/4 cup chopped parsley, 1/4 cup chopped cilantro, and 1 bulb of garlic, minced.
My daughter, who is my business partner, is an excellent chopper, so I always give her the task of chopping and mincing. She is also the cheese grater, the carrot slicer, the shredder — whatever I need her to do.
Once you get everything in the bowl, take a hand mixer and get it all mixed up real good. It doesn't take long — just a couple of minutes.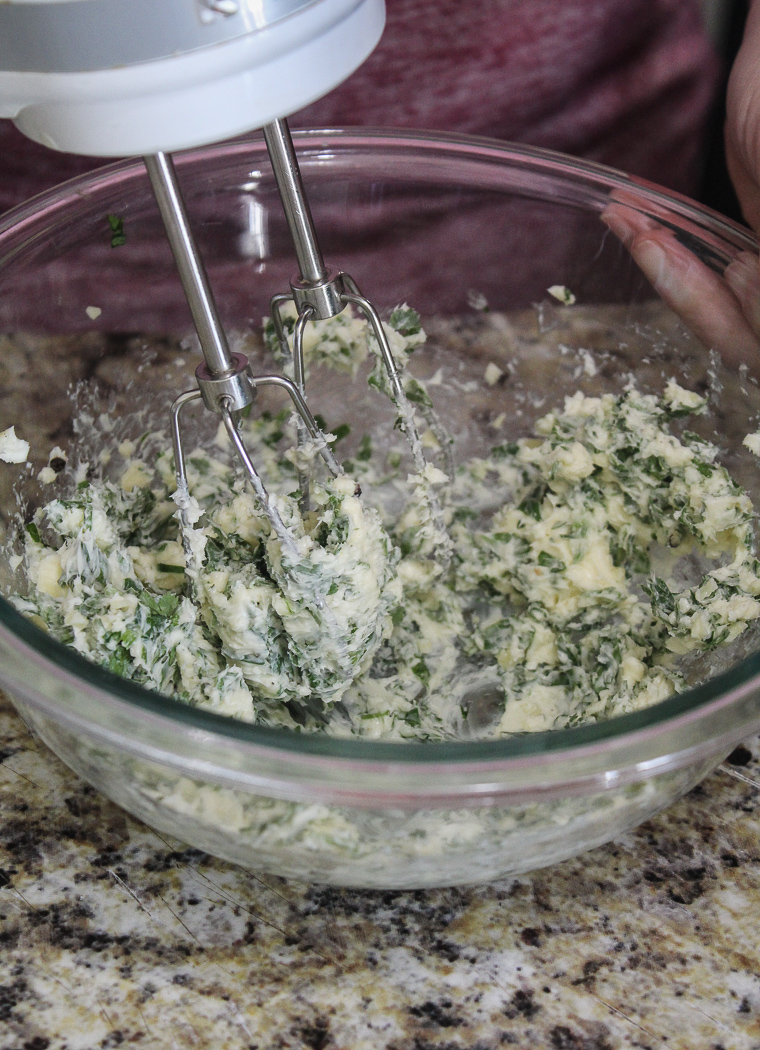 Once you get it all mixed up, take the butter and herb mixture and put it on a sheet of plastic wrap. Then, using your hands, roll it over and mold it into a log.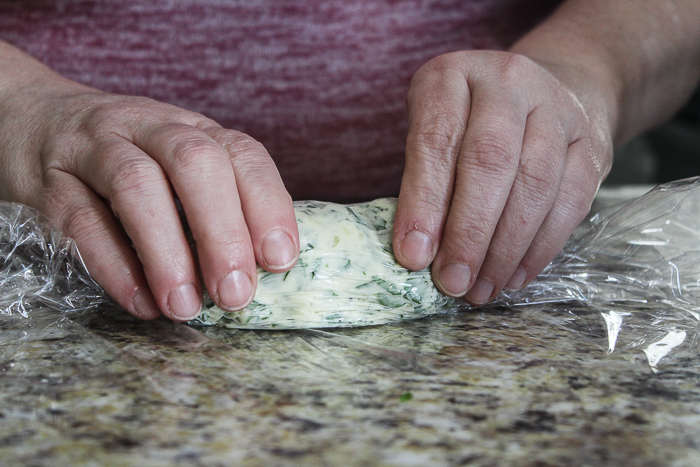 Take the ends of the wrapper and twirl it to roll the butter log tight and then tuck the ends so it does not come undone. When finished, it should look just like this.
Now that you have your garlic herb butter done, pop it in the refrigerator to chill while you get your chops done.
Grilling those pork chops
The thing that I love about Smithfield® All Natural Boneless Pork Chops is that they are SO QUICK to make on the grill. I can create a delicious meal in 15 minutes on the grill with these. This is perfect for those busy weekday meals or when you have guests show up unannounced and need to make a quick meal for entertaining.
Smithfield® understands the need for versatility and ease of prep for everyday meal solutions.
I have learned a quick trick or two also for getting the grill ready. I no longer use those bristly brushes because those metal teeth fall out.
Simply take a piece of aluminum foil, ball it up and it makes the perfect tool for cleaning the grates on the grill.
Now — you are ready to load up your grill with all the goodies you are going to have for dinner!
Grill these pork chops for about 3-4 minutes per side. Be sure to keep your thermometer handy because when they reach about 142 degrees F, you want to pull them off. They will continue to cook for just a bit, making them reach the perfect temperature of 150 degrees which is the ultimate temperature for juicy and moist pork chops every single time.
Once you pull them off the grill, top the pork chops with a slice of that delicious garlic herb butter.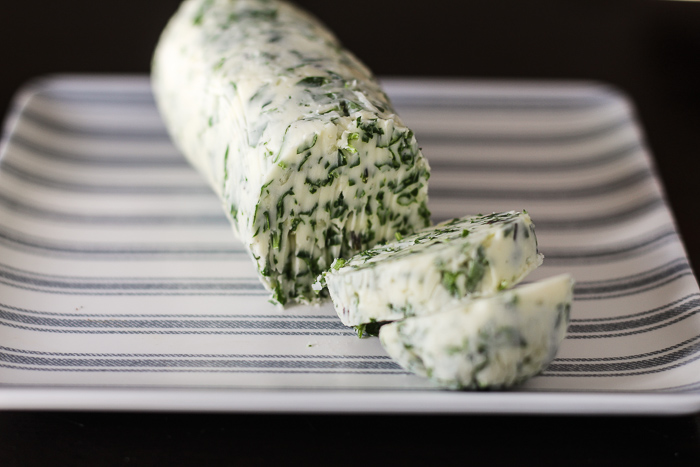 In just that short amount of time, the butter will have chilled back to a good solid making it easy to slice.
The heat from the chops will slowly melt the butter and you get to watch the magic happen right before your eyes!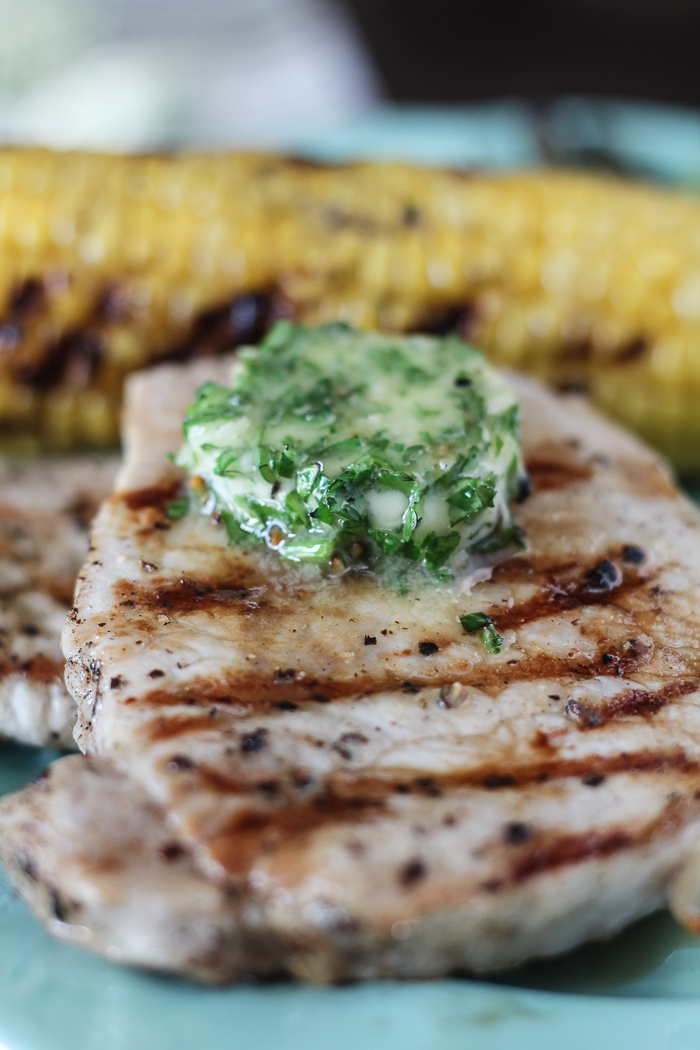 Smithfield® is committed to providing high-quality All Natural Fresh Pork that consumers can feel good about serving to their family and friends.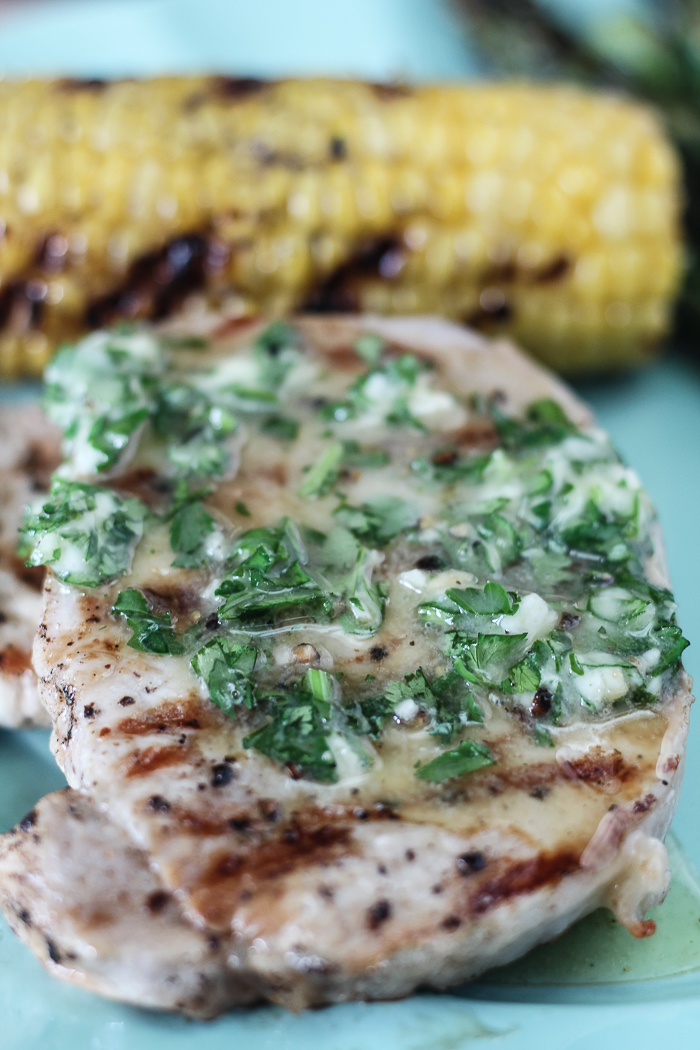 Smithfield® All Natural Fresh Pork is Guaranteed Tender and is great to grill this summer. So — what does it mean to be Guaranteed Tender?
USDA Processed Verified
Hand-selected based on coloring and marbling
Proudly raised in the USA
Fresh never frozen
Once the butter is all the way melted, it's time to dig in and eat. I love to serve mine with fresh veggies like grilled corn and grilled asparagus. They say you should eat the rainbow and these grilled pork chops with garlic herb butter fit that bill perfectly.
Yield: 10 pork chops
Grilled Pork Chops with Garlic Herb Butter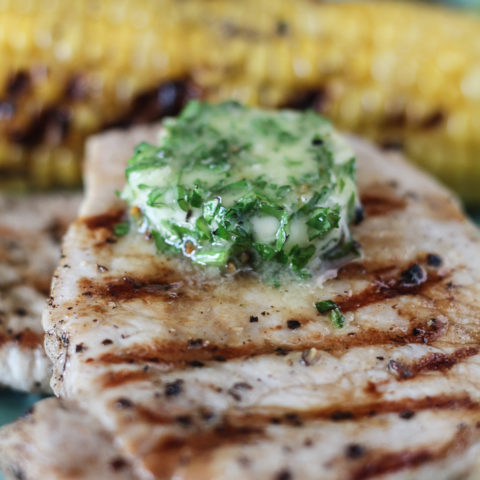 These grilled pork chops come together in no time flat. Top them with this easy garlic herb butter for a delicious grilled dinner.
Ingredients
2 packages Smithfield All Natural Boneless Pork Chops
1 stick of salted butter, room temperature
1/4 cup chopped fresh parsley
1/4 cup chopped fresh cilantro
1 bulb of garlic minced
salt and pepper for seasoning
Instructions
Take pork chops out of the pack and place on a baking sheet. Season liberally with salt and pepper and set aside.
In a bowl, combine the butter, parsley, cilantro, and garlic. Mix with a hand mixer until all mixed together.
Seal in plastic wrap and mold into a roll. Twirl ends to squeeze it all together and place in the refrigerator to chill.
Heat the grill to preferred heat setting.
Grill pork chops for 3-4 minutes per side or until a thermometer inserted inside registers 142-145 degrees.
Pull the pork chops off and let them rest for 10 minutes.
Pull the butter from the fridge and slice into coins. Top pork chops with butter slice and let it melt.
Enjoy with other grilled foods like corn and asparagus
Nutrition Information:
Yield:
10
Serving Size:
1 pork chops
Amount Per Serving:
Calories:

114
Total Fat:

11g
Saturated Fat:

6g
Trans Fat:

0g
Unsaturated Fat:

4g
Cholesterol:

35mg
Sodium:

153mg
Carbohydrates:

0g
Fiber:

0g
Sugar:

0g
Protein:

4g
Get more recipe inspiration here and snag a $1 Ibotta coupon on your next purchase of Smithfield® All Natural Fresh Pork.