During our girls' weeklong trip where we stopped in Little Rock, Arkansas and Pawhuska, Oklahoma, one of our very favorite stops was the two days we spent in Waco, Texas. Everyone asked us, "So what brought you to the area?" Then they would answer their own question — The Silos.
We arrived in Waco on a Sunday, and the Silos and everything Magnolia is closed on Sunday. But that did not stop us! We drove to Magnolia Market anyway since we were right down the street.
We were so glad we did because we all screamed and acted like little school girls when the silos came into view. Once we parked and got out, we took a ton of photos in front of and out front of the bakery and entrance to Magnolia Market. We knew we would get up bright and early the next morning to venture into everything the Silo District offered.
Visiting Waco Texas
Visiting Magnolia Table
One of my friends visited the area a few weeks before I did. Based on her experience, we beat the crowd and get there when they first opened. We all were starving and wanted a delicious breakfast and we knew that Magnolia Table was the place to be.
Pulling into the parking lot, my Chip and Jo love took shape right away. I remember the episodes as they were fixing up the place, and it felt so surreal to be standing in the parking lot.
We entered the restaurant, and it is just as beautiful in person as it looks on television. But my question was —is the food any good?
I did not have to worry because the food was FANTASTIC. I got eggs benedict, and it was seriously the best eggs benedict I have ever put in my mouth.
My daughter got the pancakes that come with these massive hashbrowns and my friend Michele got the french toast with tons of bacon. Everything tasted so good.
The food looked upscale and tasted like fine dining breakfast, but with a farmhouse feel and we loved every single thing about having breakfast at Magnolia Table.
I will say if you want to beat the crowds though, go early. The later in the day you wait, there will be a line that forms and you will have to wait to get inside. If you go during breakfast hours, there is not a wait at all.
Visiting Magnolia Market
Once breakfast was over, we drove the 6 minutes back to Magnolia Market and shopped until our heart's content. Our first hit was the bakery because I wanted a strawberry cupcake for later.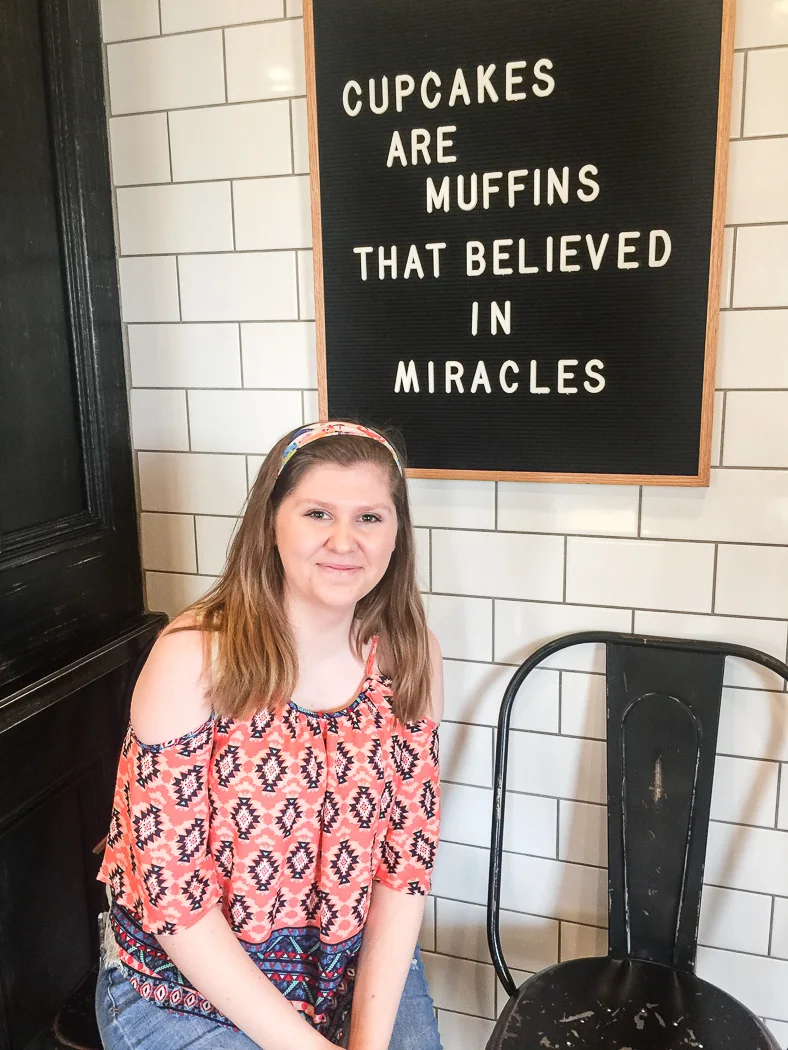 When you walk into the bakery, you are hit with every smell known to man and you feel like you are in heaven.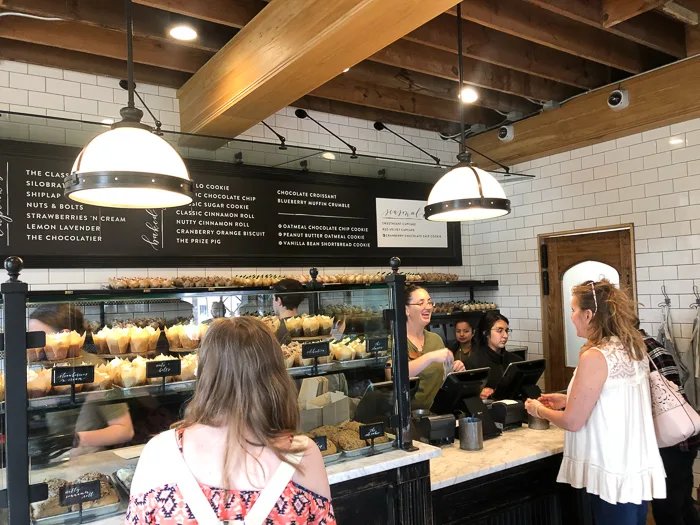 The lines move quickly, so we got our goodies (my daughter snagged one of those delicious Jo Jo Chocolate Chip Cookies) and we headed over to the market to check out all the beautiful things for sale.
We bought candles, and totes, and books, and t-shirts and SO MANY THINGS. I didn't buy everything I wanted because many of the items in the shop are pricey, but hey — you have to walk away with some things right?
Once you get done shopping in the market, you can walk outside and enjoy so many awesome things. There are about 9 food trucks parked on the lot where you can snag a delicious lunch. They also have a massive play area for the kids to rip and run to get rid of some energy.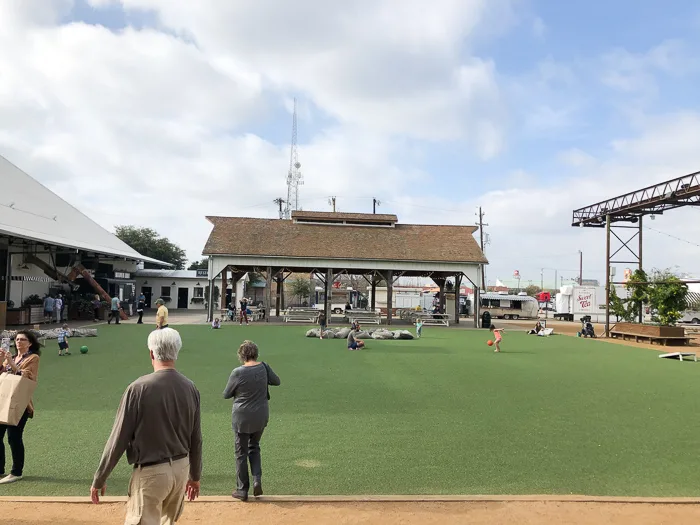 Then, if you can catch it empty, they have a huge swing that seats about 4 people. We sat there and enjoyed the 80-degree weather, swinging to our heart's content as we listened to the 80's music on the stereo.
There is also a fun little garden shop on the lot where you can buy seeds, more t-shirts, and all things gardening.
Chip and Jo really made this place special and it felt so good to be here and check it out in person. I am already planning a trip back because I want my husband to visit here!
Take a ride on the free trolley
Once you shop the market, hop on the free trolley which will take you all around the Silo district. You can hop on and off along the way and shop many of the antique shops, boutiques and visit the restaurants and coffee shops in the area.
We shopped in this one two-story building where they have dozens of merchants (kind of like an indoor flea market). We were here for over two hours because there was so much to look at!
The Magnolia Warehouse is a MUST
If you visit the area and love all things Magnolia, then you need to drive the 5 minutes over to the warehouse where everything is on sale or discontinued and sold here for a discounted price.
We loaded up here with all things Chip and Jo! Out of season items are marked down to 75-80% off and we found more t-shirts, candles, decorations and more. It is a smaller building but packed with some great stuff!
The Waco Bridge Riverwalk
After dinner (we ate at an amazing restaurant called George's) we took a stroll on the Waco Walking bridge. We had so much fun doing this, and it was a good way to walk off all that food we ate!
We made our way back to our room around 7:30 pm that night and enjoyed our sweets from the day and reminisced about everything Magnolia.
That night, we tuned into a Fixer Upper marathon on television. It completed the day and I fell asleep dreaming about when I would return to Magnolia Market.
If you have never taken the trip to Waco, Texas, I urge you to go. It is one of the best trips I have ever taken and I cannot wait to go back!