Carrying the best bag makes travel more comfortable and convenient. It lets you walk anywhere confidently and in style as you live your best life. Considering elegance and practicality, many travelers prefer leather bags.
Leather bags are classy and functional, especially premium ones. Full-grain leather, matched with creative craftsmanship, creates the perfect bag for all types of adventures. You can use it for business trips, holidays, and short weekend trips.
Here's a comprehensive guide on leather bags and why they make a great travel companion.
Various Leather Bag Styles For Travel
Style is as important as comfort and function when you travel. As you visit new places, looking at your best can help give you confidence.
Leather bags come in various styles to fit any outfit and purpose.
Briefcases
Briefcases are some of the classiest leather bags, perfect for business travelers. They balance elegance and functionality through their sleek structured design and excellent capacity while matching a wide range of professional and business casual attire. Von Baer makes` the Exquisite, which is a fabulous briefcase.
Satchels
Satchels are a go-to travel companion due to their spaciousness and style. You use this bag to elevate a casual outfit. It can make the whole look more sophisticated while keeping everything simple.
Backpacks
Leather elevates the usual look of a travel backpack. Backpacks are well-known travel bags due to their ease of carry and capacity. A leather backpack makes an excellent travel companion for adventurers.
Duffles
Duffle bags are the perfect travel companion for a long holiday. This style is designed to carry at least a week's worth of outfits with a proper packing technique. And you can use it as a gym or work bag on typical days.
Shoulder Bags
A shoulder bag is an elegant secondary bag when traveling. You can use it to keep your essentials, such as your phone, wallet, and toiletries, more accessible. Plus, it goes well with any day-to-night outfit.
Leather bags come in different styles, so you can find one that matches your vibe and expectations.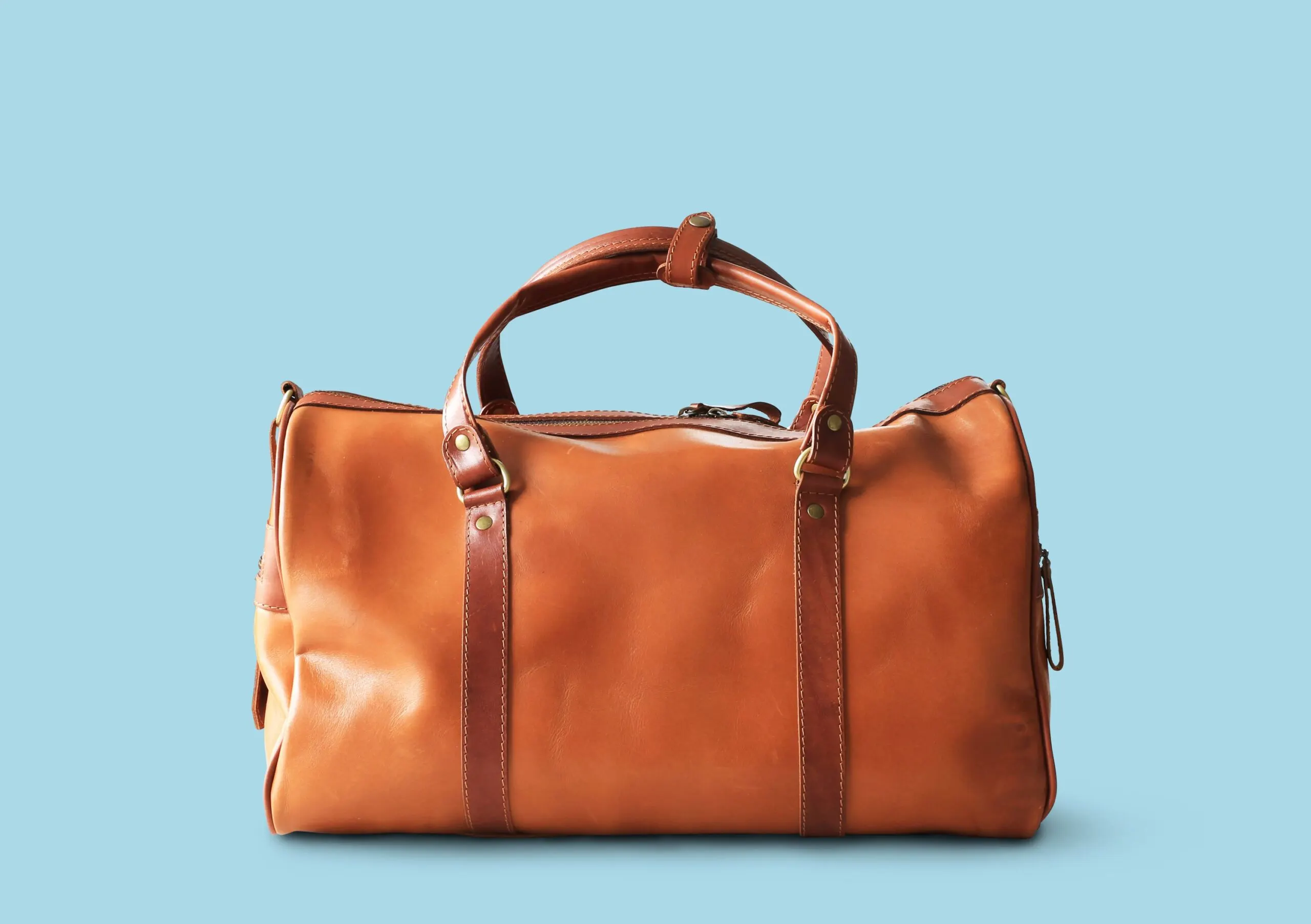 Why Leather Bags Are Best For Travel
They Are Functional
Carefully crafted leather bags are highly functional. Depending on the style, you can use them for various purposes, especially when traveling.
The function of a leather bag as a travel companion relies on its design. For instance, a leather backpack with a laptop compartment allows you to protect your electronics easily. Most of these bags have a strong structure and cushion pads to make them more comfortable to carry.
On the other hand, leather duffle bags elevate functionality through their capacity. Unlike other fabrics, leather keeps the bag's structure in shape. Therefore, you don't have to fill it to look sturdy.
They Are Highly Durable
Travel exposes your bag to wear and tear. To ensure comfort, one must choose a bag made with highly durable material. One of the best options is leather bags.
Leather is one of the strongest fabrics used in making bags. A leather bag can withstand outdoor elements, especially ones made with full-grain and top-grade leather. To test its durability, you may touch the material. It should be thick but soft, perfect for traveling comfortably.
Another factor that makes leather bags highly durable is craftsmanship. A handmade leather bag is an excellent travel companion since you can guarantee its strength. You don't have to worry about scratches or straps falling apart, so you can fully enjoy your trip.
They Look Sophisticated
Leather bags can elevate any outfit. Aside from new experiences, it also involves taking selfies, so your attire matters. A leather bag is a wardrobe staple everyone must have, especially travelers.
Also, leather bags are perfect for formal events, like destination weddings. For instance, you can use a leather garment bag to prevent your outfit from creasing. Some designs may also feature a shoe compartment for easy carry.
They Are Water-Resistant
Leather is water-resistant, making it perfect for travel bags. As you go on your trip, the weather can be unpredictable. It may rain suddenly, and your bag may get wet. With full-grain leather, you can walk under the rain worry-free.
Trusted manufacturers use only premium leather to maximize its natural water-resistant capabilities. However, you may also apply beeswax or other waxes and oils to prevent staining and cracking.
They Last Long
An excellent travel bag lasts long. While synthetic materials may offer many benefits, leather still wins on longevity. Handmade full-grain leather bags can last beyond 30 years with proper care.
Premium leather bags may be expensive, but you can use them repeatedly during your trips for decades. Therefore, purchasing one is a practical choice, especially if you love traveling.
Moreover, leather bags develop a patina or darkening over time. As you use a leather bag, you expose it to sunlight and other outdoor elements. As a result, the material develops a darker tone and softer texture, making it look vintage and classy.
Conclusion
Leather bags make a great travel companions due to their style, durability, function, and longevity. When purchasing one, find a reliable shop that provides premium leather bags to elevate your next adventure.