These Bunny Butt Cupcakes are an inspiration from my daughter! She loves to make fun food so last year she created these and we finally get to share the easy tutorial with you!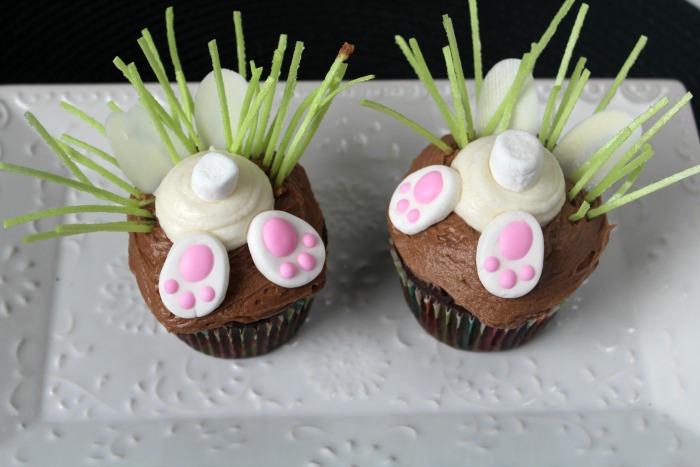 My daughter loves creating fun food. Last year, she baked a batch of our homemade chocolate cupcakes and made 3 different Easter cupcakes with you — which I plan on finally sharing with you in the next week.
The first one she wanted to make was Bunny Butt cupcakes. She had seen a really cute cake online, and while we were shopping the Easter Clearance candy, she happened upon these cute bunny feet, so she set out to create these fun and festive Bunny Butt Cupcakes.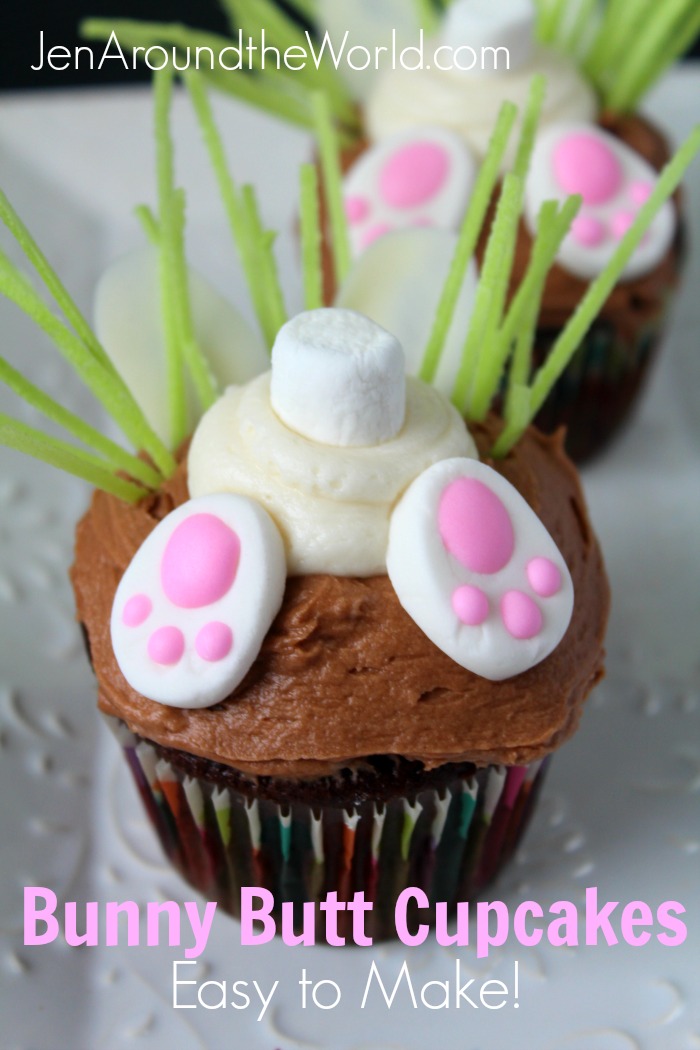 These would be so super cute to share for an Easter party at school. They may look hard to make, but honestly — they are the easiest thing in the world to create.
How to Make Bunny Butt Cupcakes
For starters, you can either buy a boxed cake mix, or you can make homemade cupcakes – it is totally up to you. We just usually make them homemade, but if you are crunched for time — boxed is fine too.
Make the cupcakes and set them aside.
For the next step, you are going to make your frosting. Our favorite is buttercream, but again, if you are pressed for time, you can just buy canned frosting. You will need both white and chocolate.
The chocolate acts as your dirt on the ground that your bunny happens to be digging through.
You can click here to get my homemade buttercream frosting recipe. My chocolate homemade buttercream is TO DIE FOR. Seriously — the best out there.
Start by taking your chocolate frosting and frost your cupcakes.
Now, once you get your cupcakes frosted, you are going to use a 2″ tip that has the single hole in it and create a dollop of white frosting in the middle of the chocolate frosting.
Now, Let's Make the Body
Once you do that, you are ready to decorate with the fun items!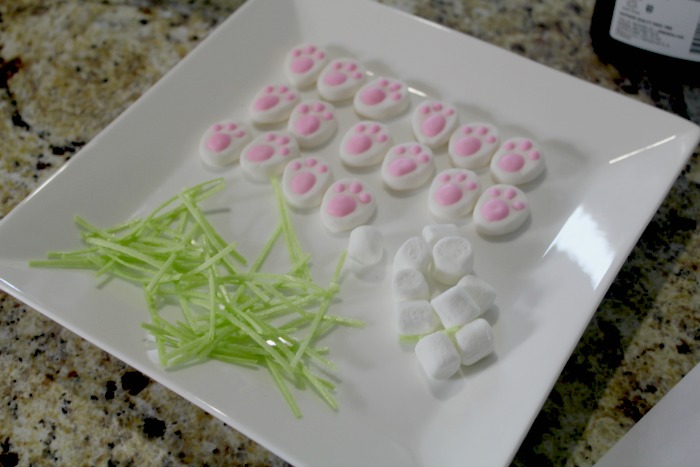 The bunny feet are from Wilton. We got them at Walmart, but anywhere that sells Wilton products should have them around Easter time. In fact, you can get them at Amazon by clicking here.
We also bought edible Easter grass. We found it on the aisle with all the other grasses. It says on the package that it is edible so look for that.
Then, the butt of the bunny is just a mini marshmallow.
Now — let's talk about the ears.
The ears were made using white melting chocolate and a butter knife. I recommend using a Silpat so that they come off simply and easily.
We tried it with parchment paper, but they stuck, so the silicone mat is the way to go.
Simply dip your butter knife in the melting chocolate and lay it flat and raise it. It will create the perfect bunny ears.
Once you get enough made so that every cupcake gets 2 ears, pop the tray into the freezer for a few minutes to let them harden.
When they come out, place them on the cupcake to make it look like his ears are hanging out, just like the picture below.
These turned out to be THE cutest cupcakes we have ever made! My daughter was over the moon with how adorable they turned out.
Here's the printable recipe! Hope you enjoy it!
Yield: 12 cupcakes
Bunny Butt Cupcakes
Super cute bunny butt cupcakes that are perfect for Spring.
Ingredients
1 box of chocolate cake mix, or homemade cake mix
1 can of chocolate frosting, or homemade chocolate buttercream
1 can of vanilla frosting, or homemade buttercream
1 package of Wilton Bunny Feet
1 package of edible grass
1 package of mini marshmallows
White melting chocolate
Instructions
Make the cupcakes according to package directions. Set aside to cool.
Once cool, frost with the chocolate frosting.
Now, using a 2" single hole frosting tip, take the white frosting and create a bunny butt on the top of the chocolate frosting.
Top that with 2 bunny feet and a mini marshmallow.
Place the grass on the opposite side of the feet.
To make the ears, melt your melting chocolate and then using a butter knife and a silicone baking mat, dip the knife in the chocolate.
Now, place it down on the silicone baking mat and raise straight up. Make enough for each cupcake to have 2 ears.
Place in the freezer for a few minutes to harden.
Remove them and place on the cupcake to make the bunny look like his ears are sticking out.
Now, serve and enjoy!
Nutrition Information:
Yield:
12
Serving Size:
1
Amount Per Serving:
Calories:

449
Total Fat:

14g
Saturated Fat:

5g
Trans Fat:

0g
Unsaturated Fat:

7g
Cholesterol:

6mg
Sodium:

424mg
Carbohydrates:

78g
Fiber:

1g
Sugar:

57g
Protein:

3g