Thank you to the Harrodsburg/Mercer County Tourist Commission for hosting me on a trip to Harrodsburg KY. I cannot wait to go back and visit again!
A couple of weekends ago, my sweet best friend and I hit the road for a weekend adventure to Harrodsburg, KY. If you have never been to this little neck of the woods in Central Kentucky you are truly missing out!
You may remember last year when my husband and I visited Shaker Village of Pleasant Hill in this area and loved it, and now that I have seen the rest of the town, I am that much more excited to share it with you.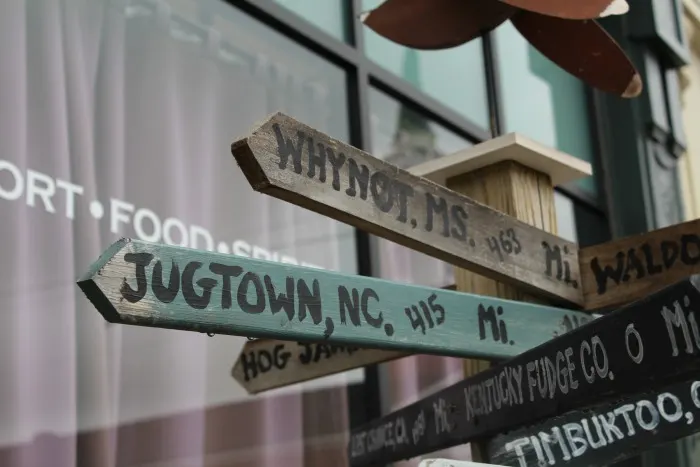 Harrodsburg is THE oldest town in Kentucky, and there is SO much to see and do in and around the area. I will be writing specific posts about each place we visited as well as the beautiful bed and breakfast we stayed at, but for starters, I thought I would give you a little snippet about each place in this post.
What to See and Do in Harrodsburg, KY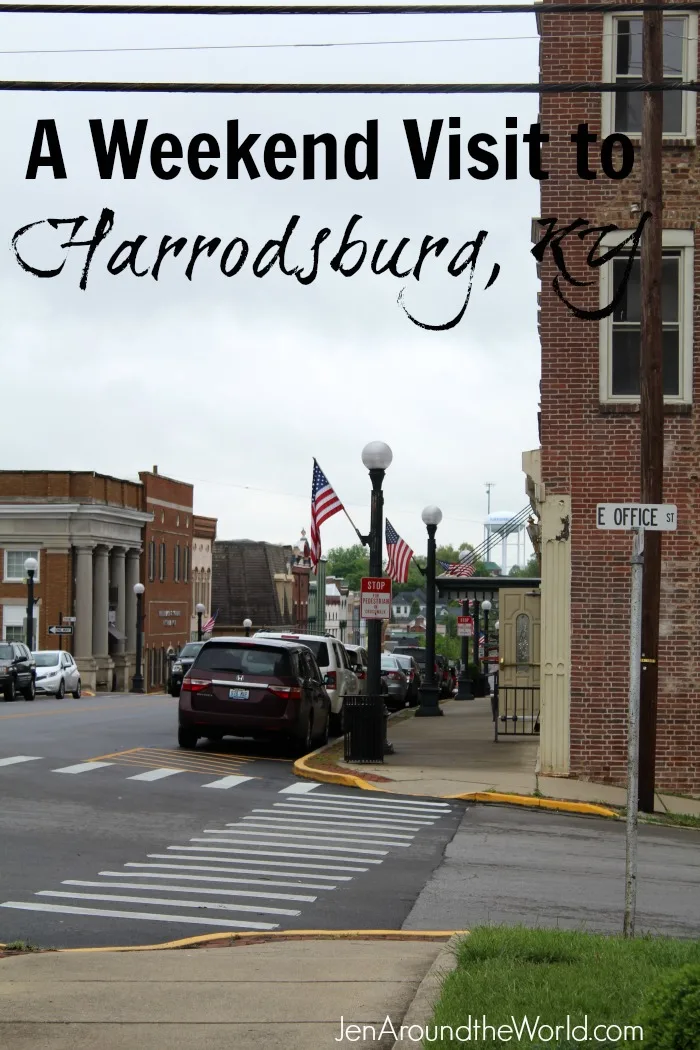 Where to Stay
The Beaumont Inn
One of the first places we visited on our trip to Harrodsburg was Beaumont Inn — which happens to be the state's oldest family-operated country inn and the winner of a 2015 James Beard Foundation "America's Classics" award.
Beaumont Inn is simply beautiful and classic and you will definitely feel like a Southern Belle as you walk the halls here. Named as one of the South's Top 20 Charming Inns by Southern Living Magazine, Beaumont Inn has been in business as an inn since 1919.
I was intrigued when I found out that Beaumont Inn used to be a college — and there are plenty of artifacts saved throughout the years to show the enriched history there.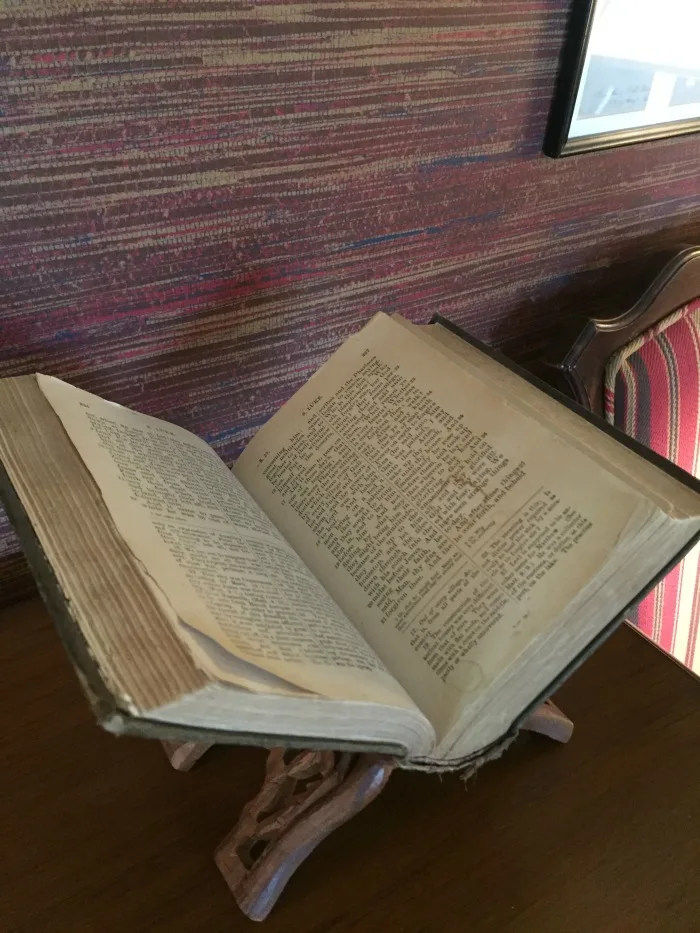 But the best thing about the Beaumont Inn? The buffet lunch that they serve. I can totally understand why they won a James Beard Award.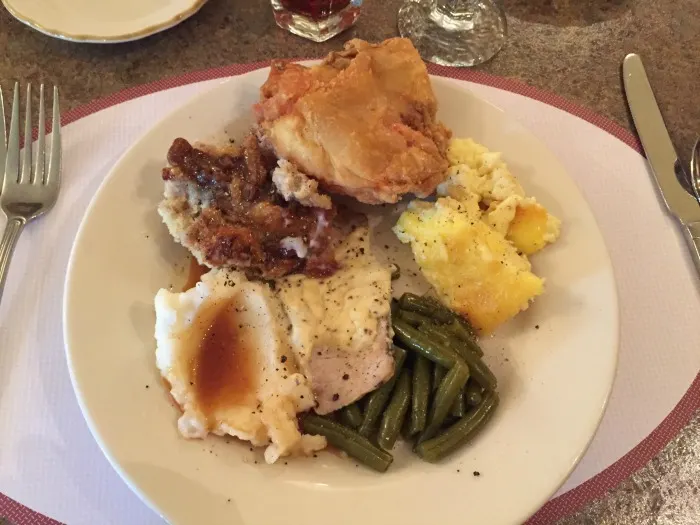 After eating lunch, Michele and I walked the grounds and took a few pictures of the building and of course, you have to get one of you and your bestie out in front of everything.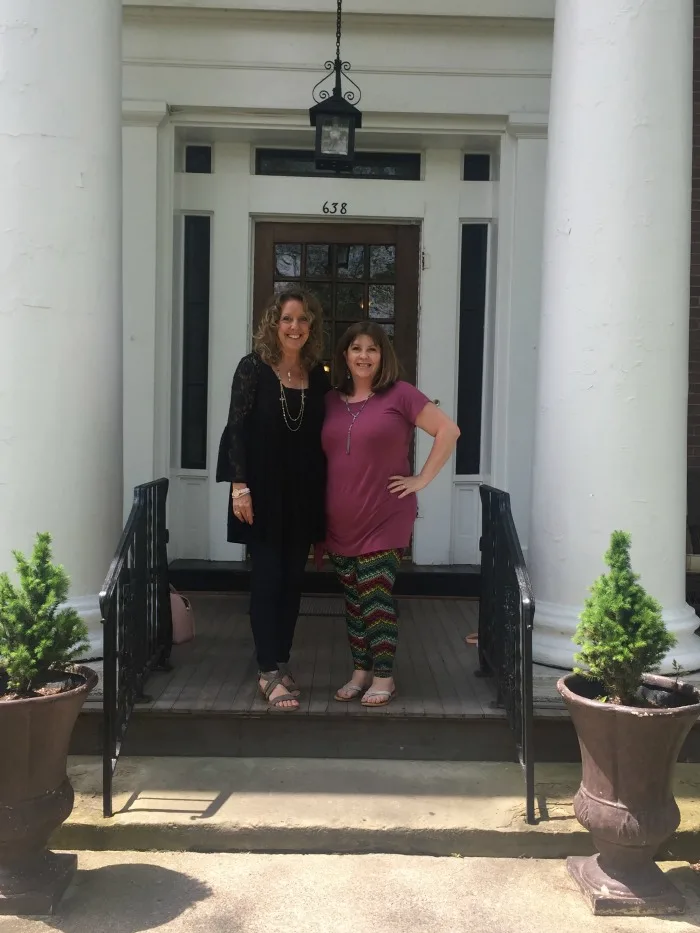 Even though the Beaumont Inn is located in the oldest town in Kentucky, they offer plenty of modern amenities including comfortable rooms and suites, legendary Dining Room, lively Tavern, cozy Pub, outdoor pool, gathering spaces and pampering Spa.
Coleman House Bed and Breakfast
I was so excited to find out on this trip that we would be staying in a bed and breakfast. This was my first time and let me tell you, the owners Cala and Jack of the Coleman House Bed and Breakfast were the most gracious hosts and left me with the best feeling.
I wanted to stay longer, but I promised Cala when I needed to get away to write, I would definitely be visiting there to stay in the Serenity House.
The Coleman House only has 3 rooms for rent, so be sure to check with them and book your stay in advance.
In addition to the private guest accommodations like we had in Serenity House, you have to check out the Old West Saloon on the third floor, and then grab a glass of iced tea and hang out on the charming, southern style front porch.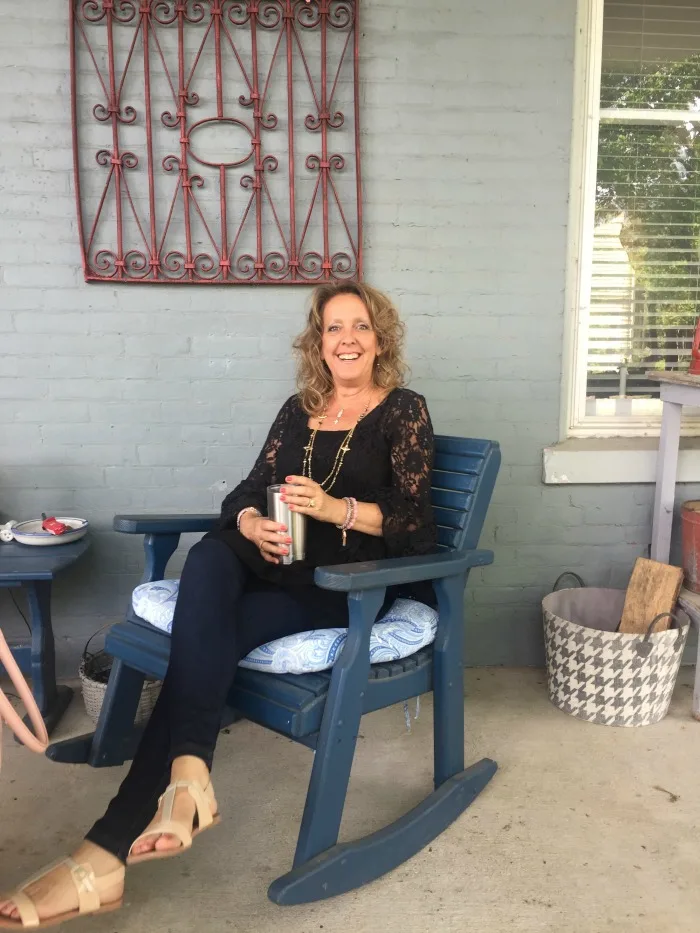 Where to Eat
There are plenty of places to eat when you hit Harrodsburg, but one that stood out to us is the High Mountain Steak House.
The atmosphere here is gorgeous and has that Fixer Upper feel when you walk through the door. I think the thing that I loved here is that Kathy the owner, talked to us like she had known us her whole life — like we were family, and it was the best.
We asked what was the town favorite, so we went with the filet mignon meal and sides — for only $15.99 y'all!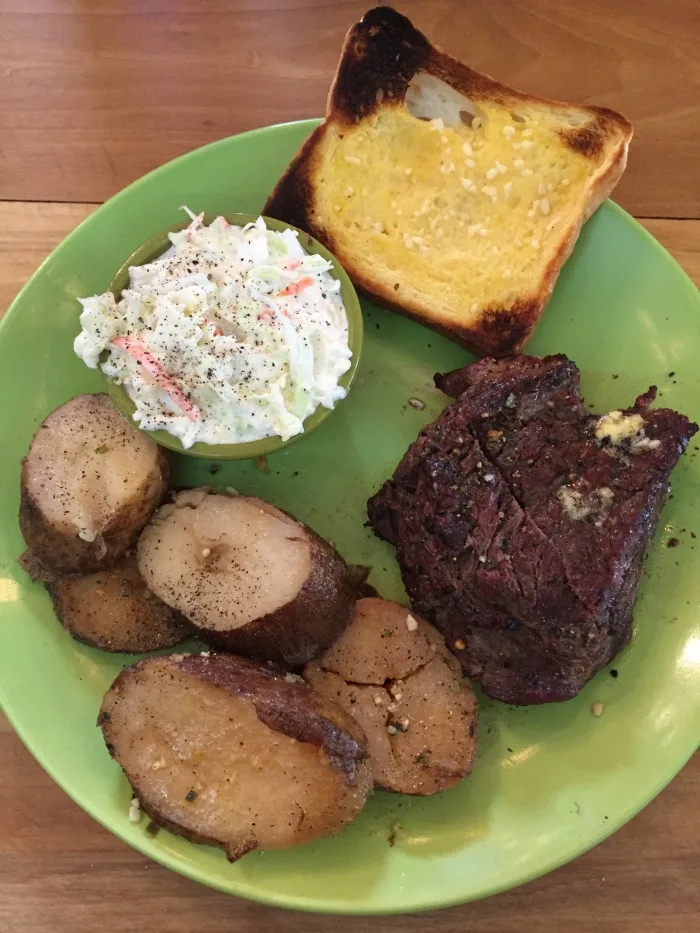 Kentucky Fudge Company
Over the course of the weekend, we got to enjoy a delicious lunch at Kentucky Fudge Company, and let me tell you — this is a MUST STOP if you visit Harrodsburg.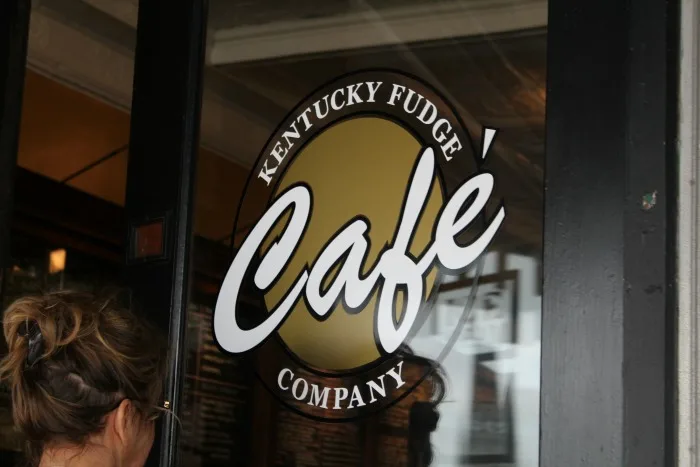 Not only is this place known for being an old-timey drug store back in the day, but the fudge that is served here is off the chain. I bought 3 versions home for my family and my favorite was the bourbon chocolate.
The atmosphere here is lively and the food is simply fantastic. I had a pimento cheese sandwich and tomato bisque soup and with every bite I wanted more.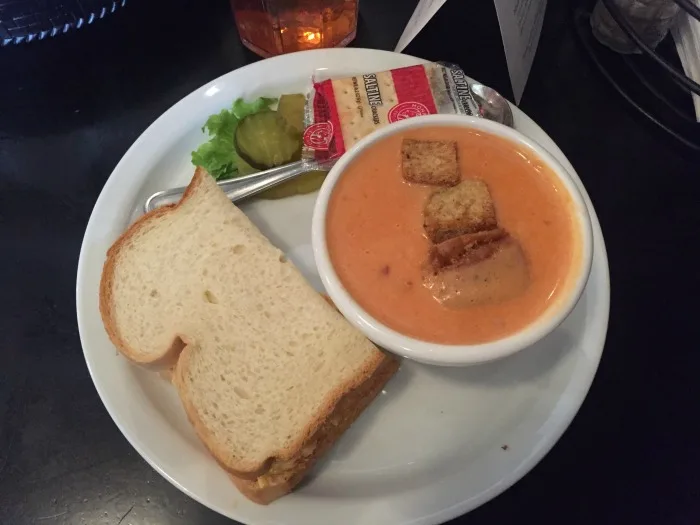 Harrodsburg Harvest Coffee
Now, you already knew that I was going to find a coffee house somewhere, right? While we were out venturing into the city, my friend Michele caught a glimpse of a coffee cup and said, "Ooh look a coffee shop!", so we made our way down there and it was worth it — every step!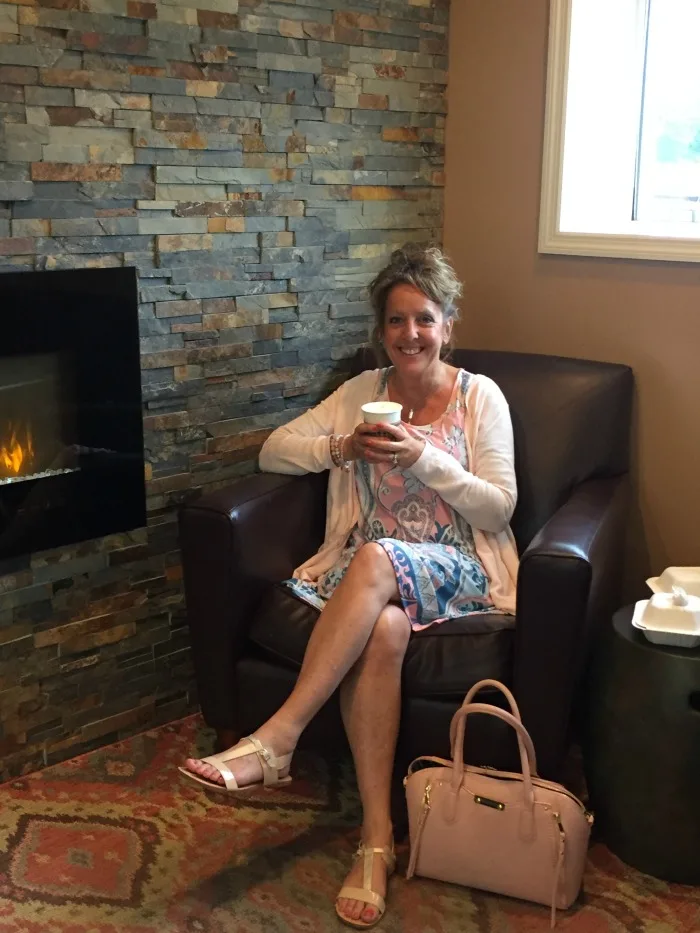 The staff here are so pleasant and easy to talk to, but the coffee? Seriously — the best I have tasted around.
The atmosphere is perfect with a roaring fireplace and soft comfy chairs and couches to lounge at and chat with friends while you relax and unwind.
Where to Shop
There were SO many places to shop in downtown Harrodsburg. Michele and I love to shop antique shops and there were plenty to hit during our walk downtown. I am always about finding new pieces for my food photography.
I will tell you upfront though — you need to make sure to bring cash when you visit the shops as some of them do not accept credit cards. Cash and check only 🙂
Charmed Antiques
Our first visit was to Charmed Antiques which is right beside the Kentucky Fudge Company. He has some eclectic pieces in here, and while shopping here, I found some new glasses to add to my clear glass collection. They look great in my cabinet and we have already enjoyed a few beverages out of them.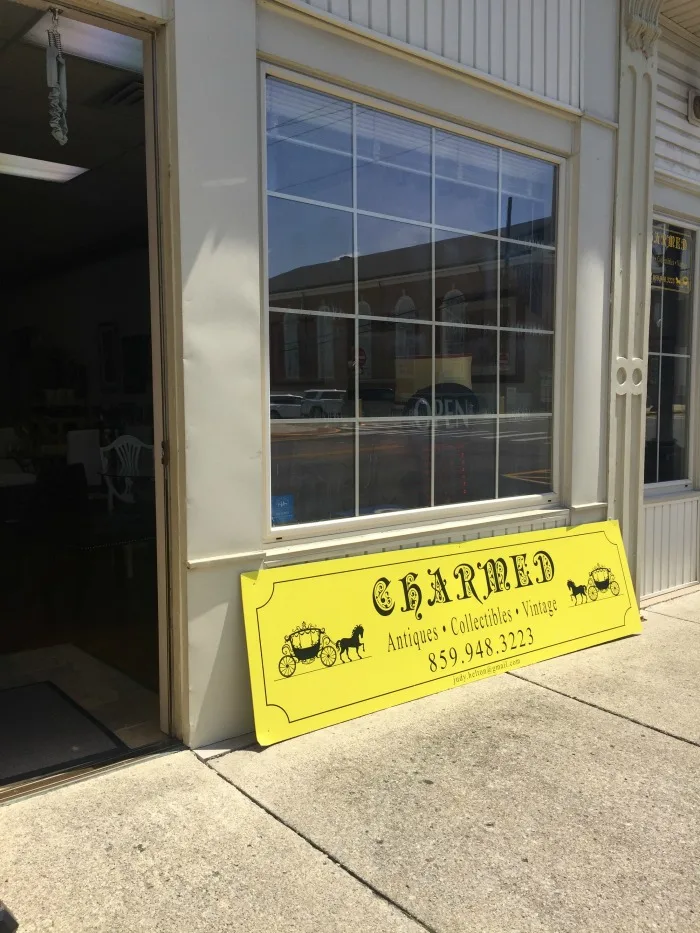 J. Sampson Antiques and Books
In this shop, not only do you get an antique shop, you get a book store in the back too — with tons of older books that you might find out of print these days.
I think Michele had more fun playing with Helen the mannequin — we are crazy when we go out in public!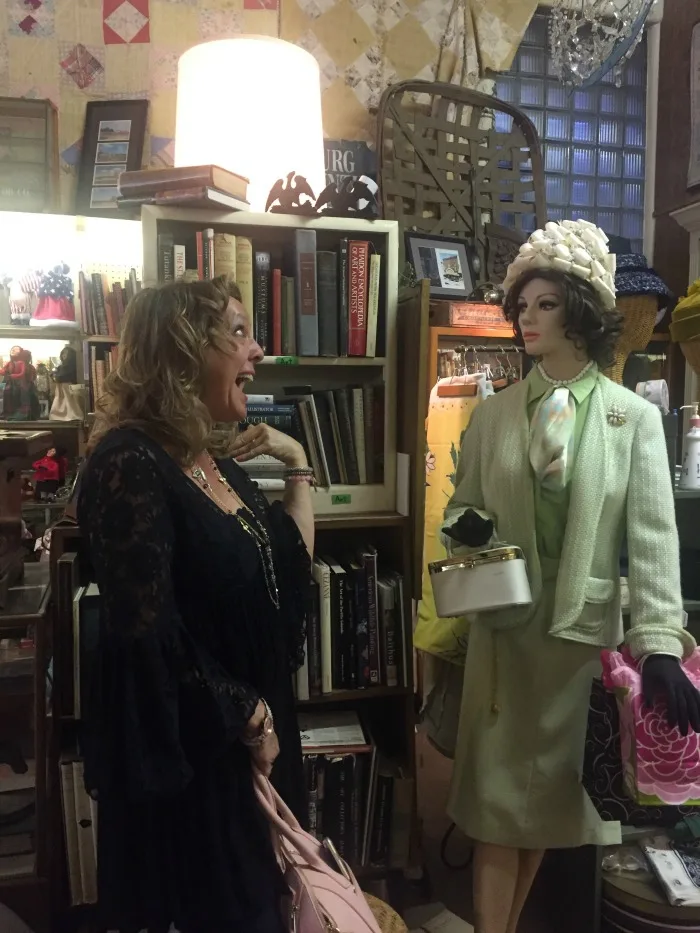 Brooke's Boutique
If antiquing is not your thing, don't worry! There are pet boutiques and dress shops you can visit too. We had THE best time shopping for new dresses at Brooke's Boutique.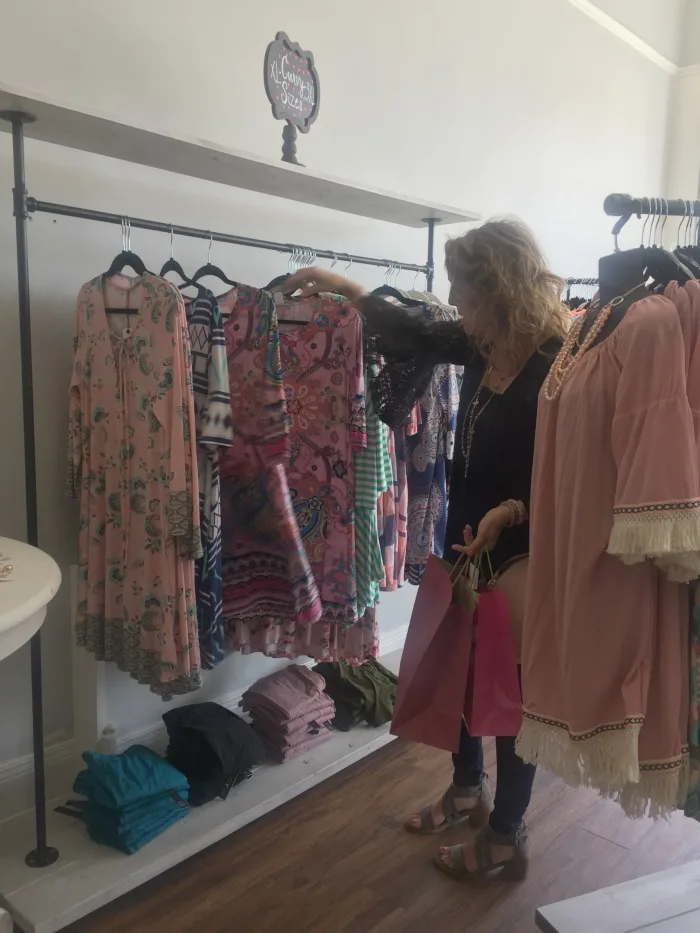 Brooke has this sweet spirit about her and her clothes are so fashionable. She will make sure to help you find the perfect complete outfit from head to toe.
Finally
If you are looking for a perfect step back from all the hustle and bustle of life, visit Harrodsburg KY for an adventure you surely will not forget. I cannot wait to go back for another weekend full of adventure and fun!
I will definitely be taking more photos when we return. I am always about finding new pieces for the delicious food images I take.
Have you ever been to Harrodsburg, Ky before? What were your thoughts about this beautiful town?