We love making homemade pizzas and if you do a search you will find a TON here on our site.
My new favorite is this 3 meat pizza that has become my family's favorite.
If you have known me for any length of time whatsoever, you know my love of pizza.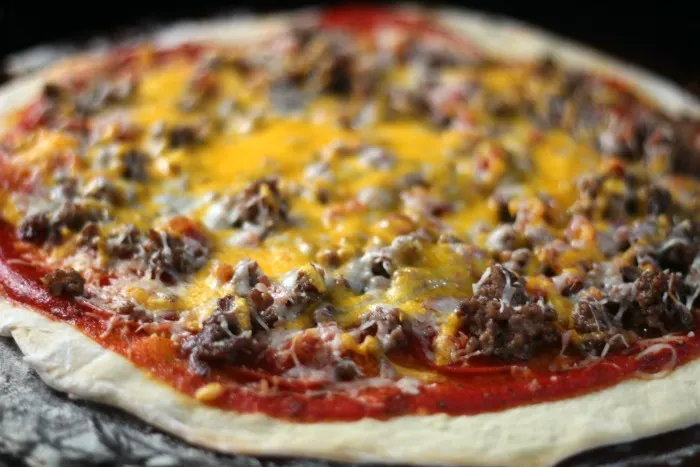 When Kayla and I first started baking in the kitchen, she was 7 years old. Our first homemade recipe ever was making pizza from scratch.
We made the dough, we made the sauce— and from that point, the possibilities have been endless! Today I am sharing with you how easy it is to make a 3 meat pizza from scratch.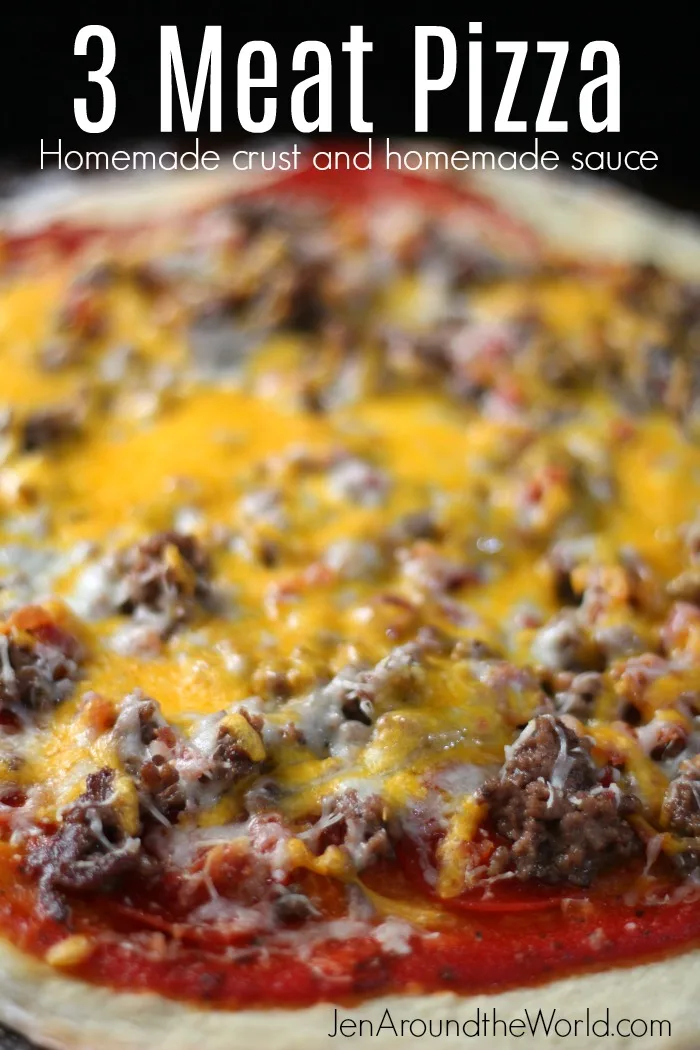 My husband loves the Meatsa Pizza from Little Cesar's and anytime we go to Gatti's, he gets the meat lovers, so I figured my next pizza at home better be his favorite type of pizza, right?
If you are a newbie cook and not ready to venture into making your own pizza crust (trust me it is SO doable) you can just buy a premade crust from Aldi or Walmart — or where ever you grocery shop.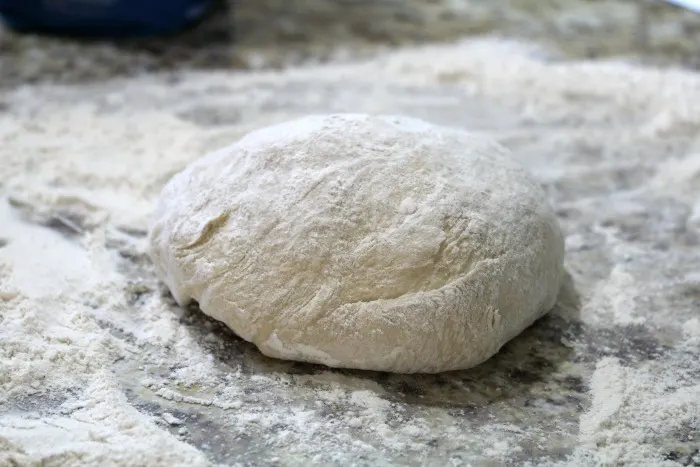 Start with your pizza dough. Make it up, and then prebake it in a 400-degree oven for about 10 minutes. Remove it and let it rest. Making pizza dough is really not hard at all — seriously. I even took a pizza-making class at Enrico Biscotti a couple of years ago. I was pleasantly surprised to learn I was doing it right.
The homemade sauce is simply a small can of tomato sauce and a few spices from your pantry. Nothing elaborate or out there — just good old fashioned onion powder, garlic powder, etc.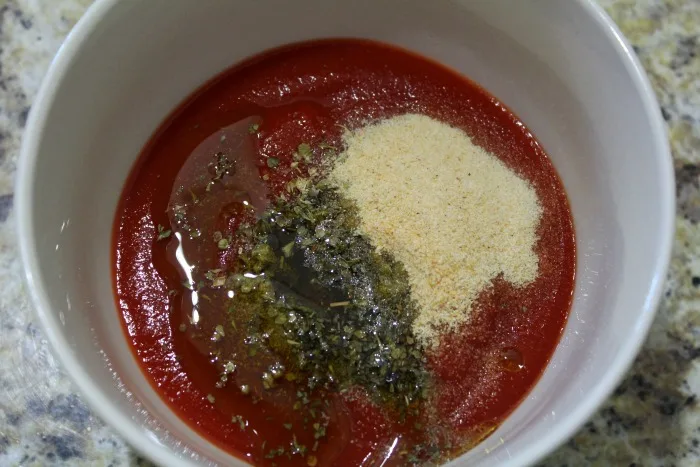 Once you get your sauce done, set it aside.
Now for the fun part!
How to Make a 3 Meat Pizza
First, you need to decide what meats you are going to put on yours. For ours, we love hamburger, sausage, and bacon. But you can go further and add pepperoni, steak, chicken, ham — I mean really load it up there.
Cook all your meats. Drain them all good and get the fat off of them and set them aside.
Put your pizza sauce on your crust. Top with the meats and then cover that bad boy with some delicious cheese.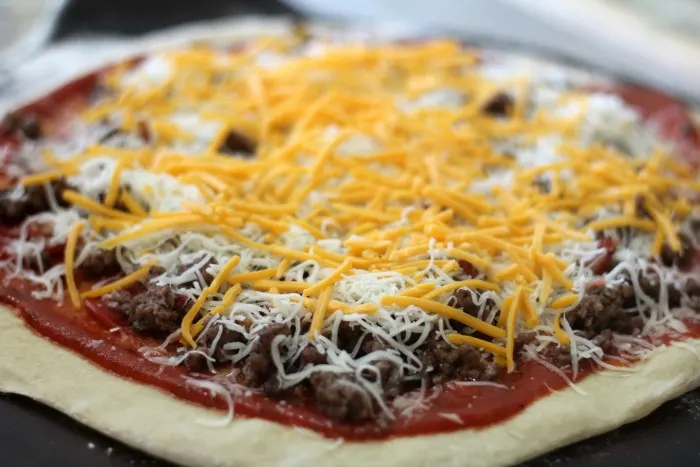 Bake in a 400 degree oven for another 10 minutes and you will have the perfect 3 meat pizza. The crust will be crisp and delicious. If you don't want the crisp crust, you can simply skip the first step of prebaking the crust and then increase your 2nd cook time to 15 minutes.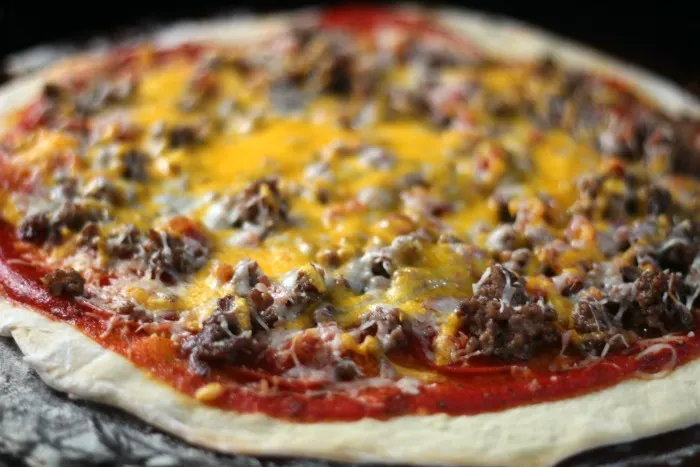 Here is the handy dandy printable recipe. Hope you enjoy!
How to Make a 3 Meat Pizza
This easy 3 meat pizza will make the meat lovers in your home shout for joy.
Ingredients
1 recipe for my homemade pizza dough, link in post
1 recipe for my homemade pizza sauce, link in recipe
1/2 pound of sausage, crumbled and cooked
1/2 pound of hamburger, crumbled and cooked
4 strips of bacon, cooked and chopped
1 cup of sharp cheddar cheese, or mozzarella -- whichever you prefer
Instructions
Make the crusts according to my recipe ( or buy premade crusts from the grocery store).
Make the pizza sauce and set aside.
In a saute pan on medium high, brown your sausage and crumble. Remove from pan and set aside.
In the same pan, add your hamburger meat and brown. Remove from pan and set aside.
In the same pan, cook your bacon slices. Remove from pan, allow to cool and them chop finely. Set aside.
Preheat oven to 400 degrees.
To assemble the pizza, take your sauce and smear over the entire pizza crust.
Top with cooked meats.
Sprinkle on shredded cheese and then bake in the oven for 10-12 minutes or until the cheese is melted and the crust is browned.
Enjoy!
Nutrition Information:
Yield:
8
Serving Size:
1
Amount Per Serving:
Calories:

532
Total Fat:

29g
Saturated Fat:

13g
Trans Fat:

0g
Unsaturated Fat:

13g
Cholesterol:

79mg
Sodium:

867mg
Carbohydrates:

42g
Fiber:

2g
Sugar:

3g
Protein:

25g