The Local Animal Shelter needs your help and mine too. Here is how I am planning to help.
I recently came back from a press trip with Rachael Ray Nutrish for Pets. This year, we traveled to Pittsburgh, Pennsylvania. We were to tour the city and to help by donating some time to the Western PA Humane Society.
My afternoon spent there really opened my eyes to helping out in times of need. I discovered 5 things that I am not doing now. However, I plan on changing that and helping out my local animal shelter.
Volunteering at the Local Animal Shelter
We arrived that day and I honestly had no idea what I was going to run into. You see the pictures on television of the malnourished and unhappy dogs and cats that are brought in every day. But what I saw just literally blessed my heart beyond measure.
None of the dogs or cats looked sad at all. They were up smiling and wagging tales. The kittens and cats were purring or playing with toys — and they all seemed at peace.
We went into a room where they gave us the history of the Western PA Humane Society.
Not only do they take in cats and dogs, but they also take in bunnies and exotic animals as well.
We began walking through the facility for our tour . It was here that I discovered 5 ways that I can help my local animal shelter.
I really paid attention to everything they were talking about. It honestly blessed my heart beyond measure to learn these things.
5 Ways I Plan on Helping Out My Local Animal Shelter
1. Volunteer My Time
There are different ways to volunteer. However, one of the best ways is by being a petting volunteer. What that means, is that each day you come in and spend time rubbing and talking to the animals.
I asked her how it made her feel and she said it was the best therapy she could ever give herself.
She told me, "You can walk in here having a bad day and within minutes of petting the cats and dogs, all the crap from that day that might have happened to you will instantly wash away.
Being a volunteer that comes in here and spends time loving on the fur babies is everything to me."
Can you also imagine how much it would mean to a cat or a dog who comes in scared?
Other ways to volunteer your time might be cleaning the facility, walking the animals, or even transporting them to certain areas in the city. Therefore, the options are endless. Call your local shelter or rescue group to find out how you can best help out.
We even got to take the dogs on a walk.
Tigger was FULL of energy and ready for a morning stroll. He was honestly the cutest and most loveable guy I had ever seen.
2. Become a Foster Home
Animal shelters are overloaded with pets, especially cats, therefor foster homes are a must. As a result, one time they had over 200 cats.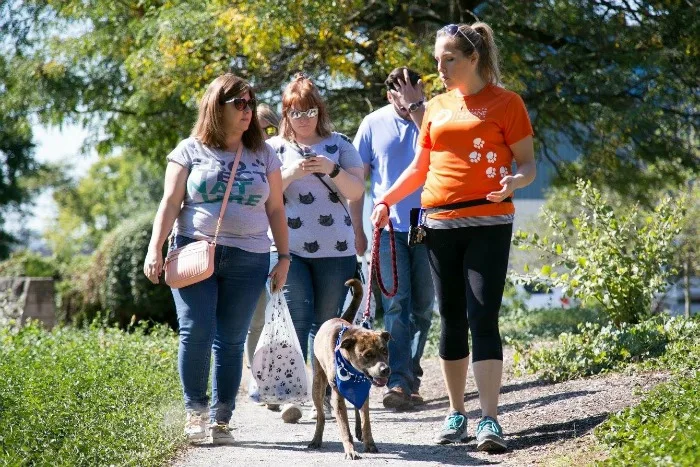 Being in a shelter can be extremely stressful for some animals. Providing a foster home to these pets can help ease a lot of stress.
3. Donations are SUPER Important
Animal shelters and rescues are often in need of supplies like pet food, litter, blankets, newspapers, and many other things. Donate collars and leashes — as many as you can. Be sure and call your local rescue or shelter and find out what they need the most.
We bagged up the extra dog and cat food to deliver to our shelter.
If you want to do something really fun, why not host a Puppy party at your house? Invite your friends over for a playdate! Make some of the best homemade dog treats to sell. Then you and your kids can donate the money to the shelter.
4. Spread the Word Online
I have the coolest story ever to share with you about the importance of sharing online. I follow two different Humane societies online — one from my old hometown and the town I live in now.
Recently they posted a photo of a 3-year-old basset hound. He was surrendered because the family was moving to a home where pets were not allowed. Honestly, my heart broke into a billion pieces. I am not going to lie. In my mind I was thinking — how can I go and get this dog? How can I make Stephen be okay with it?
I decided to share the photo and ask anyone who was needing a dog to please consider taking Elvis in. I did my part by sharing and the rest was left up to the Internet.
A couple of days later, a lady that I went to school with posted a photo online and the caption made me leap for joy!
Welcome to our newest member of the family — Elvis!
I was over the moon excited to see that Elvis had been adopted by a sweet and loving family. I don't know if my sharing made any difference or not, but spreading the word about a dog or cat that needs love definitely improves the chance of them being adopted.
5. Adopt from a Shelter and NEVER Buy From a Breeder
Instead of buying animals from pet stores and breeders, be sure to always adopt animals from local shelters.
Restedpaws.co.uk points out that 1.5m shelter animals are euthanized on a yearly basis.
Many thanks to Rachael Ray Nutrish for hosting me in Pittsburgh, and for supporting my little place in the world..
A portion of Nutrish proceeds go to Rachael's Rescue®, which was created to help animals in need. To date, over $14MM has been donated. This money has gone toward food, medical supplies, and treatments for these unfortunate animals.