Enrico Biscotti was nothing like I imagined it. While visiting Pittsburgh, PA in September with the Nutrish for Pets PR team, the ladies from Moxie took us to have a cooking class and enjoy a little dinner together.
I remembered our cooking class from when we visited San Francisco. I was fully expecting it to be like that.
However, I got SO much more than I ever bargained for! The moment I stepped into the beautiful Enrico Biscotti restaurant located in the strip district.
Enrico Biscotti is known for all kinds of baked goods. You can pick up on a daily basis as well as order from online.
They have a cafe where you can sit and eat — either inside or out. The outside decor reminds me of a little Italian street, with quaint tables and twinkling lights hung everywhere.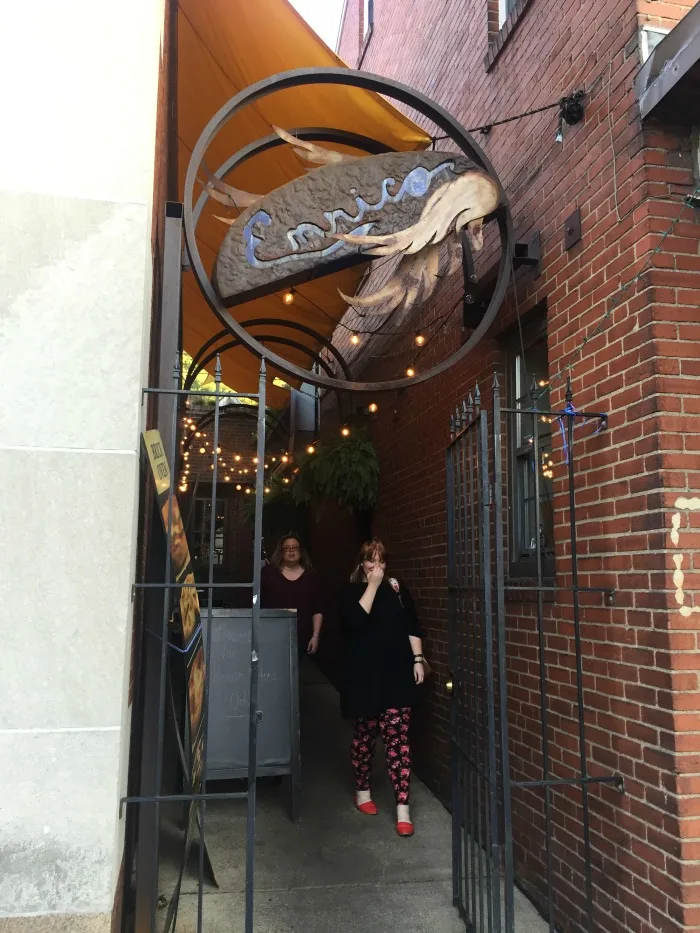 The moment we walked through the doors, I was in a trance. This was definitely a foodie lover's dream.
I could not stop taking it all in.
~The cute little tables
~The massive kitchen
~All the pots and pans hanging around everywhere
~ Wall of fresh ingredients
~Drinks lined up for us to enjoy
~Family dinner table set for just us
~Massive brick oven where we would enjoy making pizza later on
Dinner at Enrico Biscotti
While Larry lit the brick oven, he invited us all in to sit down. We started feasting on the antipasti that he had set out for us. He was so excited we were there.
The ladies and I all grabbed a drink and settled ourselves in for a treat!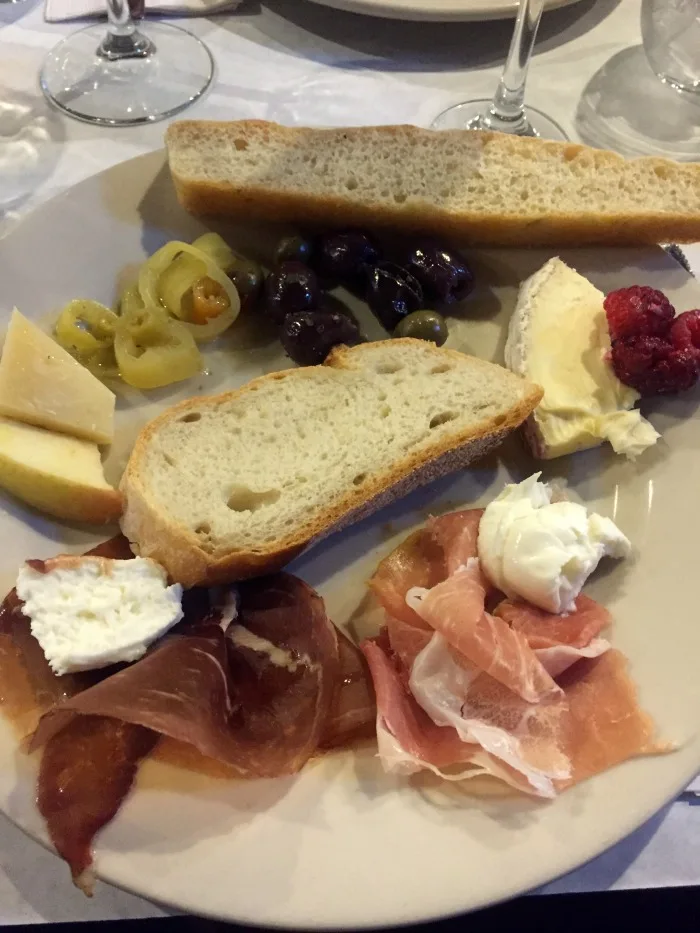 Seriously — this was the most phenomenal antipasti that I had ever tasted in my entire life. Everything was fresh and just the perfect amount of sweet and salty. Every bite literally melted in your mouth.
The girls and I sat around eating and laughing and chatting about our day. We volunteered at the Western PA Humane Society. It was fun sharing about our favorite parts of this trip.
Literally — we are like a big family of friends who just love the brand. We enjoy getting together and hanging out. It's like I have a ton of sisters that really truly care about each other.
While we were eating our first course, Larry came over and sat down and starting talking to us.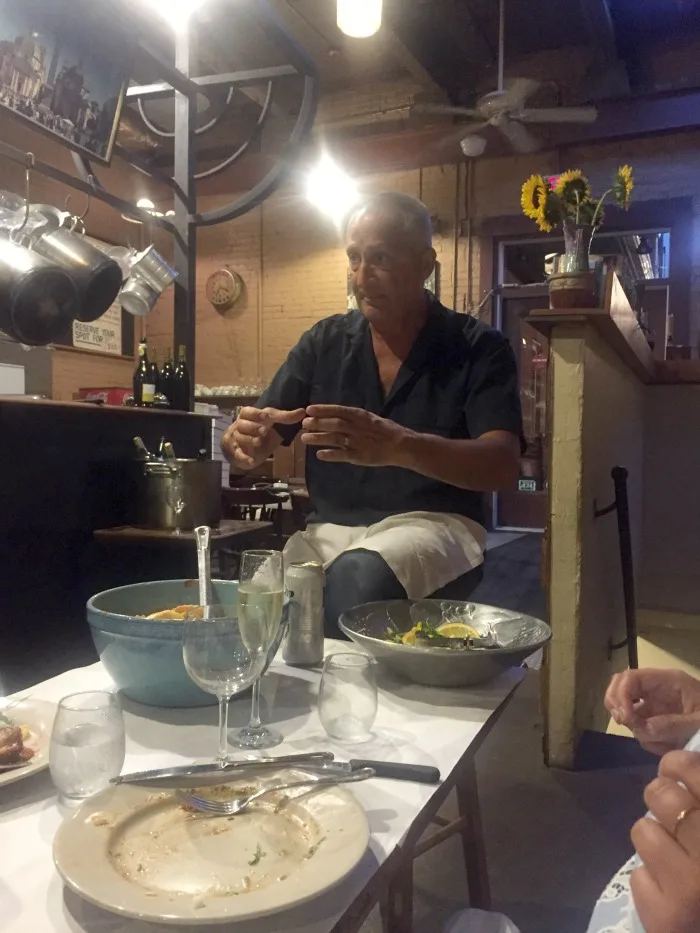 He started telling us the history behind the pizza (since that is what we were making in our hands on cooking class that night).
The moment he started talking y'all, I couldn't stop listening. He has the most interesting stories I have ever heard. He was so easy to listen to and the joy that radiates on his face truly tells you that he absolutely love what he does. For Larry, food is what connects us all and makes us feel like family and that is what I truly felt as I sat at this table eating and talking to everyone.
Sharing food, friendship, and fun is what it is all about.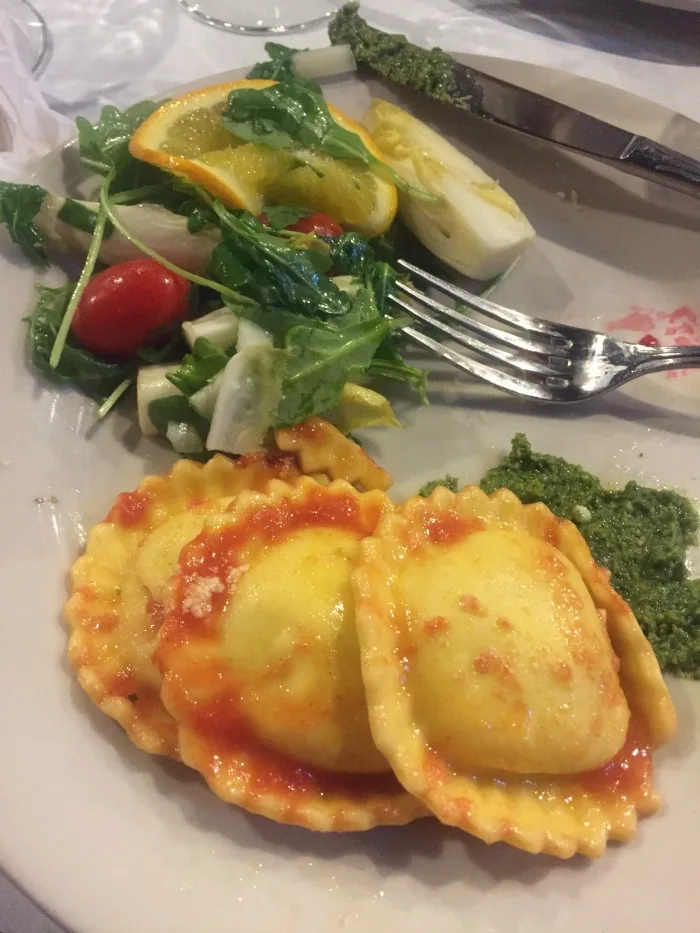 While he spoke, he served up our second course — a delicious light dressed salad of arugula, slices of cheese, tomatoes, and oranges. All of those flavors together were phenomenal.
On top of that, we were served FRESH made ravioli — and from the first bite, I honestly just wanted to melt into my plate.
Y'all know me and my love for ravioli right? Oh my sweet heavens it was delicious.
Cooking Class at Enrico Biscotti
After eating, Larry directed us all into the kitchen to start our hands on pizza cooking class.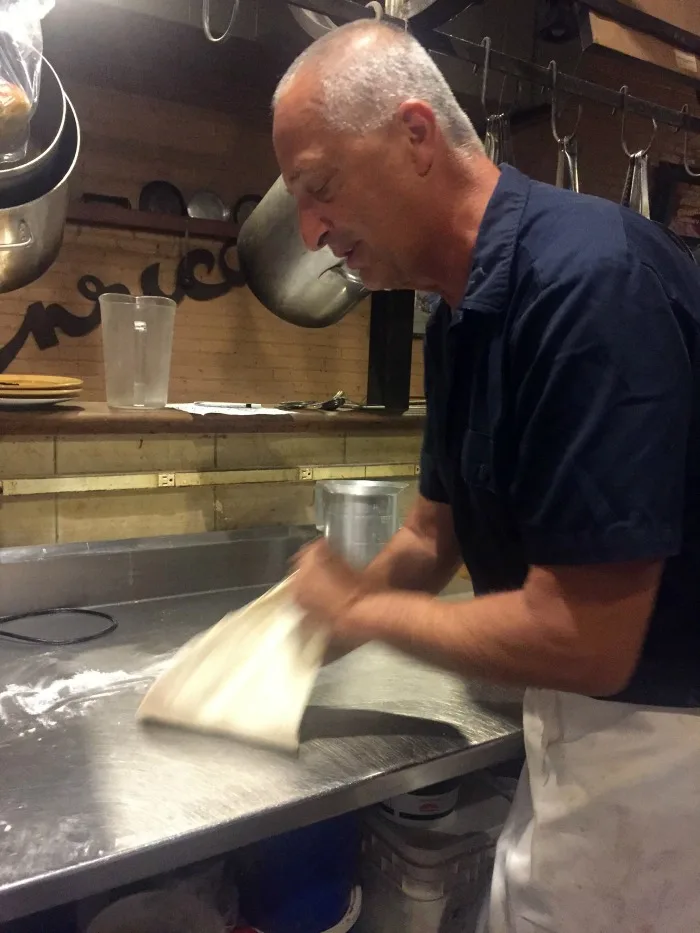 He gave us some great pointers on making homemade pizza crusts, and I was happy to know that I followed most of those already at home.
While everyone else was making their pizza, I knew I just had to talk to him about cooking.
When I find someone that loves it as much as I do, I love to pick their brain and talk to them.
While I was putting together my pizza, I chatted with him about making it at home for my kids, and he asked me about how I did it and I told him and he was impressed with this little Kentucky girl who could cook like a pro!
He told me my pizza looked fantastic (as did all the girls)! Everyone did a great job making pizza. But after that y'all he started showing me his cookbooks.
That is when I was hooked forever.
His eyes lit up as he said, "Do you want to see something awesome?"
I said sure. So he took me over to his shelf and showed me all his cookbooks. He showed me the book that has the directions for making your own adobe brick oven in the backyard. While talking, he told me I needed to try and make one this coming spring for my outside cooking area.
He then proceeded to tell me about making homemade croissants every Saturday and invited me to come and cook with him that morning at 7am. Oh how I wish I would have had the time to go because I would have definitely went!
He even showed me which recipe he used for making them — from the Julia Child cookbook that is on my Christmas list 🙂 Baking with Julia — oh I will own that book one day.
To say that I had a great time here is an understatement. For me, this is the climax to any press trip — inviting me into a kitchen, letting me cook and learn all about the history and the culture of what I am making, and to make new lifelong friends.
I found this video that was made about Enrico Biscotti and this is exactly why I fell in love with this place.
If you are looking for an exceptional experience, be sure to check out Enrico Biscotti on your next trip to Pittsburgh. When I go back there again, you can bet I will stop in and visit Larry and have a little food and fun!
Have you ever been to Enrico Biscotti or had an experience like this? I would love to hear about it!