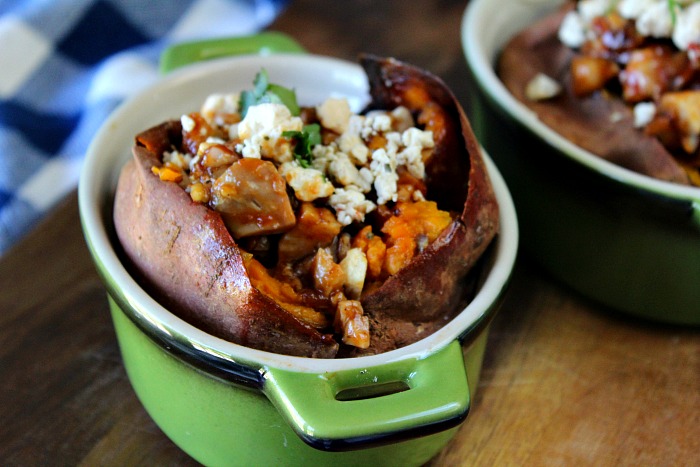 This post has been sponsored by Vita Bone® Artisan Inspired® biscuits. All opinions listed are 100% my own.
I have discovered a new favorite way to eat sweet potatoes and I am obsessed. I have been making these delicious BBQ Chicken Stuffed Baked Sweet Potatoes — a baked sweet potato topped with flavorful bbq chicken and then sprinkled with green onions and feta cheese. These are simply some of my absolute favorite potatoes right now. This is the perfect recipe to kick off National BBQ Month with!
These potatoes call for just 4 main ingredients, and couldn't be easier to prepare. These are also great for trying to stay on track with your healthy eating (which I am a huge fan of doing right now).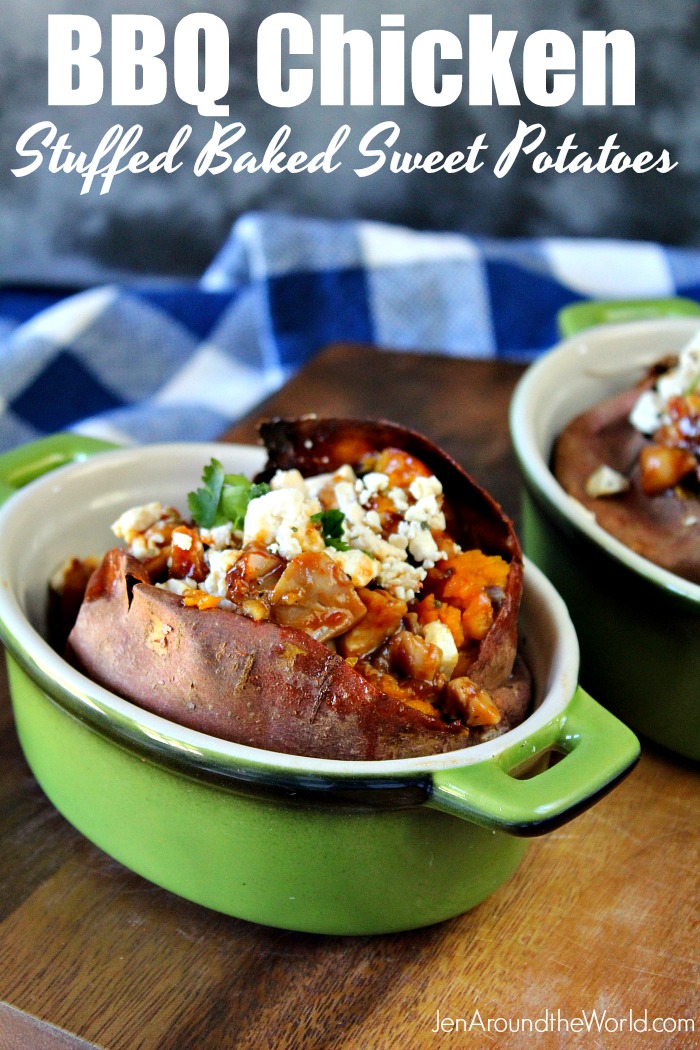 Sweet potatoes are roasted until tender on the inside and super crunchy on the outside, then busted open, stuffed with shredded BBQ chicken and extra sharp cheddar cheese, then sprinkled with the toppings of your choice.
I went with diced red onion, feta cheese and freshly chopped cilantro. The combination of sweet potato and BBQ sauce, the tang of that extra sharp cheese cheese, spicy onion, pickled peppers(optional), and savory cilantro is a match made in Heaven and made me a very happy camper.
How to Make BBQ Chicken Stuffed Sweet Potatoes
Toss scrubbed sweet potatoes into the oven to bake for an hour. About 10-15 minutes before they're done, saute a couple chicken breasts with my yummy Paula Deen House Seasoning then shred and mix with BBQ sauce. Stuff the sweet potatoes with the chicken then add cheese, broil, and sprinkle with toppings. Presto = stuffed sweet potatoes!
Yield: 5
BBQ CHicken Stuffed Sweet Potatoes
This recipe is hearty but healthy and will remind you of a delicious BBQ Chicken Pizza, except stuffed inside a baked sweet potato
Total Time
1 hour
6 minutes
Ingredients
4 each medium-sized sweet potatoes scrubbed and dried
2 each chicken breasts
2 tbsp seasoned salt
1/4 cup bbq sauce
4 ounces extra sharp shredded cheeese, grated
Toppings such as diced red onion, feta cheese, cilantro, and banana pepper rings
Instructions
Preheat oven to 400 degrees then pierce sweet potatoes several times with a fork.
Line a baking sheet with foil then place a cooling rack on top, and then place the sweet potatoes on top of the cooling rack. Roast for 45 minutes to 1 hour or until a knife can be easily inserted into the center.
When sweet potatoes have 15 minutes left, season chicken breasts with seasoned salt then saute in a large skillet until cooked through. Once cool enough to handle, shred chicken with two forks then mix with BBQ sauce to coat.
Slice sweet potatoes in half lengthwise then use fingers to press the ends towards each other to help open them up.
Fill the openings with shredded BBQ chicken then top with a quarter of the shredded cheese and place back onto the rack. Broil until the cheese has melted then serve with toppings.

Here's Another BBQ Treat to Love
Okay — this one might no be a people bbq treat, but my little Tucker LOVES the new Vita Bone BBQ Chicken Biscuits.
While I eat my delicious meal on the back porch and enjoy the day, Tucker gets to enjoy his treat as well. We dine together all the time and while I would love to share my people food with him, his tummy just cannot handle it. I need something to give him that I feel good about  — and that is where Vita Bone treats come in handy.
Vita Bone® Artisan Inspired® Dog Treats are made with real meat, fruit and veggies. Sourced and made in America by a family owned company, these treats have no corn, no soy, no by-products and no artificial flavors. And the best part is how they smell…seriously…like real food…no more yucky dog treats! And Tucker LOVES them.
If you want to try out my recipe for the BBQ Chicken Stuffed Sweet Potatoes, be sure and print the recipe, and if you want to try out the new Vita Bone® Artisan Inspired® biscuits, click here to find a store near you and print a coupon to save.