MEOW — Mittens here to share with you about how my mom and grandma through the best birthday party for me and my pal Tucker! We had a great time with pupcakes, tuna cakes and more. If you are celebrating your pet's birthday, these tips might come in handy for you.
My mommy got the bright idea to fix me and Tucker birthday cakes. She used recipes she found online and made my buddy a Peanut Butter PupCake and she made me an amazing Tuna Cake.
My mom says to be sure and watch us kitty cats. For Some reason we are attracted to fire, so adult supervision is needed!
This tuna cake is all natural and uses yummy fresh ingredients.
Celebrating Your Pet's Birthday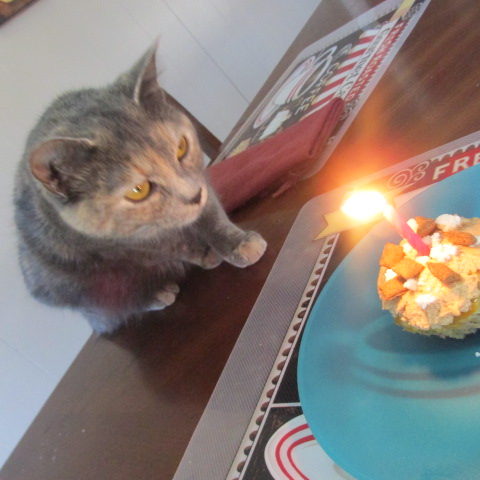 Ingredients
1 egg
1/2 can of tuna
2 tbs whole wheat flour
2 tbs shredded or grated cheese, use fresh cheese -- do not use the preshredded in the bag
defrosted shrimp, to garnish
Instructions
Preheat oven to 350˚F. Break up tuna in a medium bowl. Lightly beat egg in a separate bowl, then combine with tuna. Add in flour and cheese. Stir to combine. Scoop batter into cupcake tin or silicone cups. Bake for 15 minutes. Top with shrimp or a homemade peanut butter icing
Can cats eat dog food? Click the link to find out: https://catspurfection.com/can-cats-eat-dog-food.html
Want to try another yummy all natural cat treat? Check out the post about Nutrish for Cats.
Working with a team of pet nutrition experts, Rachael Ray created new Rachael Ray Nutrish® Natural Food for Cats. Made with simple, wholesome ingredients, each meal is inspired by tasty recipes from Rachael's own kitchen. Real meat, like fish or chicken is always the number one ingredient in Rachael Ray Nutrish for Cats. There's never any junk like meat by-products, artificial flavors or preservatives. Just a simple, great taste your cat will love.
Look for delicious Chicken & Brown Rice or Salmon & Brown Rice dry recipes or any of our tasty wet recipes in flavors like Chicken Purrcata, Ocean Fish-A-Licious, Lip Smackin' Sardine & Mackerel, Tuna Purrfection, Ocean Fish & Chicken Catch-iatore and Paw Lickin' Chicken & Liver — all available where you currently shop for your family's groceries.
Nutrish for Cats comes in both wet and dry blends
Natural Dry Cat Food 
 Real chicken or salmon is always the number one ingredient in every bag of Rachael Ray Nutrish® for Cats. There's no ground corn, wheat or soy. And there's never any by-products artificial flavors or artificial preservatives. Just wholesome whole grains and veggies plus the vitamins, minerals and taurine your cat needs to be healthy and happy.
 Natural Wet Cat Food
 Inspired by recipes from Rachael's kitchen, these delicious recipes are made with simple, natural ingredients like real chicken or fish. There's no grains or anything artificial either — just essential vitamins and minerals for a tasty food your cat will love.
Be sure to follow Nutrish for Cats at
Wonder where you can get your hands on Nutrish for Cats? Click here to find a store in your local area. If you are ready to switch to Nutrish, simply click here and get a coupon for $2.00 off!
How do you celebrate your pet's birthday?