These homemade peanut butter dog biscuits will become your dog's favorite treat! My little guy cannot get enough of them.
My little guy has been having a lot of health problems lately, one that involves his booty.
His vet suggested that I put him on a high fiber diet, meaning I need to change his dog food out for senior food.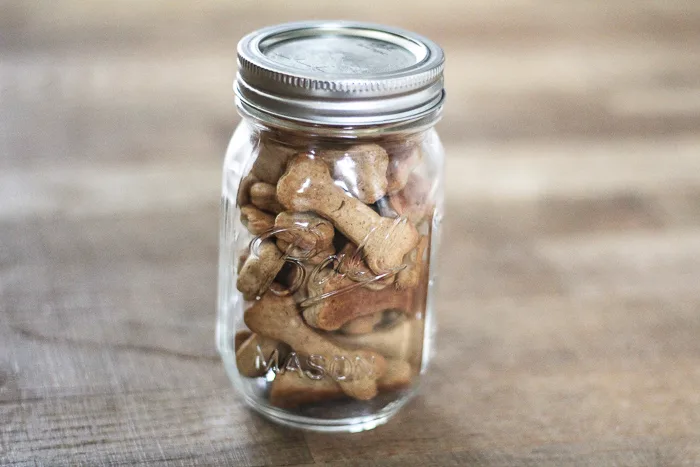 However, he LOVES his Nutrish dog food, good tasting dog food, and I don't really want to change. Because of that, I have to find a way to get more fiber in his diet, which is how I discovered this recipe for homemade peanut butter dog biscuits.
These are super easy to make and your fur baby will LOVE them.
How to Make Homemade Peanut Butter Dog Biscuits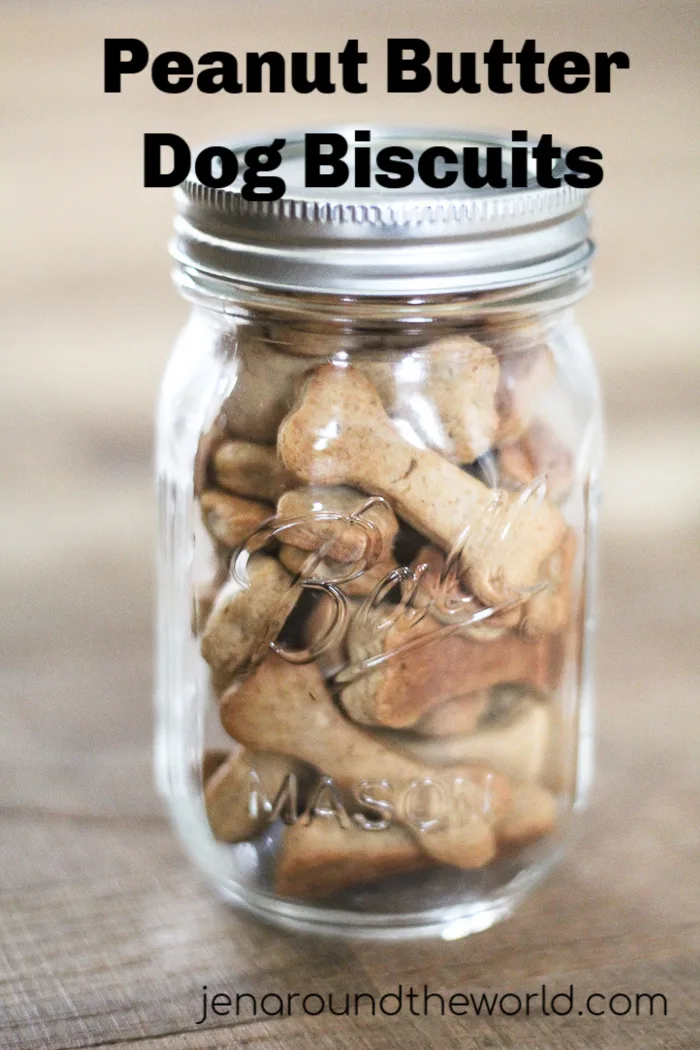 These peanut butter treats are vet approved and only use simple ingredients that are already approved for your sweet poochie.
So — here's what you need to make them.
First off, you are going to need a set of bone cookie cutters. I found these on Amazon and it comes with 3 sizes — large, medium, and small.
Since Tucker is a small guy, I used the small one for his bones.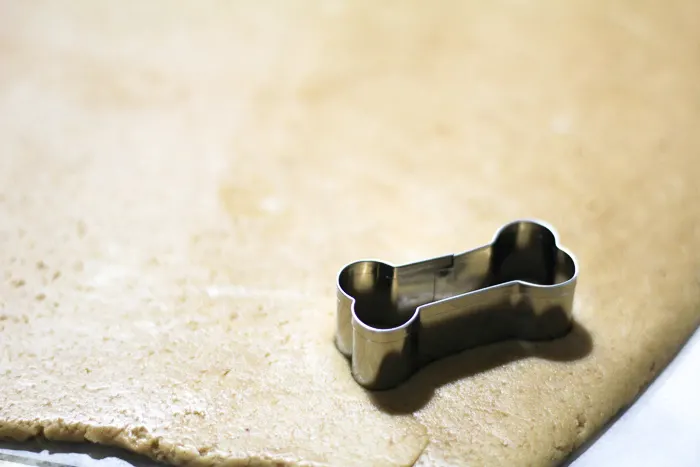 Making the dough takes just a few minutes to mix up. Pay attention though, because if you get the dough too thin, the bones will burn. You need to make sure to keep it between 1/4″ or 1/2″ thick for them to turn out perfectly.
It literally took me about 30 minutes to make a whole jar full of bones for Tucker. These bones will last about 2 months if kept in the fridge. But if I know my sweet fur baby, I will need to make another batch before then.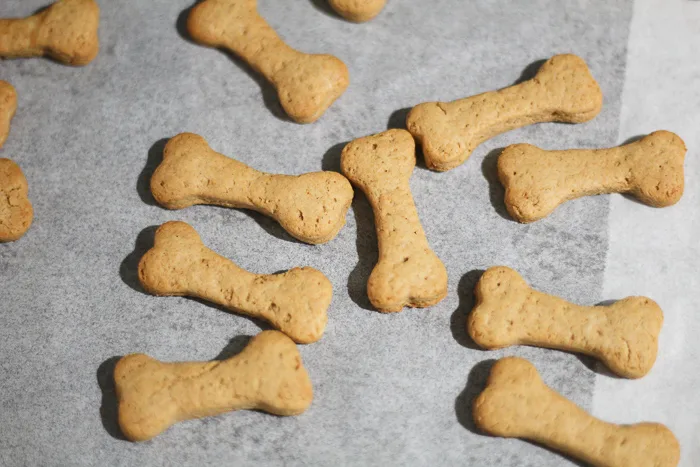 They brown up nice and are crunchy enough to help clean your dog's teeth as well.
Since I keep them in the fridge and Tucker does not like his bones cold, I lay out a couple in the morning when I first wake up. Then, when he is ready for a bone, I give him one and he runs to his rug and lays down to eat it.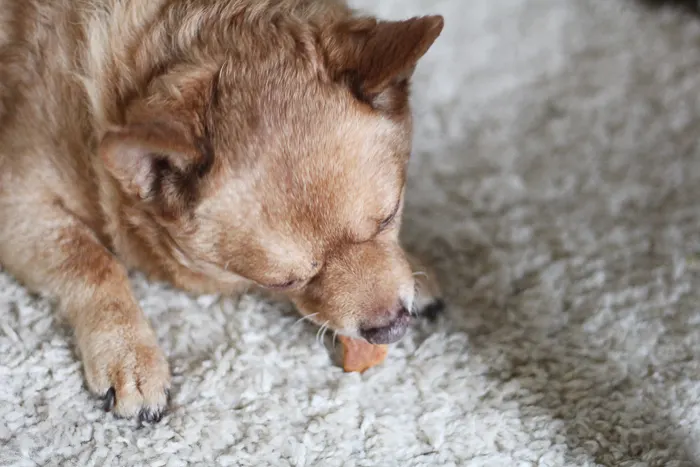 These treats are perfect for the dog who is picky and won't eat bagged treats very often. Plus — if you already have all the ingredients on hand to make these, it is a low budget snack for your poochie.
Nothing beats the homemade version and I know exactly what's going into his food instead of all those suspicious by-products.
Do you ever make homemade treats for your pooch? What are your favorites?
If you are looking for more homemade dog treats recipes vet approved check out the list below.
Check Out This List of Other Dog Treats
Halloween Treats for Your Pet
Yield: 40 dog biscuits
Peanut Butter Dog Biscuits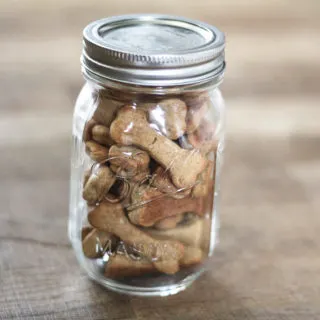 Nothing beats the homemade version and I know exactly what's going into his food instead of all those suspicious by-products.
Ingredients
2/3 cup pumpkin puree
1/4 cup smooth peanut butter
2 large eggs
3 cups whole wheat flour
Instructions
Preheat oven to 350 degrees F. Line a baking sheet with parchment paper or a silicone baking mat; set aside.
Using an electric hand-held mixer, beat pumpkin puree, peanut butter and eggs on medium-high until well combined, about 1-2 minutes. Gradually add 2 1/2 cups flour at low speed, beating just until incorporated. Add an additional 1/4 cup flour at a time just until the dough is no longer sticky.
Knead the dough on a lightly floured surface. Then, between two pieces of parchment paper, roll the dough to 1/4-inch thickness with a rolling pin. Using cookie cutters, cut out desired shapes and place onto the prepared baking sheet.
Place into oven and bake until the edges are golden brown, about 20-25 minutes.
Notes
Baking time will vary depending on the size and thickness of the treats. Serving size will also vary depending on the desired shapes and cookie cutters used.
Nutrition Information:
Yield:
24
Serving Size:
1
Amount Per Serving:
Calories:

75
Total Fat:

2g
Saturated Fat:

0g
Trans Fat:

0g
Unsaturated Fat:

1g
Cholesterol:

16mg
Sodium:

19mg
Carbohydrates:

12g
Fiber:

2g
Sugar:

0g
Protein:

3g