Recently while on Facebook, I saw a Delish video for Chicken Tamale Pie, and y'all — from that very moment, all I could think about was this dish.
My mouth watered and I could literally taste every bite.
I set out that afternoon to make this dish and of course, tweak it to be my very own — so thanks Delish for this tasty idea!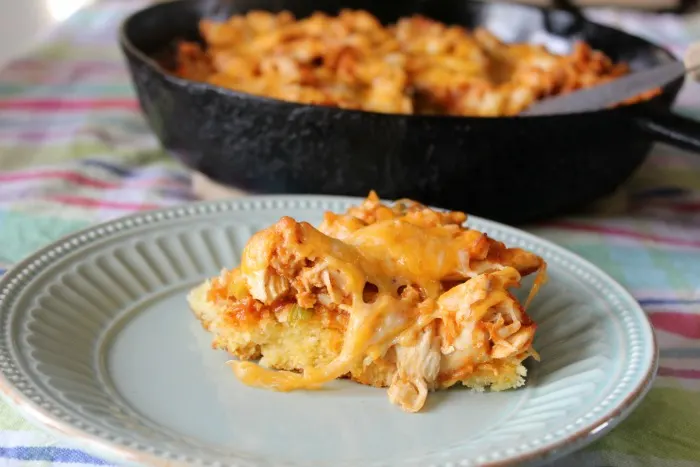 I thought this would be a complex dish to make, but really this was one of the easiest Mexican dishes I have ever created.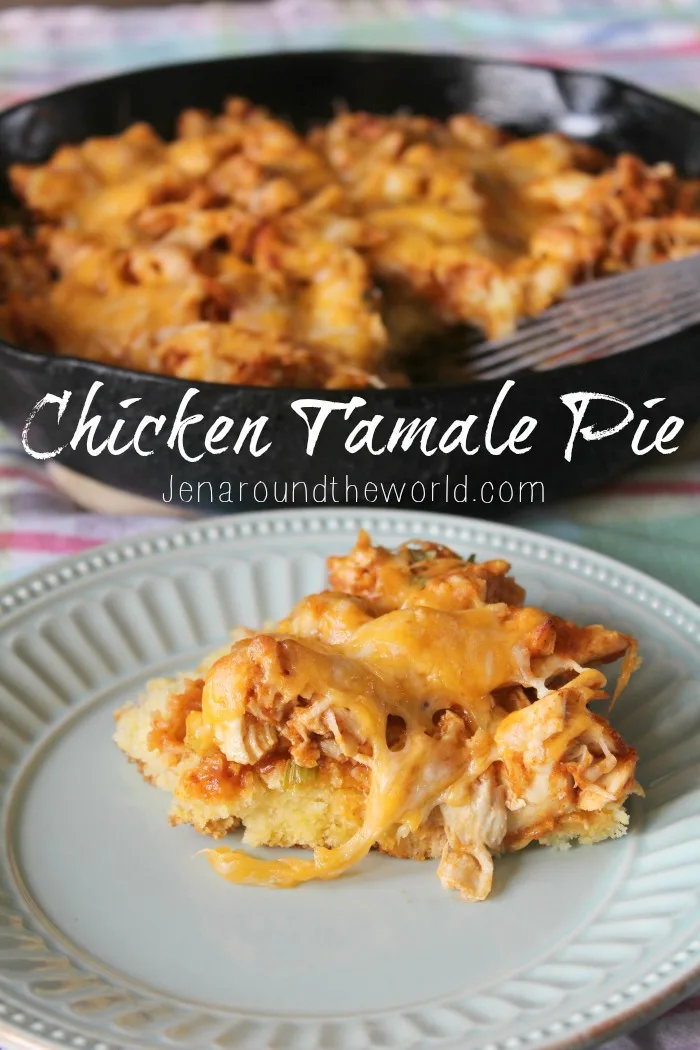 How to Make Chicken Tamale Pie
Start by mixing together your cornbread ingredients in a bowl — corn muffin mix, sour cream, egg, corn, and melted butter. Whisk until evenly combined.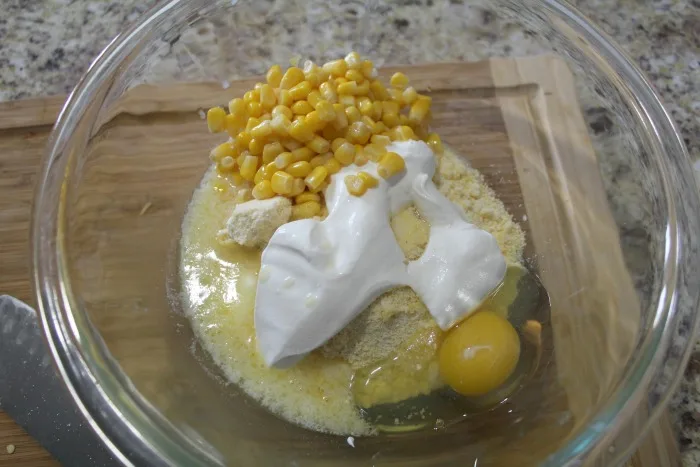 Once you get it all combined well, spray your cast iron skillet (which in my opinion is the best way to make cornbread crust) with cooking spray and then pour the mixture in and spread it out evenly in the skillet.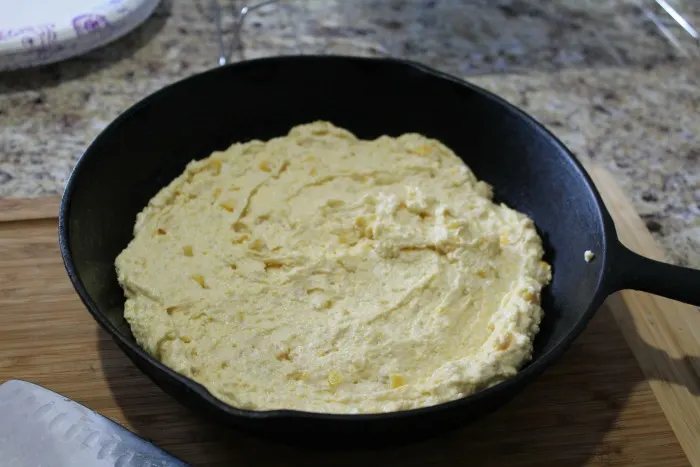 Bake this for about 15 minutes or until golden brown. Once it cools off, take a wooden spoon and using the end, poke holes all in it — like you would if you were going to make a poke cake.
Pour 1/4 cup of enchilada sauce over the top of the cornbread bottom.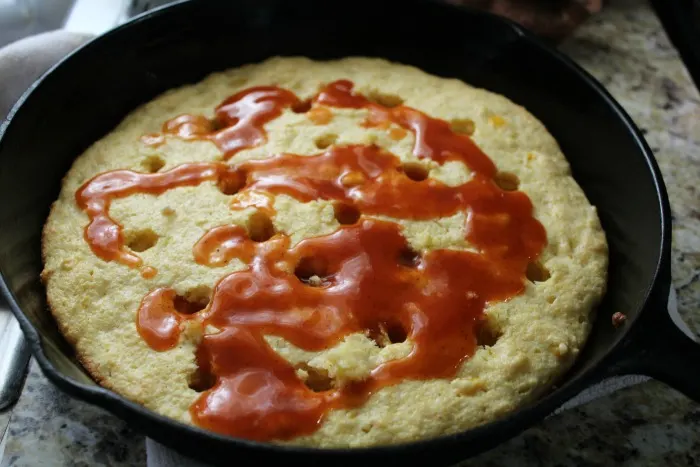 Meanwhile, in another large skillet over medium heat, heat oil. Add green onions and cook until tender, 5 minutes, then add garlic and cook 1 minute more. Add taco seasoning and season with salt. Add chicken and 1/2 cup enchilada sauce and stir until combined.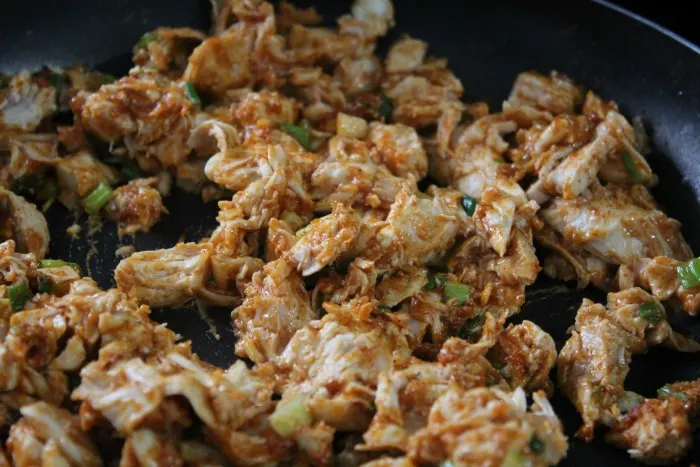 Take this chicken mixture and put it on top of the cornbread and then top that with shredded cheese. I like to use straight cheddar because it has that bite you are looking for.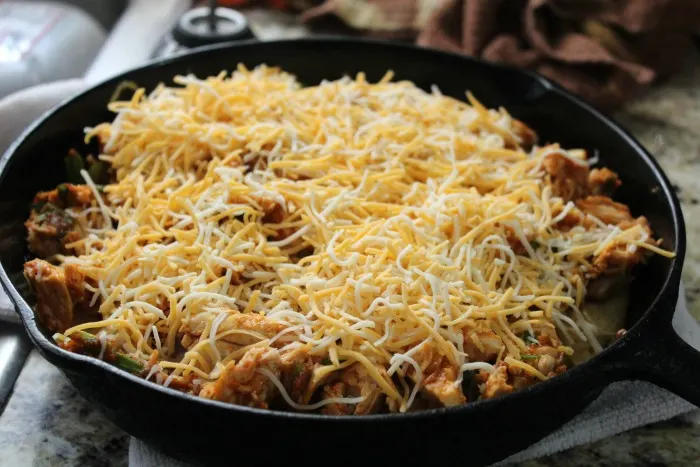 Bake it for about 20 minutes more. When it comes out, the cheese will be so deliciously ooey gooey that you will be drooling — no joke.
Top it with sour cream, cilantro, pico de gallo, salsa, black olives — the possibilities are endless!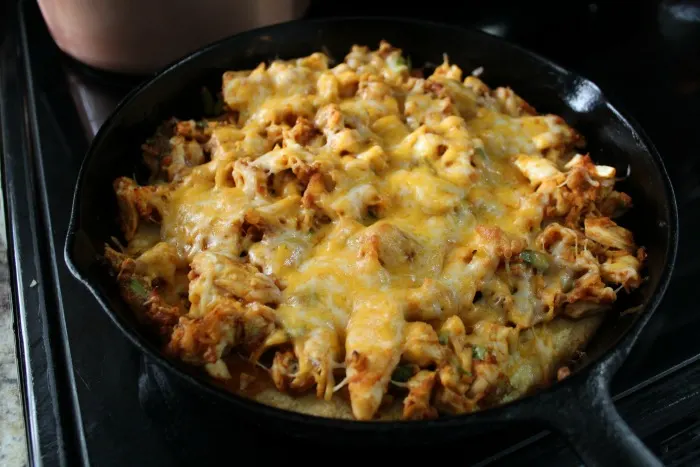 This dish has been a real favorite around here lately and I cannot wait to make it again.
What is your favorite way to dress up a classic like cornbread?
Check out these other Mexican recipes
Yield: 6 servings
Chicken Tamale Pie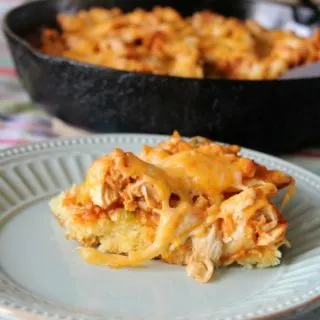 This chicken tamale pie tastes like a tamale without all the extra fuss. Simple and easy to make.
Ingredients
1 box JIFFY corn muffin mix
1/2 c. sour cream
1 large egg
1/2 c. corn kernels, canned, fresh, or frozen
2 tbsp. melted butter
Cooking spray, for skillet
1 tbsp. extra-virgin olive oil
3 green onions, chopped
2 cloves garlic, minced
1 packet of Taco Seasoning
2 c. Shredded chicken
3/4 c. enchilada sauce, divided
1 c. shredded Cheddar
1 c. Shredded Monterey Jack
Instructions
Preheat oven to 400º. In a medium bowl, combine corn muffin mix, sour cream, egg, corn, and melted butter. Whisk until evenly combined.
Spray a large oven-safe skillet with cooking spray. Pour into a cast iron skillet and bake until golden, 15 minutes. Let cool slightly.
Meanwhile, in another skillet over medium heat, heat oil. Add green onions and cook until tender, 5 minutes, then add garlic and cook 1 minute more.
Add taco seasoning . Add chicken and 1/2 cup enchilada sauce and stir until combined.
Poke holes all over cornbread with the bottom of a wooden spoon. Pour remaining 1/4 cup enchilada sauce over poke holes and top with chicken mixture.
Top with cheddar and Monterey jack and bake 20 minutes more.
Garnish with your favorite Mexican Spices
Nutrition Information:
Yield:
8
Serving Size:
1
Amount Per Serving:
Calories:

317
Total Fat:

20g
Saturated Fat:

10g
Trans Fat:

0g
Unsaturated Fat:

8g
Cholesterol:

94mg
Sodium:

752mg
Carbohydrates:

15g
Fiber:

2g
Sugar:

6g
Protein:

18g