This is the best and most authentic restaurant-style Mexican cheese dip you will ever taste.
This easy recipe for restaurant-style Mexican Cheese Dip is my favorite cheese dip in the whole world. If you go out to a Mexican restaurant and you order the cheese dip, you will fall in love.
Now you can make it at home! It only uses 3 simple ingredients and is much cheaper and lower in carbs to make at home than it is to order at the restaurant. Hit up your local grocery store for all the ingredients to make this delicious melted cheese dip.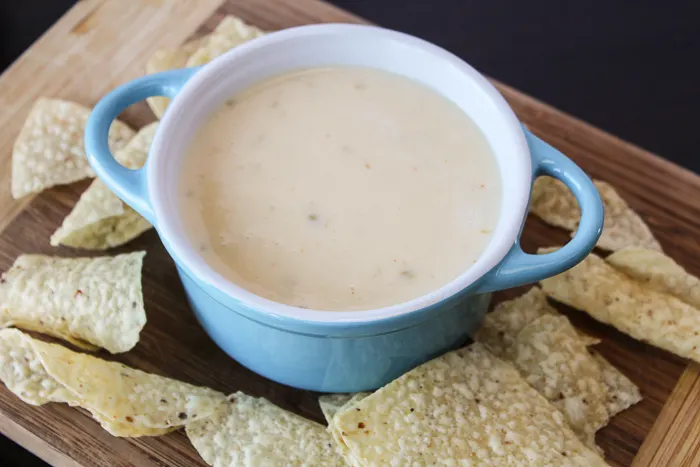 Once you see how easy it is to make this cheese dip, you will want to make it again and again and again. It goes great with my Chipotle Chicken Nachos. You can even use it to top enchiladas and more.
It features delicious White American cheese I get from the deli counter and green chiles. If you don't like green chiles, you can use cayenne pepper or chili peppers to give it a little kick instead. I used whole milk as the base but you can use heavy cream or half and half. You will need more than a splash of milk so make sure you have enough on hand.
Then, add a sprinkling of garlic powder and onion powder to take it over the top.
For the cheese, Mexican restaurants use white American cheese, but some of my readers have been experimenting and some have used Pepper Jack cheese and Monterey Jack and say it is delicious with this cheese. Just make sure to use real cheese. Don't use pre-shredded or the kind that is in plastic wrappers. The type of cheese you use is very important.
This post was originally published on October 18, 2010, and republished today June 7, 2019.
How to Make Restaurant-Style Mexican Cheese Dip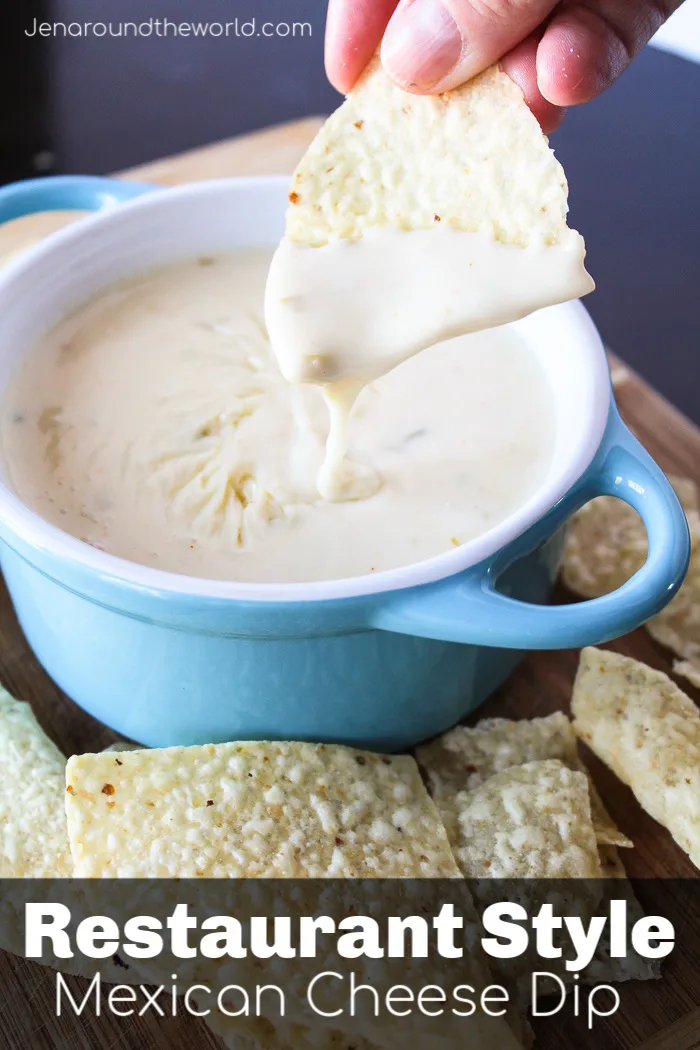 You can make this cheesy dip in a double boiler over medium heat on the stove. If you don't have a double boiler, you can use the microwave or just a saucepan on the stove top on medium-low heat. Just make sure and watch it and don't let it burn or scorch.
Of course, you can always make it in a crock pot to serve on a Taco Tuesday or even for a Cinco de Mayo party!
This cheese dip is crazy delicious and super easy to make. I love to serve it in the cute little salsa bowls that you can find at most Mexican restaurants. I purchased a set of 3 on Amazon for only $3!
We started making this a long time ago — in fact, it was when we had our first experience at a Mexican restaurant. I just started venturing out into the world of making homemade foods. My daughter and I hit the stores up looking for the ingredients to try and create our favorite cheese dip at home.
I have to say we succeeded. It turned out even better than we expected it to.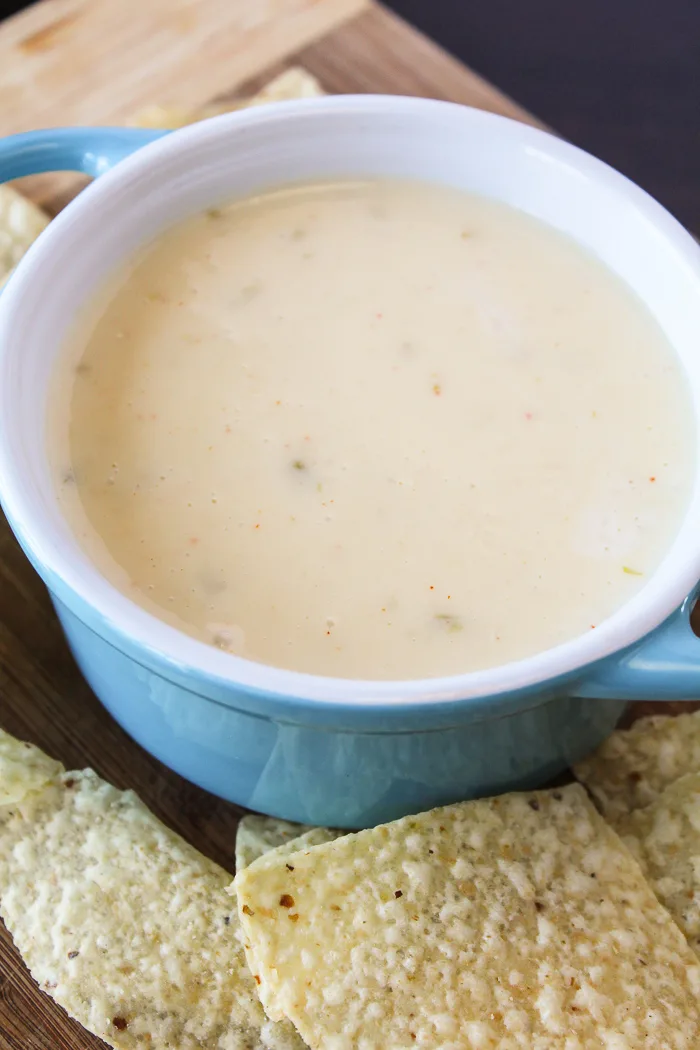 You can double or triple this recipe to make enough for your next get-together. I have never tasted anything like this cheese dip. I will be honest, I like it even better than I do the actual Mexican restaurant cheese! Seriously, this is one of the best Mexican dishes I have made yet.
You can even make a big plate of nachos and serve it with ground beef, hot sauce, and serve all the delicious taco toppings and then pour this all on top.
How to Store This Easy White Queso Dip
Once it has cooled off, place it in an airtight container and store it in the refrigerator. The cheese dip will stay good for a couple of weeks. To reheat, place the cheese in a microwave-safe bowl and heat to your desired temperature. It makes the best leftover queso dip.
Looking for other tasty Mexican-inspired recipes? Check these out
I love serving this over roasted chicken or steak and making it a thorough main dish meal. Of course, it is always great to serve on game day with all the fixings!
Have you ever made your own dips before? What are your favorite options to add in?

Yield: 2 cups
Mexican Cheese Dip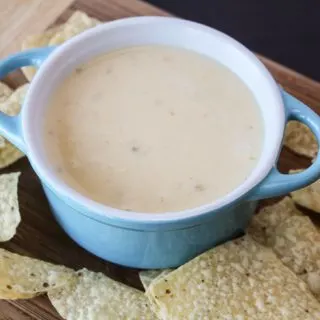 This is THE only cheese dip you will ever want or need. It tastes just like your local Mexican restaurant cheese dip.
Ingredients
1/2 pound White Land O Lakes American Cheese - you have to use this brand
2 tablespoons of diced green chiles, chopped super fine
1/4 tsp garlic powder (optional)
3/4 cup to 1 cup red topped milk
salt and pepper to taste
Instructions
Cube the cheese and place in a saucepan with green chiles, garlic powder and milk.
Heat on medium heat for 10-12 minutes until the cheese has melted.
Once it is all melted together, if the cheese is still too thick, you can add more milk to thin it out to your desired consistency
Season with salt and pepper to taste and enjoy
Nutrition Information:
Yield:
8
Serving Size:
1/4 cup
Amount Per Serving:
Calories:

111
Total Fat:

8g
Saturated Fat:

5g
Trans Fat:

0g
Unsaturated Fat:

3g
Cholesterol:

26mg
Sodium:

400mg
Carbohydrates:

4g
Fiber:

0g
Sugar:

2g
Protein:

6g