This Chipotle Parmesan Popcorn is simply delicious. The smoky flavor from the chipotle pairs perfectly with the Parmesan flavor.
As a kid growing up, one of the most loved snacks of my childhood was popcorn. Still today, I can eat a whole bowl of popcorn and not think anything about it. BUT — I don't just eat it plain anymore. I
love adding spices to give it a different flavor, like this Chipotle Parmesan Popcorn I discovered.
Before I discovered that you could add spices to your popcorn, I was a plain Jane kind of girl. Just give me butter and salt and we can call it good. B
ut then, one year I went on a press trip for Nestle Kitchens and discovered my love of seasoned popcorn. The chef made us a snack for our meeting and I will not lie when I tell you I ate 4 small bowls of popcorn.
There is no shame in my popcorn game!
I discovered this recipe while watching my girl Ina Garten one day on Food Network. When she started talking about Chipotle seasoning, I remembered that I had a jar in the pantry.
Y'all — I am not kidding when I say that this Chipotle popcorn is so addictive. Live a little — make popcorn that has other flavors besides butter and salt. You can also use this stovetop popcorn method for making popcorn too!
How to Make Chipotle Parmesan Popcorn
Now, Ina uses microwave popcorn. I am not a big fan and never have been. I grew up on the popcorn you make on the stovetop and that is what I still use to this day. I will occasionally eat a bag of the microwave, but I just love the flavor of stovetop popcorn.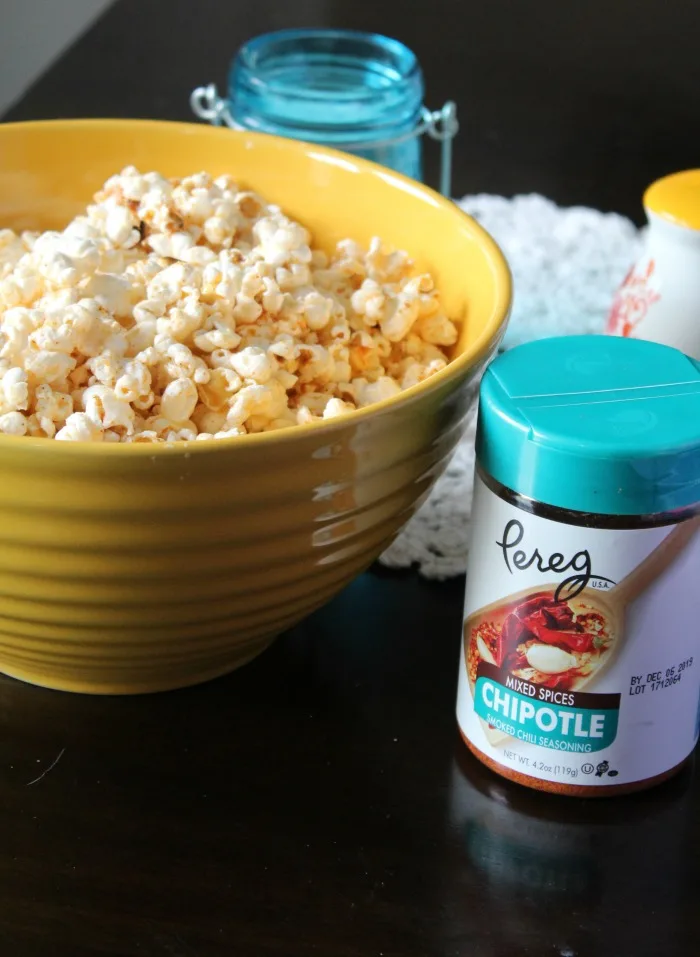 And here's a new tip I learned when making popcorn. You know how when you melt butter and you pour it over the pieces of popcorn and the butter causes your popcorn to melt a little?
To keep that from happening, put your spices and butter in the bottom of the bowl. Then as your popcorn gets done popping, drop it into another bowl giving it time to cool down a bit. Then, gently mix it with the butter in the other bowl and you will keep your popcorn from wilting.
If you love Ina Garten as much as I do, be sure and check out my other Ina recipes — Ina Garten Perfectly Roasted Turkey, Ina Garten Summer Pasta Salad, and these Ina Garten Lemon Bars.
Check Out These Other Popcorn Recipes
Yield: 4
Chipotle Parmesan Popcorn
This is hands down my new favorite way to eat popcorn. Jazz it up a little with chipotle seasoning, fresh Parmesan, and melted butter
Ingredients
1/2 cup popping corn (or 1 bag of microwave popcorn)
4 tbsp butter, melted
1/2 cup fresh grated Parmesan Cheese
1/2 tsp Chipotle Powder
2 tsp Kosher Salt
1/4 cup vegetable oil (for popping popcorn)
Instructions
In a saucepan, add your vegetable oil on medium high heat. Let it warm before adding your corn for popping. Cover with lid and allow popcorn to pop until the popcorn stops popping
Place the hot popcorn in one bowl and allow it to cool for a bit.
In another bowl, add your butter, Chipotle, and salt. Mix together. Add popcorn and toss to coat.
Sprinkle on Parmesan cheese and give one final toss to coat everything. Enjoy with a movie or some television.
Nutrition Information:
Yield:
4
Serving Size:
1
Amount Per Serving:
Calories:

288
Total Fat:

29g
Saturated Fat:

10g
Trans Fat:

1g
Unsaturated Fat:

17g
Cholesterol:

41mg
Sodium:

955mg
Carbohydrates:

3g
Fiber:

0g
Sugar:

1g
Protein:

4g