Ina Garten's Summer Pasta Salad is the most filling and delicious pasta salad I have had in a while. Check out this recipe below and let me know what you think if you make it!
A couple of weeks ago I was watching Food Network and The Barefoot Contessa was on. Between her and The Pioneer Woman, they pretty much rule my television.
While I was watching, she caught my eye when she started talking about a Summer Pasta Salad that was full of fresh cherry tomatoes, delicious garlic, and my favorite — basil.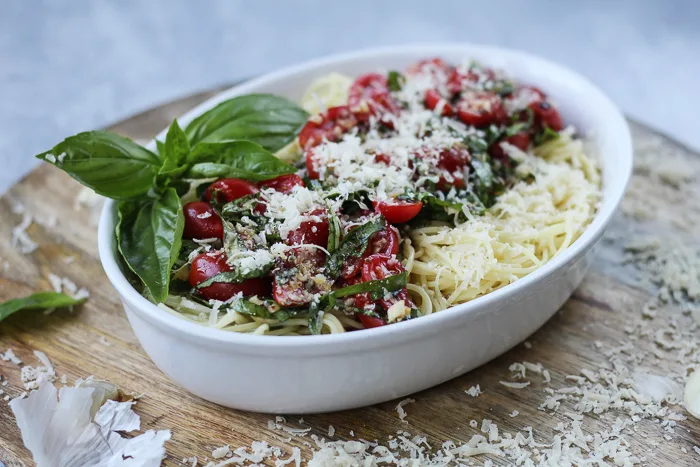 Literally, in just a few minutes, she had this amazing bowl full of pasta tossed with all this goodness and I knew right away that Kayla and I would be making this the next day.
Since I had a garden full of fresh basil that needed to be harvested and some cherry tomatoes from the farmer's market I needed to use up, I set out to make this delicious summer pasta salad from Ina Garten.
How to Make Ina Garten's Summer Pasta Salad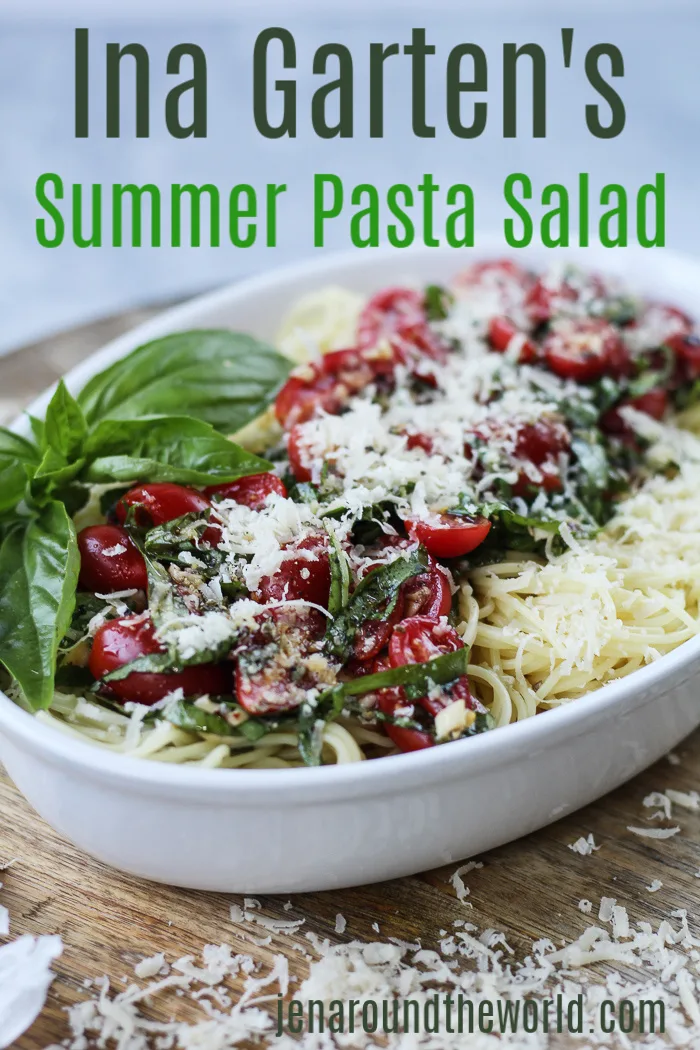 This recipe is one of those 5 ingredients or less kind and comes together quickly. Now — her original recipe calls for marinating the tomatoes for 4 hours in olive oil, basil, and garlic sauce — but I do not have 4 hours to wait for a pasta dish.
I wanted this and wanted it now. So we skipped the 4 hour wait period and it was still heavenly.
Start by adding to a bowl halved cherry tomatoes. Follow this with minced garlic, julienned basil leaves, and good olive oil, salt, and pepper.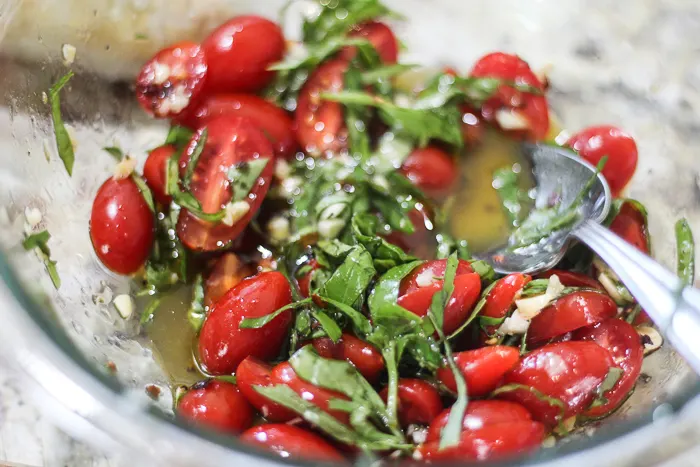 Cook your pasta according to the package directions. We used angel hair pasta because it cooks so quickly, but you could use any pasta you wanted to really.
Then, when the pasta is done cooking, toss it with your sauce and then top your pasta with Parmesan Cheese and more basil for the most delicious and perfect pasta dish you will ever put in your mouth.
The possibilities are endless here. You could add in chicken or shrimp, more veggies if you like — whatever you want. Oh — and the best part? This pasta tastes even better the next day — straight from the fridge. It is a very light dish and tastes just as good cold as it does warm.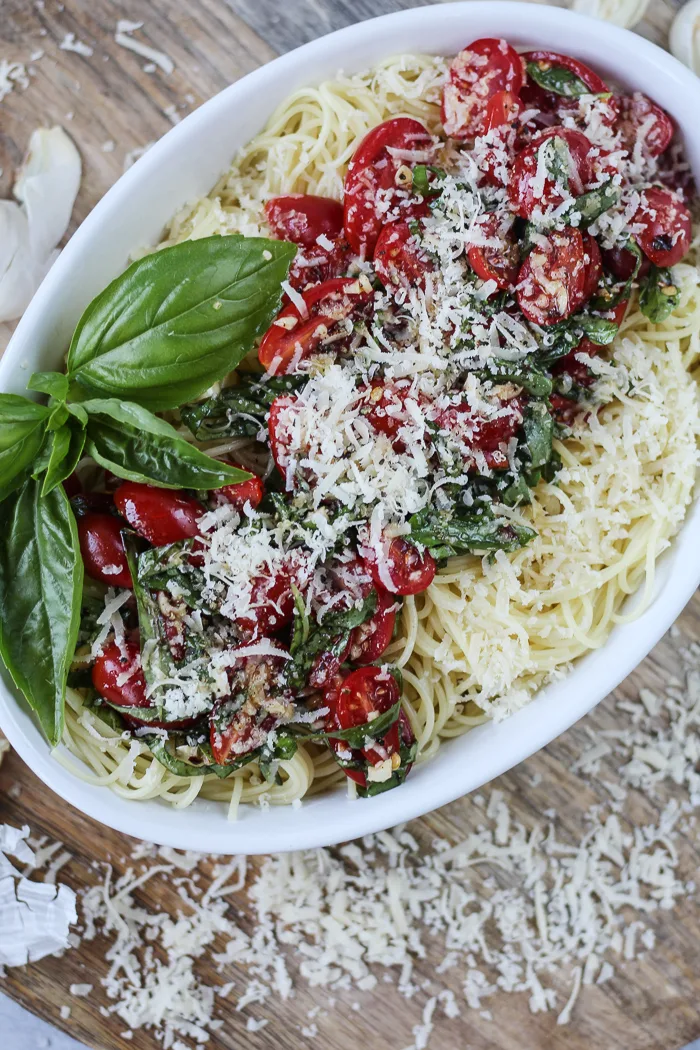 Looking for more delicious pasta recipes or Ina Garten recipes? Check out this list below.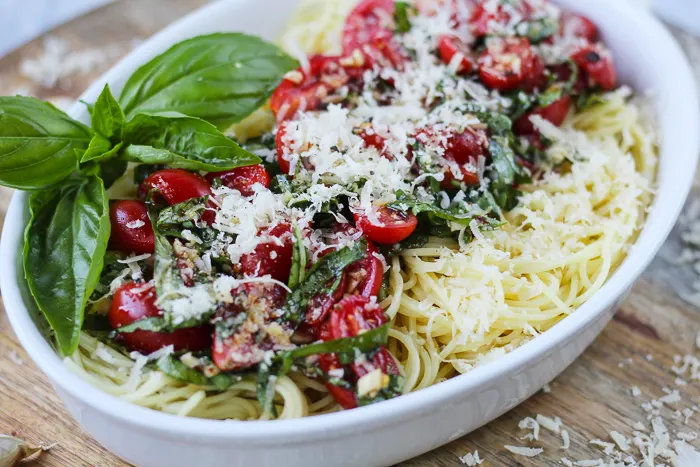 Recipe adapted from The Barefoot Contessa.
Yield: 6 servings
Ina Garten's Summer Pasta Salad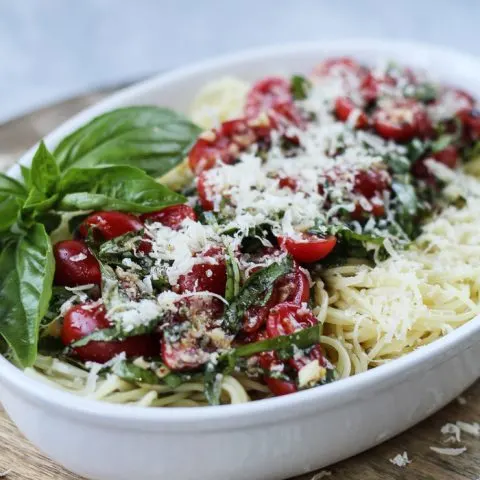 This easy summer pasta salad is perfect for a night of comfort food without all the hassle!
Ingredients
2 pints cherry tomatoes, halved (more if you want extra tomatoes)
1/2 cup Good olive oil
2 tablespoons minced garlic (6 cloves)
18 large basil leaves, julienned, plus extra for serving
½ teaspoon crushed red pepper flakes
Kosher salt
½ teaspoon freshly ground black pepper
1 pound angel hair pasta, cooked according to package directions
1½ cups freshly grated Parmesan cheese, plus extra for serving
Instructions
Combine the cherry tomatoes, the olive oil, garlic, basil leaves, red pepper flakes, 1 teaspoon salt, and the pepper in a large bowl. Cover with plastic wrap, and let sit on the counter for about 15 minutes or up to 4 hours.

When you are ready to serve, bring a large pot of water to a boil and add the pasta. Cook al dente according to the directions on the package.

Drain the pasta well and add to the bowl with the cherry tomatoes. Add the cheese and some extra fresh basil leaves and toss well. Serve in big bowls with extra cheese on each serving.
Nutrition Information:
Yield:
6
Serving Size:
1
Amount Per Serving:
Calories:

402
Total Fat:

26g
Saturated Fat:

6g
Trans Fat:

0g
Unsaturated Fat:

18g
Cholesterol:

22mg
Sodium:

557mg
Carbohydrates:

31g
Fiber:

2g
Sugar:

4g
Protein:

12g