If you love making homemade sourdough bread, then you need to venture into making this Chocolate Sourdough Bread recipe. It has a whole other level of taste and the best flavor you can imagine. If this is your first time making chocolate sourdough, I promise it will not be your last!
This is the most delicious bread you will ever bake in your life. The combination of sour flavor mixed with the deep chocolate flavor from the Dutch Processed cocoa powder makes this bread just melt in your mouth. This bread stems from my original recipe for Sourdough Artisan loaf.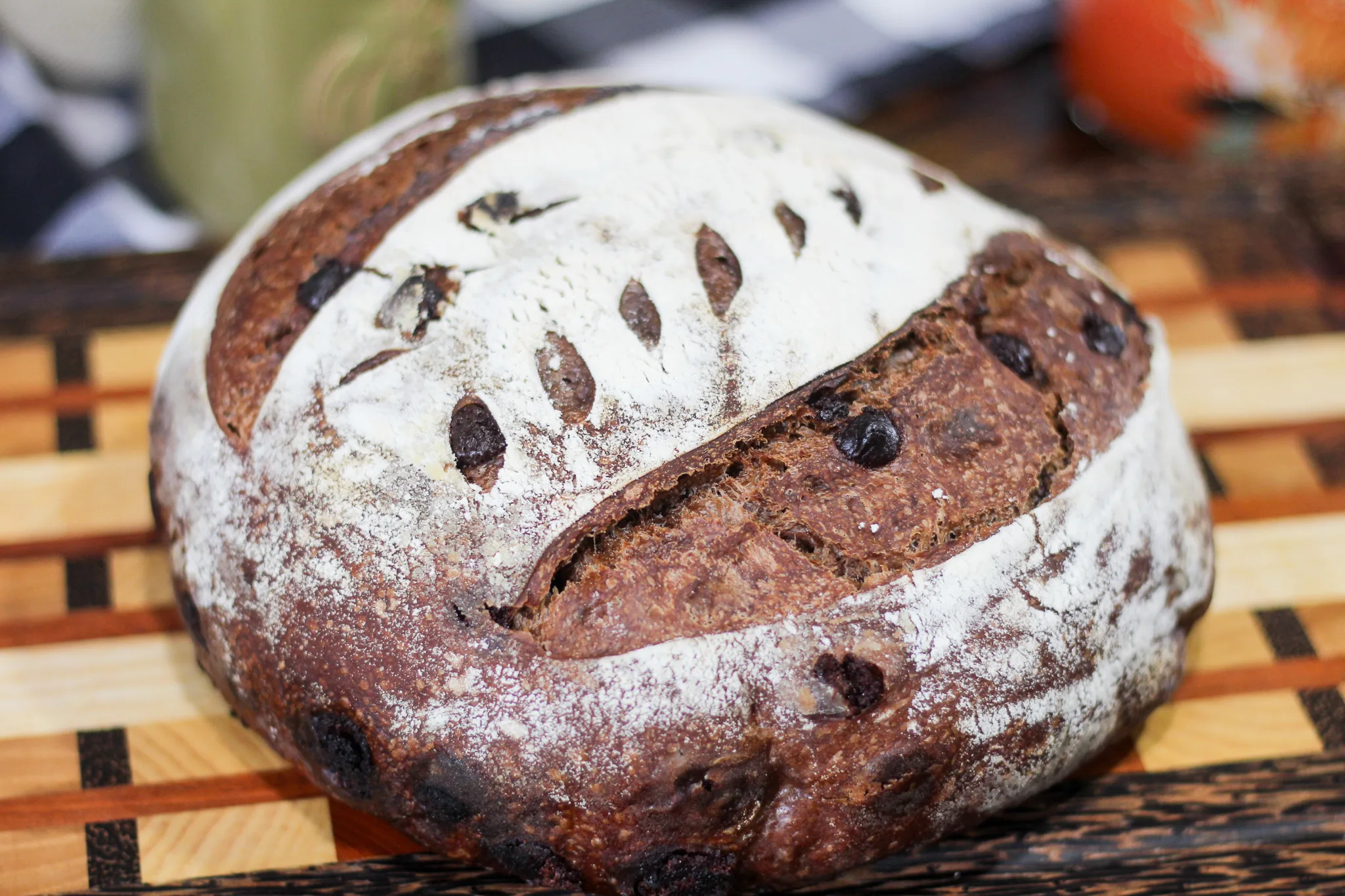 How to Make Sourdough Chocolate Bread
This bread is soft and chewy on the inside, crusty on the outside, and scattered with chocolate chips throughout.
I love making things sourdough because there is no kneading involved. Instead, you have a series of stretches and folds.
Be sure to feed your starter about 12 hours before you want to make this bread. It needs to be an active sourdough starter.
In a large mixing bowl add your dry ingredients — all-purpose flour (you can use whole wheat flour also if you want), sea salt, brown sugar, and cocoa powder. I would not use raw cocoa powder. It gives a bitter aftertaste. Dutch-processed cocoa powder is much better for this recipe.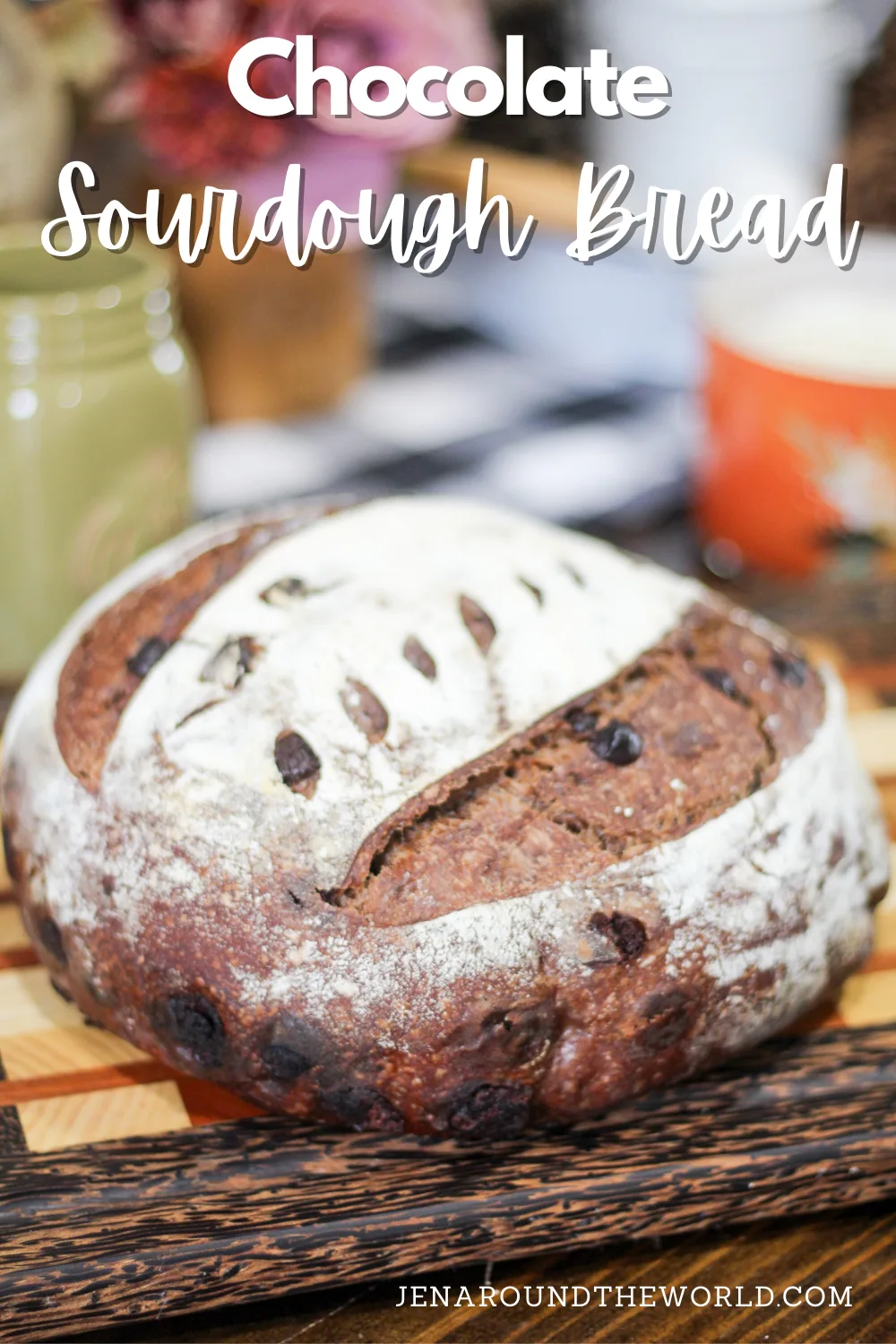 Now, add in the warm water and the active starter. Use a bread whisk and mix all the ingredients. Allow this to sit and rest for 30 minutes. Using a bread whisk will allow the dough to mix more easily than with your hands or with a wooden spoon.
With your hands, begin to stretch and fold the dough about 16 times. It will help the dough come together more. This step the dough is really sticky. Whatever you do, do not wash any of the dough off your hands down the sink drain. Sourdough tends to dry in the drain and it will cause a blockage in your pipes (ask me how I know!).
Resting the Dough
Cover with a damp towel and allow the bread dough to rest for 10 minutes. Remove the towel and add the chocolate chips. You could add whatever flavor of chocolate chips you want. I use semi-sweet or milk chocolate, but dark chocolate chips would add great flavor to this bread. If you have a chocolate bar on hand, you can just chop that up and throw it in.
Now, do 4 sets of stretch and folds. Stretch the dough and fold it over itself. Then, give it a quarter turn and repeat the same step. Do this 4 times. Replace the towel and let it rest for 10 more minutes.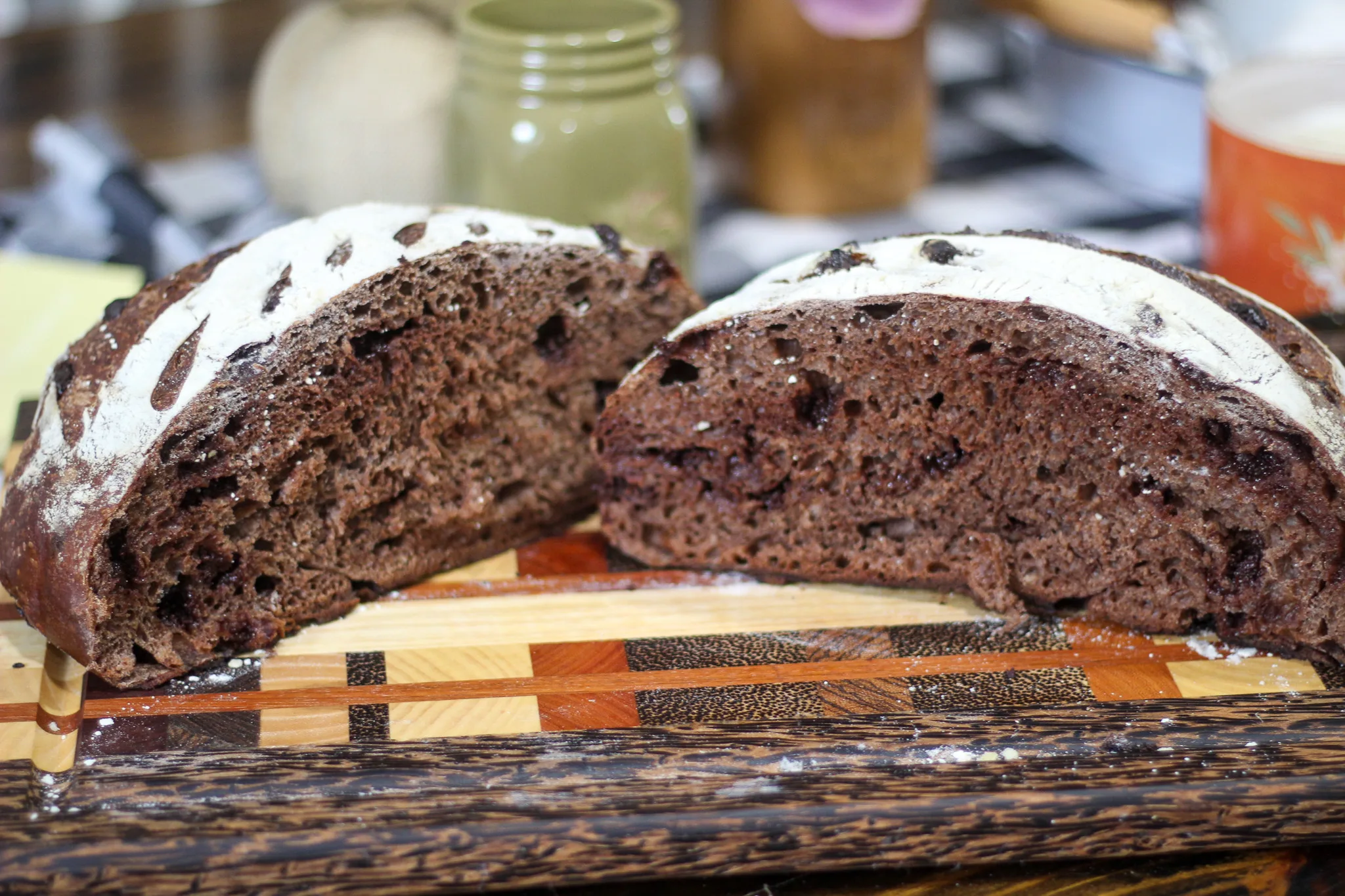 Do this same step 3 more times. Now, cover and let the dough rise until doubled in size. This will probably take 6 to 8 hours. This is the bulk fermentation process.
Shaping the Dough
After the second rise, turn the dough out onto a clean work surface and shape it into a tight ball by folding the two sides over to the center of the dough. repeating on the other two sides. Pull the dough towards you and spin it around repeating this process a few times until the dough is a nice round dough ball.
Place the dough into a floured banneton (these are proofing baskets) or a bowl lined with a tea towel, seam side up. Make sure to flour it well otherwise the dough will stick to the fabric.
You can either allow the dough to rise on the counter in a warm spot for about an hour or you can cover it with plastic wrap or a damp tea towel and let the dough rest and proof in the fridge overnight for 8 to 12 hours.
Score and Bake the Bread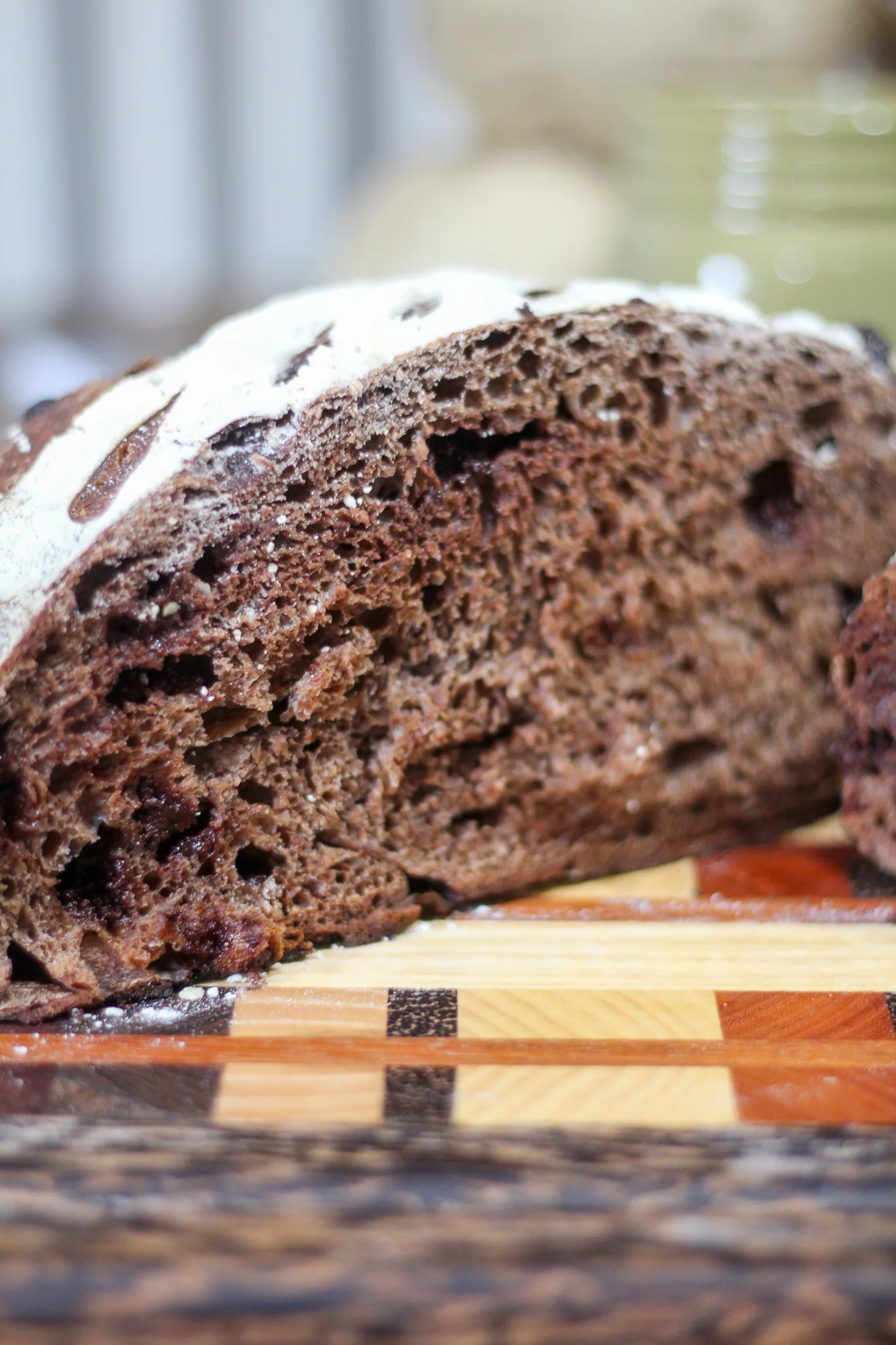 The next day, preheat the oven to 450 degrees. Place the Dutch oven in the hot oven to preheat as well. Set a cooling rack to the side because you will need this once the dough comes out of the oven.
Remove the dough from the fridge and pour it out onto a piece of parchment paper. Sprinkle more flour on top of the dough so that the scoring pattern stands out more.
Score a design on the top with the razor blade. Bake for 25 minutes with the lid on. After 25 minutes, remove the lid and allow the loaf to bake for 20 more minutes.
Allow it to cool to room temperature on a wire rack before slicing it with a sharp knife. You can find the printable recipe with detailed instructions below.
Serving the Bread
Once you slice up the bread, serve it with pats of butter and homemade jam. You can even drizzle it with some honey. My favorite way is toasting it in a pan before adding anything to it. It is simply an indulgent bread that anyone will want to taste. You could even chop this loaf up and use it to make a Chocolate Bread Pudding.
Other Sourdough Recipes You Might Want to Try
If you love making sourdough recipes like I do, then you will definitely want to try out my Homemade Sourdough Discard Cinnamon Rolls. I also have made Sourdough Discard Crackers and so many other delicious dishes.
My next adventure into sourdough is going to be a delicious Sourdough Chocolate Cake.
If you want to adventure into sourdough, make your own sourdough starter.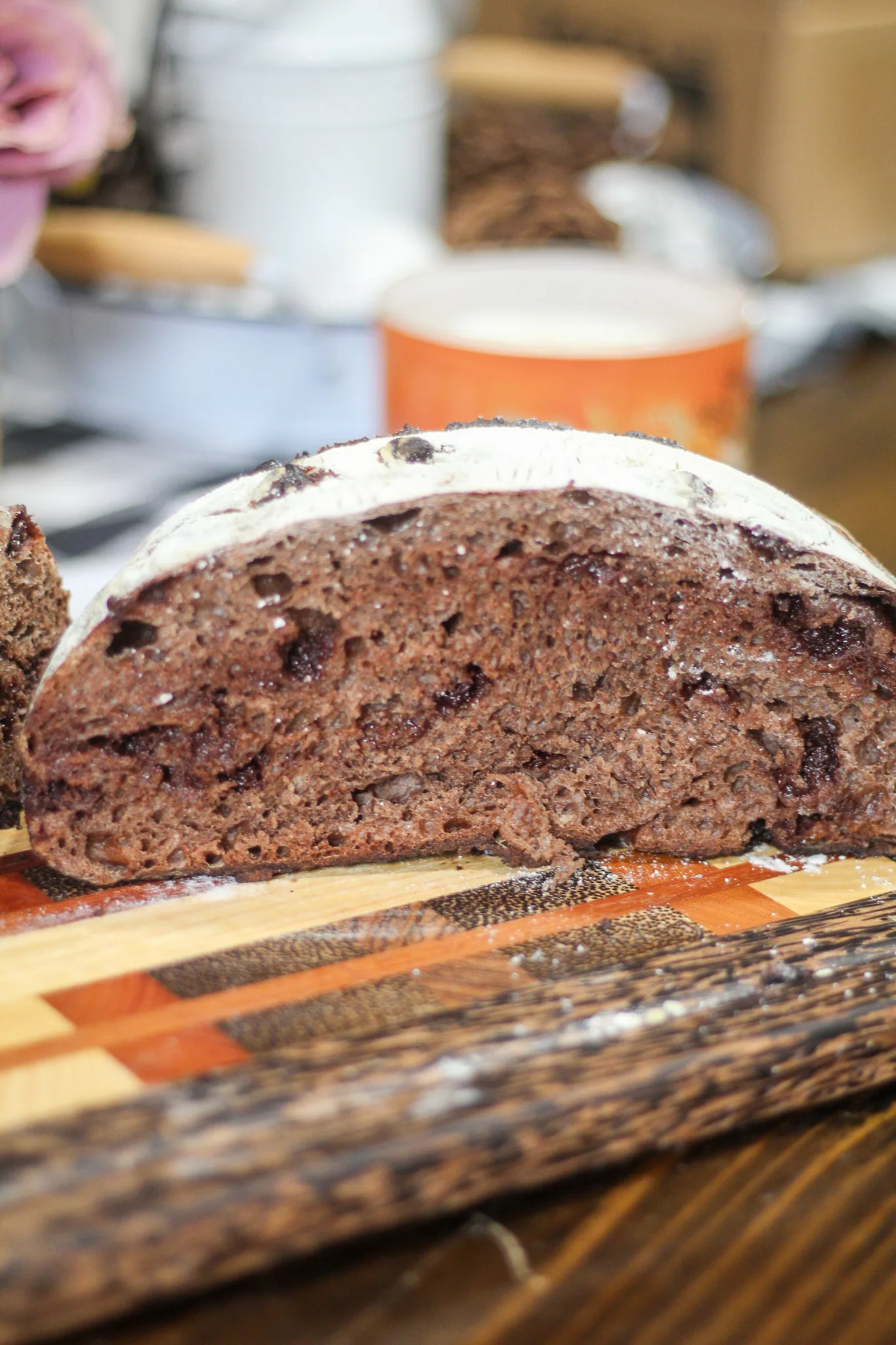 Fun Sourdough Tools You Need in Your Kitchen
If you plan on getting into the sourdough bread-baking game, here are a few tools that I currently own that make the bread-making process a lot easier.
Making sourdough recipes has really been a fun experience for me and I think that you guys would love doing it too. Give it a try and if you fail at first, keep trying. Practice is what is going to get you there. It's not as hard as some people make it out to be.
Yield: 1 loaf
Chocolate Sourdough Bread
This sourdough loaf is full of chocolatey goodness. It's decadent as well as soft and chewy. The best part is all the delicious chocolate chips scattered throughout!
Total Time
13 hours
30 minutes
Ingredients
3 1/2 cups of all purpose flour (or bread flour)
1 tablespoon of salt
1/2 cup of brown sugar
1/2 cup of cocoa powder
1 cup of active sourdough starter
1 and 1/4 cup of water
1 cup of chocolate chips
Instructions
In a large mixing bowl, add the water, the sourdough starter, salt, and brown sugar. Mix well together then add in the flour.
Combine all the ingredients and allow the dough to sit and be covered for 30 minutes.
With your hands, mix the dough with stretch and fold for about 5 minutes. Add the chocolate chips in during this step, I usually do about 16 stretches and folds.
Cover the dough and let it rest for 10 minutes.
Take the dough in the bowl grab the edge and firmly pull it up. Stretch the dough and then push it into the center. Turn the bowl a quarter turn and repeat this process 3 more times.
Cover the bowl and let it rest for 10 minutes. Repeat this process 3 more times.
Cover the bowl and allow the dough to bulk ferment until doubled in size.
Once the dough is doubled, time to shape it. Pour the dough out onto the surface spin the dough and pull it toward you multiple times until a ball forms.
Place in the floured banneton seam side up and allow it to rise a second time. You can either do this for a couple of hours on the counter or place it in the fridge overnight.
When you are ready to bake, preheat the oven to 450 degrees with the Dutch oven inside.
Pour the dough out onto a piece of parchment paper. Use a razor blade to score the top and then place the dough and the parchment paper inside the dutch oven.
Bake with the lid on for 25 minutes. Remove the lid and bake for 20 more minutes.
Place on a wire rack to cool completely before slicing.
Nutrition Information:
Yield:
8
Serving Size:
1
Amount Per Serving:
Calories:

421
Total Fat:

8g
Saturated Fat:

4g
Trans Fat:

0g
Unsaturated Fat:

3g
Cholesterol:

0mg
Sodium:

801mg
Carbohydrates:

81g
Fiber:

5g
Sugar:

23g
Protein:

9g