Ever since I made my Sourdough starter, I have been having SO much fun making discard recipes, like these Sourdough Discard Cinnamon Rolls.
If you have a lot of discard left over, you can make fun recipes like Sourdough Discard Flatbread, Sourdough Discard Dinner Rolls, and more.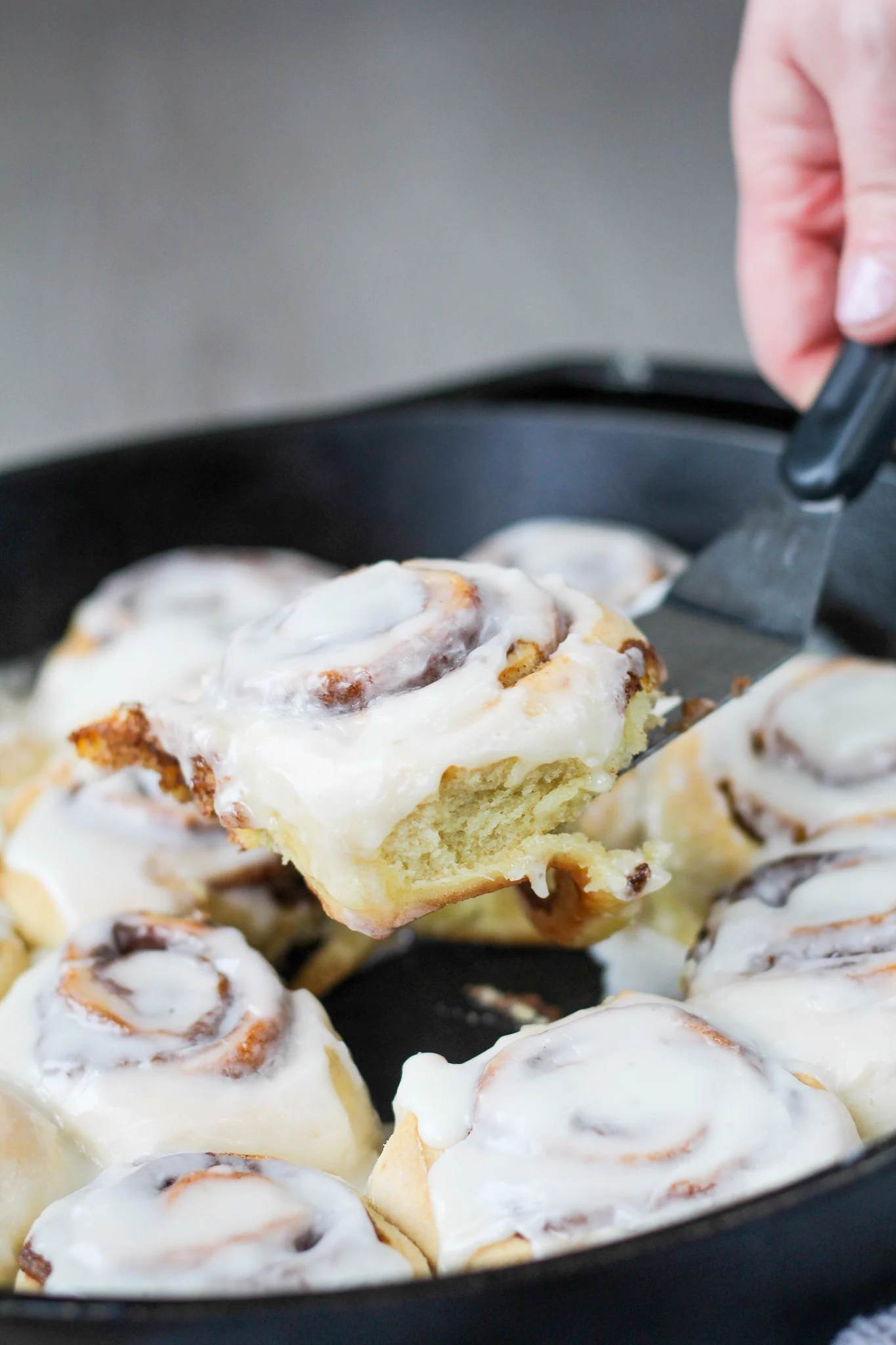 During the course of 2023, I am planning on teaching myself to do something new every month. During January, I made it a goal to learn how to make sourdough bread. It is a favorite of mine and my family. Now, I have it down pat and I am making ALL things sourdough!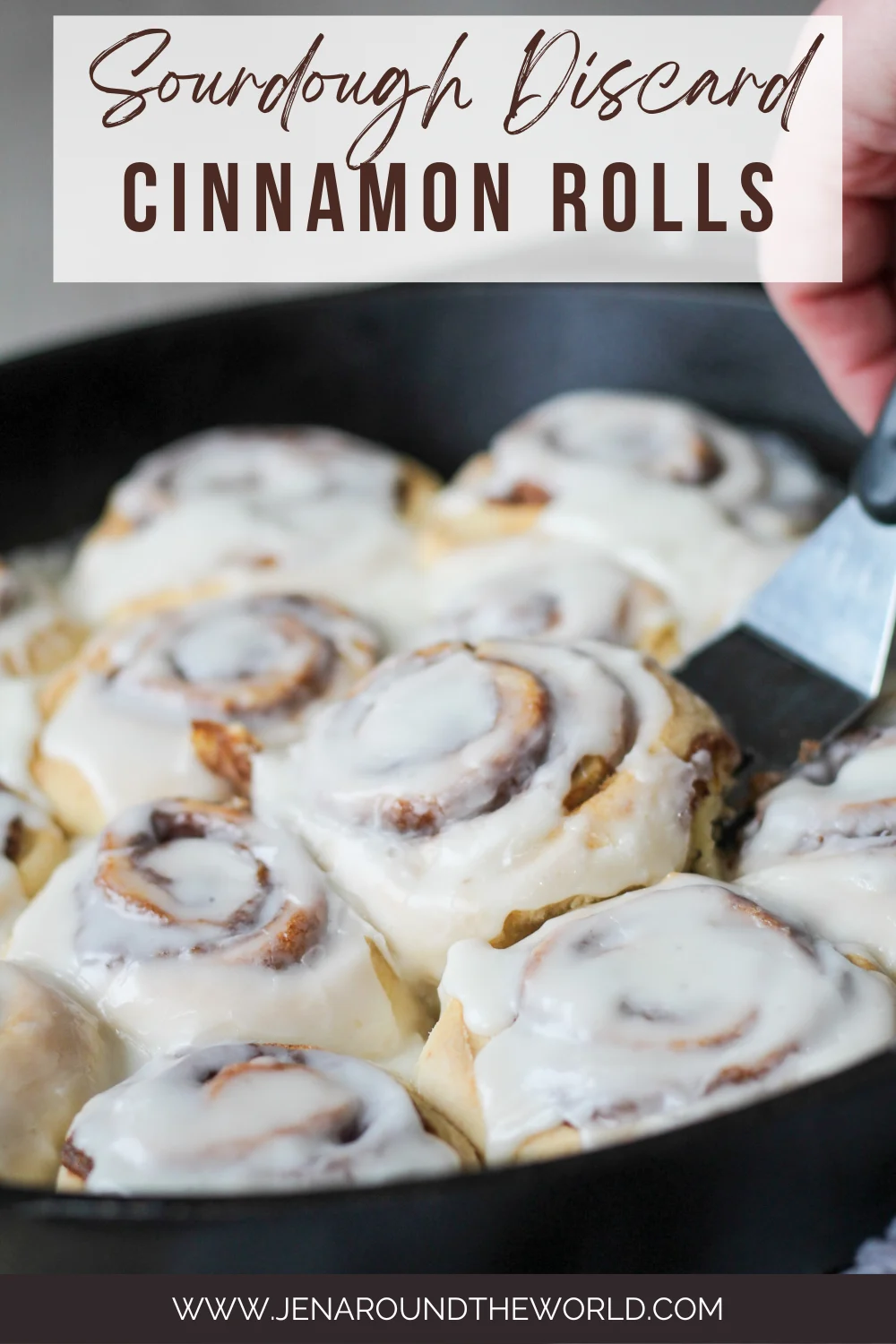 The best thing about these fluffy sourdough cinnamon rolls is that there is no rise time, you can eat them right away or the next day. Plus, they're effortless to make.
How to Make Sourdough Discard Cinnamon Rolls
This recipe is one of my favorites because of the fact that there is no rise time. Once you roll out the dough and slice it, you can bake it right away.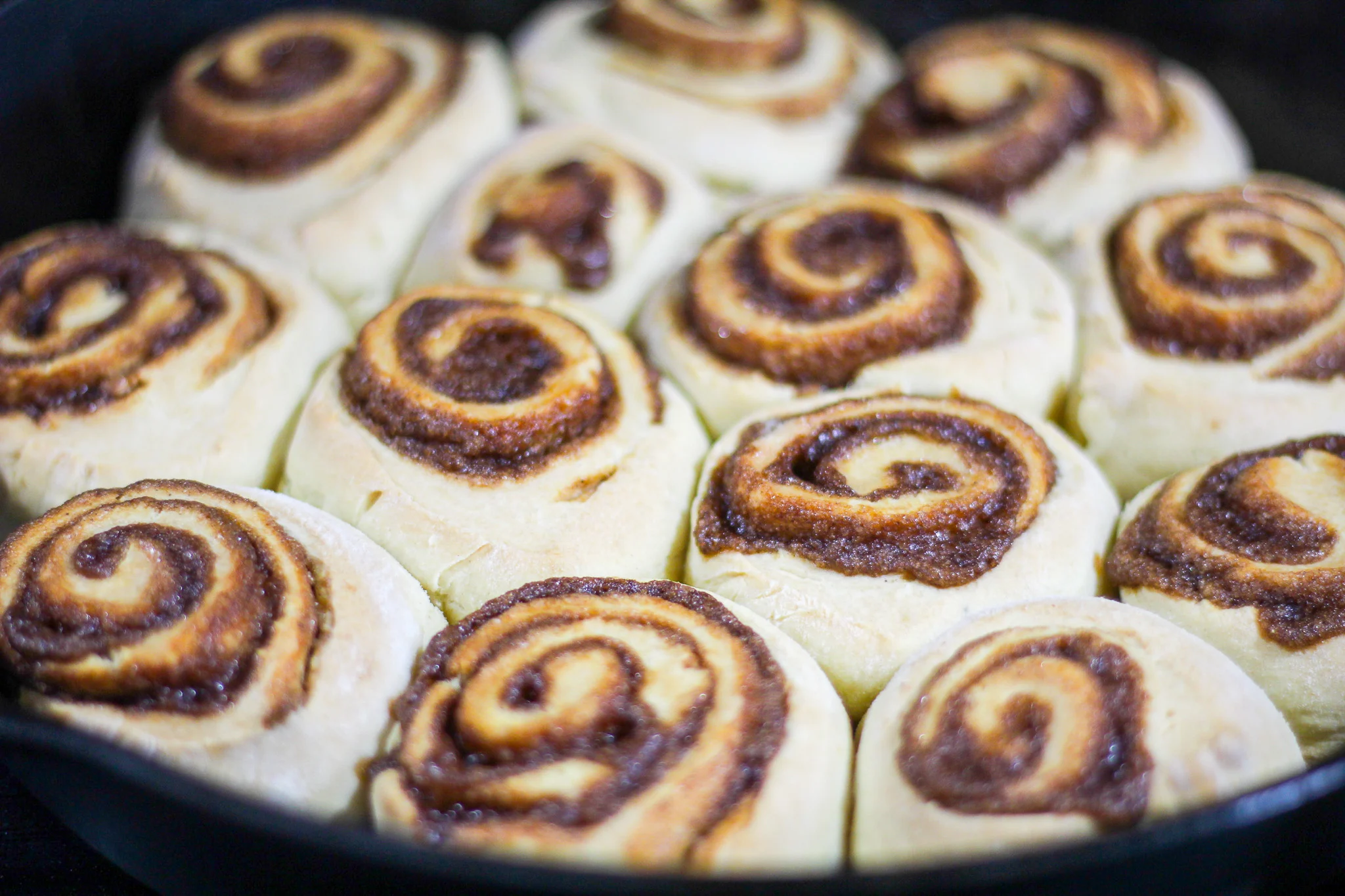 Once they come out of the oven, simply drizzle on the icing for the most fantastic bite of deliciousness you will taste.
When placing your rolls in the pan, be sure to place them close together. This will allow the rolls to bake up instead of spreading.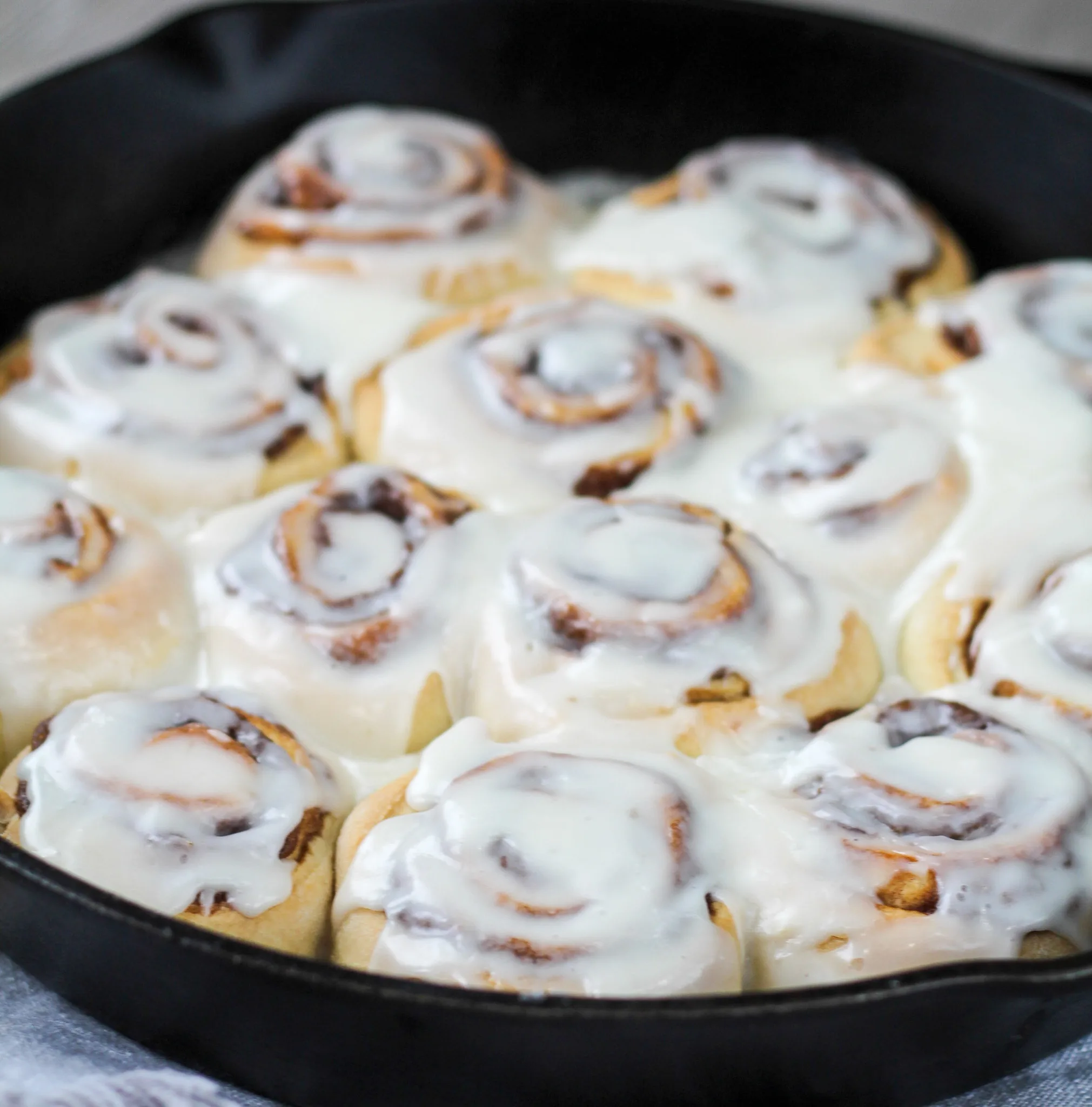 Want to make this delicious recipe? Print the recipe card below! Not ready to cook this recipe yet? Pin this recipe so you can find it later.
Looking for other recipes like these? Check these out below
Yield: 15 servings
Sourdough Discard Cinnamon Rolls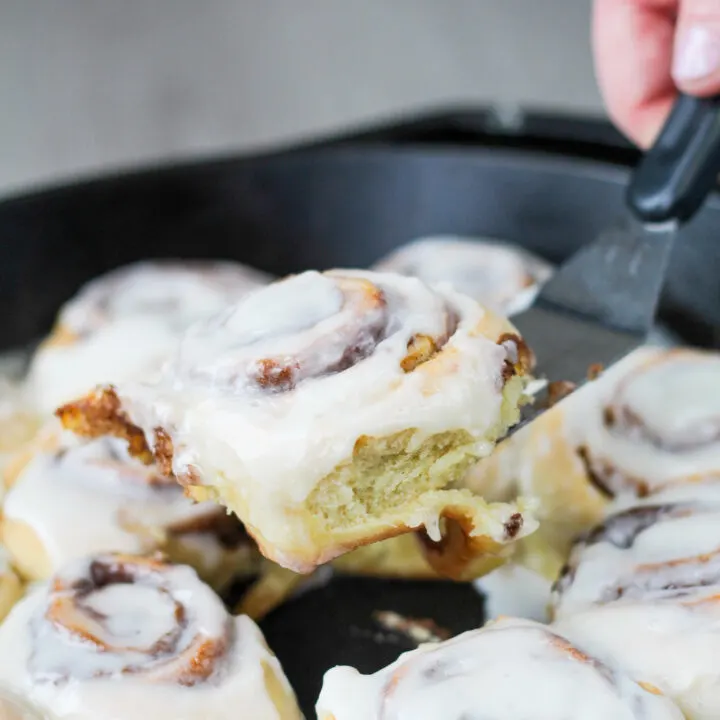 Do you have a sourdough starter that you're not sure what to do with? These Sourdough Discard Cinnamon Rolls turn out light fluffy and delicious.
Ingredients
For the dough
8 tablespoons butter cold
2 ½ cups all-purpose flour
⅓ cup sourdough starter discard
1 cup milk
1 tablespoon granulated sugar
¾ teaspoon salt
1 teaspoon baking powder
½ teaspoon baking soda
For the Filling
¾ cup light brown sugar
2 teaspoons cinnamon
4 tablespoons butter melted
For the Glaze
1 1/4 cup powdered sugar
1 tablespoon butter melted
2 teaspoon vanilla extract
1 1/2 tablespoons milk
Instructions
Preheat your oven to 375 degrees.
In a large bowl, add your flour. Cut your butter into pats and add to your flour. Using your hands, or a pastry cutter, work the butter into the dough. Crumbles should resemble pea size.
Now add in the sourdough starter, milk, sugar, salt, baking powder, and baking soda. Mix well.
Lightly flour a flat surface and add your dough mixture. Roll your dough into a 12 x 22 inches rectangle.
To make the filling -- Melt your butter in a small bowl. Brush it over the entire rectangle. Leave a small space around the edge.
Mix together the cinnamon and sugar and sprinkle over the butter.
Roll your dough toward your long ways. Pinch the ends together.
Cut your cinnamon rolls into 12 pieces. I suggest using a sharp knife. Cut in the middle to create two pieces, then cut again to create four pieces, etc. until you have 12!
Place each piece of your cinnamon roll in your skillet with the swirl showing top to bottom.
Bake your cinnamon rolls for 35 to 40 minutes or until lightly brown.
While your cinnamon rolls are baking, mix together all of the ingredients for your glaze. Set aside.
Once your cinnamon rolls are done remove them from the oven. Pour the glaze evenly over the cinnamon rolls. Serve and enjoy!
Nutrition Information:
Yield:
15
Serving Size:
1
Amount Per Serving:
Calories:

259
Total Fat:

11g
Saturated Fat:

7g
Trans Fat:

0g
Unsaturated Fat:

3g
Cholesterol:

28mg
Sodium:

271mg
Carbohydrates:

38g
Fiber:

1g
Sugar:

20g
Protein:

3g