My Chocolate Sugar Cookies recipe was created for #SummerDessertWeek! I was sent samples by some of the sponsor companies but as always opinions are 100% mine.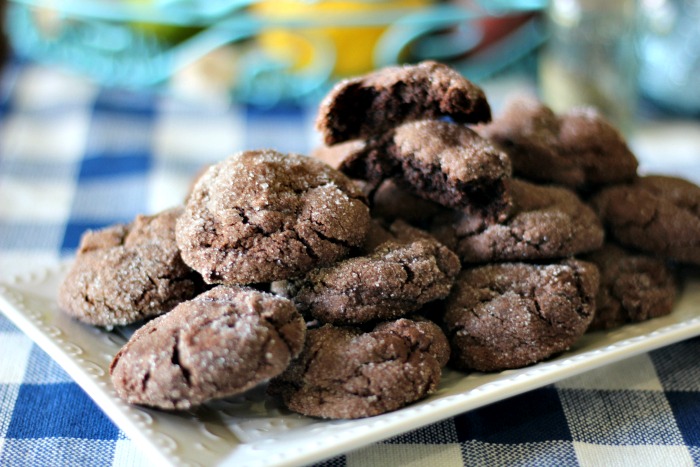 Hey hey, friends! We are on the downside of the week — thank GOD! I have another amazing dessert for you today for #SummerDessertWeek. My delicious Chocolate Sugar Cookies will have your mouth watering — so are you ready for this one?
I am a huge fan of sugar cookies anyway, but when I discovered I could make chocolate sugar cookies, I do believe I have put away my old way of making cookies and start making them this way from here on out.
If you have missed any of the desserts for summer dessert week, click here to find them: Old Fashioned Apple Dumplings, Blueberry Cream Cheese Pinwheels, and Rustic Cherry Galette.
How to Make Chocolate Sugar Cookies
To make these amazing chocolate sugar cookies, first let's gather all our ingredients.
We have —
Land O'Lakes butter
Eggs
Salt and baking soda
Cocoa Powder
Flour
Dixie Crystals Sugar
Brown Sugar
Adams Extract Vanilla
You are going to start by creaming together your brown sugar and butter together.
Then add in the eggs one at a time and then the vanilla. Once you get all that combined, set aside.
In another bowl, combine all your dry ingredients — flour, cocoa powder, salt, and baking soda.
Once you do that, then you are going to combine the two and mix together until it all is combined. It will be thick — that is what you want.
At this point, you can put the dough in the fridge for about an hour — or if you can't wait to taste one of these cookies like me, you can go right ahead into the next step.
Using a cookie scoop, scoop out the dough into balls. Roll in sugar to coat the outside.
For me, Dixie Crystals is the way to go! Their sugar is the best 🙂
Then, place them on a cookie sheet covered with either a silpat or parchment paper. This ensures even baking and your cookies won't stick to the cookie sheet.
Bake in a 350 degree preheated oven for 9-10 minutes. When they come out, give them a minute to cool down before moving to a wire rack to harden just a bit.
When they are ready to eat, you will not be able to take just one! They are so fudgy tasting on the inside. They are soft and puffy and make the most amazing cookie you will ever taste.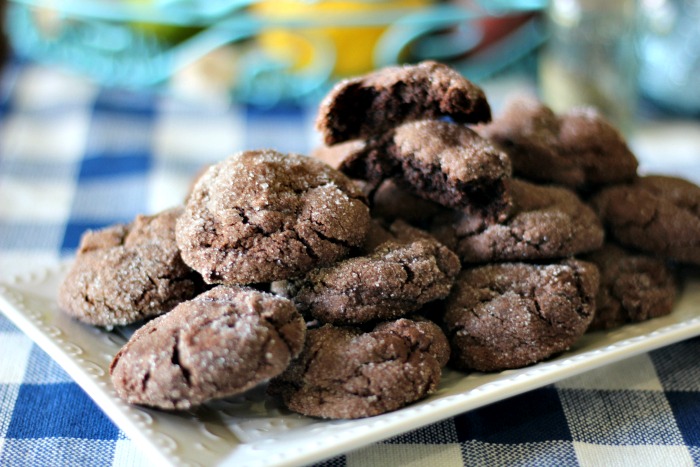 Chocolate Sugar Cookies #SummerDessertWeek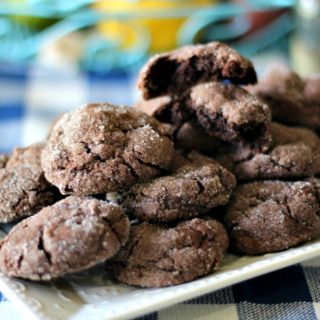 Ingredients
1 cup Land O'Lakes butter, softened
1 1/2 cups brown sugar
2 eggs
1 teaspoon Adams Extract vanilla
3/4 cup cocoa powder
2 cups all purpose flour
1 teaspoon baking soda
1 teaspoon salt
1/2 cup Dixie Crystals granulated sugar for rolling
Instructions
Cream together butter and brown sugar with a mixer until fluffy, about 5 minutes.
Add in eggs, one at a time, mixing after each addition, and then vanilla.
Combine cocoa powder, flour, baking soda and salt. Slowly add flour mixture to butter mixture. Mix well.
Refrigerate dough for one hour -- or you can skip this step and go right to making them.
Using a cookie scoop, scoop dough and place into granulated sugar, roll around to coat. Place sugar coated dough on lightly greased or parchment lined baking sheet, space cookies 2 inches apart. Bake in a preheated 350 degree oven for 9-10 minutes.
Let cookies cool on baking sheet for 10 minutes before removing to racks to cool completely.