My Rustic Cherry Galette recipe was created was created for #SummerDessertWeek! I was sent samples by some of the sponsor companies but as always opinions are 100% mine.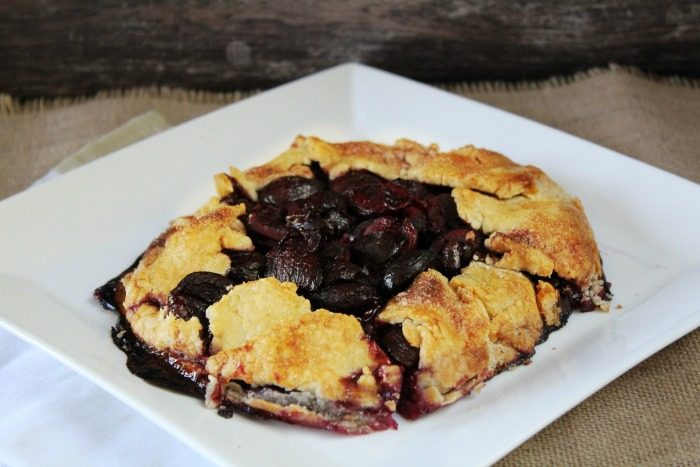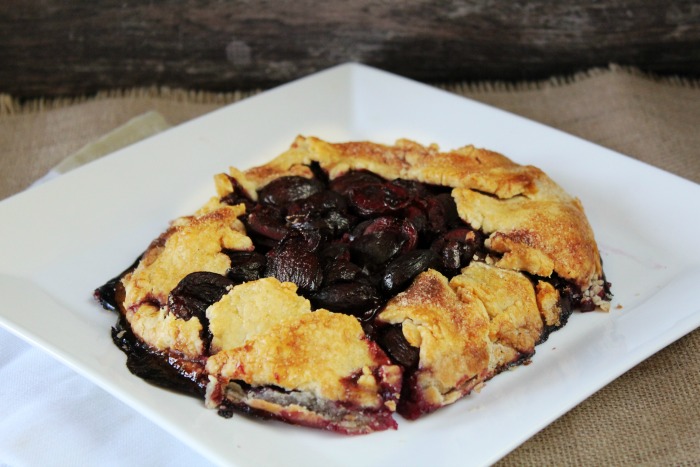 Hey hey! It's the start of #SummerDessertWeek! I have been teasing these recipes over on Instagram for WEEKS now and I can finally share the recipes with you. To start things off, today I am sharing my delicious rustic cherry galette with you.
So — the word galette sounds real fancy doesn't it? Basically when you make a pie without using a pie pan, you are making a galette. You don't crimp the edges around a pie pan, you simply pull the sides up over a mound of delicious fruit, in this case Rainier Organic Cherries, and then bake in an oven.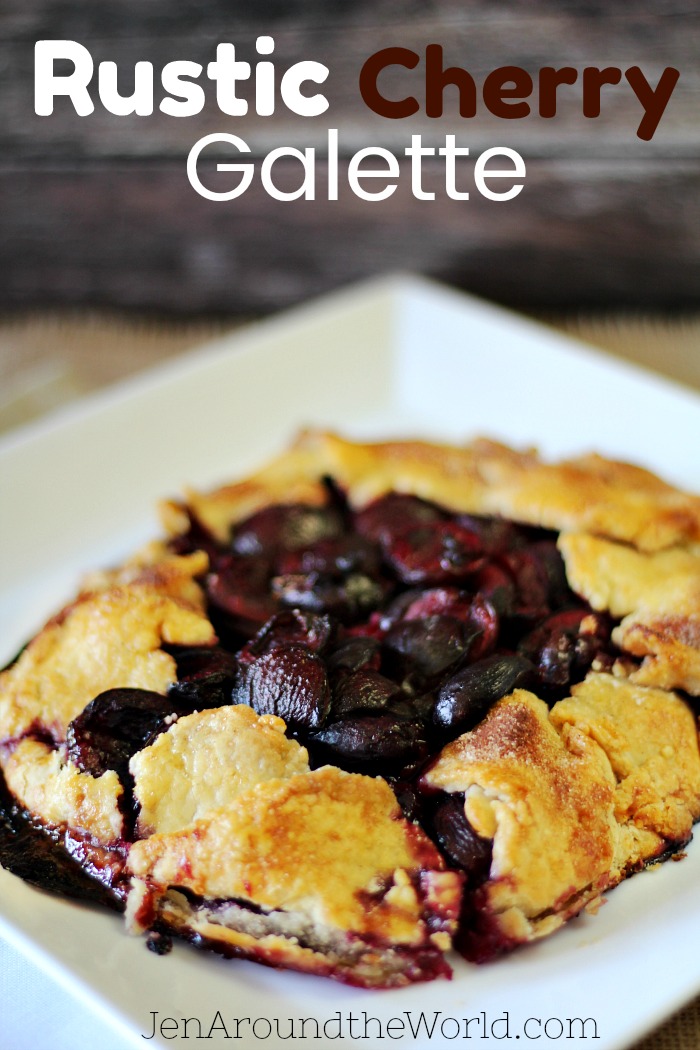 I have to tell you how amazing this dessert is — and the best part is that I am not a fan of cherries. My family and I could not get enough of this though.
The Rainier organic cherries are super sweet and really made this rustic cherry galette the perfect after dinner treat.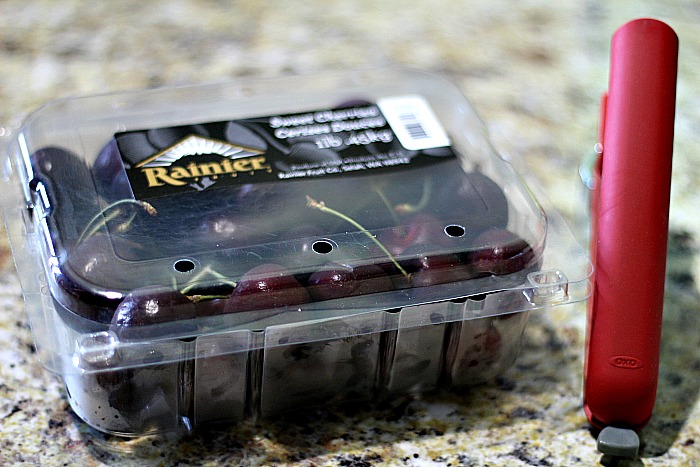 How to Make a Rustic Cherry Galette
Gather all your ingredients together. I promise if you get into the habit of gathering all your supplies, you will take less steps in the kitchen.
I hardly ever buy store bought pie dough because it is SO easy to make and store in the freezer. You can find my recipe for that by clicking here. It will make 2 pies, so just divide your dough and place in freezer bags. Then, when you need one, take it out and lay it on the counter and let it thaw for about an hour.
When you are ready to use it, grab a silpat like the one I have here from Dixie Crystals. Silpats are the best thing to use if you don't have parchment paper. You can cook anything on these and nothing sticks. They are amazing.
Roll your pie dough out to the size that you need. Don't worry if the sides are not perfect. Remember — this is a rustic dessert.
Place the silpat and rolled out dough onto your cookie sheet and set aside.
Now, heat the oven to 375 degrees.
Check Out Those Rainier Cherries!
Grab your tub of cherries and remove stems. Once you get the stems removed, take a cherry pitter (the ones from OXO are awesome!) and remove all the pits.
Using a cherry pitter is the easiest way to remove the pits, but you can also slice them and remove them by hand — it just takes a little longer.
Once you remove the pits, slice all your cherries and place them in a bowl.
Now, you are going to add in 1/3 cup of sugar, 2 tablespoons of flour, juice of 1 lemon, and salt.
You are going to mix it all together in a pot. Using a masher, mash some of the cherries so that they can release their juices.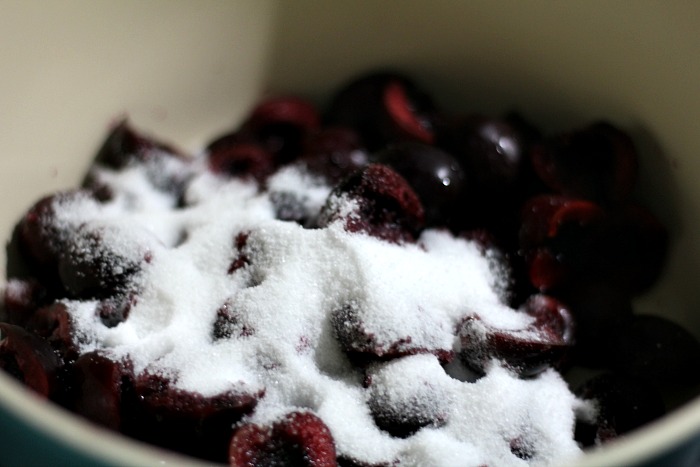 Place in the middle of the pie crust and then fold the edges up and around it. If there are any openings around the edges at the bottom, seal those so that no liquid leaks out.
Once you make sure that all the edges are closed in, take your egg and beat with 1 tablespoon of water and brush it over the edges of the pie crust.
This will make your crust brown and look golden delicious!
Once you put on the egg wash, the final step before baking is to sprinkle on a little cinnamon sugar mixture. I love this one from Adams spices.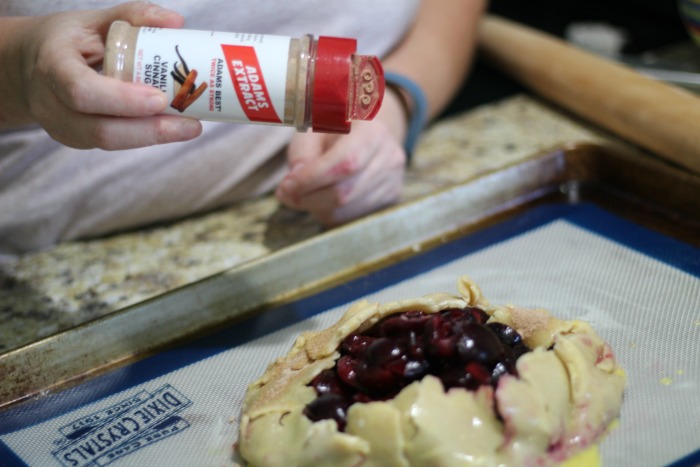 Bake at 375-F degrees about 40-50 minutes until crust is golden brown and done on bottom. Transfer to a plate and cool slightly before slicing.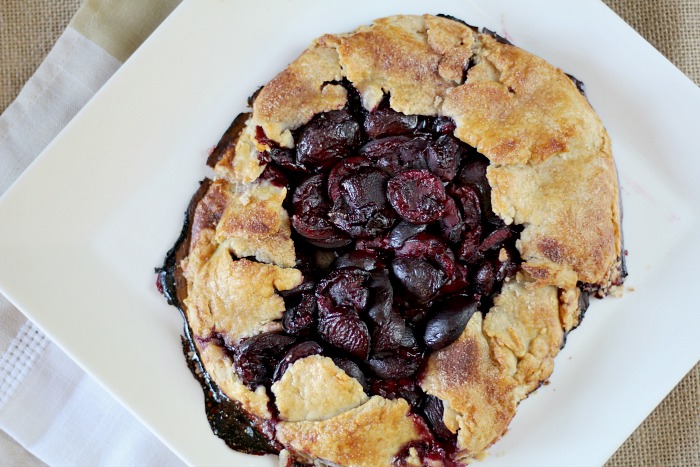 Be sure to check out all the other bloggers who are sharing a recipe during #SummerDessertWeek. And if you are in the process of starting to meal plan, be sure to check out the JCER blog for tips on preparing your meal bag. You can stick a slice of this galette in there for lunch one day!
Rustic Cherry Galette #SummerDessertWeek
Ingredients
12- inch round chilled pie dough
4 cups Rainier Organic cherries, stemmed, pitted and halved
1/3 cup + 1 tablespoons Dixie Crystals white sugar, divided
2 tablespoons flour
1 tablespoon lemon juice
1/4 teaspoon salt
egg + 1 tablespoon water, beaten together for egg wash
Instructions
Heat oven to 375-degrees F. Line baking sheet with a silpat or parchment paper.
In a bowl, combine cherries, 1/3 cup sugar, flour, lemon juice and salt.
Using a potato masher, mash mixture a few times. Set aside.
Place chilled dough round on silpat or parchment lined baking sheet. Place cherry filling onto center of dough, leaving a 2-inch border around the edge.
Fold edge up and over filling, overlapping and creating pleats all the way around. Brush dough with egg wash.
Sprinkle top of galette (especially the crust) with 1 tablespoon of cinnamon sugar mixture.
Bake at 375-F degrees about 40-50 minutes until crust is golden brown and done on bottom. Transfer to plate and cool slightly before slicing.
Check out the amazing #SummerDessertWeek recipes from our bloggers today!
Ice Cream Recipes:
Pies of Summer:
Sweet Summertime Cakes:
No Bake Treats:
Baked Desserts:
Enter to Win!
Welcome to the first #SummerDessertWeek event hosted by Angie from Big Bear's Wife. We're so glad that you've joined us for this week long event of desserts and giveaways. You're going to love what we have in store for you.
There are 25 amazing bloggers participating in this year's event! Throughout the week we'll be share tons of fantastic summer dessert recipes with you. With over 70 recipes being shared this week we just know that you're going to find a new summer favorite! Plus, don't forget that we have 6 (six) great giveaways for you this week thanks to our amazing sponsors!
Scroll down to take a look!
Prize #1
Prize #1 — Dixie Crystals is giving one winner a $100 Willimas Sonoma Gift Card OR a $100 Sur la Table! Winner of prize #1 gets to pick which gift card they would like!
Prize #2
Prize #2 — Rainier Fruit is giving one winner a Pie dish, Cherry Pitter, Serving Spatula, Pinch Bowls, Pie Carrier! Everything you need to make the perfect cherry or blueberry pie!
Prize #3
Prize #3– OXO is giving one winner an 8 Piece Glass Bake, Serve & Store Set.
OXO Glass Bakeware is made of thermal shock resistant borosilicate glass, which means it can go from freezer to oven without the need to thaw. The OXO 8 Piece Glass Bake, Serve & Store Set is the perfect partner for all of your baking adventures. The Set includes a Glass 3 Qt Baking Dish, Glass 2 Qt Baking Dish, Glass Loaf Pan, Glass Pie Plate, 1 Cup Round SNAP Container, and 2 Cup Round SNAP Container.
Prize #4
Prize #4 — Adam's Extract is giving one winner a Pyrex with baking utensils and 4oz Adams Best, 1.5 oz Pure Lemon, Almond, Peppermint and Vanilla.
Prize #5
Prize #5 — General Mills Cereal is giving one winner 4 boxes of cereal, 2 Big G Cereal character bowls, 2 Big G Cereal character , 2 "Good Morning" spoons, 2 Cheerios tumblers with straws 1 long-sleeve Cereal Character hooded t-shirt, 1 short-sleeve Cereal Character t-shirt.
Prize #6
Prize #6 — Land O'Lakes is giving one winner a branded insulated tote with a stainless steel water bottle, two mugs with cocoa mix, a dish towel and coasters.
Giveaway open to US Residents 18 years or older.. All entries will be verified. No PO Boxes Please. Prizes will be sent directly from sponsors to winners, bloggers are not responsible for prizes. This giveaway runs from July 24th until July 30th at 12AMEST. Winners will be selected soon afterwards and contacted by e-mail. Winners will have 48 hours to respond or a new winner will be chosen. There are a total of 6 (six) prizes and therefore we will have a total of 6 (six) winners. No purchase necessary. Void where prohibited by law.
Disclaimer: These posts and recipes are part of the week long event, #SummerDessertWeek but all opinions are 100% mine! We would like Thank our amazing sponsors: Dixie Crystals, Rainier Fruit, OXO, Adam's Extract, Land O'Lakes and General Mills Cereal! These wonderful sponsors provided the prize packs for our giveaways and also sent samples and products to the #SummerDessertWeek bloggers to use in their recipes.