This post and recipe for my Coffin Fondue Dippers were created for #HalloweenTreatsWeek! Some of the sponsor companies sent me samples but as always opinions are 100% mine.
Anytime I can make a quick and easy snack board for friends and family or get-togethers I am all about it. This one came together so easily and I LOVE how it turned out.
I named this "Coffin Fondue Dippers" because literally everything on this board can be dipped in some type of chocolate or caramel sauce.
Thanks to Wilton and their Gingerbread Coffin Kit, we were able to throw this together in a couple of hours.
How to Make Coffin Fondue Dippers
To start off, you definitely have to get the coffin together first because it takes a while to dry. From experience, do not try and rush it because it will fall apart.
The kit comes with everything you need to decorate it — the icing, the candies, the already cooked gingerbread pieces, and decorations on how to put it together.
And — you can get as messy as you want thanks to these amazing countertop covers from Wilton. They are perfect for laying out on your counter and then when you are done, simply pick it up and throw it away — the mess included.
Once you get the coffin done and it has dried all the way, don't forget to decorate the lid too! You will have so much fun smearing black icing and making spider webs.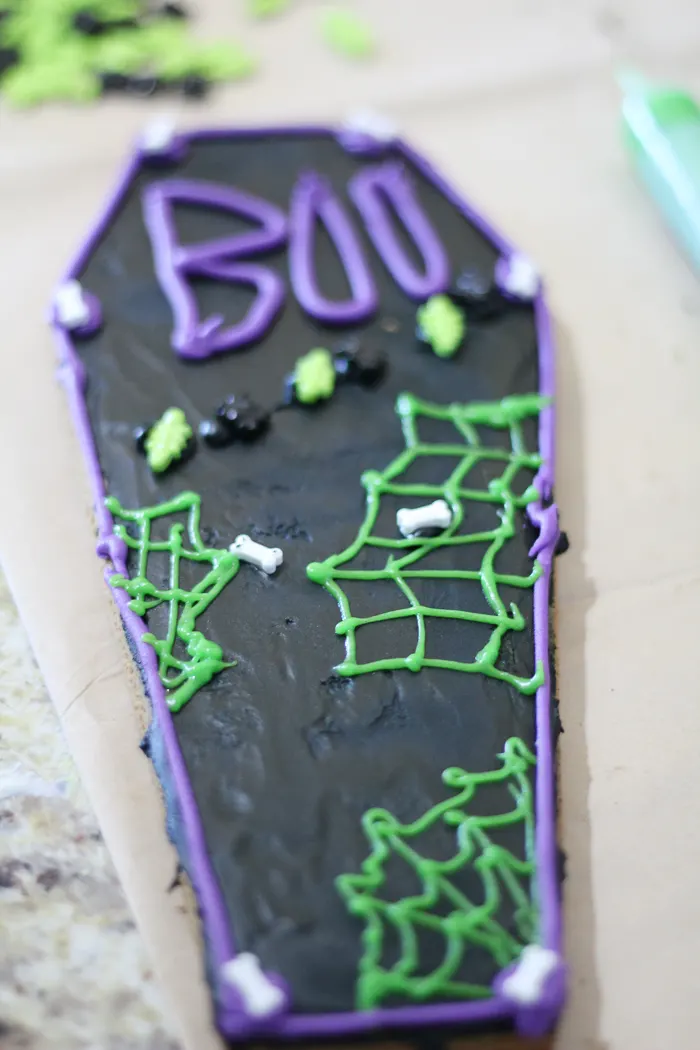 Now you can have all kinds of fun putting together the fondue dipping tray.
For this tray, I used items like —
Cream Puffs
Apple Slices
Pretzels
Pound Cake cut into cubes
Fresh Pineapple
For the dips, I used —
Torani Chocolate Sauce
Litehouse Pumpkin Spice Caramel Dip
I filled the coffin with the pretzels and put my dips in bowls and then piled my board with all the other goodies for the perfect Halloween centerpiece!
Of course, we topped the coffin with its lid to really bring home the scary with this fun recipe!
Like I said — it was simple and easy — and so simple there is no recipe for it! If you are interested in the items I used, you can find them linked here —
Wilton Coffin Decorating Kit
Food products were purchased from ALDI