Over the Thanksgiving weekend, I fixed many traditional dishes for our dinner, such as my yummy Old Fashioned Cherry Cheesecake, Sweet Potato Casserole, and holiday brined turkey. A new dish on the menu this year though was Corn Pudding. Sweet heavens — this stuff is amazing!
If you like souffle and casserole type dishes, you will love Corn Pudding.
It is so funny though — because when I set this dish on the table, everyone wanted to know what it was. They looked it and kind of had their nose wrinkled up at it, because it was — you know — something new that they had never eaten before.
Then they all took their first bite.
All I heard from then on out how delicious it was. I smiled, because I already knew how yummy it was. I had tasted it when we had our Thanksgiving dinner at church (you know, the night I made those scrumptious deviled eggs).
Anyway — it was not hard at all to fix. Super easy if you ask me. Everything just goes in the blender and then into the pan.
Corn Pudding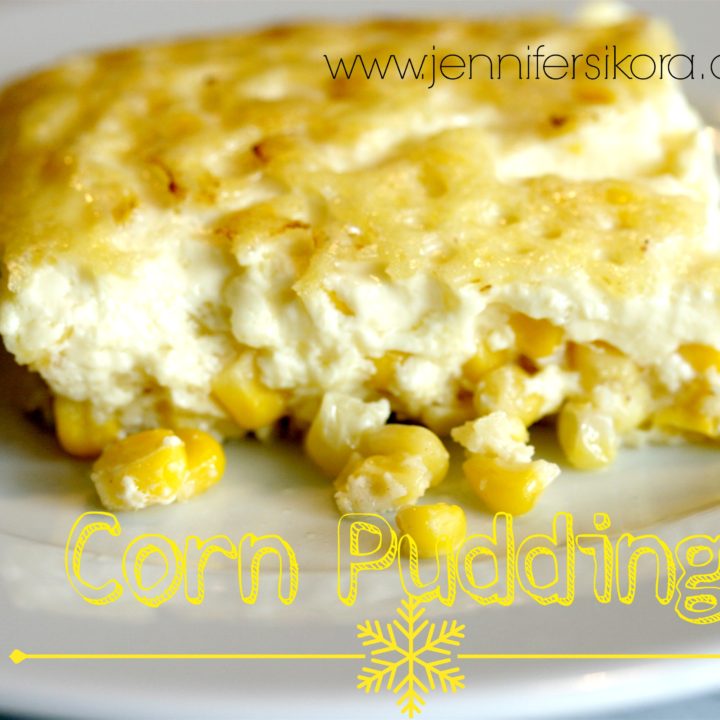 Ingredients
4 cups frozen corn kernels, 1 small bag, thawed
4 eggs
1 cup whipping cream
1/2 cup whole milk
4 tablespoons sugar
1/4 cup butter, room temperature
2 tablespoons all-purpose flour
2 teaspoons baking powder
1 teaspoon salt
1 pinch of white pepper
1/4 teaspoon ground nutmeg
1 cup parmesan cheese, grated
Instructions
Preheat oven to 350º F.
Butter a casserole dish
Process 3 cups of the corn with the rest of the ingredients in a blender until is well incorporated.
Take the remaining corn and place in the bottom of your casserole dish.
Pour mixture into prepared dish.
Bake for 45 minutes or until the center is set.
Serve warm.
Corn pudding is good during the holidays, but really — it is good anytime of year.
What about you? Did you fix any new dishes this Thanksgiving?