This recipe for Crispy Garlic and Herb Tofu Tacos has been sponsored by Nasoya. All opinions listed are 100% my own.
Y'all — I think I have found a new love and it is tofu. Before today, I have been hesitant about trying tofu because it has gotten such a bad rap.
However, I recently got to try Nasoya's new Plantspired line and I am shook! That stuff is addicting. Ready to be enjoyed quickly and with ease, Plantspired products are simple to serve at home or on-the-go, without requiring additional ingredients or much prep time.
I have used a lot of Nasoya products in the past. In fact, their wonton wrappers are what I use to make my Sweet Cream Cheese Wontons.
I trust the brand, so when they reached out and asked if I would like to give their new tofu line a try, I said sure! Like I said, before today, I have not really been into tofu. But, after making these Crispy Garlic and Herb Tofu Tacos, I am already looking for more recipes to make.
The Planspired products include a variety of quick and protein-packed options made with Nasoya tofu, including Garlic & Herb Toss'ables, Savory Tuscan Style Superfood Skillets, and Hearty Chili Meal Solutions.
How to Make Crispy Garlic and Herb Tofu Tacos
To make these tacos, you will need a few ingredients —
The good thing about the Toss'ables and the entire Planstpired line is that they are already pre-seasoned and pre-cooked. That means for you and for me that the cooking part is minimal.
This is right out of the bag. How delicious does this look? I tasted it and it has the most amazing flavor. I was immediately impressed.
Now, if you know anything about me at all, you know I love tacos. So, we decided to take these garlic and herb tofu bites and turn them into a delicious and crispy taco!
In a skillet, heat about 1 tablespoon of olive oil in a pan. Add in your package of Tofu Toss'ables and 1 tablespoon of cornstarch.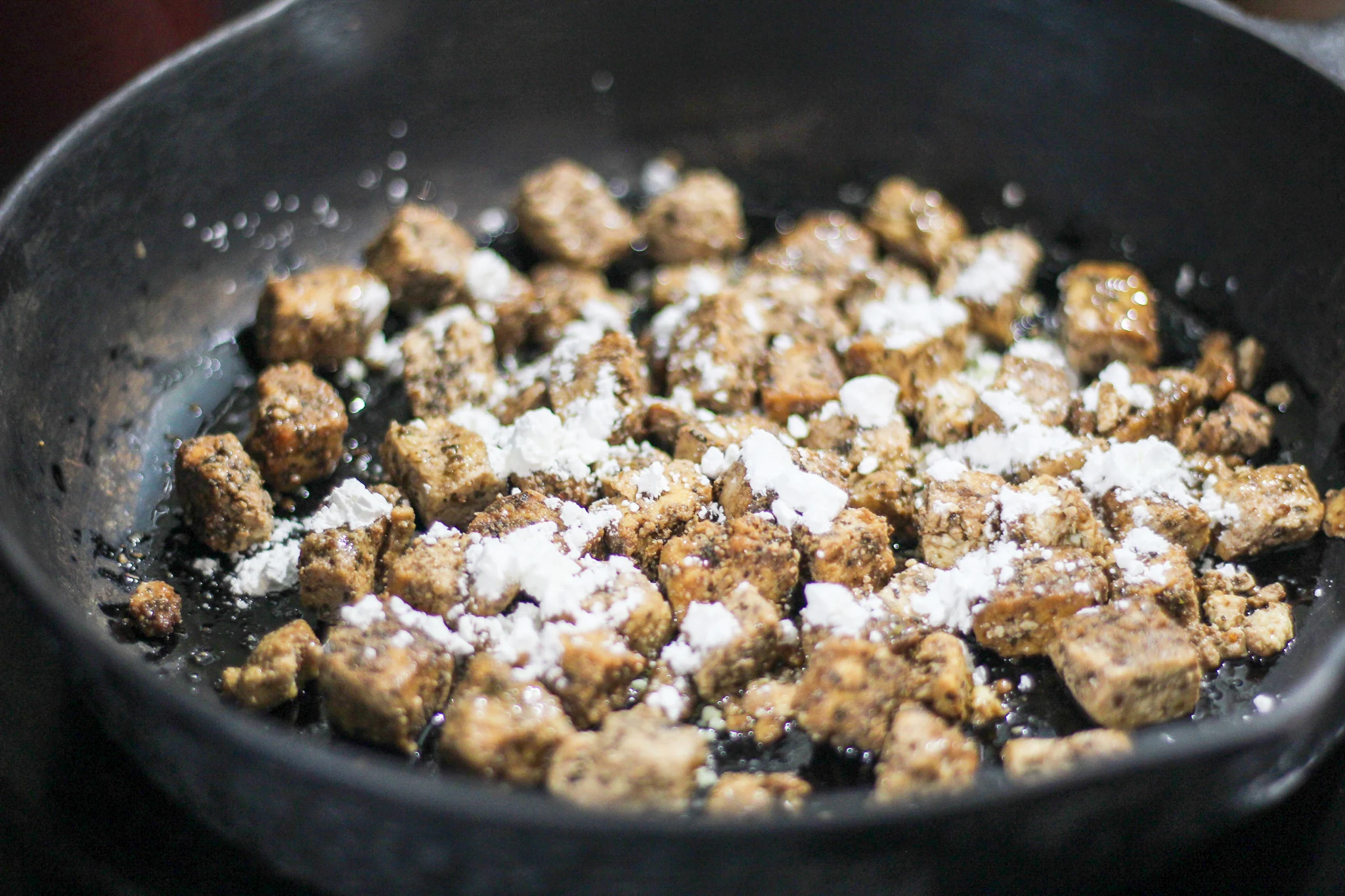 Toss together and cook over medium high heat for 5 minutes to crisp the cornstarch on the outside.
Once it is crispy, remove from the pan and set it aside.
Make the Cucumber Tomato Topping
You can make a delicious topping that is so fresh and bright for your tofu tacos. I mix together in a bowl 1 mini cucumber diced, 1 tomato diced, 1 lime zested and juiced, 1 teaspoon of salt, and 1 teaspoon of fresh minced cilantro.
Mix together and set it aside.
Lime Slaw
Then, for an extra layer of crunch, mix together 1/2 cup of coleslaw mix and 1 lime zested and juiced in a bowl. Top your tacos with the slaw and the cucumber tomato mixture for the perfect tofu taco.
Serve tacos on toasted corn tortillas for the perfect tofu taco bite!
You don't have to be a genius to have a plant based diet. And — if you are like me — I don't always eat healthy. I have a good balance of healthy meals and indulgent Southern recipes as well.
But, when I want to be good, I turn to recipes like this to help me have a better dinner recipe.
I Can't Find the Plantspired Line in My Stores!
If you cannot find the Plantspired line in your grocery store, here is how you can make this same dish with just plain tofu!
Grab a block of extra firm tofu. Remove it from the package and place it between two paper towels and place on a baking sheet.
Take a heavy pan and place on top to push the rest of the liquid out of the tofu. Do this for 30 minutes.
Now, take the tofu and chop up into cubes. Toss with 1 tablespoon of cornstarch, 1/2 teaspoon of onion powder, 1/2 teaspoon of garlic powder, 1/2 teaspoon of dried basil, and 1/2 teaspoon of dried oregano.
Make sure to coat all the sides of the tofu with the cornstarch mix.
Then follow the directions above! That's it. You will have the most amazing crispy tofu tacos ever.
Check out these other taco recipes
Yield: 4 tacos
Crispy Garlic and Herb Tofu Tacos
If you are not a fan of tofu, don't rule it out just yet! Check out this recipe for the best tacos you will make.
Ingredients
1 package of Nasoya Garlic and Herb Toss'ables Tofu Bites
1 tablespoon of cornstarch
1 tablespoon of olive oil
For the Cucumber Watermelon topping
1 mini cucumber
1 tomato
1 lime
1 teaspoon of salt
1 teaspoon of cilantro
For the Lime Slaw
1/2 cup of coleslaw mix
1 lime
Instructions
Remove tofu from the package and toss with 1 tablespoon of cornstarch.
Preheat the stove to medium heat. In a skillet, add in olive oil and cook the tofu until crisp, about 5-7 minutes.
Dice up the mini cucumber and the tomato. Place in a bowl. Zest the lime and then add the zest and all of the juice. Chop up the cilantro and add the salt. Combine well and set aside.
In another bowl, add the coleslaw mix and the juice of the lime. Mix well and set aside.
Toast up your corn tortilla shells. Top with the crispy tofu bites as well as the slaw and tomato mix.
Nutrition Information:
Yield:
6
Serving Size:
1
Amount Per Serving:
Calories:

80
Total Fat:

5g
Saturated Fat:

1g
Trans Fat:

0g
Unsaturated Fat:

4g
Cholesterol:

1mg
Sodium:

396mg
Carbohydrates:

7g
Fiber:

2g
Sugar:

3g
Protein:

2g