These sweet potato tacos are perfect for when you want to eat a meatless meal.
For the last few months, I have been working hard at changing my lifestyle from heavy decadent foods to ones that are more heart-healthy and better for me in the long run.
I created these delicious tacos with that in mind and have been craving them ever since!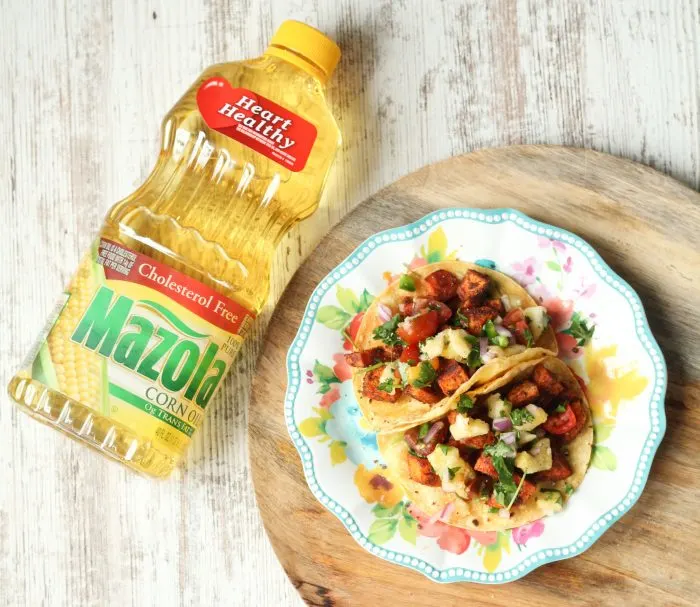 I mean, I have 50 pounds to lose this year and I am not going to do it by eating slice after slice of cake and tons of fried chicken, right?
That is how I came up with my favorite new way to eat tacos — my sweet potato tacos with pineapple pico de gallo. They are to die for!
When I created this recipe to help celebrate heart health month, I wasn't for sure they were going to taste like a great taco, but these roasted sweet potatoes topped with a taco seasoning mix hit the nail on the head.
The sweet potatoes are tossed with a bit of Mazola Corn Oil and the taco spices before roasting in the oven.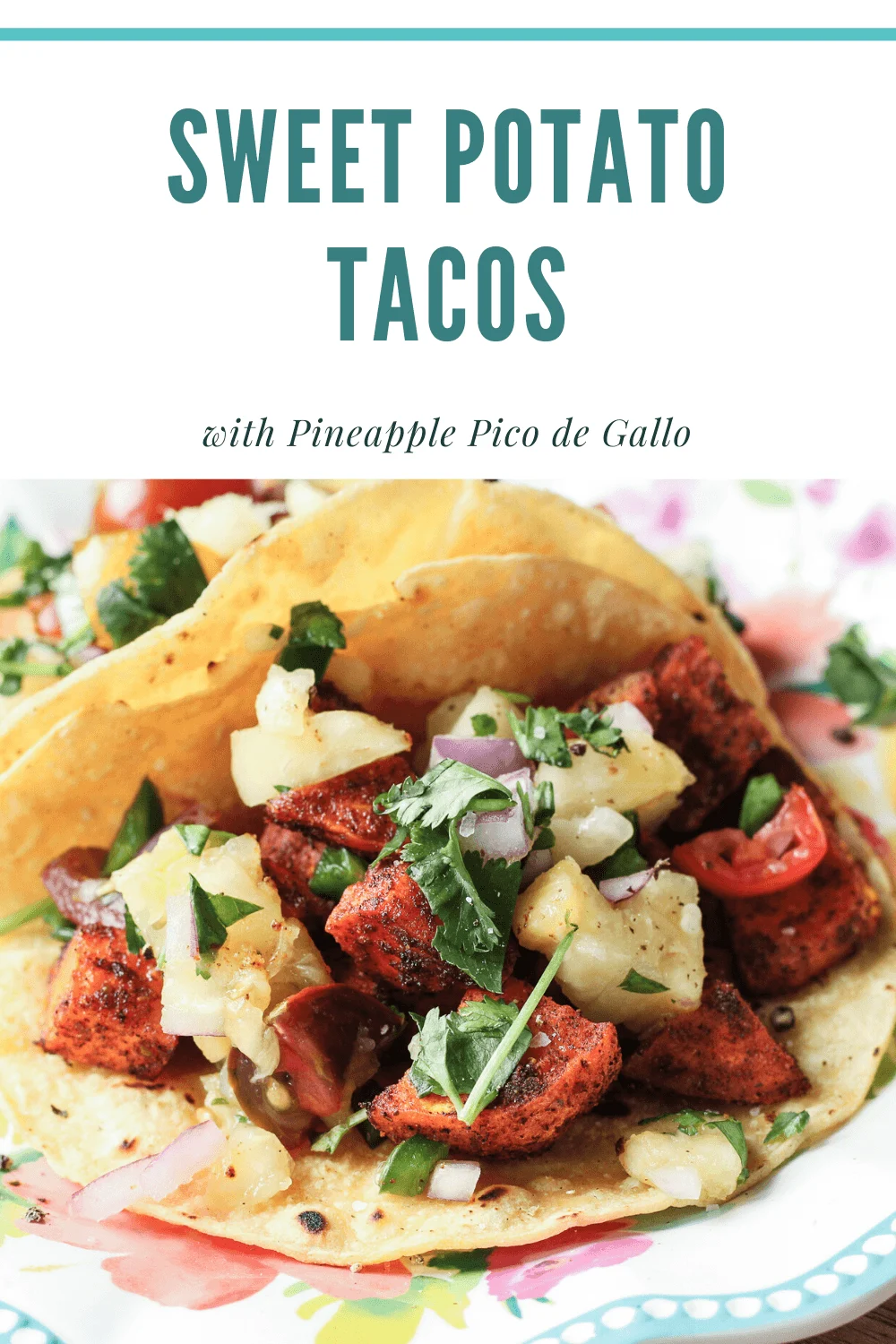 How to Make Sweet Potato Tacos
To make these sweet potato tacos, the first thing you will need to do is peel and chop your sweet potatoes and toss them in a bowl.
Next, drizzle on the oil (about two tablespoons) and the taco-inspired seasoning. Then, with your hands (because those are the best tools a chef can have right?) toss to coat all the sweet potato pieces.
Once you do this, place a piece of parchment paper on a baking sheet and pour the potatoes out in a single layer on the baking sheet.
Bake at 425 degrees for 20 minutes, making sure to flip the potatoes halfway through the baking process.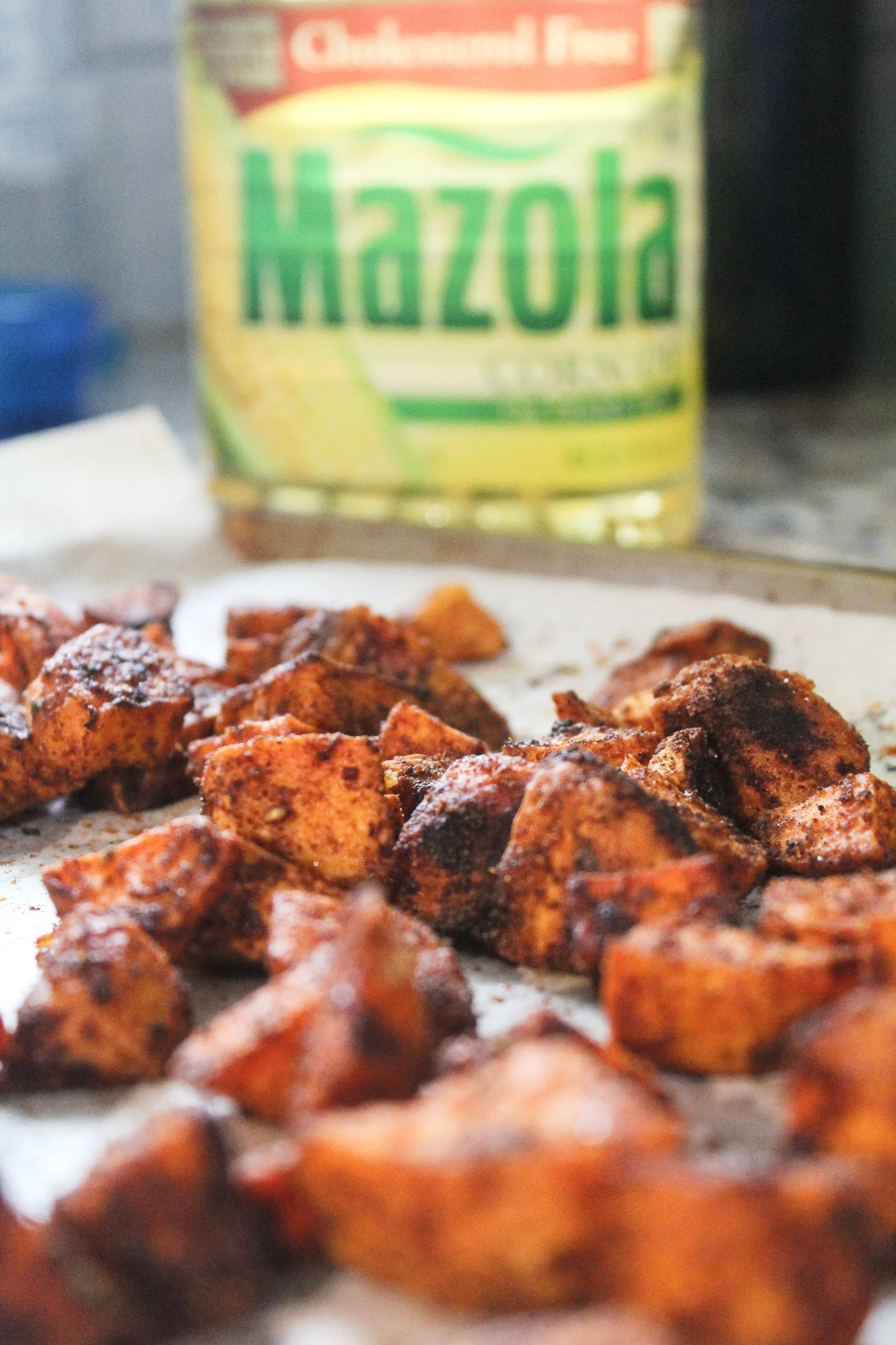 When they come out, they will be all crispy from cooking them at a higher heat. You can lower the heat if you want. Just be sure to cook them longer to achieve the same effect.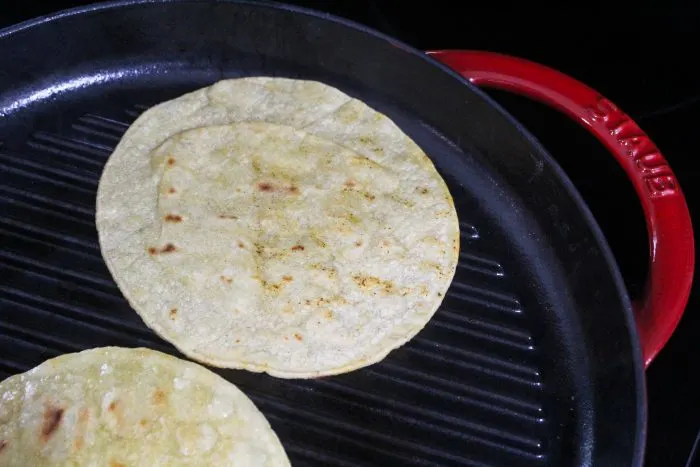 Once you get the sweet potatoes done, set them aside and grab some corn tortillas, and heat a grill pan over medium-high heat. Brown each side to your doneness consistency. Some people like a real flimsy shell, but for me, I like it toasted enough that it has a crunch to it.
Now, fill your tortillas with the sweet potato mixture. I like a well-filled taco so I add extra to mine.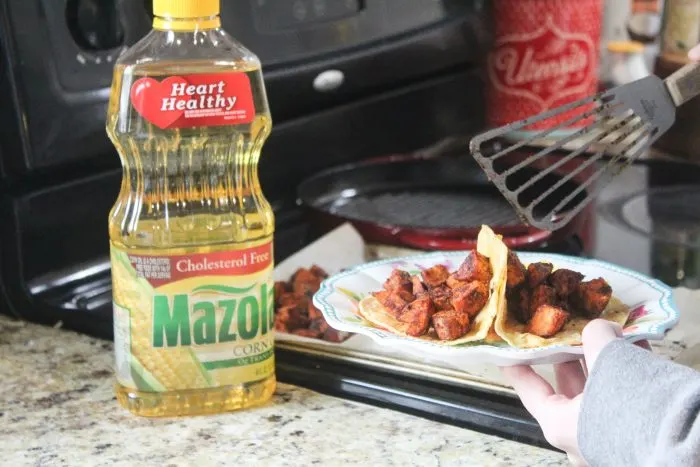 To Make the Pineapple Pico de Gallo
To make the pineapple pico de gallo, use equal parts finely diced pineapple, tomato, red onion, jalapeno peppers, and cilantro.
Sprinkle in some salt and then add the final component to the dish — lime juice! Make sure that your one lime has plenty of juice and squeeze it right into the bowl and then mix together.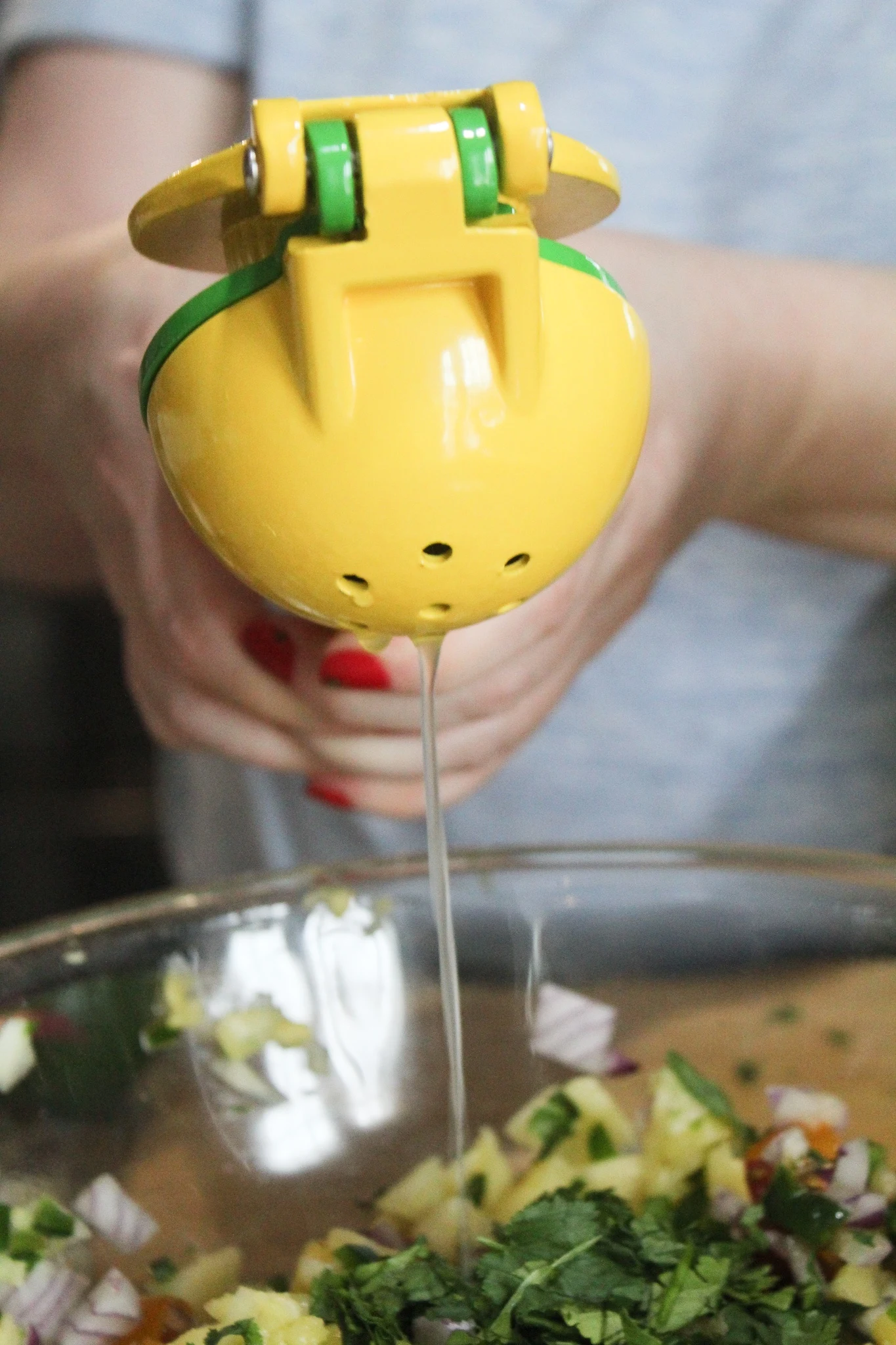 Now, you can take this delicious mixture and place it right on top of your sweet potato tacos for the ultimate bite of delicious taco flavor.
If you notice in this recipe, there are no creams, no butter, no olive oil. That makes them super good for you! Another great recipe that is super good for you is my Spaghetti Squash Taco Boats.
These tacos are the perfect lunch or dinner for anyone looking to better their health. Sweet potatoes are considered a superfood and for good reason — they are chock-full of disease-preventing, cancer-fighting, and immune-boosting benefits.
They are also good sources of anti-inflammatory nutrients, vitamins A and C, making them an excellent food choice for those suffering from arthritis or asthma.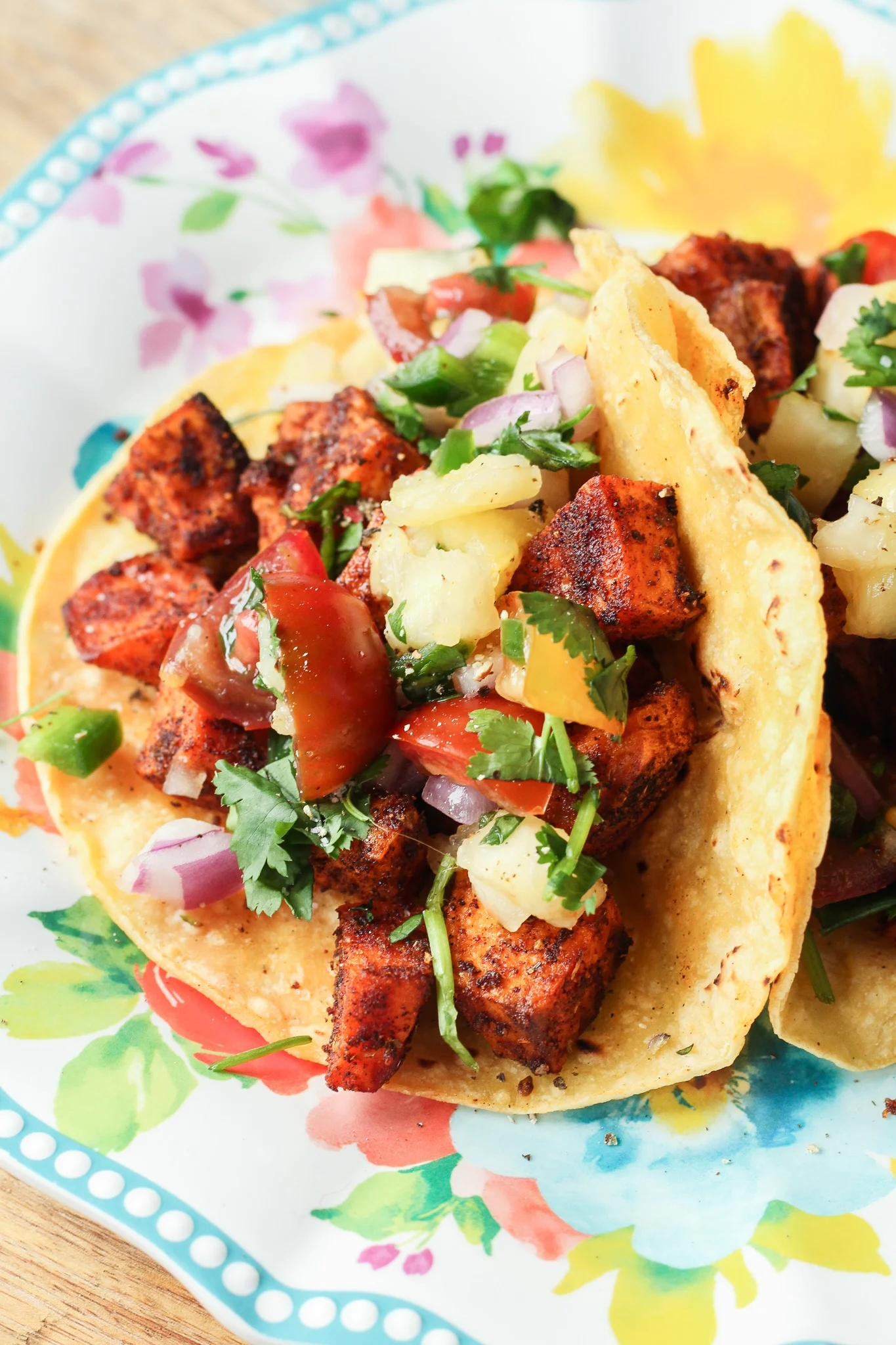 Looking for other healthy recipes? Check these out
Taco About It

We share Recipes From Our Dinner Table! Join our group and share your recipes, too! While you're at it, join our Pinterest board, too!
Yield: 8 tacos
Sweet Potato Tacos with Pineapple Pico de Gallo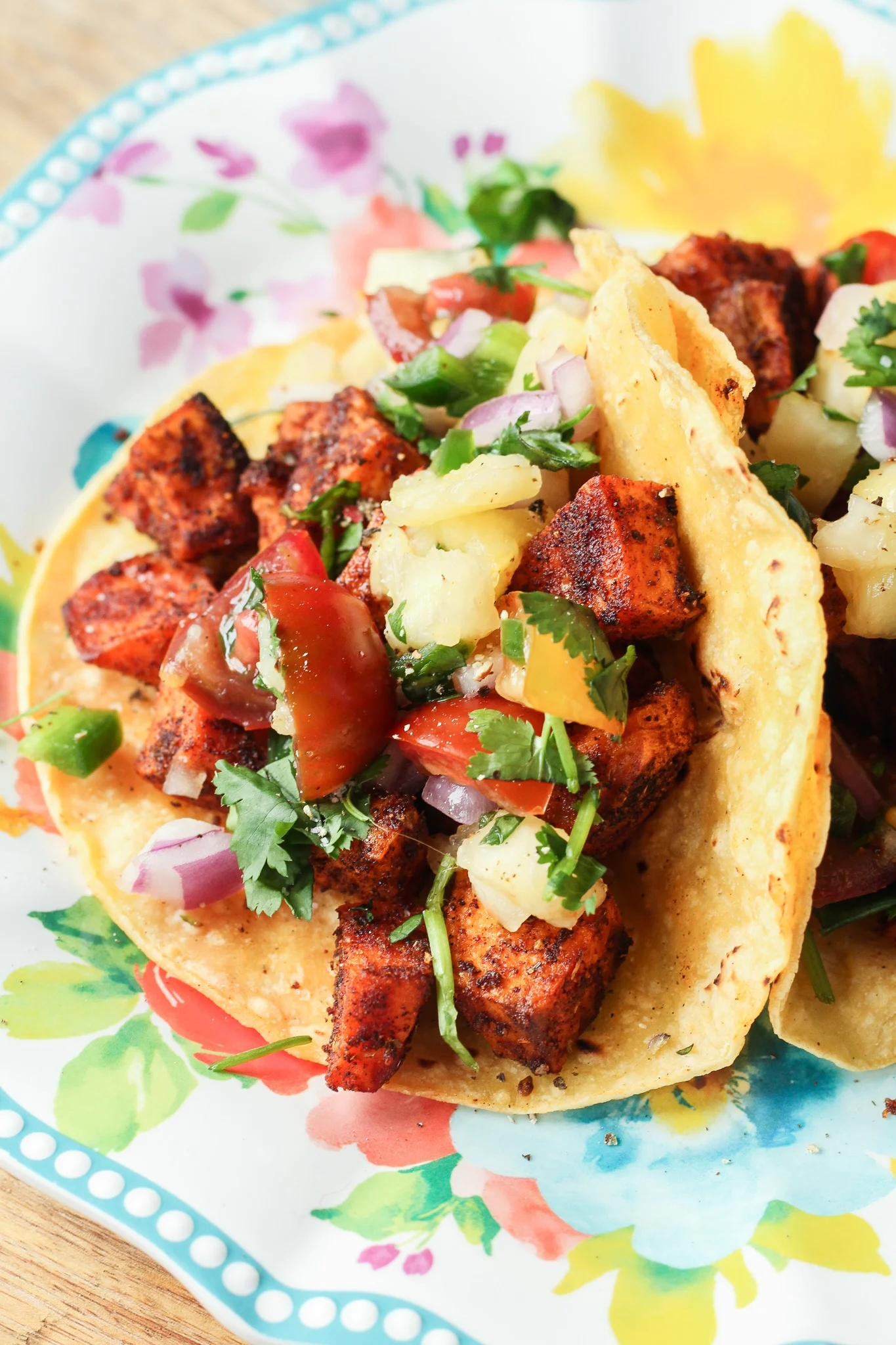 These sweet potato tacos are full of scrumptious flavor and you won't even miss the ground beef!
Ingredients
For the Sweet Potato Tacos
1 tablespoon of chili powder
1/4 teaspoon garlic powder
1/4 teaspoon onion powder
1/4 teaspoon of dried oregano
1/2 teaspoon of paprika
1 1/2 teaspoon of cumin
2 large sweet potatoes, peeled and chunked
2 tablespoons of Mazola Corn Oil
corn tortillas
For the Pineapple Pico de Gallo
1/4 cup of diced tomato
1/4 cup of diced pineapple
1/4 cup of diced red onion
1/4 cup of minced jalapeno, de-seeded
1/4 cup of chopped cilantro
Juice of one lime
salt
Instructions
For the Sweet Potato Tacos
Heat the oven to 425 degrees.
Combine all the seasoning mixture and set it aside-- chili powder, garlic powder, oregano, onion powder, paprika, and cumin.
Peel and chunk the sweet potatoes and place them in a bowl.
Toss with Mazola Corn Oil and the seasoning mixture until well coated.
On a parchment-lined baking sheet, pour the potatoes out in a single layer.
Bake for 10 minutes. Then, pull out of the oven and flip and then bake for another 10-15 minutes until the sweet potatoes are fork-tender (meaning when you pierce with a fork they are soft).
Meanwhile, make the pineapple pic de Gallo by combining all ingredients in a bowl and tossing together. Set aside.
On a grill pan or skillet, place corn tortillas in it and toast until they are golden brown.
Fill tortillas with sweet potatoes and then top with the pineapple pico de gallo. Enjoy your tacos! They are delicious!
Nutrition Information:
Yield:
8
Serving Size:
1
Amount Per Serving:
Calories:

91
Total Fat:

4g
Saturated Fat:

1g
Trans Fat:

0g
Unsaturated Fat:

3g
Cholesterol:

0mg
Sodium:

121mg
Carbohydrates:

14g
Fiber:

3g
Sugar:

4g
Protein:

2g
​