One thing that I have come to love eating is shrimp. I used to hate it and couldn't even stand the smell, but the older I get, the more I love seafood and shrimp is like chicken — you can add it to anything and it tastes good.
This week for the 15 Minute Supper dish, I decided to share my recipe for Shrimp Tacos. They are super delicious and are quick and easy to make.
You can pare this with my homemade pico de gallo, guacamole, cilantro lime rice, and chips and salsa and you will have yourself a well rounded Mexican fiesta!
Quick and Easy 15 Minute Shrimp Tacos #15minutesuppers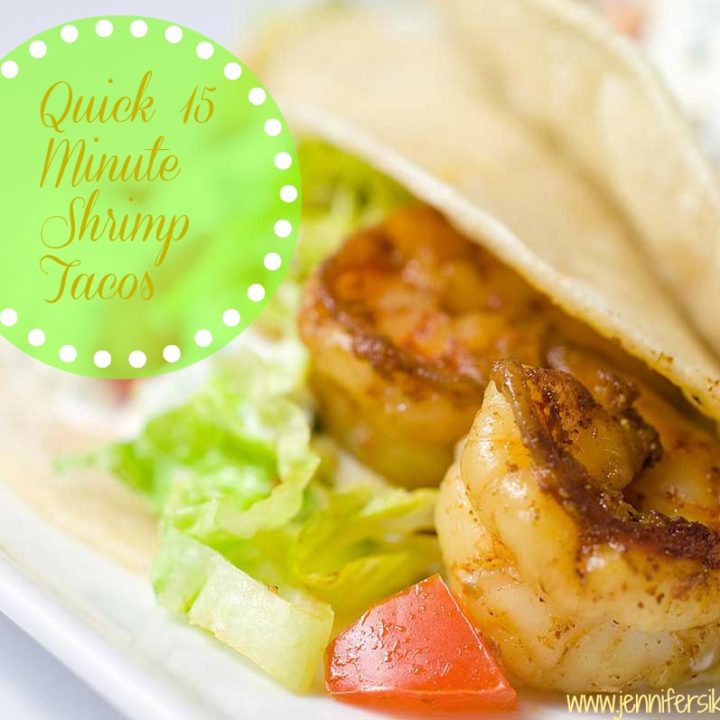 Ingredients
20 medium shrimp, peeled & deveined
1 clove garlic, minced
1/2 tsp. ground cumin
1/2 tsp. chili powder
1/4 tsp. salt
1/4 tsp. cayenne pepper
1 T. olive oil
4 corn tortillas or you can use taco shells
oil for frying
shredded lettuce
diced tomatoes
sliced avocado
Instructions
In a bowl, whisk together 1 T. oil, garlic, ground cumin, chili powder, salt and cayenne pepper. Add in shrimp and toss to coat completely. Place in the refrigerator for about 10 minutes to let the flavors merry a bit.
Cook shrimp in skillet with all of the marinade on medium heat until pink and cooked through, about 5 minutes.
Lightly coat small pan with oil over low-medium heat. Warm tortillas until soft.
Spoon 5 shrimp onto each tortilla, top with lettuce, tomato, avocado, pico de gallo -- the possibilities are endless.
What is your favorite taco recipe?
Need more quick suppers? Check out these other great #15MinuteSuppers!
Follow 15 Minute Suppers on Facebook | Twitter | Instagram | Pinterest
and look for the #15MinuteSuppers hashtag too!
Oriental Style Stir Fried Spaghetti with Bacon from Food 4 Little Ones
Creamy Garlic Pasta from Better in Bulk
Creamy Coconut Shrimp from Around My Family Table
Quick 15 Minute Shrimp Tacos from Jen's Journey
Shrimp Fajita Rice Bowl from Turning the Clock Back
Pasta with Bacon and Brussels Sprouts from Suburbia Unwrapped
Head over to our #15MinuteSuppers Pinterest Board to see all the past recipes and more delicious goodness!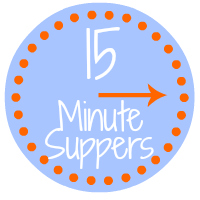 Would you like to join us at #15MinuteSuppers? We'd love to have you! Please check out the 15 Minute Suppers website or ask to join the Facebook group (for bloggers) to participate on Fridays…we'd love to have you join us.