Tonight, I made a few new dishes for our Chinese meal. Homemade sweet-n-sour sauce, coconut chicken, and this delicious, "tastes just like takeout" Crockpot Beef and Broccoli.
Looking for more easy recipes? Check out my huge database of delicious, homemade goodies.
I am telling you, when I first saw this recipe on
BS Recipes
, I was like — NO WAY! Every single
beef
and broccoli recipe I have ever tried just did not even taste right.
This one is spot on
(as Chef Ramsey would say) 🙂 I cooked it just like she said to. The only change I made was using olive oil in place of sesame oil. It still turned out delicious.
I will tell you that when you go to the store to look for Beef Consumme, go directly to the Campbell's soup aisle. I walked aisle after aisle before Googling it on my phone and finding it. I will save you the trouble and just tell you where to get it!
My daughter would not keep her fork out of the crockpot. I kept telling her to wait for supper but she said she was starving.
Next time, I am going to add slivered carrots and red pepper strips to it I think.
Crockpot Beef and Broccoli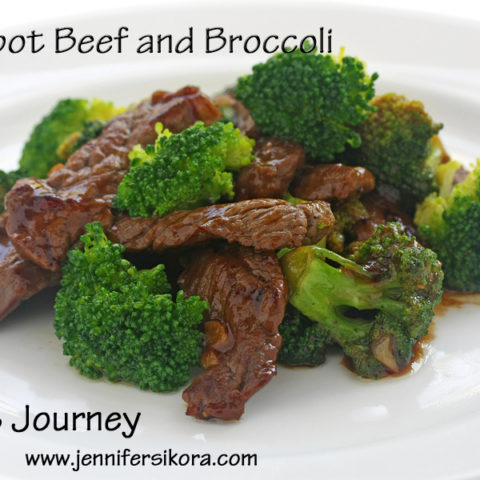 You will never want take out again after making this delicious Crockpot Beef and Broccoli
Ingredients
1 pound boneless beef chuck roast, sliced into thin strips
1 cup beef consumme
1/2 cup soy sauce
1/3 cup brown sugar
1 tablespoon olive oil
3 garlic cloves, minced
****Put the following ingredients in after the first cook time of 6-8 hours***
2 tablespoons cornstarch
2 tablespoons sauce from the crock pot after being cooked
Fresh broccoli florets, as many as desired
Hot cooked rice
Instructions
In a small bowl, combine consomme, soy sauce, brown sugar, oil, and garlic. Pour over beef. Cook on low for 6-8 hours.
At the end of your cook time, stir cornstarch and sauce in a cup until combined and then pour in the crockpot with the beef and sauce.
Mix it together until smooth.
Add broccoli to the crock pot. Stir to combine. (also add any other veggies at this time as well)
Cover and cook an additional 30 minutes on high.
Serve over hot cooked rice.
This post is participating in these hops: Tempt My Tummy Tuesdays
Tuesdays at the Table
Tasty Tuesday
Slightly Indulgent Tuesday
Hearth and Soul Hop
Tasty Tuesday Link Party
This Week's Cravings
Delicious Dishes
Totally Tasty Tuesday
Try a New Recipe Tuesday
Kids in the Kitchen