Want a different take on an amazing Chinese takeout dish? This Chinese Lemon Chicken is one of the best dishes I have made when it comes to making great takeout dishes.
The best part? It takes no time to make this simple chicken dinner.
This past week since we have been stuck at home, I am all about recreating my favorite restaurant dishes.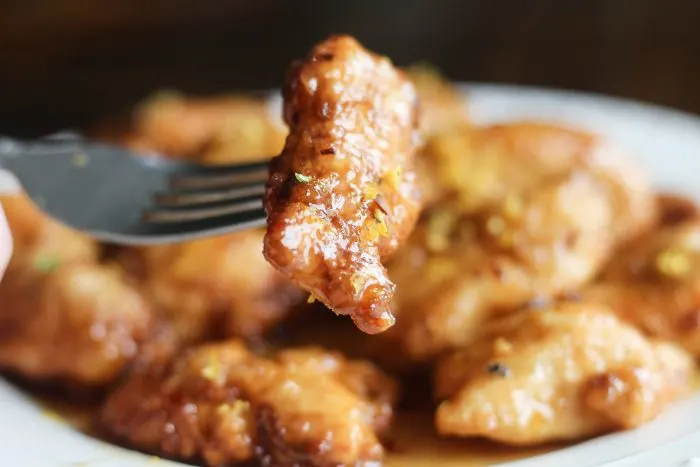 If you have been around here for any length of time, you know I love to make delicious takeout dishes right in my own kitchen.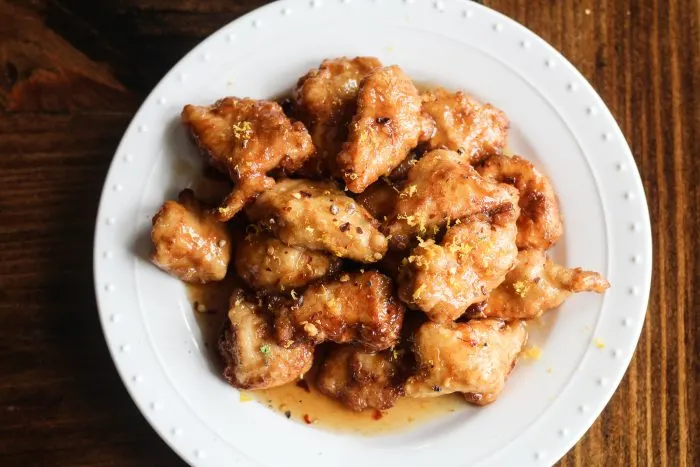 One of my most popular recipes is this Mongolian Ground Beef Noodles recipe. Another great recipe you can make is my quick 15 Minute Beef and Broccoli recipe.
For this recipe, I wanted something similar to Orange Chicken — which I am not a big fan of, so when I discovered you could make Chinese Lemon Chicken, I was all in for this recipe.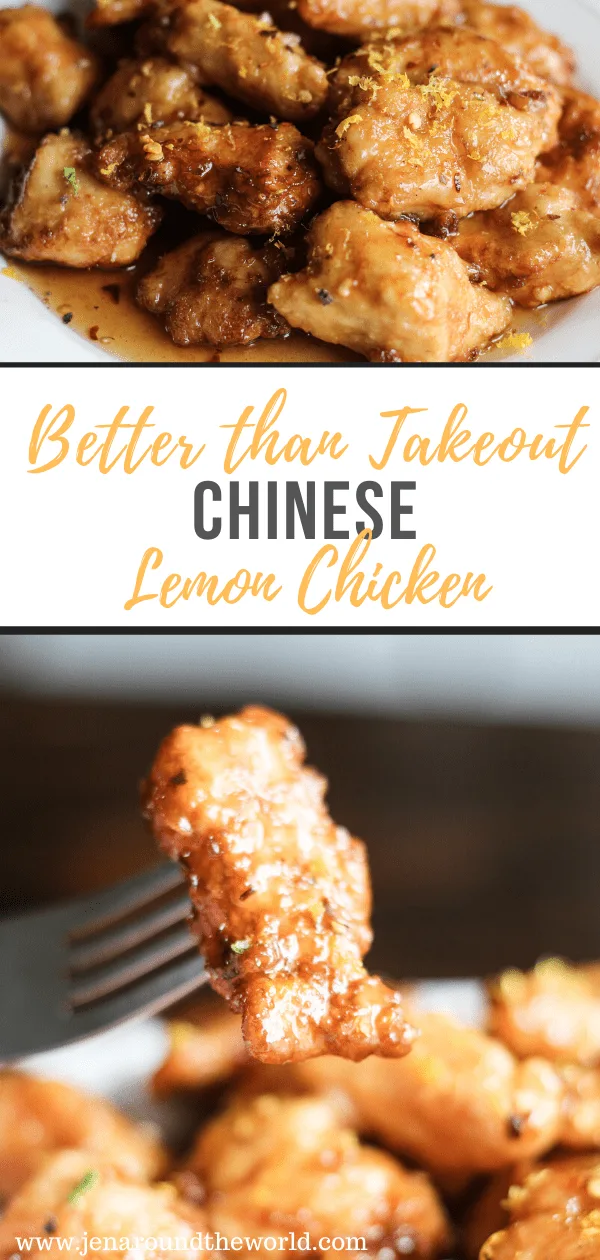 How to Make Chinese Lemon Chicken
This chicken dish starts just like my General Tso Chicken or my Baked Sweet and Sour Chicken. The chicken is diced and then coated in a flour/cornstarch mixture and then dipped in eggs.
The chicken is fried until golden brown, but not done all the way. I transfer all the chicken to a dish and then top with the sticky lemon sauce. Of course, you can make this same dish but instead of a lemon sauce, you can make your own homemade sweet and sour sauce.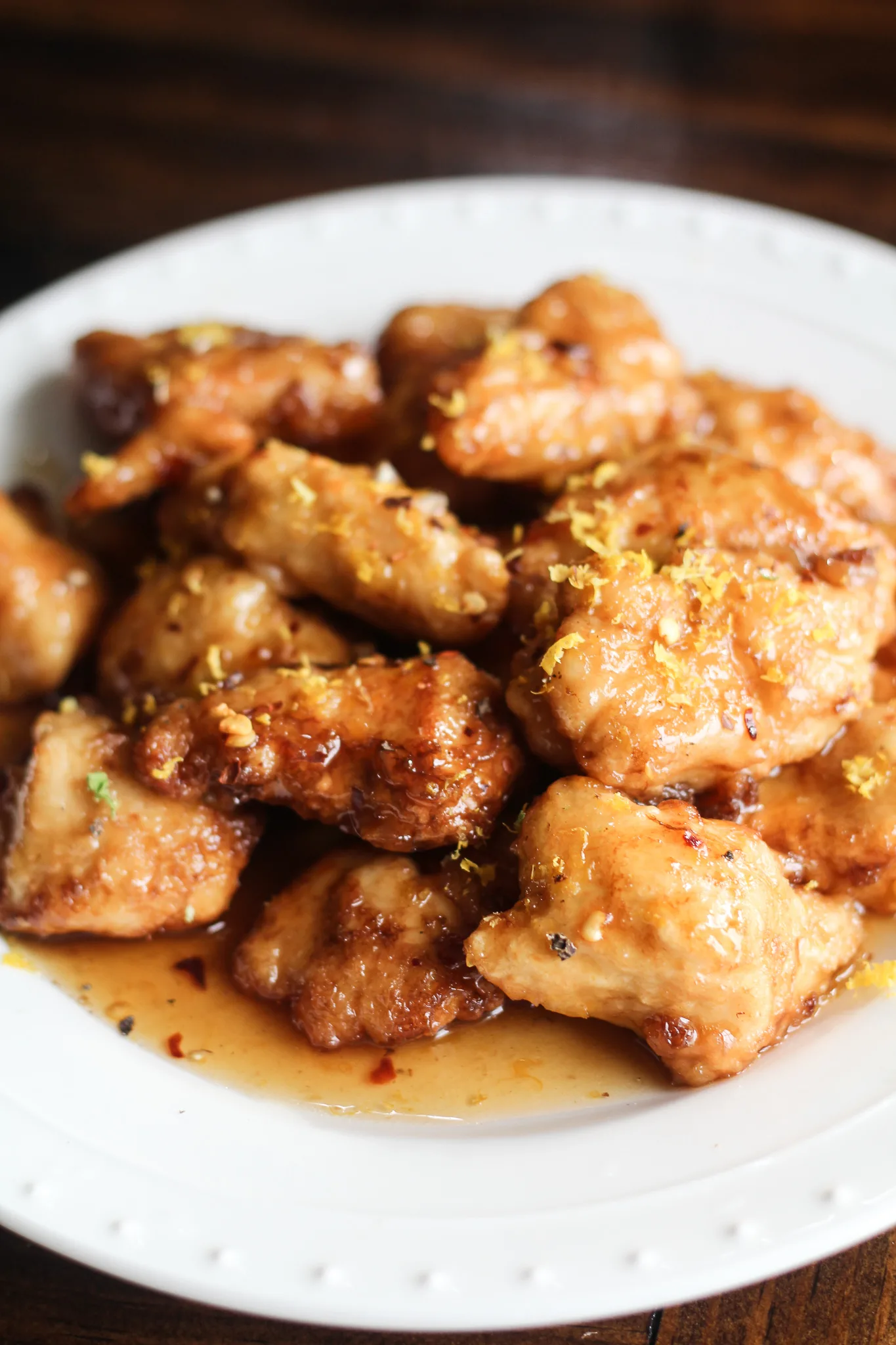 Then I finish baking it in the oven until the chicken is done on the inside, about 20 minutes.
I then remove it from the oven and after tossing it in the sauce and plate it up.
As the chicken cools, the sauce thickens for the perfect bite of lemon flavor. If lemon is your thing, be sure and check out these amazing Pioneer Woman Lemon Bars for the perfect dessert.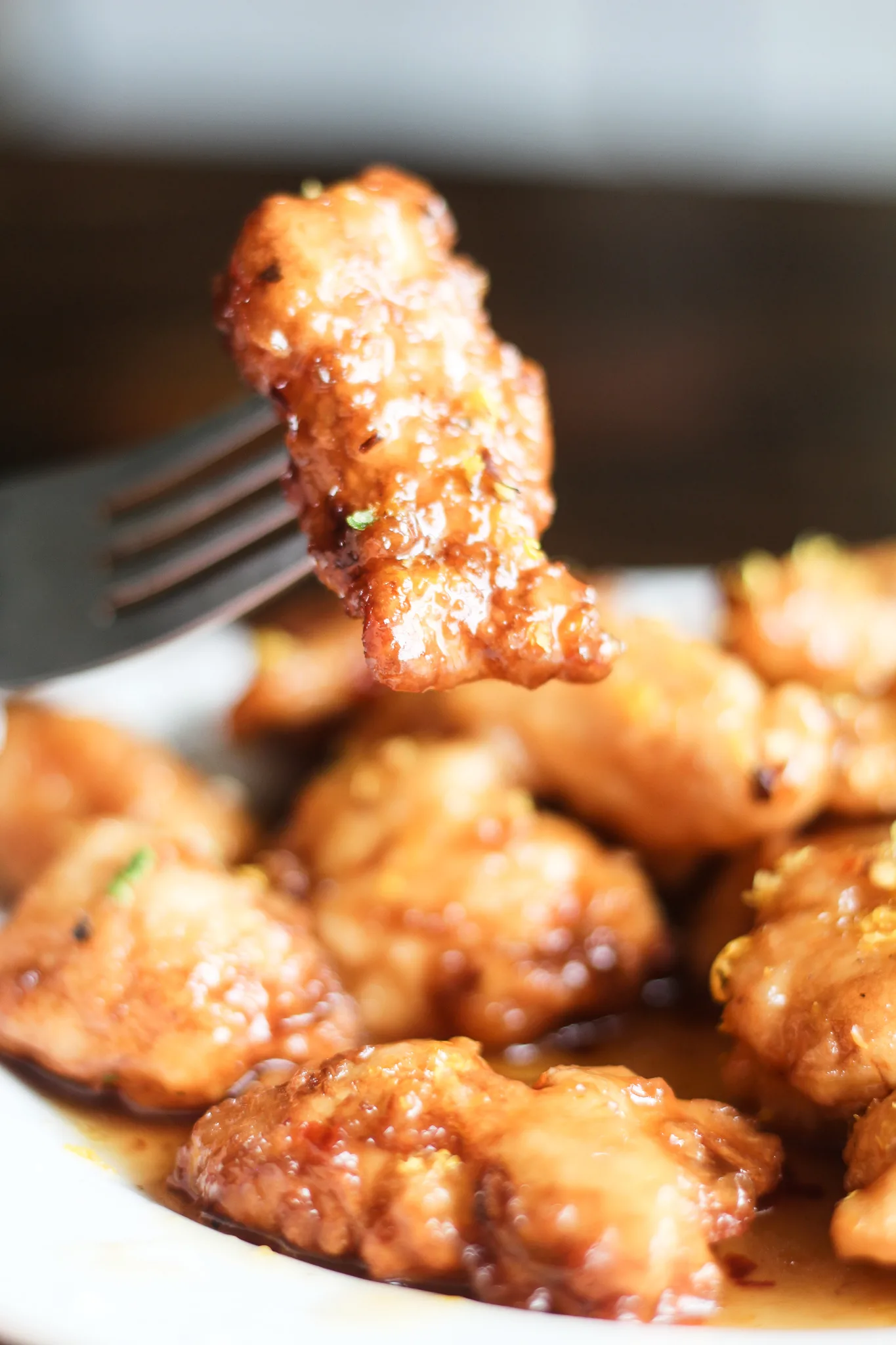 This Chinese Lemon Chicken would be great served with a side of homemade egg rolls or these easy Chinese Sweet Biscuits.
You could even make your own homemade fortune cookies or these Fried Cream Cheese Wontons.
We like to make our meals fun and serve them in these takeout boxes from Amazon. I am even buying a set of these awesome lightsaber chopsticks.
Yield: 6 servings
Chinese Lemon Chicken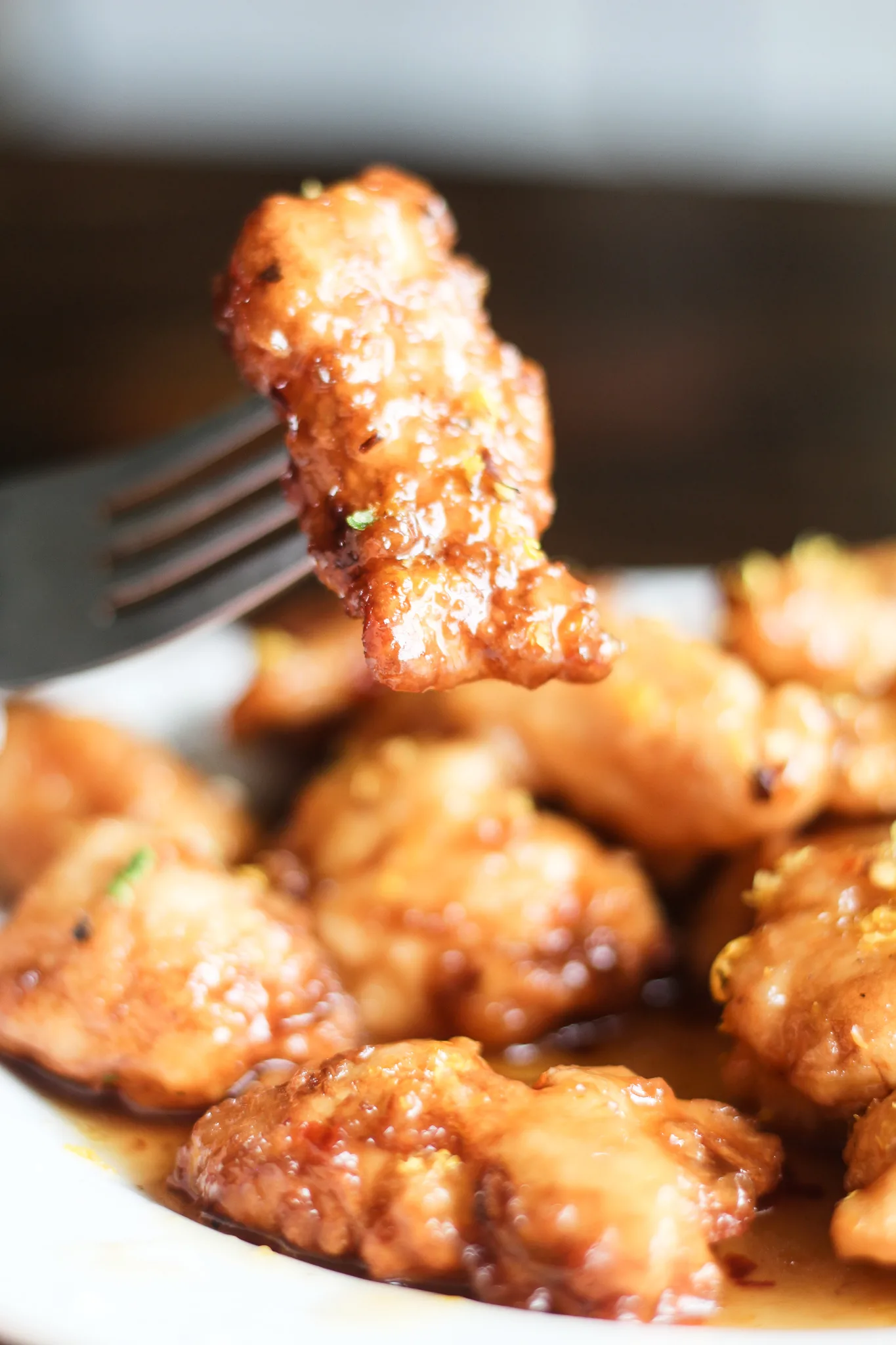 This is one of the best takeout chicken recipes you will make.
Ingredients
For the chicken
(4) Boneless Skinless Chicken Breasts (cut into bite-size pieces)
3 large Eggs
1/3 cup Cornstarch
1/3 cup Flour
Salt
For the Lemon Sauce:
1/2 cup Freshly Squeezed Lemon Juice (from about 2-3 lemons)
2/3 cup Sugar
1 Tablespoon Vinegar
2 Tablespoons Soy Sauce
1/4 teaspoon Ginger Powder
1/4 teaspoon Garlic Powder
1/2 teaspoon Red Pepper Flakes
1 Lemon Zest (from one lemon)
1 Tablespoon Cornstarch
Instructions
Preheat the oven to 350 degrees.
To make Lemon Sauce: In a medium pot, add lemon juice, sugar, vinegar, soy sauce, ginger, garlic, and red chili flakes. Heat for 3 minutes.
In a small bowl, whisk 1 Tablespoon of cornstarch with 2 Tablespoons of water to form a paste. Add to lemon sauce and whisk together. Continue to cook for 5 minutes, until the mixture begins to thicken. Once the sauce is thickened, remove from heat and add lemon zest.
To make Chicken:
Place flour and cornstarch in a shallow dish or pie plate. Add a pinch of salt. Stir.
Whisk eggs in a shallow dish.
Dip chicken pieces in the four mixture and then into the egg mixture.
Heat 2 -3 inches of oil in a frying pan over medium-high heat.
Working in batches, cook several chicken pieces at a time. Cook for 2 - 3 minutes, until golden brown on both sides
Remove to a baking dish. Bake in the oven for 20 minutes on 350 degrees.
Toss chicken with lemon sauce. Serve with green onions, toasted sesame seeds, and remaining lemon zest.
Nutrition Information:
Yield:
8
Serving Size:
1
Amount Per Serving:
Calories:

165
Total Fat:

2g
Saturated Fat:

1g
Trans Fat:

0g
Unsaturated Fat:

1g
Cholesterol:

83mg
Sodium:

334mg
Carbohydrates:

28g
Fiber:

0g
Sugar:

17g
Protein:

8g