I love filling my house with the aroma of cooking a homemade Chinese meal. My daughter and I love creating our favorite restaurant style foods right in the comfort of our kitchen. The day I discovered this recipe for Baked Sweet and Sour Chicken, I knew it would be one that I put in our KEEP recipe book forever.
Baked Sweet and Sour Chicken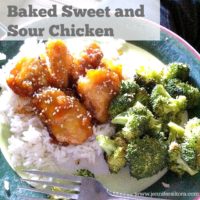 Ingredients
3-4 boneless, skinless chicken breasts
Salt and pepper to taste
1½ cup cornstarch
3 eggs, beaten
¼ cup canola oil
1 cup granulated sugar
4 tablespoons ketchup
¼ cup white vinegar
¼ cup apple cider vinegar
1 tablespoon low sodium soy sauce
1 teaspoon garlic salt
Instructions
Preheat your oven to 350 degrees.
Take your chicken and cut it up into 1-2" pieces and then season with salt and pepper.
In separate bowls, place cornstarch and slightly beaten eggs. Dip chicken into cornstarch then coat in egg mixture.
(I first thought this was crazy, because you normally dip into egg and then cornstarch, but do it the way it is saying. It will puff up like a tempura batter)
Heat the oil in a large skillet over medium-high heat and cook chicken until browned. It will not take that long at all, so watch your pieces carefully.
Place the chicken in a 9 x 13 greased baking dish.
In a medium sized mixing bowl, combine sugar, ketchup, apple cider vinegar, white vinegar, soy sauce, and garlic salt. Pour over chicken. Stir to coat the chicken pieces and then bake for 1 hour. Be sure to stir the chicken every 20 minutes or so to coat the chicken.
Once your chicken comes out, spoon it over hot rice and sprinkle on toasted sesame seeds.
Of course, when I make this dish, I try to pair it with my roasted broccoli, sweet biscuits, and of course — homemade rice.
Do you have any favorite chinese dishes you recreate at home?