My dark chocolate Pumpkin Cheesecake Brownies recipe has been submitted for the Steviva Blogger recipe challenge. Products received in exchange for posting this recipe.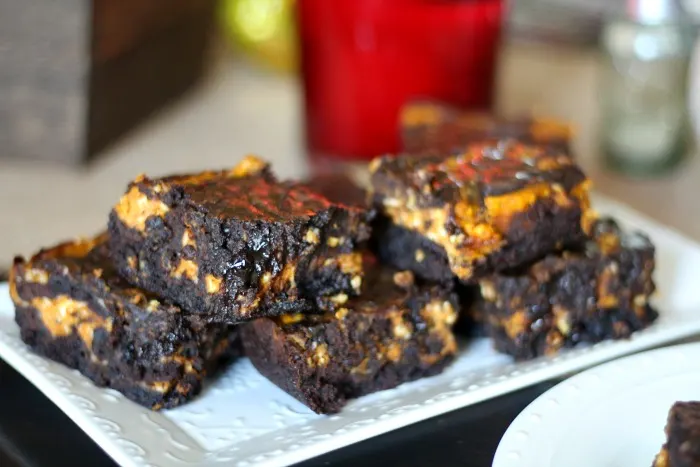 I love discovering new products to use in my baking recipes. Since fall is upon us, I thought I would share a brand new recipe with you that I made featuring Steviva. These brownies are filled with intense dark chocolate, creamy pumpkin swirled throughout and the sweet taste of Steviva Blend — a healthier alternative to sugar.
Making these is super simple. All you need is a boxed brownie mix (or you can make your own), pumpkin puree, cream cheese, and the Steviva Blend as well as a few pantry ingredients. The original recipe calls for 3 tablespoons of sugar, but I used the Steviva Blend and was able to cut the sugar intake in half!
Start by mixing together the cream cheese, pumpkin puree, egg, cinnamon, Steviva, and nutmeg.
After you mix all of that together, set it aside. Now, you are going to make your boxed brownie mix according to the directions. I used dark chocolate because I thought it would pair really well with the pumpkin cheesecake flavor.
In a 9″ square pan, spray it with cooking spray and spread 3.4 of your brownie batter in the bottom of the pan.
Now, take your pumpkin layer and put it on top and spread it evenly.
Take the remaining brownie batter and spread on top. Then take a knife and run through the batter several times to give it a marbled effect.
Bake in a 350 degree oven for 45 minutes or until brownies are set. Remove from the oven and let it cool completely. Then, cut into squares and enjoy each dark chocolate pumpkin flavored bite.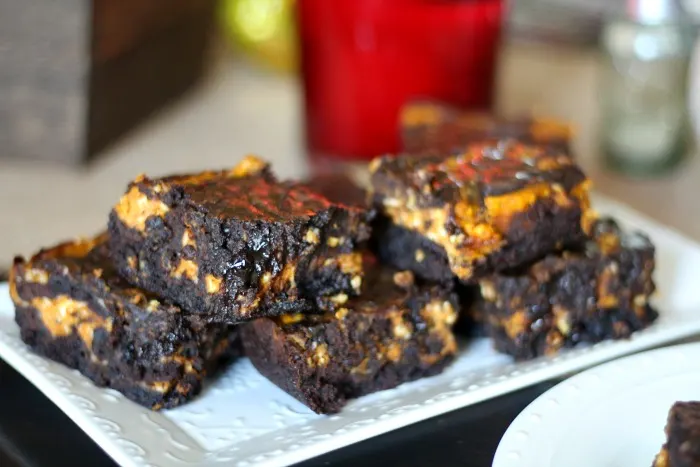 Dark Chocolate Pumpkin Cheesecake Brownies
Ingredients
Pumpkin Cream Cheese Filling
1 package, 3 oz cream cheese, softened
1/2 cup canned pumpkin, not pumpkin pie mix
1 egg
1 1/2 tablespoons Steviva Blend
1 teaspoon ground cinnamon
1/4 teaspoon ground nutmeg
Brownies
1 box of your favorite brownie box mix
Instructions
Heat oven to 350°F (325°F for dark or nonstick pan). Grease bottom only of 9-inch square pan with cooking spray. In small bowl, beat all filling ingredients with electric mixer on low speed until smooth. Set aside.
Make brownie batter as directed on box. Spoon filling by tablespoonfuls evenly over batter. Spoon remaining brownie batter over filling. Cut through batter several times with knife for marbled design.
Bake 40 to 45 minutes or until toothpick inserted 1 inch from side of pan comes out almost clean. Cool completely. Cut into 4 rows by 4 rows. Store covered in refrigerator.
To learn more about Steviva products, click the links below