This easy recipe for making Homemade Vanilla Extract needs to be your next experiment in the kitchen. You will not believe how easy it is to make your own vanilla extract from scratch.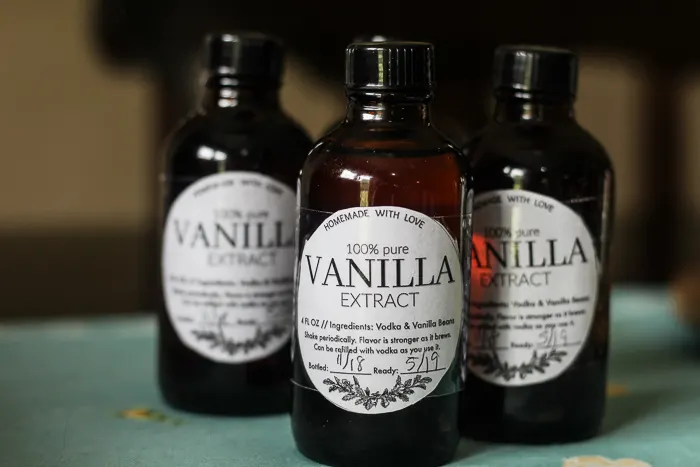 If you don't know a lot about me or my daughter, let me be the first to tell you that we LOVE baking sweet treats around here. Because of that, we use a lot of vanilla extract in our baked goods (like this chocolate molten lava cake) and it can get quite expensive.
When my kids were younger and I had just started out making homemade goodies, I used to buy imitation vanilla from the grocery store. I mean, you could get a bottle for $1 at the Dollar Store so it was an amazing bargain, right? WRONG!
It was always okay until the moment I tried something that had been made with real vanilla and the taste was no comparison.
Then, while watching Paula Deen on Food Network one day, she talked about always using real vanilla extract and not wasting your money on imitation vanilla extract.
How to Make Homemade Vanilla Extract
I took her advice and threw away all the imitation everything I had and went straight to the store and bought my first bottle of real vanilla extract and literally screamed when I saw the price — $7.99.
Over the years, I have bought tons and tons of bottles of vanilla extract — until my friend Crystal from Mrs. Happy Homemaker told me how easy it is to make your own.
This past Christmas, I finally tried my hand at making my own and was shocked at how easy it is to make!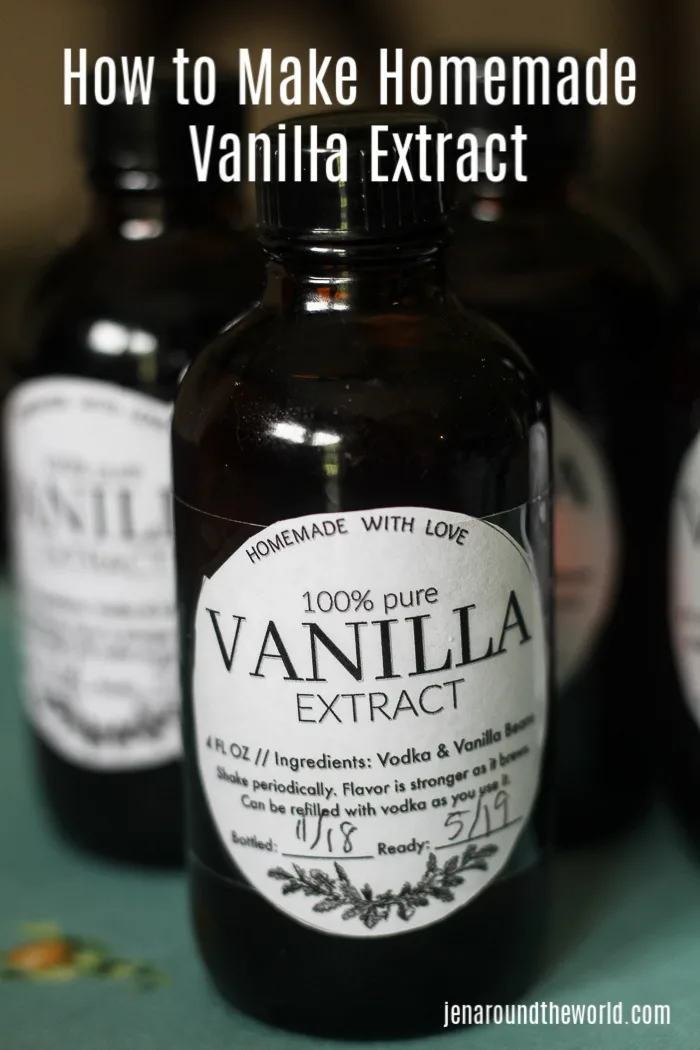 To make this, you literally need two ingredients — good-grade B vanilla beans and vodka. That's it.
You can change this up quite a bit and use a different liquor such as bourbon, etc. but since this was my first time making this, I decided to just use vodka because that was the recipe I had. Ideally, you want something with high alcohol content (at least 35%) and a neutral or complementary flavor.
Commercial vanilla extract usually has simple syrup (sugar water) added to the extract to give it a sweet aftertaste. You can do this if you want, but if you are using vanilla for baking, there really is no need.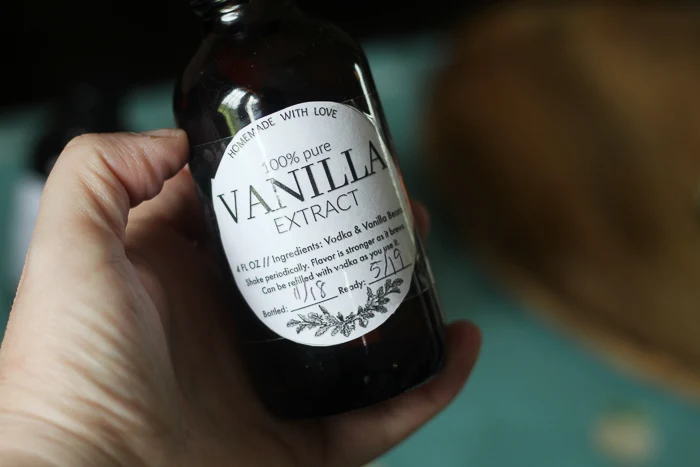 I printed off these labels from Natasha's Kitchen. I bought these little 4-ounce jars from Amazon and they were perfect for making my own version of vanilla extract. You can also choose clear if you would rather have those but I love the amber color.
Let's Talk About Vanilla Beans
The vanilla beans are cheaper on Amazon than they are at the grocery store because you can buy them in bulk. There are different varieties of vanilla beans. The three main types are Madagascar, Tahitian, and Mexican vanilla beans. They are grown in other parts of the world as well. I personally like the flavor of Madagascar Bourbon vanilla beans.
In addition to varieties, there are also different grades of vanilla beans. Grade A beans are longer and moister. The Grade B beans are less pretty and usually recommended for making the extract.
Grade B beans are less expensive, so if you're trying to cut back on cost, these are the beans I would choose.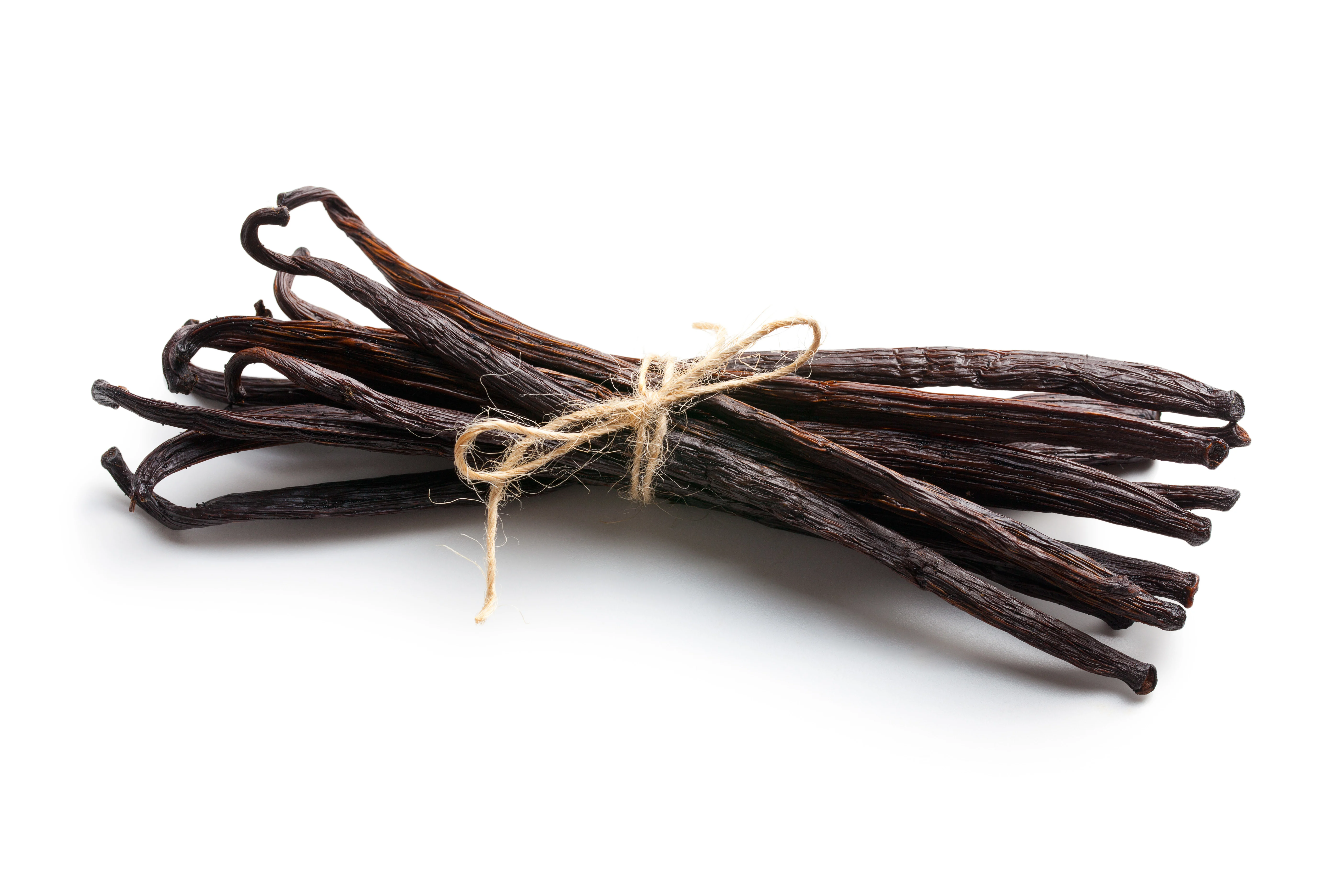 The first thing you are going to do is to split your vanilla beans in half. Since the pods are super long, I cut mine in half. Then I split them in half so that they fit perfectly inside the 4-ounce jars.
If there are any vanilla beans stuck to your scissors or knife, make sure to put them in your jar. You don't want to waste any of those lovely beans!
Setting Up and Filling Your Jars
I add 3 split pieces of beans to the jar first and then I fill it with vodka.
If you buy a 5th of vodka and the pack of beans above, you can make 6 jars of vanilla extract. For around $30 you will be making almost $50 worth of vanilla extract, saving yourself a ton of money in the process!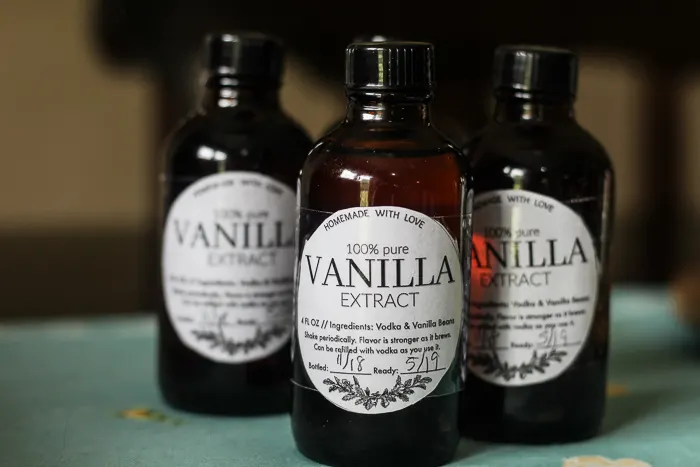 Then, just let it sit in the cabinet for about 6 months until it is ready. Be sure to occasionally shake your bottles. We just started using ours and man oh man is it good!
As the vanilla extract sits, it will get darker. You want the beans to soak in the alcohol for at least 2 months before using it. The flavor will only get better with time.
Check out these other delicious homemade goodies!
Yield: 6 jars
How to Make Homemade Vanilla Extract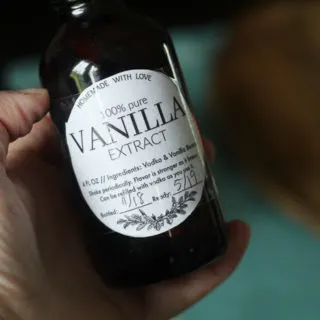 How to make your own vanilla extract! This is so easy and will be your new favorite way to get that vanilla flavor in all your baking dishes.
Ingredients
1- 5th of vodka
20 vanilla beans grade b is just fine
4-ounce jars
funnel
Instructions
Cut the vanilla beans in half and then lengthwise with scissors or a knife. This way they will fit in your jars correctly.

Put the beans in your jar. Each jar should get 3 half pieces.

Cover with alcohol. Screw the lid on and give it a good shake.

Add your label to the front and mark the day you made it so you know when it is ready.

Place in a cool, dark place. Let sit for at least 3 months. The longer the vanilla sits, the stronger the flavor will be.

Be sure to give the jar a shake every week.
Nutrition Information:
Yield:
6
Serving Size:
1 jar
Amount Per Serving:
Calories:

21
Total Fat:

0g
Saturated Fat:

0g
Trans Fat:

0g
Unsaturated Fat:

0g
Cholesterol:

0mg
Sodium:

0mg
Carbohydrates:

0g
Fiber:

0g
Sugar:

0g
Protein:

0g